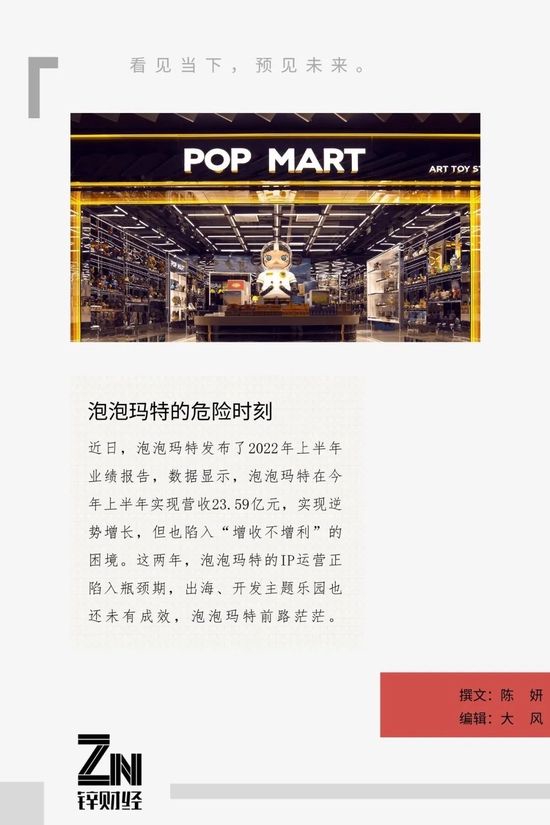 Source: Zinc Finance
Welcome to the WeChat subscription number of "Sina Technology": techsina
Source: Zinc Finance
The foundation of Bubble Mart's business empire is somewhat unstable.
Recently, Bubble Mart released its performance report for the first half of 2022. According to the financial report, in the first half of 2022, Bubble Mart achieved revenue of 2.359 billion yuan, a year-on-year increase of 33.1%, achieving growth against the trend. But at the same time, it also fell into the dilemma of "increasing revenue without increasing profit". The profit attributable to the company's owners was 333 million yuan, a year-on-year decrease of 7.2%; the adjusted net profit was 376 million yuan, a year-on-year decrease of 13.5%.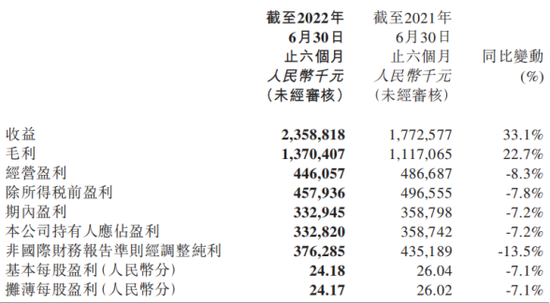 This may be related to the increase in the marketing expenses of Bubble Mart. According to the financial report, Bubble Mart's distribution and sales expenses rose from 420 million yuan in the same period last year to 690 million yuan, and advertising and marketing expenses rose from 56.75 million yuan to 114 million yuan. With marketing in place, I thought that consumers would usher in retaliatory consumption, but this is not the case.
Less than two years after its listing, Bubble Mart's controversy continued.
On the one hand, Bubble Mart bears the halo of "youth's Maotai", and is labeled as trendy culture and market sentiment, and the capital market wildly raises its valuation; The argument of "intelligence quotient tax" has never stopped, coupled with its recent sluggish market performance, many investors believe that its growth potential is limited, and it has hit the ceiling and rebounded.
Previously, the State Administration for Market Regulation issued the "Guidelines for the Standardization of Blind Box Business Activities (Trial) (Draft for Comment)", which directly pointed to the irregular abuse of blind boxes on the market. As the freshness of the blind box faded, and the same type of products on the market began to roll in, the popularity of Bubble Mart plummeted.
Since July this year, Bubble Mart's share price has been falling all the way. As of August 30, it was reported at HK$19.40 per share, with a total market value of HK$26.782 billion, which has evaporated by more than HK$100 billion from its peak.
The vitality of Bubble Mart is closely related to its IP operation, but its IP development is going through a bottleneck period. Going overseas and doing Chinese Disney is regarded as a new opportunity by Bubble Mart, but it has not achieved much so far. Is Bubble Mart's "bubble" about to burst?
Young people don't feel "sweet" anymore
In the first half of 2022, Bubble Mart's life is not easy.
According to the financial report, although the revenue of Bubble Mart increased in the first half of the year, the overall growth rate slowed down. Compared with the 116.8% revenue growth in the same period last year, its revenue growth rate dropped by more than 80%. In addition to the decline in net profit, the gross profit margin of Bubble Mart also continued to decline, from 63% in the first half of last year to 58.1%.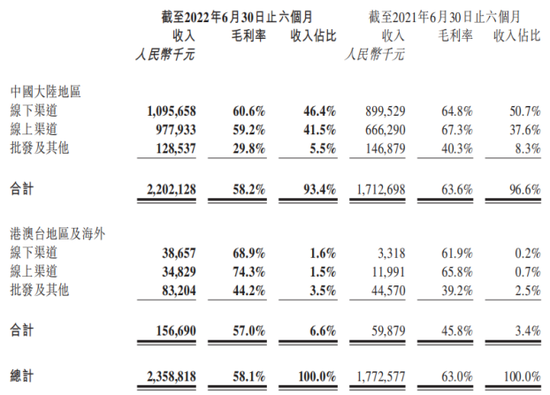 Source: Bubble Mart's latest financial report
It all points to the same fact that Bubble Mart is not selling well and young people are giving up on it.
Bubble Mart's products are not just needed, but provide emotional value of "pleasant" when consumers have spare capacity. Now that the general environment is not good, consumers are beginning to reduce other expenses other than clothing, food, housing and transportation. According to the prospectus, the average price of the Bubble Mart blind box is 77 yuan, which is almost equal to the daily living expenses of young people in first-tier cities.
In addition, Bubble Mart's quality and service are often criticized. On the black cat complaint platform, there are currently 9,034 complaints about Bubble Mart, most of which are related to the purchase of defective products, poor after-sales service, and inability to return for refunds.
In August of this year, a consumer reported on the black cat complaint that the blind box of the Jungle Castle series that he drew on the Bubble Mart applet last May was returned to the factory five times due to poor quality control, but in August this year Received is still defective. The consumer questioned the quality control of Bubble Mart, false propaganda, waste of time for multiple replacements, and issued coupons maliciously to stimulate consumption when the after-sales service was not in place. He requested that the defective item be returned for a refund, but the issue remains unresolved.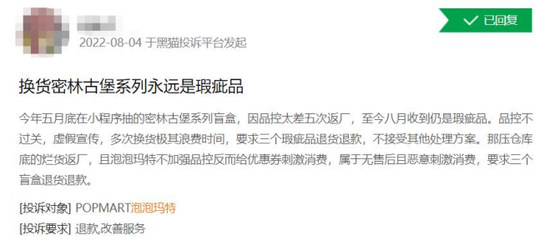 Source: Screenshot of Black Cat Complaint Platform
It used to be a good business to resell Bubble Mart. The price of some hidden models with the nature of "hunger marketing" can be multiplied by dozens of times. As a result, a number of scalpers who professionally resell blind boxes have been born, but the latest situation is that bubble Pumart is also not easy to sell on the second-hand market.
On Xiaohongshu, there have been more than 10,000 notes on "Bubble Mart's withdrawal from the pit", including information about low-priced sales; in the second-hand market, a Coca-Cola co-branded SPACE MOLLY, which sold for over 10,000 yuan at the time of its release, Now you can get the new unopened package for 5,000 yuan. If it is an ordinary product, you can take it away with free shipping at half the price.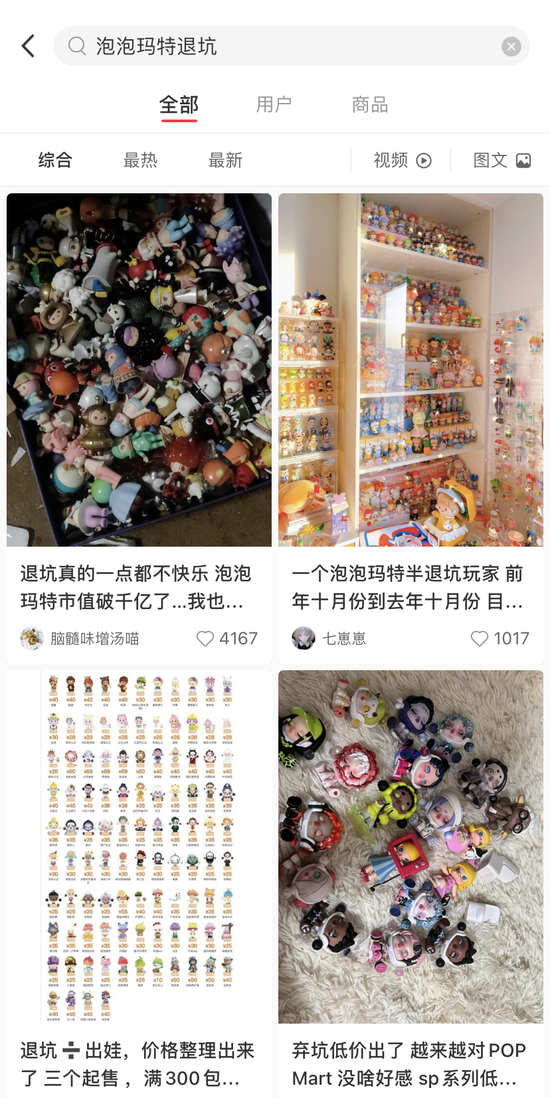 Screenshot of Xiaohongshu
Performance data shows that in 2019, the overall repurchase rate of Bubble Mart's registered members was 58%, but in the first half of 2022, the repurchase rate of Bubble Mart's members was only 47.9%. As a leading company in the trendy play market, Bubble Mart's repurchase rate has fallen by more than 10%, which also reveals a danger signal.
With the development of the trendy play economy, the trendy play industry has ushered in a wave of entrepreneurship in the past two years, and the exclusive advantage of Bubble Mart is no longer there.
According to the data from Tianyancha, as of the end of 2021, there are more than 2,200 related enterprises whose names include "fashion play and trendy toys", and the status is displayed as active, existing, moving in, and moving out. In 2020, there will be more than 300 new Chaowan-related enterprises for the first time; in 2021, the new number will reach about 1,470, which is equivalent to 4 Chaowan-related enterprises are established every day.
TOP TOY, a blind box fashion game launched by MINISO, as well as cutting-edge brands such as 52TOYS and TOYCITY, are competitors that Bubble Mart cannot ignore. For example, 52TOYS completed the 400 million yuan C round of financing in 2021, setting a new record for financing in the fashion game industry.
The market competition is fierce, consumers have more choices, and the substitutability of Bubble Mart is stronger.
Bubble Mart is stuck on IP
There is no doubt that Bubble Mart is in the IP business. It used to rely on the Molly series, and its successful IP operation enhanced the company's strength and created the miracle of commercialization of blind boxes, but now Bubble Mart's IP is failing.
There is a consensus in the industry that the life cycle of Chaowan IP is relatively short, generally only 2-3 years. Even "longevity" IPs like Molly will grow old, and from 2017 to 2021, Molly's revenue for Bubble Mart will decline. Bubble Mart has always wanted to find Molly's successor, but it is not so easy to copy the explosive style.
The financial report data shows that in the first half of 2022, the top three IPs with the highest revenue share are SKULLPANDA, Molly and Dimoo, which achieved revenue of 462 million yuan, 404 million yuan and 298 million yuan respectively, a year-on-year increase of 152.3%, 98.3% and 45.6% respectively. %. This is the first time that SKULLPANDA has surpassed Molly and has become Bubble Mart's own IP with the largest revenue contribution.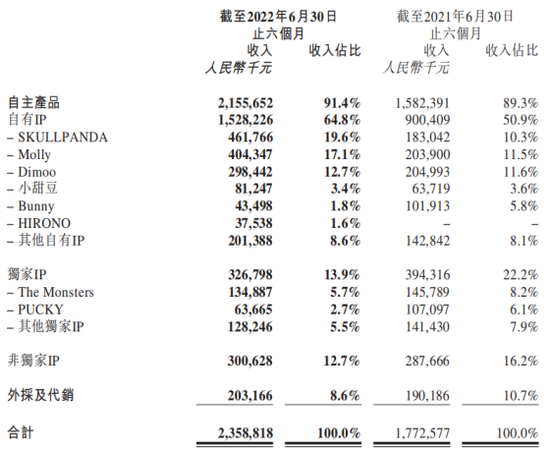 Source: Bubble Mart's latest financial report
There are concerns in this. Compared with Molly's image of a little girl with golden curly hair, SKULLPANDA adopts a dark style, including crosses, skulls, wounds and other elements. It has been questioned by netizens and parents, and the development and promotion of subsequent IP may be restricted. In terms of revenue contribution, SKULLPANDA, which was launched last year, has not opened the gap with Molly, which has been online for six years. SKULLPANDA cannot rewrite Molly's past glory. Since this year, Bubble Mart has not launched a new explosive IP.
As the influence of IP products gradually weakens, Bubble Mart is also facing inventory pressure.
According to the financial report, Bubble Mart's inventory in 2021 totaled 789 million yuan, more than three times that of the same period last year. Bubble Mart's inventory turnover days also increased from 78 days in 2020 to 128 days in 2021. In the first half of this year, inventory turnover days further increased to 160 days.
For Bubble Mart, developing, producing and operating IP is a complicated business path that requires continuous financial support. Cooperating with artists, buying well-known IP copyrights, etc., will bring huge costs and marketing and promotion expenses.
At present, among the main products of Bubble Mart, except for the two IPs of Xiaotiandou and Ono, which are designed in-house, the others are all in cooperation with artists, and Bubble Mart lacks dominance. According to the financial report, in 2021, Bubble Mart's annual equity incentive expenses will total 147 million yuan, accounting for 17% of the overall net profit. The management also stated in the current conference call that it will continue to promote equity incentives to attract talents.
Copyright prices for well-known IPs are also rising. In recent years, a large number of domestic fashion play brands have sought cooperation with classic IPs from the United States and Japan, such as Disney, Ghibli, etc., which has also increased the copyright fees of some tide play IPs.
Bubble Mart chose to increase the price. Starting in 2021, Bubble Mart will increase the price of some products. The unit price of VIVICAT and SKULLPANDA II series will increase from 59 yuan to 69 yuan, and some other products will even increase to 89 yuan. In addition, Bubble Mart also launched a high-end art collection toy-MEGA collection series, including 400% and 1000% two sizes, the former is priced at 799-1299 yuan, the latter is priced at 3999-6999 yuan.
MEGA Collection
However, whether it is a price increase or a high-end series of products, it is inconsistent with Bubble Mart's previous core user portrait, that is, young people who love the trendy play culture but have limited spending power. If you want to cultivate new consumption habits and form new consumer groups, it will take a long time.
No way to go
Regarding the future, Wang Ning, the founder of Bubble Mart, has set two directions. Vertically, expand the scale of Chaowan, such as opening more stores and launching more IP; horizontally, expanding more products around IP, such as doing animations, launching theme parks, etc.
Both the horizontal and vertical lines, Bubble Mart tried it over and over again.
In the vertical direction, Bubble Mart chose to go to sea. Wen Deyi, president of the company's international business, defined 2022 as "the first year of trendy play going overseas" and said that "in the next 10 years, international business will be one of the most important points of focus for Bubble Mart."
According to the financial report, as of June 30, 2022, the number of stores in Hong Kong, Macao, Taiwan and overseas has reached 24, the number of robot stores has reached 98, and the number of cross-border e-commerce platform sites has reached 11. This year, Bubble Mart opened its first offline stores in the United Kingdom, New Zealand and the United States, and plans to enter Thailand and other Southeast Asian countries are also in progress.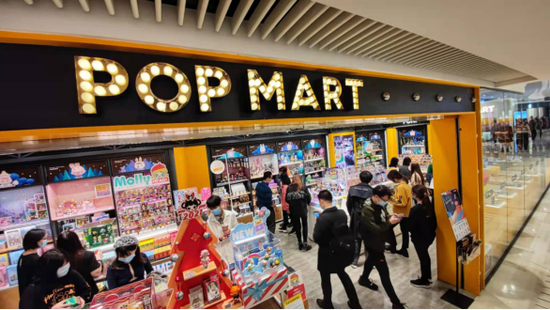 But the problems encountered in going to sea are far more than imagined. Overseas markets have their own toy circles, such as the figurines that can be seen everywhere in Japanese stores, and the Lego models that are popular in European and American markets. In Korea, there are already popular IP blind box products such as the Sticky Monster Institute and RICO. If Bubble Mart can't achieve differentiation, it will be difficult to establish a foothold overseas.
In addition, it is not easy for Bubble Mart to integrate into the local culture overseas. Bubble Mart has revealed to the media that they have launched Labubu and her boyfriend Tycoco's music forest series products in Mexico and Europe. Tycoco's skeleton image is popular in Mexico, where there is a culture of the dead, but it hit a wall in Europe.
According to the financial report, in the first half of 2022, Bubble Mart's revenue from Hong Kong, Macao, Taiwan and overseas accounted for 6.6%. Compared with Wang Ning's previous target of 50%, there is still a big gap. Bring more imagination.
In the horizontal direction, Bubble Mart wants to be "Oriental Disney". In February of this year, Bubble Mart cooperated with Beijing Chaoyang Park to build a theme park. At the earnings forecast conference call for the 2022 interim report, some management said that the project has entered the design stage, with an overall investment of 270-300 million yuan.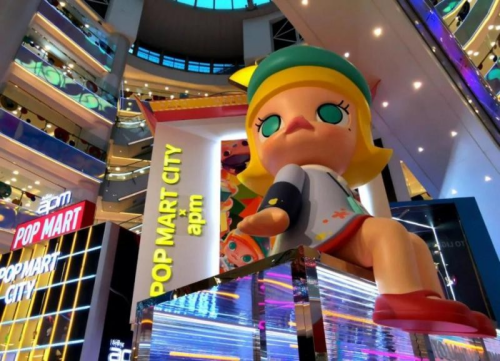 Investing in a theme park is an asset-heavy project, and it is impossible to break even in the short term. Bubble Mart needs to wait for a longer period to achieve profitability, and the attraction of the theme park to tourists is also questionable. At present, the market value of Bubble Mart has shrunk by more than 80%. It may not be reasonable to regard theme parks as the next growth curve outside the blind box.
Under the financial crisis, Bubble Mart continued to explore, but the story of the winner may not be so easy to continue.


(Disclaimer: This article only represents the author's point of view and does not represent the position of Sina.com.)

This article is reproduced from: http://finance.sina.com.cn/tech/csj/2022-08-30/doc-imiziraw0379753.shtml
This site is for inclusion only, and the copyright belongs to the original author.