In the third chapter, I write about Great Wall Motors, if I have to give a reason: Great Wall is one of the two favorite car companies in China, one is Great Wall and the other is Wuling. Of course, there was Xiaopeng later.
Great Wall Motors label: Children from poor families are in charge early.
hole card
Great Wall Motor, founded in Baoding, a third-tier city in Hebei Province, in 1984, is the only mainstream car company located in a third-tier city in China. Baoding is small, but the Great Wall is huge. In 2021, Baoding's GDP will be less than 410 billion yuan, and the market value of Great Wall Motors will be the highest at 628.1 billion yuan in the same year. Therefore, in the first few years, there have been rumors that Great Wall Motors will move out of Baoding. But after so many years, Baoding is still a small third-tier city, and Great Wall is no longer that third-rate car company Great Wall.
The early auto market can be said to be a market dominated by policies and the government. For example, SAIC, FAW, GAC, Dongfeng Motor, and Changan all have the background of state-owned enterprises and central enterprises. In the period when domestic automobile technology has not yet developed Over the years, those who have won the joint venture have won the world. These companies with state-owned backgrounds have their own magical powers, and the cake of the joint venture brand has been completely divided up by these state-owned companies. After all, in the period of rapid growth of the domestic auto market, this is the silver of white flowers. Even today, decades after the development of domestic automobile technology, the municipal background behind a manufacturing enterprise is still an indispensable part of an enterprise's comprehensive competitiveness assessment. And it is against this background that Great Wall has grown up step by step from a "workshop enterprise" that needs talents but no talents, and needs no background.
Let's take a look at the sales of car companies in 2021: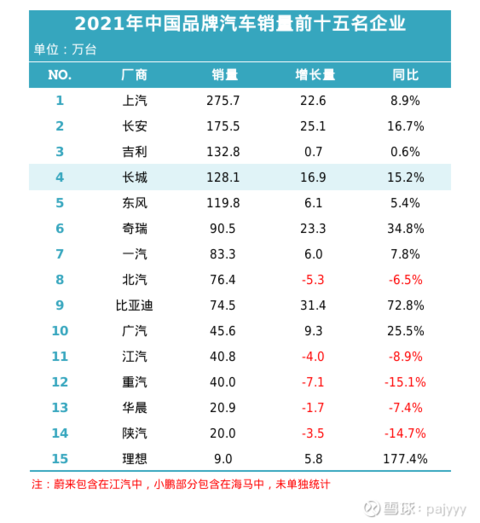 The above data is the sales data of Chinese brands , excluding the data of joint ventures such as South, North and Volkswagen, and two fields and one production. It can be seen that SAIC Group is still ranked first. However, the market does not recognize SAIC's autonomy, and Changan's autonomy has not been considered too much. It seems that when it comes to leading domestic automobiles, everyone only recognizes Geely and Great Wall. Competitiveness is a big issue. Whether or not a car company is competitive depends on its profitability. During the expansion of the business, you can be unprofitable, such as Tesla in the first two years, the current new power and BYD. However, if a company whose sales volume follows the fluctuations of the overall domestic market all the year round is not profitable, in the capital market, nothing is to be discussed. Great Wall Motors has not only achieved stable profits, but also won the title of Maori King once upon a time. In addition, it is also the only company among the top ten domestic brands that has so far not supplied blood from a joint venture brand and has achieved large-scale profitability by relying solely on its own models.
5+1
Great Wall Motor's products can be divided into three categories: SUVs, pickups, and sedans; according to the brands, they can be divided into six major brands in the 5+1 model: Haval, WEY, pickups, ORA, tanks, and salons, of which the salons are positioned to independently operate automotive technology company.

The positioning of Great Wall Motors is very clear, which is something that many domestic companies that invest in joint venture brands cannot do.
Haval Auto: Independence in 2013, focusing on SUVs, the basic business of Great Wall Motors, needless to say, a Haval H6 has dominated the list for many years;
WEY: It is a brand upgrade of Great Wall Motors, targeting the Geely Lynk & Co and positioning itself as a new urban middle class;
Euler: The positioning is very clever, new energy urban women, white cats, good anchors, Euler cats… The concept of differentiated competition is a typical example of the new energy market;
Tank: Positioning the mid-to-high-end SUV, mentioning the tank, from the name to the appearance to the marketing concept, it is not difficult to see that Great Wall is trying hard to carve the label of "tough guy" into the corners of the tank series.
Pickup truck: It is not the same field as passenger cars, but also the main battlefield of Great Wall. With the liberalization of various domestic policies, it is not impossible for the pickup market to become an important source of future growth for Great Wall.
Salon: The launch of this brand is relatively late. It will debut in Guangzhou on November 19, 2021. It can be said that although there are products on the market, they are basically still in the incubation stage, targeting high-end luxury electric vehicles of more than 400,000 yuan. This is the launch of the WEY brand. This is the second attempt of Great Wall's high-end upgrade road since then.
Regarding the brand positioning, let's talk more about the tank. In fact, before the tank came out, the "tough guy" gene in the Great Wall's bones was already reflected at the Haval level. This may be related to the chairman's personal character, but I have to say that the tank series The launch of this image has directly elevated this image to a very high level. This step of the Great Wall is twice the result with half the effort, and it is very beautiful. Excellent companies must have their own labels. Volvo does the best on this.
Take a look at the sales ratio of several major brands of Great Wall Motors: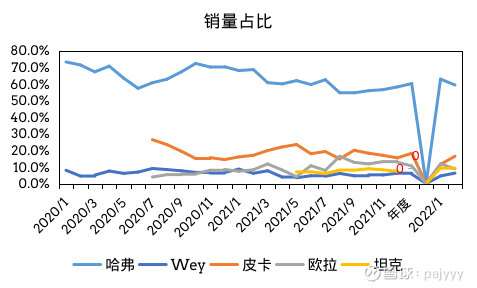 In 2021, Haval's sales will account for nearly 60.1% of the entire group, and then pickups will account for 18.2%. Although Great Wall has a clear positioning, not every brand can achieve the expected market effect. It is reasonable to say that the models of the two brands of Euler and Tank have not been fully rolled out and sales have not increased significantly. But the WEY brand, which has been on the market for so long, seems to have no reason to explain the current results. WEY and Lynk & Co were launched successively that year. Although the Lynk & Co brand is also facing the risk of declining sales, to be honest, on the way to the high-end, the WEY brand is inferior to Lynk & Co in terms of name, marketing, appearance and other aspects. So a little bit of meaning (brand name, don't talk about Mercedes-Benz, Maybach, Rolls-Royce, or even Xiaopeng, corporate culture, corporate background, and corporate genes determine that some companies can do this, and some companies do this. Risk, some companies are courting death by doing this, and if you don't believe it, let SAIC launch a "Chen Hong" brand car to try).
It is easy for car companies to move from high-end to low-end. For example, Porsche and ABB are very successful examples. It is difficult to go from the low-end to the high-end, and people like Volkswagen have also suffered more than once on the road to the high-end. This piece must be mentioned as one of the few successful models of BYD.
pickup
I have said it more than once before, there are two brands that hold the most important position in my heart, one is Wuling and the other is Haval. When it comes to Great Wall, many people's first impression may be Haval. Although Haval is the basis for Great Wall's sales and revenue, in fact, pickup trucks are the origin of Great Wall. There is a saying in the car market: There are only two kinds of pickups in China, one is called the Great Wall and the other is called the other.
It can be said that there is no exaggeration in this sentence. In 2021, the production and sales of China's pickup truck market will be 547,000 and 554,000 respectively. Take a look at the top ten selling on the market: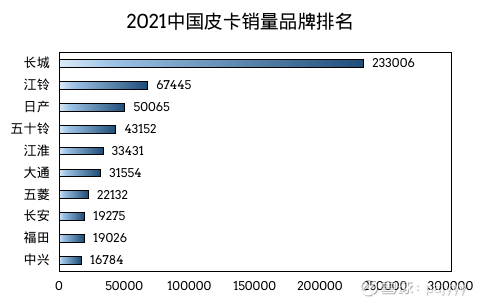 According to the statistics of Great Wall Motor's 2021 annual report, the sales volume of pickup trucks in 2021 will be 237,059, which is a problem of statistical caliber. Great Wall Motors accounts for half of China's pickup truck market. The reason is not difficult to find, since the first pickup truck (Deer) rolled off the assembly line on March 5, 1995, Great Wall has been deeply involved in the pickup market for 27 years.
noise
Great Wall Motor's business is very pure. Compared with SAIC and BYD, it is much easier to analyze. Model sales and performance are the most direct responses. In recent months, Great Wall's stock price has fallen sharply without rebounding, which has indeed exposed some problems at the level of enterprise operation. I'll just list a few:
1) The suspension of ORA production has had a real impact on the brand image, especially in the new energy field where major car companies occupy the incremental market by volume;
2) Tank replacement, originally a marketing strategy of four or two thousand pounds, a brand positioning suitable for all ages, turned out to be a middle-aged and elderly car logo that the public does not pay for;
3) The lack of cores leads to a decline in sales, which exposes defects in supply chain management;
4) The sales target of 1.9 million in 2022, Sima Zhao's heart is well known;
5) Russian factory…
It would be irresponsible to say that the above problems have little impact on Great Wall's management, but it would be irrational to exaggerate some negative information in the market.
Logically speaking, with the rise of new energy, BYD is the most beneficiary and SAIC Group is the most injured, and the market has shifted from SAIC's home to BYD's home. In theory, traditional car companies will be more or less adversely affected. After all, two years ago, apart from BYD, which was frantically grabbing territory in the new energy market, there were no new forces such as Weilai, Xiaopeng, Ideal, Leapao, and Nezha. cannibalization. Now these companies eat cakes that belong to traditional car companies. However, Great Wall Motors is regarded as the fastest and most efficient company in the two fields of new energy and intelligent driving among traditional car companies. It proved this with its strength last year. This is inseparable from the growth process of the Great Wall, and it is also the underlying logic of my previous statement that the Great Wall is an "unkillable Xiaoqiang". Therefore, in the long run, I have great confidence in the Great Wall.
However, in the short and medium term, Great Wall's performance will continue to be under pressure. The lack of cores caused by the supply chain management mentioned above, and the impediment of the advancement of high-end brands, are not factors that can be ignored in business operations. Therefore, whether Great Wall Motors has entered the "hitting zone" after a long period of sharp decline without rebound, which has risen tenfold, still requires Great Wall to actively release a clear signal. It is still relatively early to draw a conclusion. It needs our continuous attention and tracking in the future.
@Today's topic #Snowball star plan#
$Great Wall Motor(SH601633)$ $BYD ADR(BYDDY)$ $SAIC(SH600104)$
There are 19 discussions on this topic in Snowball, click to view.
Snowball is an investor's social network, and smart investors are here.
Click to download Snowball mobile client http://xueqiu.com/xz ]]>
This article is reproduced from: http://xueqiu.com/1734323806/221994703
This site is for inclusion only, and the copyright belongs to the original author.