36氪 was informed that "Zhejiang Lingdi Digital Technology Co., Ltd. (hereinafter referred to as: Lingdi Style3D)" completed nearly $100 million in Pre B+ round financing, which was continuously invested by many institutions such as Hillhouse Ventures and CDH.
The last round of PreB financing of Lingdi Style3D was announced in March 2021, and the last round of A+ was announced in February 2020, maintaining the speed of one round of financing every year. Founder and CEO Liu Chen believes: "Entering the B round, we need to maintain an annual growth rate of 3 to 5 times. At present, our growth rate is 200% annual growth."
Founded in 2015, Lingdi Style3D has been committed to providing apparel companies with products and services such as 3D design tools, collaborative work systems and supply chain delivery. Around 2015, due to the rapid development of e-commerce and other industries, the clothing industry set off a trend of "quick response for small orders". In order to follow the trend, there are companies that improve the clothing industry chain from all angles, such as Baibu, which solves the problem of fabric trading, the first-hand solution to the problem of clothing wholesale, and Style3D, which improves the efficiency of clothing design.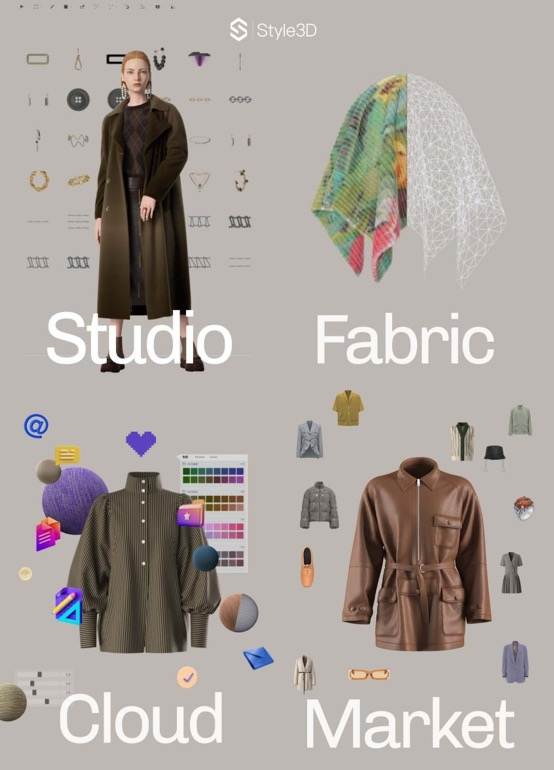 Photo courtesy of the enterprise
At present, the core products of Lingdi Technology Style3D are:
Style3D Studio : commercial flexible body simulation software;
Style3D Fabric : Style3D Fabric is tailor-made for fabric research and development and digital processing. Fabric manufacturers can obtain fabric stretch, drape, various physical property parameters and surface texture features through scanning and testing equipment;
Style3D Market : Style3D Market, a digital clothing resource mall, currently has tens of thousands of clothing-related digital resources, which can be used in various industries such as clothing, digital people, virtual idols, games, and film and television special effects;
Style3D Cloud : Figma in the field of fashion design meets the communication needs of designers, customers, buyers, suppliers and other parties through online collaboration in the cloud.
It can be seen that through different product combinations, Lingdi Style3D can serve brand owners, ODM manufacturers, fabric accessories suppliers, pan-e-commerce, etc., and improve the efficiency of various aspects from the perspective of clothing design.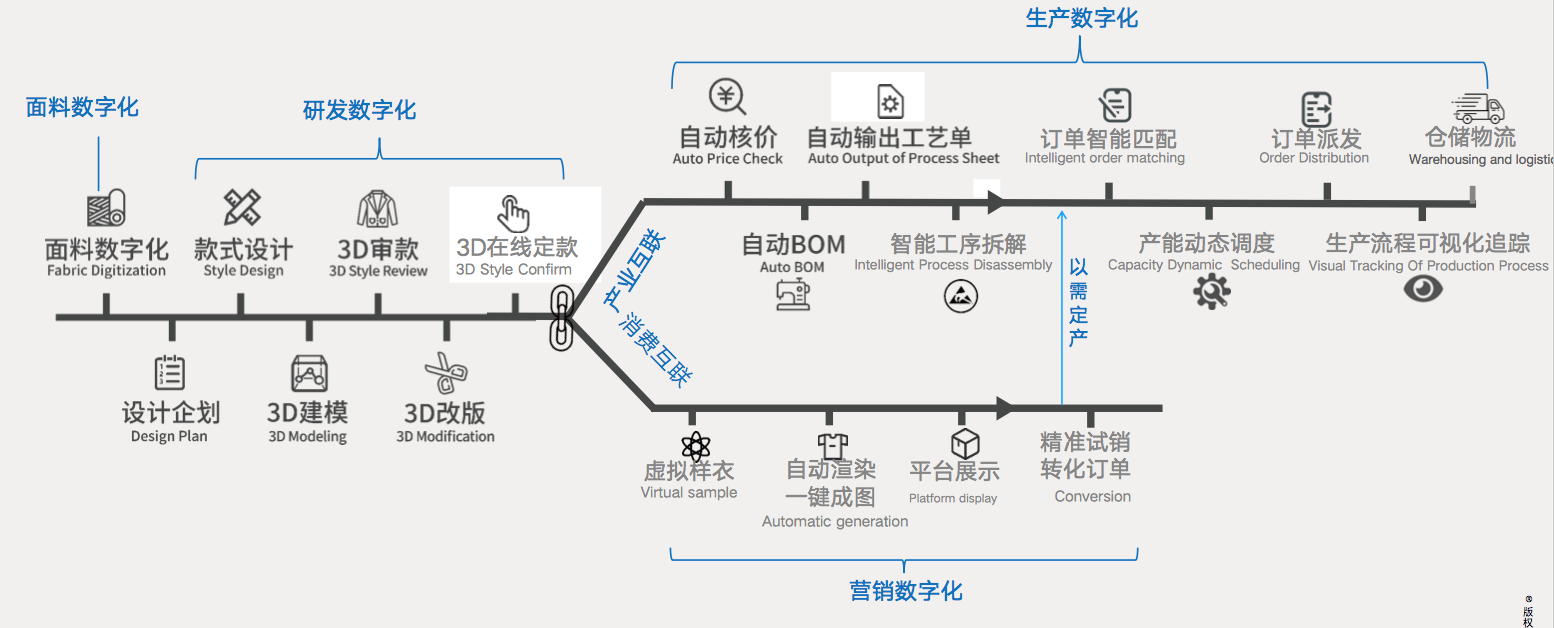 Photo courtesy of the enterprise
During this round of financing, Liu Chen told 36氪 that in addition to specific industrial application products, its self-developed 3D simulation engine is the underlying technology currently occupying the core technical barriers, and it is also an engine connected to the Metaverse. With this engine, Style3D can realize the whole chain of digital services from fabric measurement, simulation design, model review, online revision, product display to direct production.
The engine has achieved product scale and is currently used by nearly 1,000 apparel customers.
Currently, simulation engines and other products are continuing to provide value. In April 2022, at the Shanghai Fashion Week in Xintiandi, together with Xiaohongshu and its digital space R-SPACE, they will provide virtual fashion concept releases and digital collections for Chinese designer brands, and Style3D will provide them with simulation technology. Designers only need to master the use of Style3D related software, and with the help of digital fashion simulation technology, they can bring their designs to users in a more dynamic and immersive way.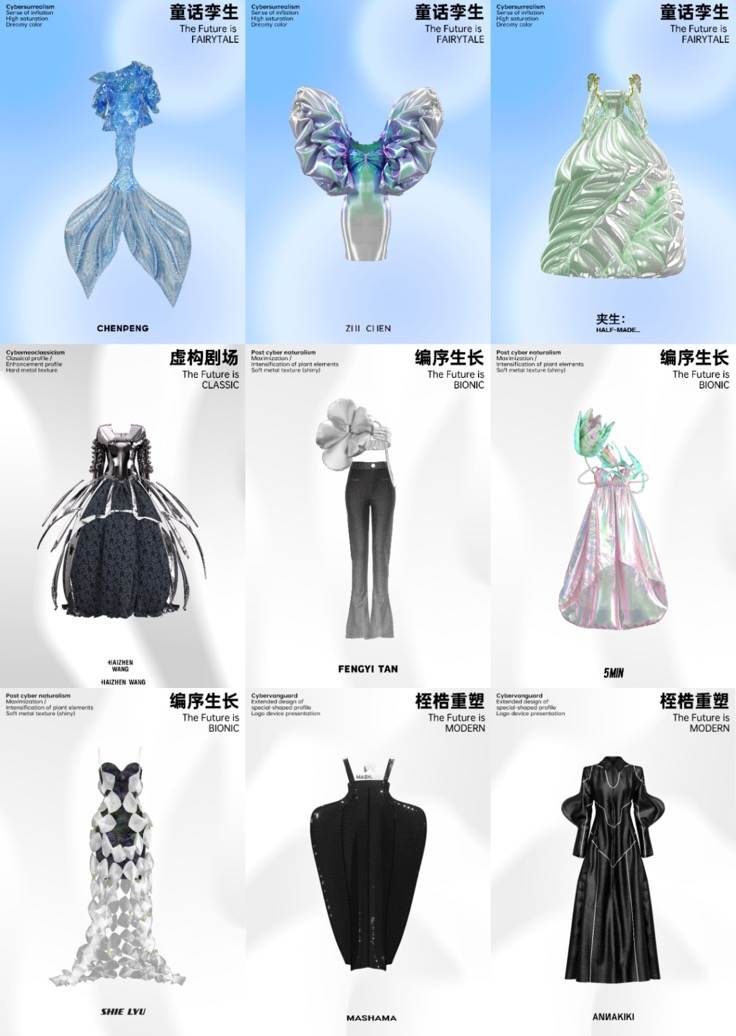 Style3D Studio clothing design software interface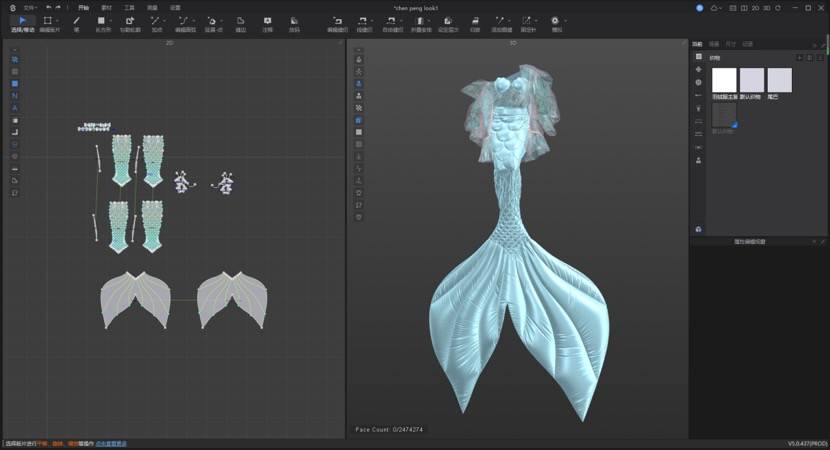 Style3D Studio clothing design software interface
Such a simulation engine can be applied not only in the field of clothing design, but also in more industries, such as animation, games, and home furnishing.
In Liu Chen's view, the simulation engine of the clothing track can also be applied to other fields. This is because simulation itself is the most difficult branch in graphics, and the physical properties of clothing itself, such as stretching and elasticity, are more complex, so the technical foundation of simulation engine in the field of clothing needs to be stronger; and the clothing industry involves many elements. For example, the pattern, fabric, accessories, color, craftsmanship, etc., have higher requirements for knowhow; finally, the clothing is constantly updated and iterative, and the scene is more complex. Because there are more special requirements in the field of clothing, the technical requirements for the simulation engine are naturally higher.
Style3D clothing simulation effect
The advantage of Style3D lies in the team, which has a deep accumulation of team technology and industry understanding. CEO Liu Chen holds a double major in computer science and molecular biology from VUB University in Belgium, and has nearly 20 years of entrepreneurial experience in clothing brands and foreign trade; chief scientist Dr. Wang Huamin, who was a professor of computer science at Ohio State University, enjoys a reputation in the field of graphics. International reputation.
With the gradual development of the underlying technology and the rapid development of clothing products, more and more clothing Internet companies have realized the importance of improving efficiency from the design field, and as a result, many players similar to Lingdi Style3D have emerged. For Lingdi Style3D, the competition in the industry is ultimately a competition team, and the talents, team atmosphere and industry knowhow of Lingdi Style3D are industry-leading and cannot be replicated.
In 2022, Lingdi Style3D hopes to achieve progress in three aspects: one is to continue to iterate in the field of 3D simulation until the digital world is very close to the physical world; the other is to cut into the fields of games, animation, and film and television, and exert its metaverse capabilities; three It is a lightweight product that will release the national clothing design this year.
Huang Liming, a partner at Hillhouse, said: As a rare and technologically advanced 3D design integration collaboration platform in China, Lingdi Style3D relies on the core simulation rendering technology and flexible engine base to develop digital modeling, digital fabric processing, and cloud R&D collaboration. Digital fashion full-process solutions including platforms. In the past year, Lingdi Style3D has continued to increase investment in technology, established a global leading position in flexible simulation engines, and its business volume has grown rapidly. It has been recognized by a large number of leading customers at home and abroad, and has successfully entered overseas markets. Led by founder Liu Chen, the Lingdi Style3D team has both entrepreneurial spirit and innovative capabilities of scientists, and can continue to attract the world's top scientific and technological talents to join. We are very much looking forward to the opportunity of Lingdi Style3D to become the infrastructure of the global fashion industry.

Wang Lin, founding partner of CDH Investments, said: Lingdi Style3D starts from the design at the source of the clothing industry, so that designers, brands, factories, channels and consumers can use "3D models", a "language" that contains a huge amount of information. "Communication and decision-making are expected to become the infrastructure that defines the digital standard of the trillion-dollar clothing industry chain. Outside the clothing industry, the digital clothing realized by Style3D is also an important infrastructure for building a virtual world, an indispensable element for identity display, social interaction, and even economic activities. The Lingdi team is both a successful entrepreneur in the clothing industry and a world-class graphics scientist, and always insists that the underlying technology research and development and commercialization innovation go hand in hand. We are optimistic that Lingdi Style3D will make a big difference in the digitization of the clothing industry and even the digitization of the physical world, and constantly discover new things. possible.
media coverage
Titanium Media 36Kr Investment Community Investment Network
Related events
This article is reprinted from: https://readhub.cn/topic/8h1isRW4VSr
This site is for inclusion only, and the copyright belongs to the original author.