Original link: https://www.latepost.com/news/dj_detail?id=1172
The birth of every major track is accompanied by the reconstruction of business logic: Amazon rebuilt the rules of book sales in 1995, promoting e-commerce to become a major track that spans the world; when buyers and sellers are used to trading through centralized platforms, Shopify It has also rebuilt the relationship between merchants and platforms, and once supported the market value of hundreds of billions of dollars with the independent station model.
E-commerce has been developing in China for nearly 20 years. Consumers have become accustomed to searching for products with clear goals and purchasing necessities for daily life. Douyin E-commerce has once again rebuilt the consumption logic: use live broadcasts and short videos to stimulate your potential Shopping interest – that is, the interest e-commerce defined by Douyin e-commerce.
After only two years of development, interest e-commerce has proved its worth: Wei Wenwen, president of Douyin E-commerce, said at the second ecological conference of Douyin E-commerce on May 31 that the GMV of Douyin E-commerce in the past year That's 3.2 times the same period, with more than 10 billion items sold through Douyin e-commerce in the past year.
Another more noteworthy change is that today's interest e-commerce is no longer just for users to passively discover their needs through live broadcasts and short videos. Douyin has upgraded interest e-commerce to global interest e-commerce: in the past two years With the establishment of a shopping mall and search scene, users can actively find more fresh and unique products, which is convenient for accurate and repeated purchases. This year's search behavior with product intent has increased by 217% compared with last year; the transaction volume of Douyin Mall has increased by 6 times this year.
Today, when competition in the e-commerce market has already become a red ocean, Douyin has found its own unique value with the new concept of interest e-commerce.
Reconstructing the relationship between people and goods
When ByteDance decided to do e-commerce business, it also experienced a stage of hesitation and exploration.
At the first Douyin E-commerce Ecological Conference in 2021, Kang Zeyu, the head of Douyin E-commerce, shared his changes in his perception of this business: Zhang Lidong, chairman of Beijing ByteDance, asked Kang Zeyu several times, hoping that he was still there at that time. He came to do e-commerce as an overseas product, but Kang Zeyu hesitated, "The domestic e-commerce industry is already very mature, what kind of value can we bring to this business?"
Under Zhang Lidong's repeated persuasion, Kang Zeyu tried to order a box of crayfish in the Douyin live broadcast room. "For the first time, I found that China's food industry has developed to such a degree that there are so many good things." Then, Through user research, Kang Zeyu realized that many users are motivated by content, and that there are many needs that have not been met. "We will join in, and we will definitely bring a lot of new value to the industry."
In June 2020, Douyin e-commerce was officially established, Kang Zeyu was in charge, and began to explore interest in e-commerce.
Today, when consumer demand has been fully tapped and shopping is so convenient, you can get fresh fruit through the front warehouse in 30 minutes; you can also pick up the goods at the community group buying point the next day at half the price ;If you are willing to wait another day or two, you can buy all kinds of long-tail products in the shopping software, but there are always some needs that you did not expect before clicking on the shopping software. You are willing to buy after seeing the trial experience of short videos and live broadcasts. Come and try, this is the core logic of interest e-commerce.
Today, it seems that the breakthrough of this "new value" is accurate and in line with Douyin's own advantages: using high-quality video content to arouse shopping interest, and using live broadcast to create a new sales channel for e-commerce, so that products can be directly purchased from brands and sources. The origin is directly in the hands of consumers, reconstructing the relationship between people and goods.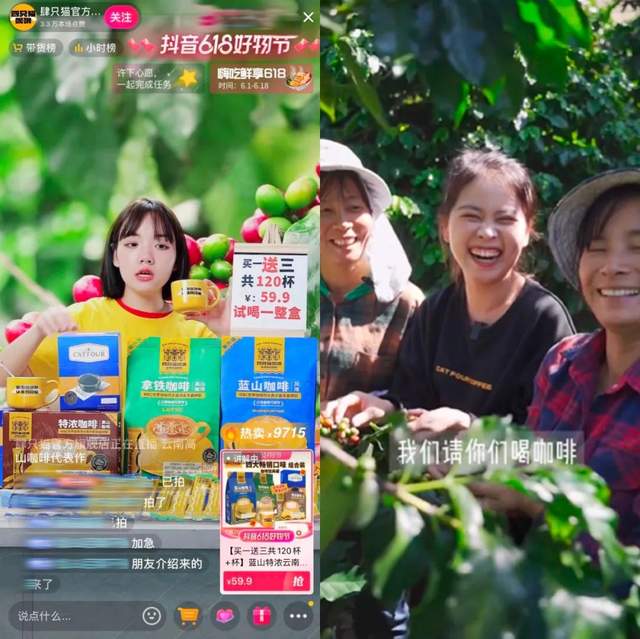 Four Cats Coffee is one of the representative new brands. Since 2014, Four Cats began to sell local coffee produced in Yunnan on e-commerce channels. At that time, Yunnan coffee was mostly exported as raw materials, lacking deep processing and marketing, and lack of brand awareness, resulting in low popularity and relatively low popularity. It is difficult for mature e-commerce channels to start by simply burning money and investing in streams.
Until the second half of 2020, the founder began to try to open a store on Douyin e-commerce, and initially brought goods through experts. Because of the high cost performance of coffee, the monthly GMV exceeded 13 million.
In terms of content, Four Cat Coffee has also found a promotion method that best matches its own characteristics, allowing users to see in the video how the coffee is picked by farmers one by one, sent to the factory for processing, and finally packaged and sold. The sense of authenticity that comes from has enhanced consumers' trust in this new domestic brand. In the first quarter of 2022, the performance of the four cats' self-broadcasting increased by nearly 10 times year-on-year.
What Douyin e-commerce wants to do is not only to help different brands find their own consumer groups, but also to drive the development of an entire industry belt.
Next, Douyin e-commerce will build a top 100 industrial belt, covering many key industries such as clothing, shoes and bags, fresh food, beauty, personal care, family cleaning, and parent-child life. For example, in Changshu, where the clothing industry is developed, Douyin e-commerce is planning to support 100 leading merchants to help Changshu create business cards for the origin of clothing, and strive to increase sales by 300%.
In more than two years, Douyin has become a new commercial force from a new channel. It no longer only helps merchants solve the problem of selling goods, but also begins to reconstruct the industry and transform the upstream. For consumers, they can buy high-quality products directly from the source, which is why new channels such as Douyin e-commerce can still grow rapidly today when there are so many shopping channels.
New partners, new ecology
All platforms ultimately hope to grow a forest, not a tree or two. Some platforms are limited by historical reasons, and it is difficult to build an ecosystem from scratch, but for new channels such as Douyin e-commerce, there is no historical burden, so from the first day, we hope to build a new ecosystem.
At the Douyin E-commerce Ecological Conference in 2021, Mu Qing, vice president of Douyin E-commerce, attributed the rapid growth of Douyin E-commerce to four carriages: self-broadcasting by merchants, talent matrix, platform activities, and head V. Among them, the most prominent performance in 2021 is the self-broadcasting of merchants. Many industry insiders even call this year the first year of self-broadcasting by merchants.
A head anchor said that when many brand merchants did not know about Douyin e-commerce in 2020, they were unwilling to allocate their marketing budgets elsewhere to the Douyin e-commerce platform until they saw Peacebird women's clothing, Teenie Weenie, etc. Only after the successful case of Douyin began to set up a special department to launch Douyin e-commerce.
Beginning in January 2021, Teenie Weenie started the brand self-broadcasting on Douyin, and the turnover of a single game exceeded 2 million on the fourth day. The self-broadcast record of the apparel industry.
A person in charge of the market of a brand merchant said that brand self-broadcasting can not only directly allow consumers to build trust in the brand, but also allow the brand to accumulate its own fans. Shangdaren live broadcast room, so there is a greater profit margin.
For the platform, encouraging e-commerce live broadcasts and allowing a group of high-quality brands to survive is also a prerequisite for long-term stable development. After all, high-quality supply is the core competitiveness of e-commerce platforms.
Head and waist experts are still an indispensable growth engine for the platform. Douyin e-commerce is also currently working with MCN agencies to set up live broadcast centers in Hangzhou, Linyi and other places, so that more content experts have the ability to turn to live broadcast to bring goods.
Platform activities are the key nodes connecting talents, merchants, and service agencies. From 2020, there are only big promotions such as 818 and the New Year's Day, to 2021, there are basically big promotion activities with industry and brand themes every month. Douyin e-commerce has improved its ability to find sources of goods and merchants.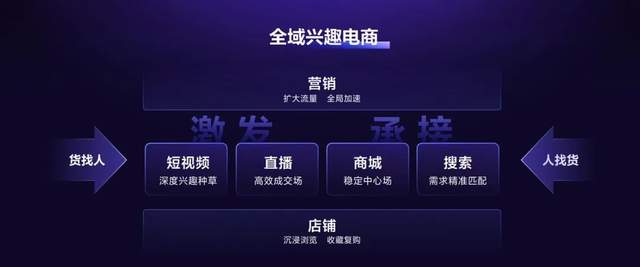 This year, Douyin e-commerce has found three growth fields for merchants in addition to these four carriages: content field, central field and marketing field. Merchants do a good job in search and shopping malls in the central field, optimize search keywords, strengthen store decoration, membership activities, do a good job of targeted pallets, do a good job in the design of business detail pages, participate in various channel activities, etc., to improve consumers' awareness of the store. Stickiness, increase repurchase.
In the marketing field, merchants use high-quality content to let consumers not only see the products in the content, but also pay attention to the brand behind the products, attracting new users for the brand.
Wei Wenwen, president of Douyin e-commerce, summed it up as a global interest e-commerce: help users discover potential needs through short video live broadcasts, use the mall, search to undertake, and after users develop habits, they can achieve accurate matching and repurchase; these behaviors are also It will be deposited in merchant stores. Merchants retain old users through store operations and content marketing, attract new users, and provide users with a "one-stop" shopping experience.
She predicts that global interest e-commerce is a new stage of Douyin e-commerce. In the future, the new field will account for more than 50% of the business.
Consumers not only need to discover new and peculiar products on a new platform, but also need stable and reliable brand stores; brands not only need to rely on impulse promotions brought by experts, but also need daily, with brand premiums , which requires the platform to build bridges and maintain trust.
For an e-commerce platform that has just been established for two years, it still needs to iterate quickly while making up lessons, and this is what Douyin e-commerce is good at. The upgrade from interest e-commerce to global interest e-commerce is just the beginning.
This article is reprinted from: https://www.latepost.com/news/dj_detail?id=1172
This site is for inclusion only, and the copyright belongs to the original author.