"The belly is protruding, the front of the thigh is thick, the knee is buckled… These problems all belong to the pelvic tilt and forward movement." In the short video of Douyin, the fitness coach Ah Tan is explaining the posture to the photos sent by the students. question.
A few months ago, Ah Tan was still an ordinary fitness trainer, and he was struggling with income. He himself did not expect that he would make a monthly income of 100,000 from the brink of bankruptcy in 3 months.
Ah Tan's dream was to open his own gym, but the offline customer base was limited, the market was cold, and the business results were far from his ideal expectations. "I don't make money." So he started trying to transform online, posting videos on Douyin and live broadcasts. The initial results were not satisfactory – there was no one in the live broadcast room, and the profit from selling protein powder and small fitness equipment was too low. "I have been doing it for a few months, and there is basically no income."
When there was nothing to do, a service provider called "Dolphin Knows" found Ah Tan, who could help him sell fitness courses using the Douyin applet and realize the realization of knowledge . This helped him solve the biggest problem at the time, "selling goods is not my forte, but lecturing is what I am good at."
Nowadays, more and more anchors and brand merchants like Ah Tan have added small program entrances to their Douyin homepage, video and live broadcast pages. After clicking on the entry, users can directly place an order to purchase knowledge courses, group purchase coupons, tickets and movies Tickets, you can also order takeaways, book hotels, and even book a test drive of a new car and pay a car purchase deposit in the applet.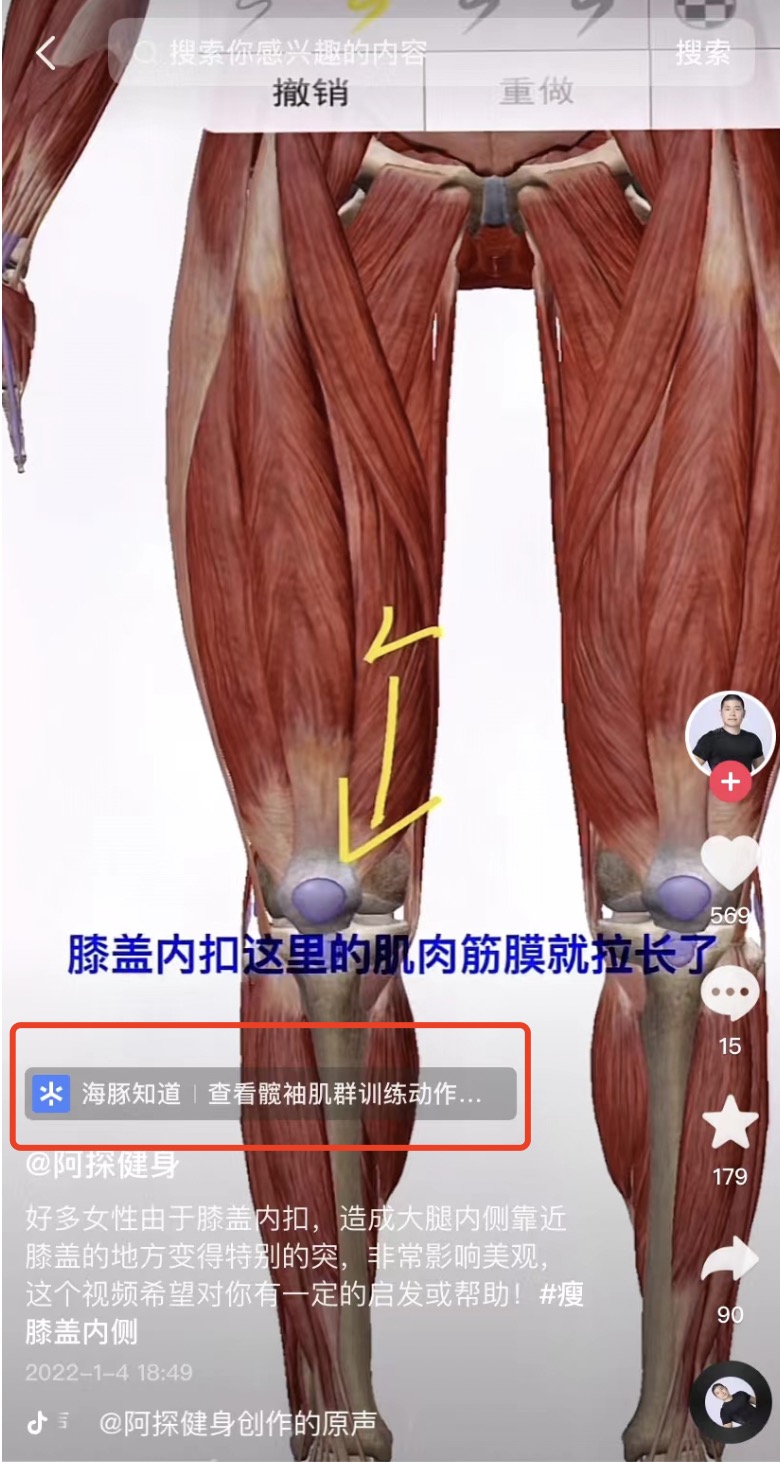 In the short video of fitness coach Ah Tan, the entrance of the Douyin applet was added.
Today, Douyin's daily active users have exceeded 600 million, and its functions have already broken through a simple content consumption and entertainment platform, and it is an important entrance to people's digital life. From e-commerce, live broadcast delivery to local life, Douyin has been exploring new consumption scenarios, but in the past, Douyin was dominated by itself, but recently it has been increasing its efforts to open up.
Last month, Douyin announced that it had reached a cooperation with Ele.me to open the home service to the cooperative platform in the key local life sector, which is the first time in Douyin's development history. On September 6th, Douyin held the Douyin Open Platform Developer Conference with the theme of "Believe and See New Machines", and announced the Douyin Open Platform and its business carrier Douyin applet for the first time, further demonstrating its determination to open up to the outside world. .
This time, how does Douyin "open"?
The word "open" sounds more like a concept and attitude. How to practice it is a specific practical problem.
Recently, there has been a series of news about the open cooperation between Douyin and other platforms. Last month, Douyin officially announced that it had reached a cooperation with Ele.me. Earlier, Douyin also reached cooperation with Sohu and iQiyi respectively.
The two belong to different industries and have different meanings to Douyin. The cooperation with Sohu and iQiyi is more focused on copyrighted content, anchored in the content supply of the platform, opening up the content creation and publicity process of the entire long and short video industry. Teaming up with Ele.me is a more clear and practical business "alliance". The two sides open up traffic portals and delivery services respectively, and use the "short video + takeaway" model to help each other grow.
The cooperation with Ele.me and iQiyi shows Douyin's determination to open up to the outside world. At this year's developer conference, Douyin announced more details and thoughts on "opening".
According to the logic of "what-why-how", Douyin first clarified the positioning and business of the open platform at the meeting, that is, who the platform serves. Han Shangyou, vice president of Douyin, said that the Douyin Open Platform is an open cooperation platform based on Douyin series products, with Douyin applet as the main container, providing a series of general service frameworks and open capabilities.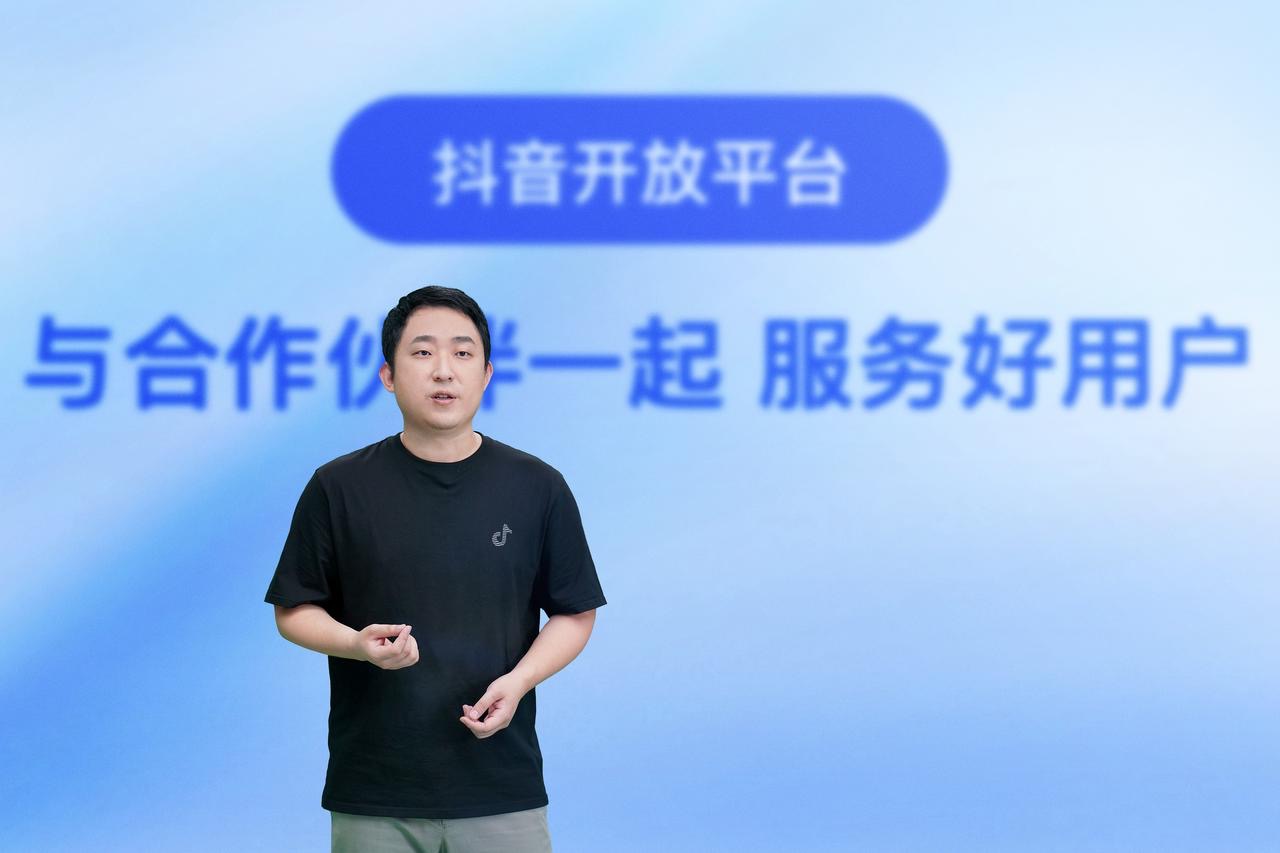 Han Sang-woo, vice president of Douyin.
To put it simply, the open platform is an externally-oriented functional integration tool. The specific business carrier is the Douyin applet, and Douyin itself provides traffic portals.
At the business level, the service object of the open platform is "developers", which can be divided into two categories. The main difference is who completes the development of small programs.
One is a brand or business that has R&D capabilities and can develop their own mini-programs; the second is a service provider, which can be further divided into technical service providers that help others develop mini-programs, and help merchants or anchors with commodity management and traffic. Service providers that operate on behalf of matchmaking, such as Ele.me, which have a lot of store resources.
These developers are the core users of the Douyin open platform, and the platform will provide corresponding service solutions according to their different types and roles, that is, what they can do on the platform. According to official data, the Douyin open platform has opened nearly 200 API interfaces, covering the main scenarios of Douyin's core user management, content management, data asset use, and interactive communication.
It is worth mentioning that the opening of Douyin this time is not only limited to take-out catering services, but also covers many fields such as wine travel, pan-knowledge, film and television entertainment, and government affairs. "The business models of many industries are very mature and have their own unique tonality. As long as an effective link with Douyin can generate great incremental value." Han Shangyou said, which also answers the reason why Douyin should be opened up. .
From single-point cooperation with several large platforms to the official release of the open platform, it means that Douyin's open strategy has been upgraded from a single project to test the waters to the normal operation of the platform, providing business solutions for more industries.
For ordinary Douyin users, one of the most intuitive experiences about "opening" is that a small snowflake-style logo can be seen in short videos, live broadcast rooms, account homepages, comment areas, etc., and click to enter. The applet directly places an order.
As the business carrier of Douyin's open platform, Mini Programs can simultaneously connect to multiple scenarios such as information flow content distribution, search, live broadcast, and enterprise accounts to reach users and convert traffic into income.
This is also the advantage of Douyin to be open. Short videos are intuitive and vivid, and users will have a stronger sense of immersion than pictures and texts when watching them, and the ability to grow grass and convert them is also stronger. On the other hand, Douyin's distribution mechanism makes it easier to accurately target users' interests and needs, and personalized recommendation can improve the matching of needs, which is a fairer opportunity for small and medium-sized businesses to acquire customers and meet differentiated business needs.
The real economy needs a "more open" Douyin
Click on the Douyin applet of the tea brand Yihetang, and users can see the complete list of products in the product bar at the bottom, and click "Buy" to place an order directly.
Yihetang is a ten-year-old brand with more than 5,000 stores located in more than 200 cities. In early June, Yihetang launched a nationwide live broadcast of the Douyin applet. In less than 3 days, the cumulative number of views in the live broadcast room exceeded 15 million, the number of orders exceeded 4 million, and the GMV exceeded 32 million.
This new consumption channel not only achieved an increase in orders and sales, but also brought fans to Yihetang. The official account has increased by 350,000 fans, and its members have increased by 450,000 fans. This is more valuable private domain traffic for operators.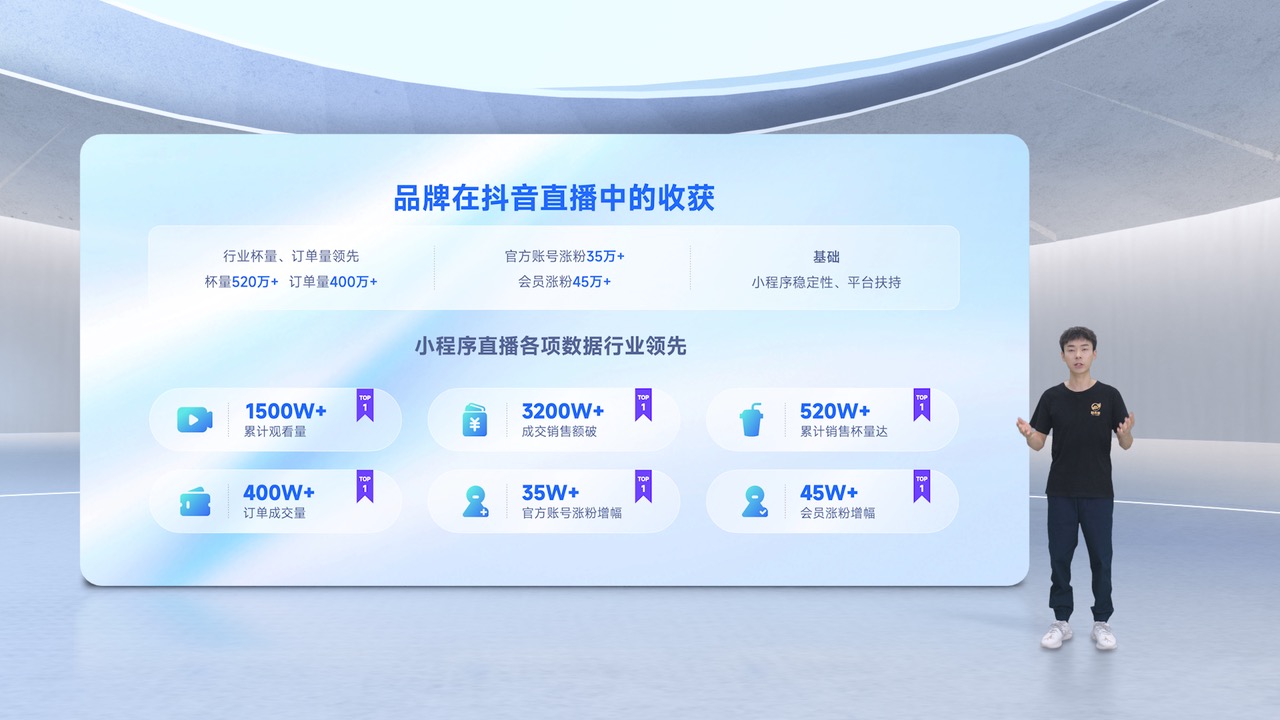 Tea brand Yihetang broke sales records with the Douyin mini-program.
In fact, in the current external environment, brand merchants and even various industries are thinking about a problem: how to make good use of Douyin's traffic to empower themselves.
Bai Xiaoxiao, the marketing director of Yihetang, mentioned in the case sharing that the live broadcast on the Douyin applet this time has received feedback on the live broadcast experience, consumer portraits and consumption behavior, which is an important reference for optimizing the next sales action.
When more and more physical industries are pouring into Douyin, the matter of "opening" becomes even more important. Douyin is more like an incubator. By opening traffic portals to other platforms and industries, it turns users' interests into purchasing power, helping the real economy, especially small and medium-sized enterprises, to complete digital transformation and find new growth opportunities here .
According to the business characteristics of different industries, the Douyin Open Platform provides more targeted mini-program solutions. Zhang Zhaohan, head of Douyin Open Platform Operations, introduced that, for example, for the group buying industry under the major category of life services, Mini Programs can open up more interface capabilities and process related information such as commodities and stores in batches, which is more efficient. The program is connected with its own membership, marketing, rights and other systems, and the business model is more flexible.
From the perspective of Douyin itself, "opening" is also a force for breaking through the bottleneck of growth. Today's short video industry has stepped out of the pure content consumption and entertainment scene, and Douyin is shifting from "discovering and recording a good life" to "experiencing a good life". No company can cover all aspects of public life, which requires Douyin to go deep into other industries to find cooperation.
Behind the "more openness", what did Douyin want to understand?
It has been a while since the Douyin applet was launched, and the Douyin team chose to introduce it to the public as the carrier of the Douyin open platform at the current node. The Douyin team has its own thinking behind it.
"In the past, we made small-scale attempts and found some problems. The essence is that we didn't understand enough about the open ecology of Douyin in the early days." Chang Kun, the head of Douyin's open platform, admitted that Douyin itself is constantly deepening its openness to "openness." "understanding.
Douyin has realized that as the product grows, the demands of users and merchants on the platform are more diverse and complex, and Douyin alone cannot truly meet the increasingly diverse needs and scenarios. "Opening" is the most cost-effective active choice at the moment. It is possible to do things that were not possible or difficult to do before.
In the cooperation between Douyin and Ele.me, the emphasis is on the take-out service model of "see, click, and arrive", that is, from content planting, online ordering to instant delivery, forming a set of services for the local catering industry closed loop.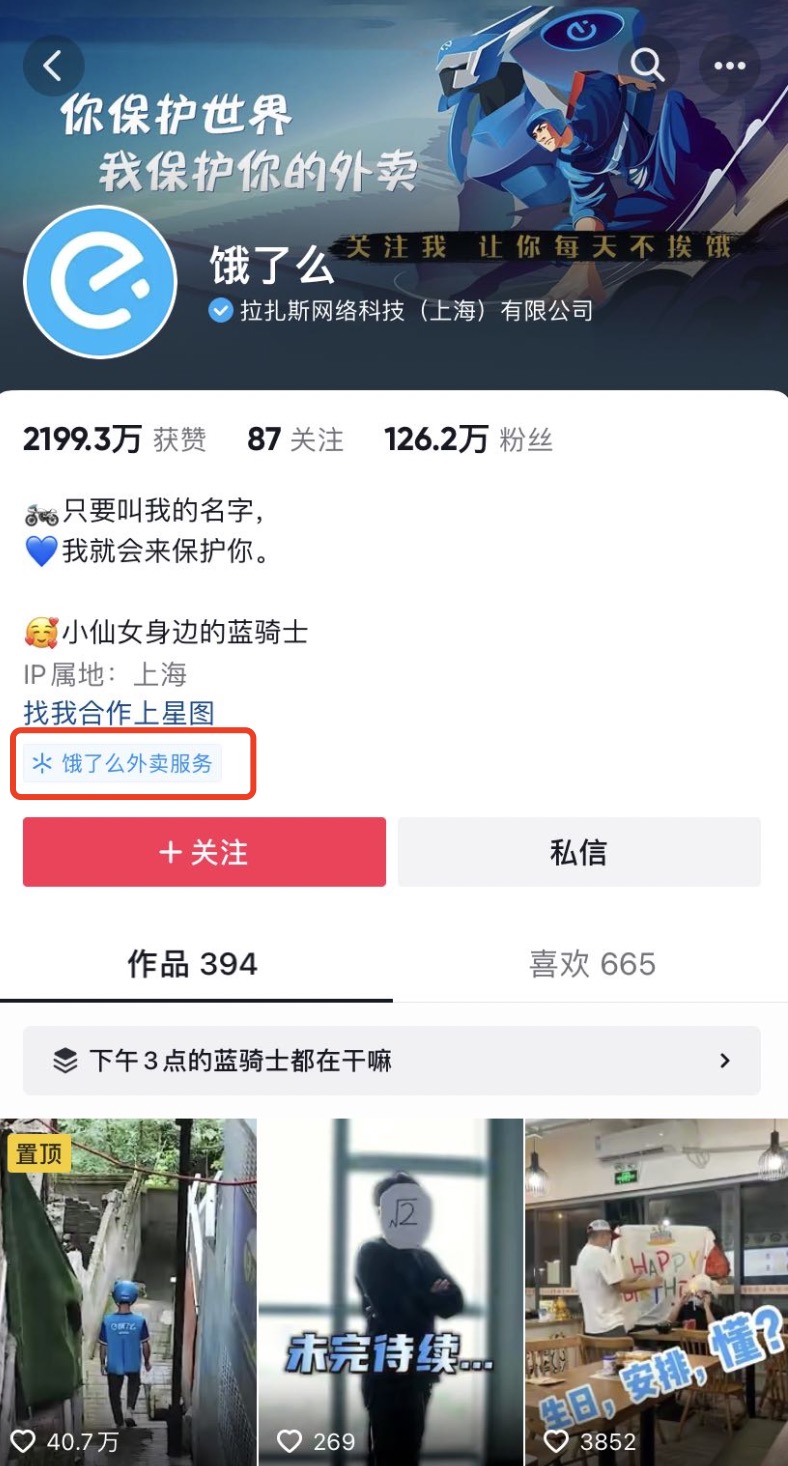 On Ele.me's Douyin account page, a small program entry for takeaway services has been added.
The biggest breakthrough in this is "immediacy". Users swipe life-style food videos on Douyin, and they can immediately enter the Ele.me applet to place an order, and takeaways will be delivered to their homes a few moments later. Although many brands and merchants have already entered Douyin before, the sales model is mainly "go-to-store" – users buy group purchase coupons online and go to offline physical stores to write off.
It's not that Douyin didn't think about doing takeout by itself. Since last year, Douyin has deployed a local life service track as a new growth point. Among them, the "Go Home" service is a risky attempt by Douyin. A major test of the buying and selling business is the high-risk, high-investment distribution capability, and this is a shortcoming in the Douyin business territory. It can even be said to be a blank spot, which is difficult to fill in a short period of time.
Facts have also proved this. Douyin's heart-pounding takeaway business was taken off the shelves after only three or four months of internal testing, and it has not been officially launched since then.
Until Douyin and Ele.me revealed the cooperation news, the outside world once again saw Douyin's "unwillingness" in the takeaway business. However, Douyin has changed its thinking this time. It no longer pursues a large and comprehensive business, but chooses to cooperate with mature industry resources, and uses external forces to make up for its own shortcomings and give full play to its own strengths.
This kind of open cooperation of "learning from each other's strengths to make up for one's weaknesses" is actually a practice of interconnection and cost reduction and efficiency improvement. In the past year, the most discussed topic in the Internet industry is interconnection and cost reduction and efficiency improvement. One is to face the outside world, and the other is to look at itself. The key to connecting the two is actually "opening" and borrowing external forces to strengthen itself.
While learning to leverage, Douyin's style of play is also more pragmatic and patient, respecting the product's carrying capacity and iterative rules, not adding countless functions to a product in a short period of time, but exploring a more stable open rhythm, step by step .
Now it seems that Douyin has figured out the matter of "opening", and is doing it. There are still preparations for long-term battles. The next step is to see how the verification works.
This article is reproduced from: https://www.geekpark.net/news/307953
This site is for inclusion only, and the copyright belongs to the original author.