The plump, shiny larvae of the dark-colored beetle ( Zophobas morio ) are called "super worms," ​​and they often feed on wheat bran and are also known domestically as barley worms or mealworms. Recently, some larvae found themselves being fed a bizarre food by scientists: polystyrene, a material commonly found in plastic foam. A recent paper published in the journal Microbial Genomics divided the worms into three groups: the bran-eating group, the plastic-eating group, and the starving group [1].

webpage Screenshot
Surprisingly, these worms that barely swallowed the plastic foam did not die on the spot. Compared with the starved group, they even gained a little weight and developed a higher proportion of adult worms. There are indications that plastic-eating bugs convert polystyrene into energy for growth and development. This prompted the researchers to test their digestive systems for microbes that could break down polystyrene. Without intervention, polystyrene can persist for years or more in the surrounding environment. If they can figure out how these microbes degrade polystyrene, they will devise an even better way to recycle this stubborn substance.
In the lab, mealworms are usually not the primary bugs that are fed polystyrene. According to Christian Rinke, a microbiologist at the University of Queensland (University of Queensland: Brisbane, QLD, AU) and corresponding author of the paper, mealworms can eat peanut packaging that contains different plastics. Both mealworms and mealworms have the ability to digest polystyrene, which is often lost when they are fed antibiotics. Based on this, the researchers believe that their gut microbial communities are more likely to be the main force in degrading polystyrene.
The key scientific question is to figure out what bacteria are in these microbial communities. To answer this question, Dr. Link and his colleagues grew three groups of mealworms in the lab: one group ate bran, one group ate polystyrene blocks, and a third group ate nothing. (The experiment was halted soon after the hungry mealworms displayed a tendency to kill each other; the study was only able to continue after each hungry mealworm was replaced with a single room.)
While bran is more attractive to superworms, they can also eat polystyrene. Within 48 hours of the start of the experiment, the polystyrene group's feces changed from light brown to white, and their body weights tended to rise slowly over three weeks.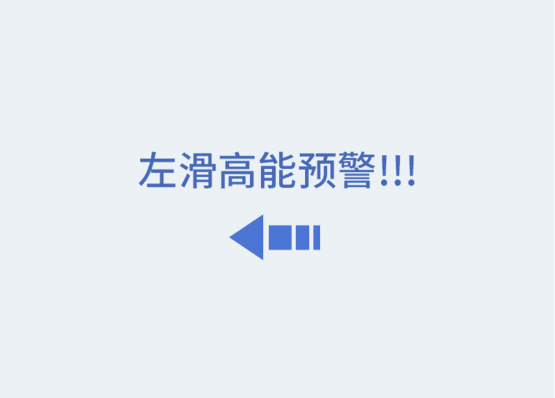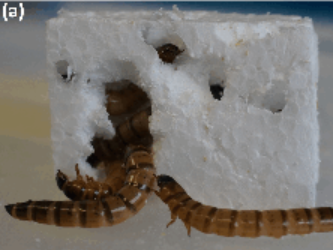 A swarm of super worms eats into a polystyrene block | Reference [1]
By the time the larvae turned into adults, nearly 93% of the worms in the bran-eating group had completed eclosion; only 10% of the starved group had successfully completed the transformation. Remarkably, 66.7 percent of the polystyrene-fed larvae were able to pupate, suggesting that they managed to get enough energy from typically indigestible substances to complete the change. "Polystyrene is definitely an indigestible food," Dr. Rinke said. "But the worms survived and didn't seem sick or anything."
The researchers performed high-throughput sequencing of the microbes in the larvae and found that the microbes were relatively active when the enzymes were being made. They set their sights on enzymes that might have the ability to degrade polystyrene into smaller molecules. "The next step will be to express these enzymes in the lab and verify experimentally that they are doing what we think they are doing," said Dr. Rinke.
Armed with the environment these enzymes require and the details of how they work, Dr. Rinke hopes to one day engineer an industry chain for recycling packaging foam. Second, used polystyrene may be processed into some kind of building product to keep it out of landfills. A better solution, however, might be to break them down and rebuild them into something new, such as using microbes to synthesize them into new types of bioplastics.
"It would make the whole thing more economical," Dr Rinke said. "It would create something that people wanted."
references
[1] Sun J, Prabhu A, Aroney S, et al. Insights into plastic biodegradation: community composition and functional capabilities of the superworm (Zophobas morio) microbiome in styrofoam feeding trials[J]. bioRxiv, 2022.
[2] https://ift.tt/MWtGb87
Compilation: Cod
Editor: Jin Xiaoming
Typesetting: Yin Ningliu
Title image source: Pixabay
research team
The first author/corresponding authorJiarui Sun/Christian Rinke
Paper information
Published the journal Microbial Genomics
Published on June 9, 2022
Paper title Insights into plastic biodegradation: community composition and functional capabilities of the superworm (Zophobas morio) microbiome in styrofoam feeding trials
(DOI: https://ift.tt/k0SIP8W)
Article Areas Microbiology, Biotechnology, Environmental Science
The Future Light Cone Accelerator is an early-stage technology entrepreneurship accelerator initiated by Nutshell Technology. It provides proposals for scientists in different stages of entrepreneurship, ranging from company registration, intellectual property rights, to financing needs, and team formation. Accelerate the transformation of scientific and technological achievements from the laboratory to the market, and accelerate the iteration of some scientists to become CEOs.
The Nutshell team has 12 years of experience in serving scientists. We always make suggestions from the perspective of scientists and be good friends of science and technology creators. If you are planning to start a technology business, whether you are looking for money, people, resources, or orders, you are welcome to chat with the Future Light Cone team. You can send bp or other project information to [email protected] , and leave your contact information, or add the Wechat of Guoke Hard Technology Enterprise to communicate by private message.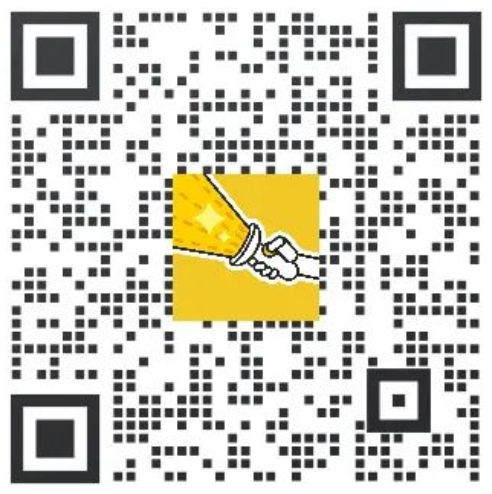 ✦
✦
Click to read the original text to view the original paper
This article is reproduced from: http://www.guokr.com/article/461689/
This site is for inclusion only, and the copyright belongs to the original author.