Welcome to the WeChat subscription number of "Sina Technology": techsina
Text / Li Xia
Source: Bohu Finance (ID:bohuFN)
In May last year, the soul of the shell, Zuo Hui, left. In May this year, the shell completed its return to Hong Kong for listing, and released the unaudited performance report for the first quarter after returning to Hong Kong at the end of the month.
In the first three months of this year, Shell's revenue was 12.5 billion, a year-on-year decrease of 39%, and its net profit turned from profit to loss, from a profit of 1.06 billion last year to a loss of 620 million in the same period this year.
Net profit turned from profit to huge loss, and revenue was almost cut in half, but despite this, after the results were released, Shell US stocks closed up more than 16%, and on Children's Day, Shell Hong Kong stocks opened 12% higher, and went to the end of the session without any disturbance. 13%.
This scene is very similar to the stock market in March 2020, either cholera or love. Now, it is necessary to re-understand this country's largest real estate transaction platform.
Real estate with collapsing shells
Looking at the vertical comparison, it is not an exaggeration to say that the performance of the shell in the first quarter is terrible, but from the objective point of view of the current situation of the real estate, the poor performance of the shell in the first quarter is also expected.
Data from the Shell Research Institute shows that in the first quarter, the contracted area of ​​new commercial housing in key 62 cities across the country fell by 41% year-on-year, and the third- and fourth-tier cities fell particularly sharply, reaching 47%. Four percent.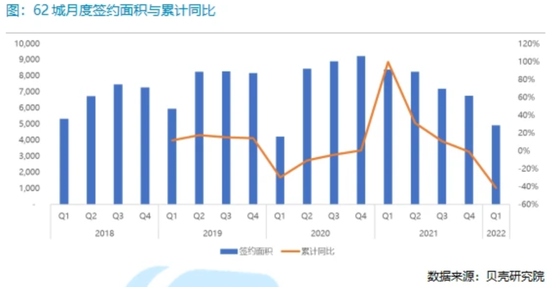 The macro environment is reflected in the performance of Shell, the total transaction value (GTV) of Shell in the first quarter of 2022 is 586 billion yuan, a year-on-year decrease of 45%. The effect of GTV on Shell's revenue is a decrease of 39% – compared to the decline in GTV It has been reduced by 6 percentage points. In this way, Shell's revenue is not bad.
Specifically, the existing housing business, new housing business, emerging business and others achieved revenue of about 6.2 billion, 5.9 billion, and 500 million, respectively, down 39%, 41%, and 15% year-on-year.
A brief summary is that Shell, as the leading real estate trading platform in China, the income changes closely follow the real estate macro environment, and it has not achieved the lead or dragged its feet. This is a fortune in misfortune.
But on the other hand, in the context of such a skinny performance in the real estate industry, it seems like a fantasy for Shell to achieve growth in transaction volume and revenue. Like all companies, if a business cannot increase revenue through open source, the rest is to cut costs and reduce costs.
In October last year, several media reported that the product development and financial departments of Shell Shanghai were laid off. In March this year, Shell was again laid off, mainly involving second-hand housing and new housing transaction service business groups.
According to the financial report, in the middle of last year, there were about 550,000 agents in Shell, which dropped to 450,000 at the end of last year. At the end of the first quarter of this year, there were 430,000 agents left, and less than 120,000 in a year.
There are also stores that have also decreased. At the end of 2021, Shell has 51,000 stores, and by the end of the first quarter, there will be 46,000 stores, a decrease of 5,000.
The financial report explained that due to the reduction in staff (and the provision for credit losses), Shell's general and administrative expenses in the first quarter decreased by 27.5% to 1.53 billion; in addition, due to the reduction in advertising and promotional marketing activities, sales and marketing expenses in the first quarter were 860 million, a year-on-year decrease. up 22.8%.
Only research and development expenses have increased to 750 million, a growth rate of 17.4%.
Compared with the "three fees" expenses, the huge decline in operating costs (commissions, salaries, store costs, etc.) is more obvious, from 15.9 billion in the first quarter of 2021, down 35% to 10.3 billion in the same period this year.
Speaking of this, compare the 1.06 billion that Shell earned in the first quarter of last year to the 620 million that it lost this year, and you will know how difficult it is.
Obviously, even as the largest real estate trading platform in China, in the real estate environment, it is impossible for Shell to benefit from the head effect.
The value of trillions, the wings are charged
In 2021, Shell's annual GTV will be 385 million, a growth rate of 10%, and its revenue will be 80.8 billion, a growth rate of 15%. In the previous year, the growth rates of these two figures were 65% and 53%, respectively.
Perhaps there is a hunch about the sharp turnaround in the real estate brokerage business. In November 2021, Peng Yongdong, chairman and CEO of Shell, announced the strategy of "one body and two wings". "One body" refers to the real estate transaction business, and "two wings" refers to home improvement and leasing.
With the poor performance of real estate transactions, Shell hopes to use the two wings of home improvement and leasing to help Shell take off.
And if these two wings can be vibrated, the wind is not small.
The "2021 China Urban Rental Life Blue Book" pointed out that the size of my country's housing rental market has reached 2 trillion in 2021, and according to the average annual urbanization rate of 2%, it will reach nearly 10 trillion in 2030.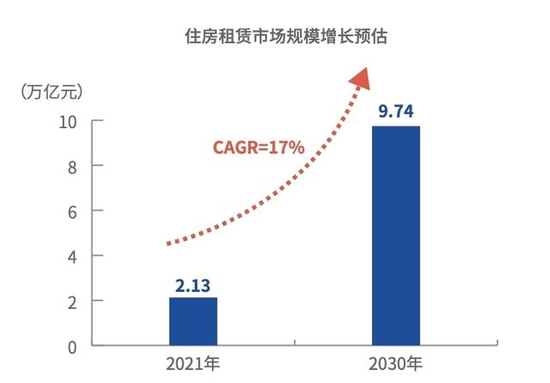 (Data: 2021 Blue Book of Urban Rental Life in China)
Another data from the China Decoration Industry Association shows that from 2015 to 2019, the compound annual growth rate of the market size of my country's home decoration industry was 8.46%, and the market size in 2019 reached 2.74 trillion yuan. The Prospective Industry Research Institute predicts that this scale will reach 3.2 trillion in 2023.
These two trillion markets, as long as one vibrates, the shell can take off with one wing.
From Shell's point of view, attacking these two trillion-dollar markets is by no means a whim. Shell's predecessor, Lianjia, entered the relevant field very early.
Lianjia was established in 2001. In the early days, in addition to real estate transactions, it also did real estate leasing agency business. In 2011, Lianjia established its own long-term rental apartment brand Ziru and started the self-operated rental market. However, self-employment requires redecorating the house, so Ziru also naturally set foot in the decoration industry later. Recently Ziroom held an internal staff meeting and mentioned that the number of houses renovated in Ziroom has reached 75,000 units per year.
In 2013, two years after the establishment of Ziru, Lianjia established its own home improvement company, Millimeter Decoration, to do public clothing.
Since then, Lianjia has continued to invest in the trillion-dollar market of home improvement, including investing in home improvement brands such as Ai Space, Dongyi Risheng, Niuniuda and so on. Fish home decoration.
With the upgrade of Lianjia.com in 2018 to find a house for Shell, the home improvement business came to the home of Shell.
In 2019, Shell Holding Nanyu Home Improvement, in April 2020, Peng Yongan, CEO of Shell House, released the home improvement platform "Quilt Home Decoration", which mainly promotes hardcover construction. In June of the same year, Vanke withdrew from Wanlian, and Shell took over.
In July 2021, Shell announced the acquisition of Shengdu Home Improvement at a price of no more than 8 billion, and the acquisition plan was completed in April this year. Peng Yongdong said, "The shell home improvement business has achieved from 0 to 1, and Shengdu will allow the shell home improvement business to achieve scale replication from 1 to 100 faster."
The same ambition can be seen in leasing. At the end of 2021, Shell established the Huiju Business Group and officially launched the "shell rental". In March this year, Shell Rentals launched an online conference, and plans to provide 100,000 units to the market this year, including centralized apartments and decentralized apartments.
It is reported that the "New Youth Apartment" under Shell Rental, which is positioned as an asset-light model, has landed in Xuhui District, Shanghai in February 2022, with a total of 2,979 units.
As the naked eye can see, these two wings have begun to charge.
Tough careers on the real estate plate
Home improvement and rentals have high ceilings. Under the country's keynote of stabilizing housing prices and not speculating on housing, both are good exports for Shell, which used to rely on real estate transactions as its main revenue.
However, neither of these two trillion-dollar markets is an easy job.
Although the home improvement industry has developed for many years, it still gives the impression that it is still in the infant stage and the concentration is very low. According to the data of the Prospective Industry Research Institute, there are 100,000 related companies, of which the combined revenue of several leading companies in 2019 accounted for less than 2% of the industry's output value.
The real estate leasing industry is even more outrageous, and there is no problem of concentration at all. It is estimated that the research institutions cannot find samples if they want to study.
Slightly better is the long-term rental apartment. According to the statistics of 2018 by the Zhongyan Puhua Industrial Research Institute, in the centralized long-term rental apartment, the concentration of the top five reached 44%; in the decentralized long-term rental apartment, Ziruyoujia and relatives HOME (I love my home) two add up to 61%.
However, public information shows that even in 2017, when long-term rental apartments were hot, the number of these apartments accounted for only 2% to 3% of the national rental market. According to the analysis data of the current situation of China's housing leasing industry in 2020 released by the China Business Industry Research Institute, the combined proportion of decentralized brand apartments and centralized brand apartments is only 5%.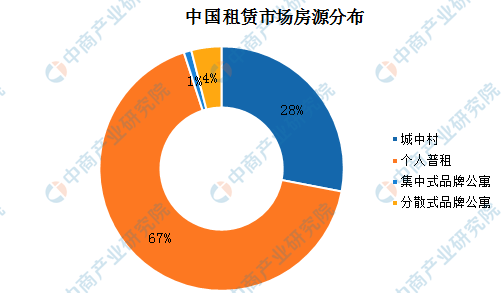 (Data source: Collated by Lianjia Research Institute and China Business Industry Research Institute)
The low concentration of these two industries is not without reason. Take the real estate leasing industry as an example, if you want to rent an apartment for a long time, you need to pay rent to the landlord first, and then you have to pay for decoration, purchase of furniture and other expenses. Heavy assets mean that it cannot be spread quickly.
The low concentration of the home improvement industry is mainly because the industrial chain is too long and too complex. In addition to traditional home improvement companies, there are also offline home stores such as Red Star Cameron and Easyhome. Later, Internet home improvement companies such as Tmall Home Improvement and Tubatu were developed, and finally there are industry chain home improvement companies such as Ai Space. Companies such as Wanlian belong to this category.
When Vanke and Lianjia launched Wanlian in 2015, they had high hopes. After all, one is a leading real estate company and the other has a demand entrance. In 2016, Wanlian completed about 5,000 decoration orders, occupying the first position in the home improvement market in Beijing. In 2017, Wanlian set a goal of 15,000 orders and 10 trillion in pursuit, and then there was no more.
Finally, it should be pointed out that whether it is leasing or home improvement, they are all under the chain of real estate, that is to say, under the circumstance that real estate cannot have great growth in recent years, Shell is in a situation that is already in a In the stock stage, we looked for two market segments that are still increasing. The reason why these two markets have existed for so many years is that it is too difficult to establish dominance over them.
After Zuo Hui is gone, can these two "difficult but correct things" be superimposed together?


(Disclaimer: This article only represents the author's point of view and does not represent the position of Sina.com.)

This article is reproduced from: http://finance.sina.com.cn/tech/csj/2022-06-10/doc-imizirau7702798.shtml
This site is for inclusion only, and the copyright belongs to the original author.