Original title: Actively reserve and meet challenges – in the first quarter, the scale of China's IT security hardware market increased by 14.5% year-on-year
Source: IDC Consulting
According to IDC's "China IT Security Hardware Market Tracking Report for the first quarter of 2022", the size of China's IT security hardware market in the first quarter of 2022 is about US$540 million (about 3.42 billion yuan), a year-on-year increase of 14.5%.
The network security hardware market defined by IDC is divided into unified threat management (UTM), firewall based on UTM platform (UTM Firewall), secure content management (SCM), intrusion detection and prevention (IDP), virtual private network (VPN), traditional Firewall (Traditional Firewall) composition. The performance of key manufacturers in China's network security hardware market in the first quarter of 2022 is as follows (Note: Since the size of the traditional firewall market is currently shrinking, there is no content related to key manufacturers of traditional firewalls in the figure below; in addition, due to rounding of numbers, figures may exist minor errors.)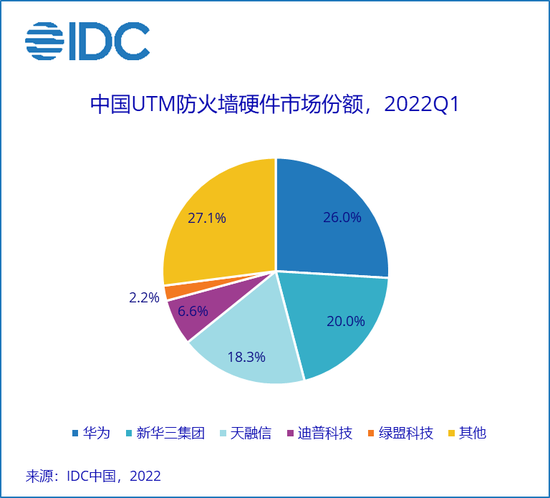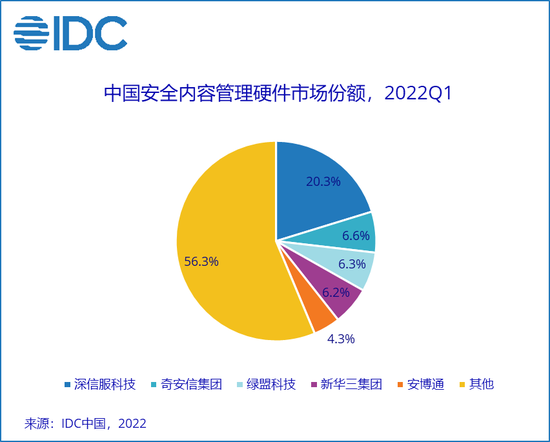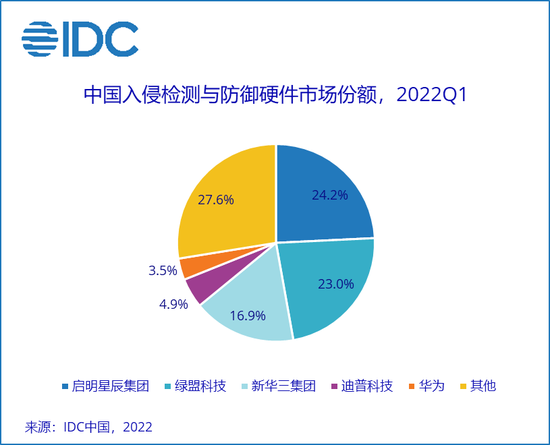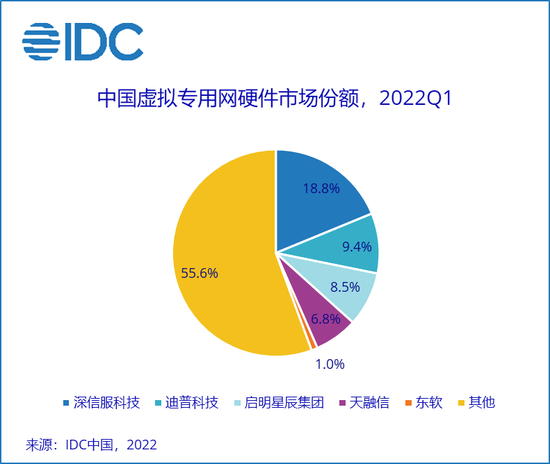 Overall, the performance of China's cybersecurity hardware market data in the first quarter of 2022 is as follows:
The growth rate of the unified threat management market led all sub-markets, with a year-on-year increase of 20%, and the market size exceeded 900 million yuan.
Under the influence of "remote +" and the outbreak of secret evaluation demand, the VPN market still maintains a rapid growth rate of more than 18%.
Government, operators, and finance are still the three major industries for network security hardware spending. In the first quarter of 2022, industries related to critical information infrastructure still maintain rapid growth, while education, medical and other industries are affected by the project cycle and the epidemic and other factors. The growth rate is lower than expected .
IDC China network security market analyst Wang Yating said that in the first quarter of 2022, against the backdrop of a relatively stable epidemic situation and steady economic development, the overall hardware market performance was relatively stable. However, the uncertainty of the epidemic, the supply of chips, and rising hardware costs still persist. For hardware manufacturers, on the basis of maintaining supply, it is crucial to seize the window period of the epidemic. IDC will also continue to track changes in the market.
media coverage
Sina Technology Play TechWeb
event tracking
This article is reprinted from: https://readhub.cn/topic/8gTmrOSWSjR
This site is for inclusion only, and the copyright belongs to the original author.