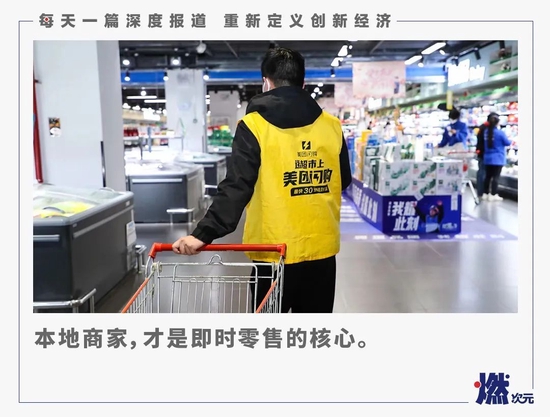 Welcome to the WeChat subscription number of "Sina Technology": techsina
Text / Xie Zhongxiu
Source/burning dimension (ID: chaintruth)
The battle for instant retailing is on the rise.
On August 26, Meituan (03690.HK) released its 2022 second quarter and half-year results.
Looking at the overall situation, Meituan achieved results that exceeded market expectations in the second quarter. The performance report shows that in Q2 2022, Meituan achieved revenue of 50.94 billion yuan (RMB, the same if not marked below), a year-on-year increase of 16.4%.
profit. According to the report, Meituan lost 1.12 billion yuan in the Q2 period of 2022, which was significantly narrowed from 3.36 billion yuan in the same period last year, while adjusted EBITDA and adjusted net profit were 3.8 billion yuan and 2.1 billion yuan, respectively. Turn around.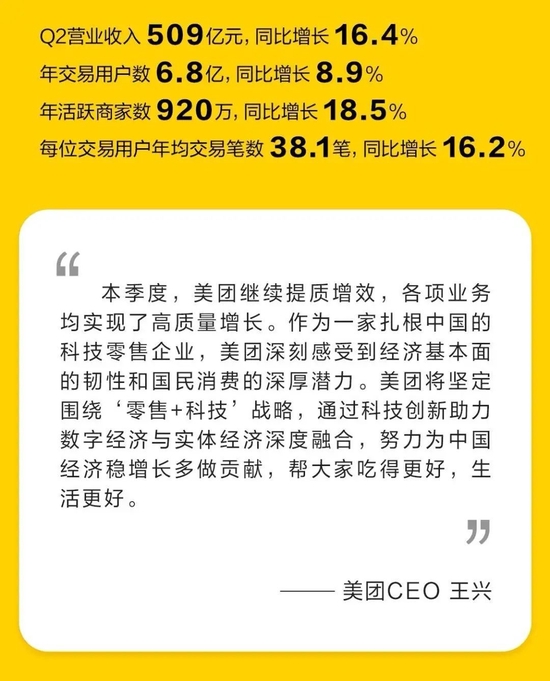 Figure / Meituan's second quarter 2022 performance data sources / Meituan official subscription number
Consistent with JD.com, which announced its second quarterly report a few days earlier, instant retail is the highlight of Meituan's earnings report. Randiyuan observed that in Meituan's first quarter 2022 performance report two months ago, the word "flash sale" appeared only 3 times, and in the second quarter, "flash sale" was mentioned 17 times, and the flash sale business Placed in the "Core Local Business" section of the newly restructured business segment.
According to the second quarter performance data, the average daily order volume of Meituan flash sales in Q2 2022 is 4.3 million, an increase of 10.3% from the 3.9 million in Q1 2022. Driven by the instant retail business, the per capita transaction frequency of users on the Meituan platform in Q2 2022 will increase by 16.2% year-on-year to 38.1 transactions.
Instant retail is hot and has become a market that major manufacturers want to compete for. For example, JD.com has also repeatedly mentioned instant retail businesses such as Hourly Shopping and JD Daojia in its second quarterly report. Recently, JD Retail CEO Xin Lijun has also served as the chairman of the board of directors of Dada Group, which is JD's instant retail distribution company. Although Ali has not placed instant retail on a strategic level, there are also tools such as Ele.me available.
Unlike traditional e-commerce, the instant retail model is inseparable from local retailers. A notable figure is that the number of active merchants on the platform has also grown to 9.2 million, an increase of 200,000 from Q1 in 2022 and a record high.
"Today's sales of close to 1 million yuan a month are something I didn't dare to imagine before." Xiao Liu, who runs a cheap department store in Tongzhou, Beijing, said bluntly that during the epidemic in May this year, the supermarket's online orders increased by 3,000 orders. , is 1.5 times the usual. Relying on instant retail, the service radius of supermarkets has also expanded from 1-2 kilometers to surrounding residents and nearby residents to 5-6 kilometers.
"Instant retail relies on local entities. Compared with contract performance and online traffic, 'local brick-and-mortar retailers' are the core fundamentals of real-time retail." An analyst said, "The prosperity of local brick-and-mortar retail will grow New formats such as instant retail, and instant retail will also feed back to local physical retail. Driven by such an axle, a positive cycle will be formed."
Now that the real-time retail war is fierce, to continue to win this battle, the core also lies in local entities.
Instant retail in Meituan's financial report
Meituan's financial report has a big change in the second quarter of 2022. That is to say, the business segment has been adjusted from the previous catering takeaway, in-store, hotel and tourism, new business and other three departments to two local core business and new business.
Regarding the reasons for the adjustment, Meituan explained in the financial report, "The new segment disclosures better reflect our business strategy, development stage and financial performance of various businesses, and are better aligned with our resource allocation."
Ranjiyuan saw that the core local business includes food delivery, in-store, hotel and tourism, Meituan flash sale, homestay and transportation ticketing; new businesses include Meituan Choice, Meituan Shopping, Catering Supply Chain (Quick Donkey), Online car-hailing, shared bicycles, shared motorcycles, power banks, restaurant management systems and other new businesses.
It can be seen that the core local business is a relatively mature business with a clear profit path, while new businesses are still being explored. Meituan also stated in its earnings report, "Our management will regularly review the development of these businesses (new businesses) and dynamically adjust resource allocation and strategies."
In the midst of business changes and adjustments, Meituan's flash sale has attracted attention. In the financial report for the first quarter of 2022, Meituan's flash sale is still a new business, but it has now been included in Meituan's core local business. In the financial report, Meituan also mentioned, "Meituan Flash Sale not only shares the user base and existing instant delivery network with catering takeaway, but also has a very clear profit path and a similar unit economic model."
In 2018, Meituan Flash, as an instant retail e-commerce company under Meituan, was released as an independent brand. After that, all the way forward.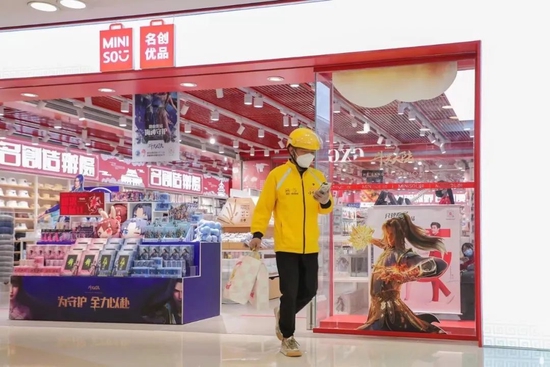 Source/Visual China
Various entities in the real economy market have begun to provide Chinese consumers with "everything to their home" goods and services within 30 minutes by developing new forms of instant retailing and relying on the instant distribution network covering the whole country. According to this financial report, the average daily order volume of Meituan flash sales reached 4.3 million, and the number of users and transaction frequency also increased significantly.
The pandemic has accelerated the growth of instant retail. On the consumer side, the epidemic has further accelerated consumers' immediate demand for "everything at home". For example, when the price is similar, the paper towels can be delivered to the home in 30 minutes, while the e-commerce logistics takes 2 days. Obviously, most consumers will choose the former.
Under the realistic market development and certain market prospects, instant retail has become a new "competitive place" for the Internet.
Meituan CEO Wang Xing also pointed out in the second-quarter earnings conference call, "Meituan Flash Sale has established its own core competitiveness in the past few years. The industry's largest local merchant base with the most diverse local supply."
Local entities become major beneficiaries
Through instant retailing, platforms have grown and consumers have enhanced their shopping experience.
"Not long ago, I went to a friend's house for the night, and when I arrived, I found that there was no makeup remover. It was already 9 o'clock in the evening, and I was a little reluctant to go out to buy it temporarily. So I searched on Meituan, but I didn't expect it to be there. It's cheaper to buy in-store," said Neo, a consumer in Beijing.
As a loyal user of Meituan's instant retail, Neo told Randiyuan that she was not worried about lack of things, "Go to Meituan and search, most of them are there."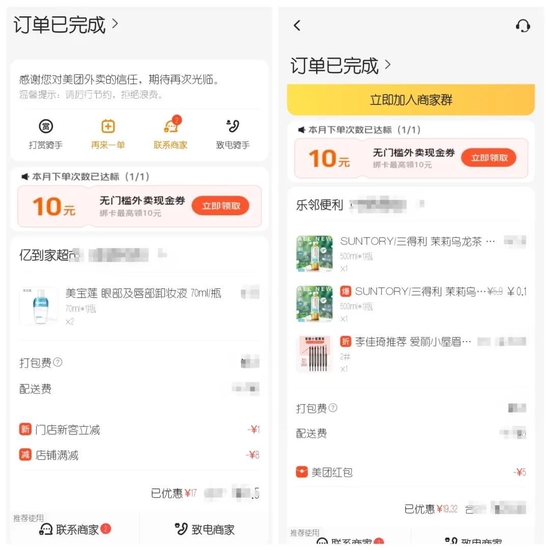 Photo/Neo's Meituan Flash Order Source/Provided by Neo
Under the market outbreak of instant retail, local merchants have also ushered in opportunities.
Xiao Liu came to Beijing from his hometown in Hunan to run this cheap supermarket more than a year ago. "The young people in my hometown are all out and about, and the elderly people have weak purchasing power. After careful consideration, I decided to go to the big city."
When he arrived in Beijing, Xiao Liu still started the familiar supermarket business. But I didn't expect that even if I changed places, the business would not be good. "There are only a few orders a day, and the wholesale ones will not be delivered to you. You have to get them yourself." Later, Xiao Liu conducted research on the surrounding area and decided to specialize in the youth market. It was found that "young people buy more daily necessities, and most of them are online shopping."
Therefore, Xiao Liu put his supermarket on Meituan, but he did not expect to achieve unexpected results. "During the epidemic period in May this year, online orders increased by about 3,000 orders, which was 1.5 times the usual amount. Plus offline Turnover, the total marketing volume exceeds one million yuan."
Small, medium and micro merchants are the biggest beneficiaries of Meituan instant retail. Data from Meituan shows that from January to July 2022, the transaction volume of convenience stores and supermarkets on the Meituan platform increased by 54% year-on-year, of which mom-and-pop stores increased by 110%.
At present, there are two main models of instant retail. One is the self-operated model characterized by heavy assets, and the platform realizes supply through self-operated offline entities, and the other is the platform model of light assets, which connects offline retail merchants and consumers. Instant demand . Meituan's retail business has both, offline supermarkets, convenience stores, fresh food stores, and front-end warehouses are the focus of the instant retail platform to integrate supply chains and expand categories.
For traditional offline brick-and-mortar retailers, the customer base is limited by geographical location, which is an objective problem, generally only covering residents within a radius of 1,000 meters. However, instant retail has led merchants to break through the limitations of geographical scope and opened up an online channel for physical stores. With the help of the intelligent distribution system, the business scope has been expanded from the original 1 km to 5 km, and the coverage of customer groups has been directly expanded.
"Our husband and wife's grocery store has been open for 12 years, with an area of ​​only over 20 square meters, but it is filled with more than 2,000 commodities, and has undertaken all the daily necessities of the surrounding residential areas and office buildings within a 5-kilometer range." Chengdu Jinjiang District grocery store The owner, Lao Lin, said.
Today, in addition to various small stores, local physical retailers such as supermarkets, chain stores, KA, and stores are also rushing to instant retail, becoming the main beneficiaries of instant retail development.
According to data from Meituan, this year's Qixi Festival, buying gifts on takeaway platforms has become a new way for young people to celebrate the festival, driving the transaction volume of Sephora stores to increase by 695% compared with the week before Qixi Festival, and the transaction volume of Perfect Diary increased by 413% compared with the week before Qixi Festival.
Ryohei Yoshida, general manager of Lawson China Business Promotion Headquarters, also said in August this year that from a national perspective, the instant retail platform has brought about 10% of the sales increase to physical stores.
In addition to creating incremental markets and improving sales, instant retail also helps local brick-and-mortar retailers improve efficiency, product quality and service levels through digitalization and technological capabilities, and iterates business thinking and concepts.
"Opening an online store, how to optimize the page, which products are listed on the homepage, and how to formulate promotion strategies are all issues that need to be seriously considered." Xiao Liu said, "The surrounding communities of the small store, because there are many young people, we will also specialize Adjust the direction of purchases. For example, during the epidemic, we saw that the online sales of outdoor products in the surrounding stores were considerable, and we also purchased a large number of outdoor products. In May, the online orders of the stores surged, and outdoor picnic mats and barbecue boxes sold particularly well. "
Local supply is the basic disk
According to the definition, instant retail refers to a retail model that relies on the platform to expand and connect local retail supplies such as physical merchants and warehousing, and achieve fast delivery for consumers within 1 hour or even 30 minutes.
It's also a trillion-dollar market. According to iResearch, the transaction scale of instant retail platforms will reach 1.2 trillion yuan in 2025. In the second-quarter 2022 earnings conference call, Meituan also mentioned that "instant retail in China is at least a trillion yuan market, and it is immature and has low penetration."
When it comes to Meituan's instant retail, local delivery capability is the first advantage mentioned. But this is not the core basic disk of Meituan's instant retail.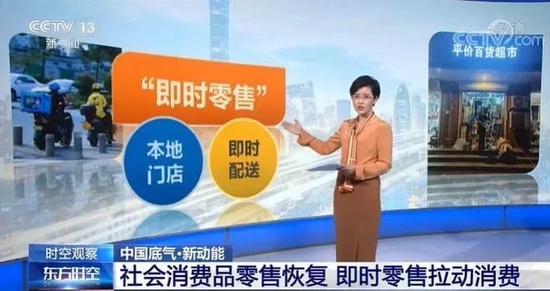 Source/Screenshot of Burning Dimension
"In the instant retail model, local physical retail directly provides goods and services to consumers, and the abundance, quality and cost of locally supplied goods directly determine the terminal consumption experience. From the data point of view, cities with better development of the instant retail model often It is also an area with abundant and prosperous local brick-and-mortar retail." said the above analyst.
"The ability to fulfill contracts will eventually become a kind of social infrastructure. More importantly, it is local supply." This person said bluntly.
The delivery speed of instant retail is at least 1 hour, which determines that the supply of goods must reach a certain density. The off-site supply that relies on national long-distance logistics transportation or the supply of central warehousing around the city cannot meet the demand, which makes local supplies such as physical supermarkets, offline stores, and front-end warehouses constitute the basic product of instant retail.
From the perspective of the cost composition of instant retail, the distribution cost of instant retail depends on the distribution density and breadth of local supply. The instant retail point-to-point delivery service experience within 30 minutes determines that it must achieve more orders in the region and reasonable supply distribution in order to reduce the average delivery cost. The more brick-and-mortar merchants within 3 kilometers of the user, the larger the order size, and accordingly, the average delivery cost per order will decrease accordingly.
On the consumer side, Neo said, "When using instant retail, there will be certain requirements for timeliness. After all, it is often urgent. But because it is an unexpected demand, there are also expectations and can tolerate longer delivery times, such as An hour or two is acceptable."
"But more importantly, there is no such commodity." Neo added.
At present, instant retail is still in the market stage where supply is less than demand, and the supply and demand in various regions are naturally unbalanced. The variety and optional space of commodity supply are not enough to meet all the needs of consumers.
In this regard, in order to enrich the supply, in addition to local entities such as offline supermarkets and convenience stores, Meituan is also actively developing lightning warehouses. Lightning Warehouse is one of Meituan's real-time retail formats. With the pre-warehouse model, merchants build warehouses. Meituan focuses on helping merchants operate online and provide users with a richer, more accurate, and more cost-effective commodity supply.
According to Meituan data, as of June 2022, the Meituan Lightning Warehouse project has expanded to more than 100 cities and over 1,000 warehouses. In the Q2 financial report, Meituan said, "Meituan Flash Sale also accelerated the coverage of the innovative model flash warehouse in this quarter to meet the richer and more cost-effective consumption needs of young people."
As consumers continue to use food delivery as express delivery, the immediate demand will further expand to other categories, and the scarcity of supply will be further exacerbated. In the short term, instant retail will be a supply-led market. For local supply merchants, This period is a bonus period.
In the long run, instant retail will also coexist and prosper with brick-and-mortar retail. Prosperous brick-and-mortar retail will nourish brick-and-mortar retail, and the development of brick-and-mortar retail will feed back brick-and-mortar retail. The two achieve each other.
For all players on this track, how to lay a solid foundation for local supply will be a long-term proposition.
*Neo in the text is a pseudonym.

This article is reproduced from: http://finance.sina.com.cn/tech/csj/2022-08-28/doc-imizmscv8032423.shtml
This site is for inclusion only, and the copyright belongs to the original author.