New cool products will be tested for free for the first time, and many high-quality talents will share their unique life experiences. Come to Sina Public Test and experience the most cutting-edge, most interesting and fun products in various fields~! Download the client and get exclusive benefits!
According to VideoCardz, Intel's official documents have confirmed the W790 chipset, and motherboards equipped with this series of chipsets are expected to support a new generation of Xeon workstation processors.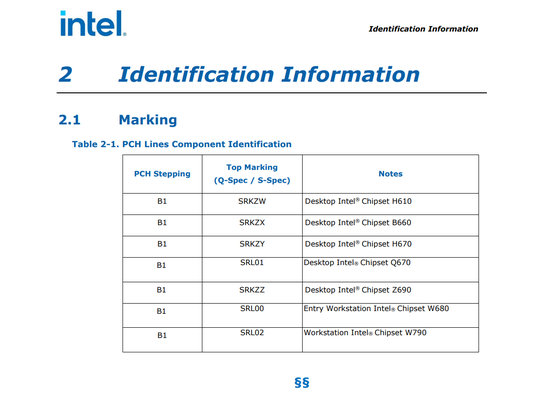 IT House reported that not long ago, the system detection software hwinfo exposed the ASUS PRO WS W790E-Sage motherboard , which is expected to provide support for Intel's new Xeon W series.
Regarding Intel's new generation of Xeon processors, foreign media VideoCardz has now exposed the lineup of this series of processors, including the W5, W7 and W9 series, with core numbers ranging from 12 cores to 56 cores . This family of processors will compete with AMD's Threadripper PRO 5000WX processors, which will retail later this year.
W5-3423: 12 cores, 24 threads, 2.1GHz, 220W

W5-3425: 12 cores, 24 threads, 3.2GHz, 270W

W5-3433: 16 cores, 32 threads, 2.0GHz, 220W

W5-3435X: 16 cores, 32 threads, 3.1GHz, 270W

W7-3445: 20 cores, 40 threads, 2.6GHz, 270W

W7-3455: 24 cores 48 threads, 2.5GHz, 270W

W7-3465X: 28 cores 56 threads, 2.5GHz, 300W

W9-3475X: 36 cores 72 threads, 2.2GHz, 300W

W9-3495X: 56 cores, 112 threads, 1.9GHz, 350W
It is reported that Intel's new generation of high-performance workstation processors will include the Xeon W-3400 and Xeon W-2400 series, which do not use the large and small core design on the Core, but are all Golden Cove large cores. The Xeon W-3400 series is designed with a maximum of 56 large cores and supports up to 4TB of 8-channel DDR5 memory; the Xeon W-2400 series has a maximum of 24 cores and supports up to 512 GB of 4-channel DDR5 memory.
media coverage
CNBeta IT Home IT Home Sina Technology
event tracking
This article is reproduced from: https://readhub.cn/topic/8hTZtBFh9Ka
This site is for inclusion only, and the copyright belongs to the original author.