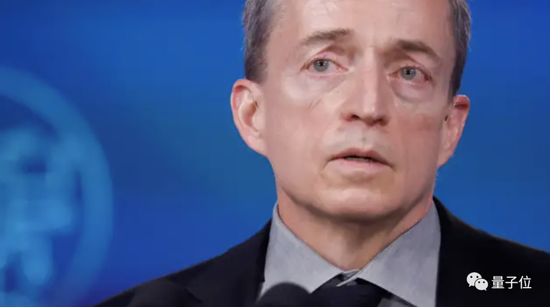 Yige Yuyang from Aufei Temple
Qubit | Public Account QbitAI
Intel is in Les Misérables.
As soon as the financial report for the fourth quarter of 2022 came out, the global chip giant Intel was hit by a "disaster":
Revenue in the fourth quarter fell by 1/3 in one breath, which was not only lower than market expectations, but also set a new low quarterly revenue since 2017.
Even Intel CEO Pat Kissinger had to admit:
Intel had a tough fourth quarter.
To make matters worse, "we expect the first half of the year to remain difficult":
Intel's first-quarter revenue forecast is only between $10.5 billion and $11.5 billion—a direct return to 2010 levels.
As soon as this wave of data was released, the market immediately labeled it a "catastrophe".
The "Wall Street Journal" bluntly stated that Intel's performance was "disappointing", and The Register even used "Lei Jun" care for Intel:
Kissinger, Are U OK?
As soon as the news came out, Intel's stock price fell by more than 9%, and its market value evaporated by more than 50 billion yuan overnight.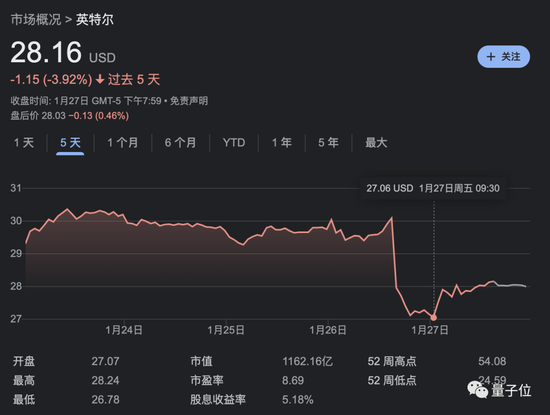 Prior to this, Intel had news of frugality: layoffs, business cuts…
Difficult life, Big Brother Chip
So what kind of financial report is it that makes Intel, the big brother of chips, gloomy?
First, let's look at Intel's revenue for the fourth quarter of 2022:
Intel's fourth-quarter revenue was US$14 billion, down 32% year-on-year, below market expectations of US$14.49 billion.
Although it still sits firmly at the top of the US semiconductor manufacturer's revenue, this figure is equivalent to hitting Intel back to the level of 2016, which is the lowest quarterly revenue since 2017.
The loss of US$664 million also greatly exceeded market expectations of US$278 million. In the fourth quarter of 2021, Intel made a profit of US$4.62 billion.

Gross profit margin also dropped significantly: Intel's gross profit margin in the fourth quarter of 2022 was 39.2%, a year-on-year decrease of 14.5%.
The full-year figures are also down 20% year-over-year:
Intel's full-year 2022 revenue will be $63.1 billion. The full-year net profit is US$8 billion, which is directly halved compared with US$19.9 billion in 2021.

Specifically, the cash cows during the Intel epidemic were weak in succession.
For the Client Computing Group (CCG), which includes desktop and notebook CPU businesses, revenue in the fourth quarter fell 36% year-on-year.
The data center and artificial intelligence business group (DCAI) is also not optimistic: it fell 33% year-on-year in the fourth quarter.
The full-year declines of these two businesses were 23% and 15% respectively.
The above is not the most surprising to the outside world.
CNBC pointed out that the most worrying thing about Intel this time is the "weakness" and "uncertainty" it has shown in the coming year.
Not to mention that the expected revenue in the first quarter of 2023 is as low as US$10.5 billion to US$11.5 billion, which is far lower than the US$14 billion expected by the market.
Intel also took precautions in advance: it may continue to lose money in the first quarter of 2023.
If this happens, it means that Intel will experience two consecutive quarterly losses for the first time in 30 years…
It is worth mentioning that Intel did not give a full-year forecast for 2023 due to "economic uncertainty."
Intel in trouble at home and abroad
Is the former chip overlord really in decline?
In fact, Intel's dilemma has been foreshadowed throughout 2022.
On the one hand, from the perspective of the overall market environment, the consumer electronics market is in a downward cycle.
Taking PCs as an example, Gartner's data shows that global PC shipments will continue to fall in 2022. Among them, shipments in the fourth quarter fell by nearly 29% year-on-year, the largest quarterly decline since the mid-1990s.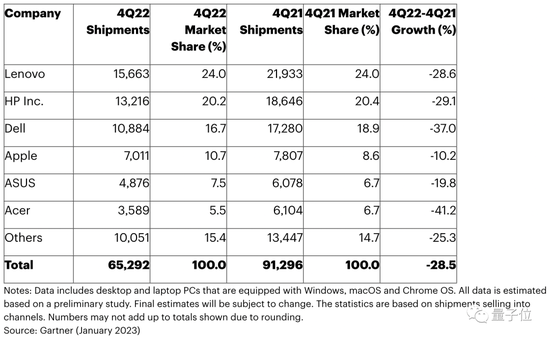 Affected by this, Intel's customers have "excess chips." Compared with ordering new chips from Intel, how to "destock" is what they are most concerned about at present.
On the other hand, the data center market, where Intel once occupied an absolute leading position, has also been eroded by competitors such as AMD and ARM.
On the conference call, Kissinger also clearly told investors that Intel has been losing share in the data center market. Mercury Research data shows that its market share has dropped from 99% to 83%.
But then again, doesn't Intel still have a fab (foundry)?
However, in this regard, Intel has been questioned more in recent years.
As one of the very few semiconductor companies that holds chip design and manufacturing in their hands at the same time, Intel has lost the chain in the manufacturing process in recent years, and lags behind Samsung and TSMC in advanced manufacturing processes:
Here, Samsung and TSMC have successively announced the mass production of 3nm, but Intel is still rubbing against 10nm.
Some netizens complained:
Intel is unwilling to change itself, so don't blame others for changing it.

Amid internal and external difficulties, in order to save costs, Intel has been saving money as much as possible since last year, and laying off employees and cutting businesses are gradually advancing.
In October last year, when Intel announced its third-quarter financial report, it simultaneously announced the layoff decision, involving departments including sales, marketing, etc., and the proportion of layoffs accounted for about 20% of its headcount.
By December, Intel also announced three months of voluntary unpaid leave to thousands of Irish employees.
The official response said the voluntary leave program gave Intel an opportunity to reduce short-term costs and provide employees with attractive leave options.
In addition, Intel has also successively shut down the laboratory with a planned investment of 700 million U.S. dollars, and terminated the R&D center project of 200 million U.S. dollars in Israel.
Even, Intel announced that it has stopped the RISC-V Pathfinder project, and will not release new versions or fix bugs. Developers can only switch to other third-party tool software.

Such a move also annoyed netizens: This is why I don't want to choose Intel.
Every time I get excited about an Intel product line like Larrabee, Phi, Itanium and try to build on top of it, I'm betrayed, I just can't trust them.

According to statistics, since CEO Kissinger rejoined Intel in 2021, the company has withdrawn from seven businesses, saving a total of 1.5 billion US dollars. He also said Intel was ending investments in some networking hardware.
Just a few days before the announcement of the 2022 financial report, the chairman of the board of directors, Omar Ishrak, also offered to resign.
Ishrak, who has served as chairman of the board since 2020, played a big role in Kissinger's return to Intel and led the company through two difficult years.

In the financial report, Intel clearly mentioned that it is expected to cut costs by 3 billion US dollars this year, and layoffs and business cuts will continue.
The currently announced layoff plan includes 177 layoffs in Santa Clara, USA and 378 layoffs in the San Francisco Bay Area starting from March 15.
Annual cost reductions and efficiency gains are expected to increase to as much as $10 billion by the end of 2025.
Some analysts predict that Intel will invest the saved costs in building chip factories to drive the company back to profitability.
Kissinger responded:
I just want to say that we've taken a very disciplined approach to our capital allocation strategy, both from the board and management, and we've been very cautious, and we're also committed to maintaining a competitive dividend.
But the most embarrassing thing is that even such a "disastrous" performance did not arouse much discussion among netizens, let alone being on the hot search.
Perhaps, what is worse than bad performance is not being noticed anymore, nothing is more sad than heartbreak, and nothing is more cool than nobody care.
One More Thing
It is worth mentioning that in the latest financial report, Intel's self-driving subsidiary Mobileye has a good momentum:
It went public in December with adjusted earnings of 27 cents per share on a 59% rise in revenue to $656 million.
The company also expects Mobileye revenue to grow strongly in 2023, reaching $2.19 billion to $2.28 billion.
What's your take on Intel's current situation?


(Disclaimer: This article only represents the author's point of view, not the position of Sina.com.)

This article is reproduced from: https://finance.sina.com.cn/tech/csj/2023-01-28/doc-imyctkkr6957242.shtml
This site is only for collection, and the copyright belongs to the original author.