Central cities are increasingly attracting investment.
Last week's hard technology financing weekly report mentioned that Wuhan plans to set up a government guidance fund with a total scale of 50 billion yuan. Seemingly stimulated by this, Zhengzhou, which is also the "three core cities in central China", announced this week that it would increase the original size of the city's industrial fund of 20 billion yuan to 50 billion yuan. As for the third corner of the three central cities, Changsha, a fund of funds of 40 billion yuan was established in June this year.
In the era of hard technology entrepreneurship, government guidance funds are an important means of attracting investment. From August 16th to 17th, Premier Li Keqiang proposed during his inspection tour in Guangdong to support the better development of venture capital funds such as venture capital, and help start-ups at the critical stage of development.
Of course, the government cannot rely on the government alone to support entrepreneurship and innovation. The corporate venture capital funds (CVCs) of large companies are equally important. For example, in this week's pharmaceutical investment, there are frequent giants.
Smart Manufacturing
In terms of intelligent manufacturing , a total of 21 companies received financing this week, and the companies that received financing were mainly semiconductor and high-end equipment manufacturing companies.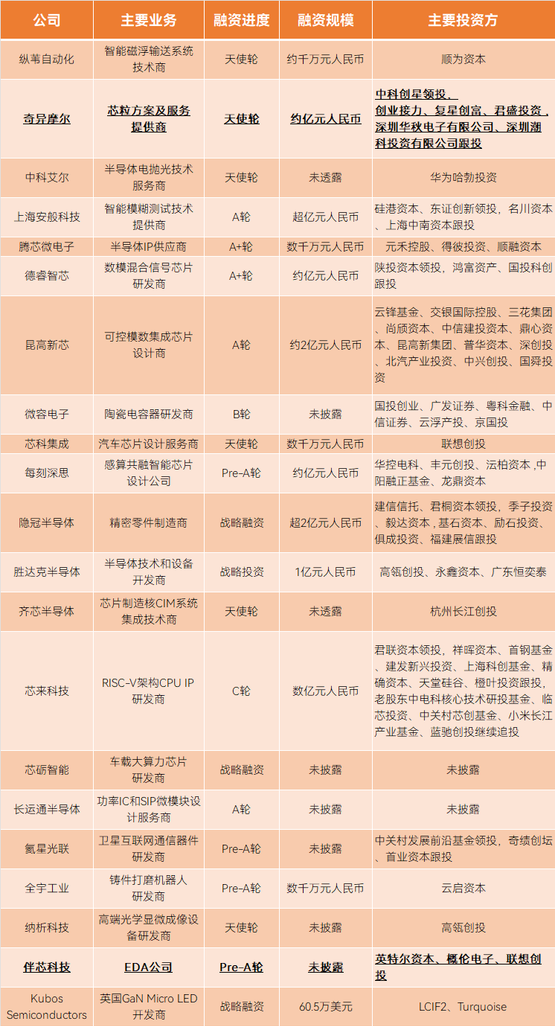 There are two companies worthy of attention, one is Qi Moore , a chip solution and service provider , which has won the lead investment of Zhongke Chuangxing, and the investment of Entrepreneurship Relay, Fosun Chuangfu, Junsheng Investment, Huaqiu Electronics and other co-investors. 100 million RMB angel round investment.
The chip is the small chip Chiplet that has been popular recently. Simply put, Chiplet is a chip set that separates the components originally integrated together and packaged together through a specific packaging technology. The industry regards it as one of the solutions to delay the failure of Moore's Law.
GF Securities believes that Chiplet has the characteristics of low manufacturing cost, low design difficulty and high production yield. According to research firm Omdia, the global chiplet market will reach $5.8 billion in 2024 and exceed $57 billion by 2035.
At present, the packaging solutions that can be applied to Chiplets are mainly SIP, 2.5D and 3D packaging. Among them, 2.5D packaging technology is the most mature, and 3D packaging technology is the most difficult. Qimoore is one of the first companies in China to focus on 2.5D and 3DIC Chiplet products and services. Its business covers market management, product architecture, software and hardware, and advanced packaging.

Another noteworthy company is Banxin Technology , an EDA company, which has received a Pre-A round of investment from Intel, General Electronics and Lenovo Ventures. This week, the U.S. EDA/ECAD export control to China took effect. If you are interested in this topic, you can read more in the historical article "Understanding EDA: If you want to sell chips, leave money to buy water " information.
biomedicine
In terms of biomedicine , there were 21 noteworthy financing events this week. The financing companies included various drug R&D companies, testing technology companies and medical equipment companies.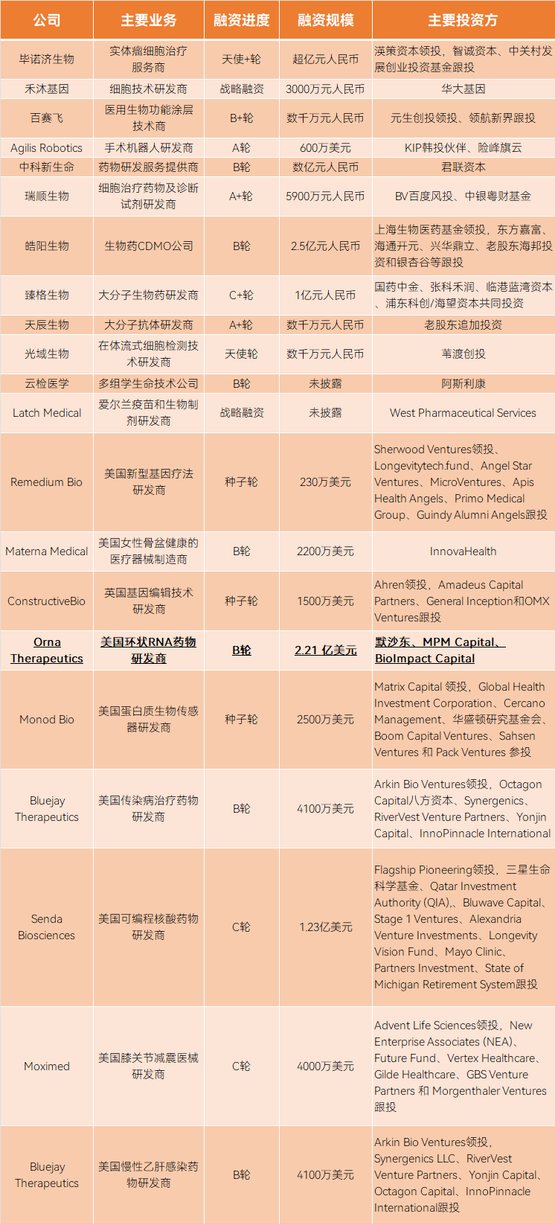 In terms of corporate venture capital funds, this week Merck, AstraZeneca, Samsung, Baidu and BGI have successively invested in one company each, including three innovative pharmaceutical companies and two biotechnology companies.
It is worth noting that Orna Therapeutics , an American circRNA drug developer , has received a $221 million joint investment from pharmaceutical giant Merck & Co., a well-known biotech venture capital institution MPM Capital and its subsidiary BioImpact Capital. Since the beginning of this year, the amount of financing of semiconductor companies has risen, and Orna Therapeutics this week has also been regarded as a win for pharmaceutical companies.
Why is this company so valuable?
The current mRNA therapy is based on linear mRNA, which requires extensive modification to resist nuclease degradation, and has a short intracellular existence time and is expensive to manufacture. Circular RNA is a closed structure and is not sensitive to nucleases, so it is more stable and long-acting. Larger proteins can also be produced through "rolling circle translation", with greater potential for industrialization.
Orna Therapeutics claims to be the world's first company to develop new therapies using circular RNAs. Its founder, Daneil Aderson, discovered in 2018 that engineered circular RNAs can be stable and efficient in eukaryotic cells The ability to express proteins efficiently has become the foundation of the company. At present, the company has 4 research and development pipelines, including CAR-T cell therapy, DMD therapy, new crown vaccine and undisclosed information pipeline, but they are all in the preclinical stage.
Although circular RNA has many advantages, it is also very difficult to industrialize. For example, the circularization efficiency of circular RNA is very low, and the purification strategy is not yet mature. Rao is so, Merck, which cooperated with RNA giant Moderna in February this year, is still willing to bet on Orna Therapeutics.
Domestically, companies such as Gisai Bio, Ringcode Bio, and Yuanyin Bio are also engaged in the research and development of circular RNA drugs.
green economy
In terms of green economy , 8 companies received financing this week, including 7 energy companies and 1 biomaterials developer .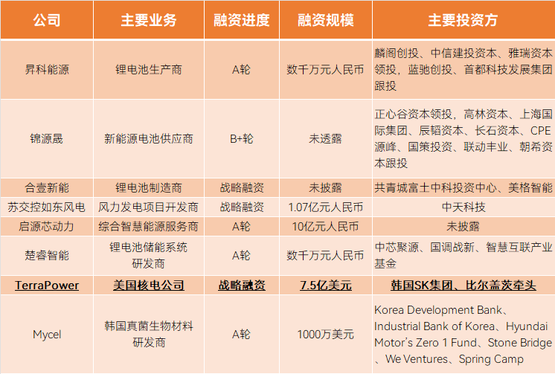 TerraPower , an American nuclear power company , deserves attention. The company has received a huge $750 million strategic financing led by South Korea's SK Group and Bill Gates . The company is a nuclear power company invested and established by Bill Gates in 2006, dedicated to the research and development of a new type of commercial nuclear reactor – traveling wave reactor.
The traveling wave reactor is a sodium-cooled fast reactor using metal fuel. This technology uses liquid sodium as the coolant instead of the current mainstream water coolant, and belongs to the fourth generation of nuclear power technology. Compared with previous-generation technologies, TWRs utilize uranium resources more efficiently (up to 70% in theory), generate less waste, and operate more safely.
As early as 2009, TerraPower began to cooperate with China National Nuclear Corporation. The two sides reached an agreement in 2017 to build an experimental nuclear reactor in Beijing, which has since been shelved due to U.S. policy restrictions. In 2021, TerraPower is partnering with Buffett-acquired Pacific Power to build a demonstration reactor at a soon-to-be-closed coal plant in Wyoming.
29% of the country's electricity comes from nuclear power. As early as April this year, South Korean media revealed that SK Group intends to take a stake in TerraPower. Of the US$750 million raised this time, US$250 million came from SK Group.
modern agriculture
In terms of modern agriculture , a total of 3 companies received financing this week, including 1 developer of agricultural preparations and 2 developers of new food.

modern travel
In terms of modern mobility , a total of 5 companies received financing this week.

---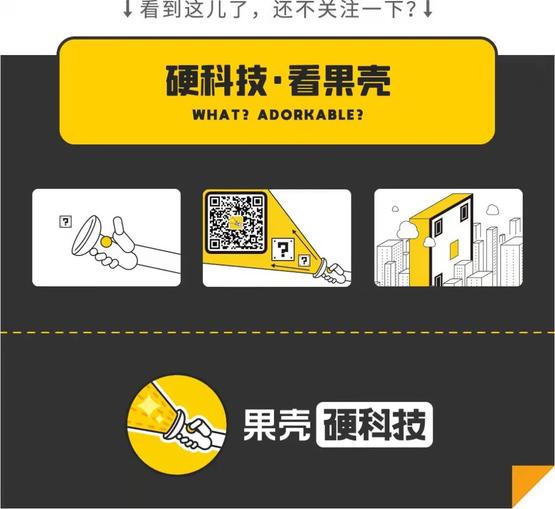 This article is reproduced from: http://www.guokr.com/article/462030/
This site is for inclusion only, and the copyright belongs to the original author.