Source of the first image: Tenor
Welcome to the WeChat subscription number of "Sina Technology": techsina
Text/Lexie
Source/Silicon Rabbit Race (ID: sv_race)
It's not a dream to wake up the buddies in the venture capital circle every day recently, but one after another layoff news. TechCrunch even set up a new column for layoffs, not to mention the ever-increasing data on Layoffs.fyi, a website dedicated to tracking layoffs. . Some people say that the venture capital circle has changed, the valuation of many god-chosen subsidiaries has been cut in half, and unicorns have become ponies… However, the venture capital circle is not only depressing news, at least there are still people Toss, it is none other than the famous incubator Y Combinator.
YC's new business
Y Combinator launched Launch YC in June this year. Users can search the start-up industries in the accelerator by industry, batch and launch time, invite users to vote on new products, and help start-ups climb the leaderboard to have more opportunities "Swipe your face" to show your product demo and introduce the founding team, which is a little like the Yellow Pages of a startup company.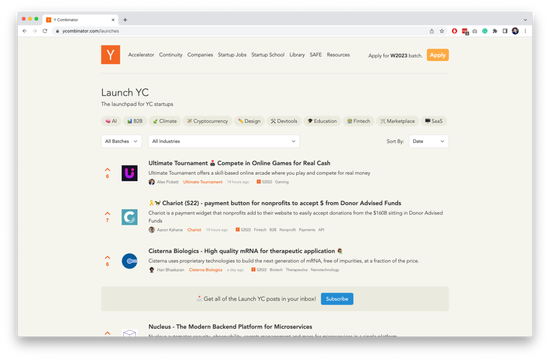 Launch YC
YC said that the project has actually existed for many years, but it is only open to founders in its incubator. As soon as this project was announced, most of the comments in the industry were "Isn't this Product Hunt?" Product Hunt has been established for 9 years now, and it has become a powerful venture capital community where users discover products, investors find targets, and entrepreneurs seek inspiration. Let's take a look at the interface of Product Hunt, indeed the two are very similar, and the Product Hunt user interface looks more friendly and more functional👇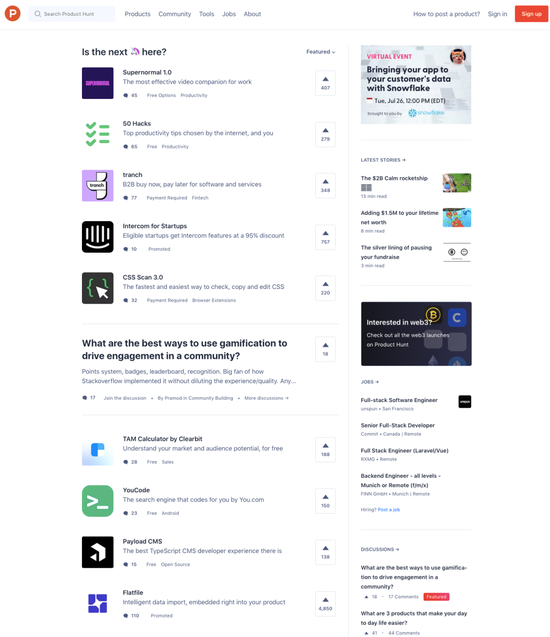 Product Hunt
But YC doesn't want to be compared to Product Hunt, they want founders to not choose among them, but to release products on as many platforms as possible to ensure that enough users and investors can see it . The main purpose of YC's move is actually to address a major criticism it has received over the years — that it's getting harder and harder for startups to stand out, even with the YC light shrouded in it, YC president Geoff Ralston said last year, saying he doesn't think it's going to happen in the future. In the far future, a batch of YC projects will incubate more than 1,000 startups. Such a goal is of course reasonable for investors. They can bet on the future of startups at "cheap" prices, even if there is only one company in a hundred companies. Become the future Airbnb, DoorDash, Coinbase… YC can only make a profit.
But for start-ups, such a prospect is not clear. The precious attention and resources in the past are now divided into 1,000 shares, and people have to think, "Can I still get the opportunity to meet with top investors?" Can I still be discovered when users scan YC's product list?" So YC's launch of Launch this time is actually more like a self-upgrade, adding a model outside the incubator to increase the presence of start-ups, and Product Hunt Unlike the public, only YC-incubated companies can be listed on Launch YC.
Product Hunt has not been "copied homework", and is also in the process of layout. At the beginning of this year, Product Hunt officially announced its parent company Prologue. In addition to Product Hunt, it also has an early venture capital institution Hyper, which is worth 60 million. Only a small number of early-stage founders are recruited in 2019 to train on product, growth, and recruiting, and connect them with other founders.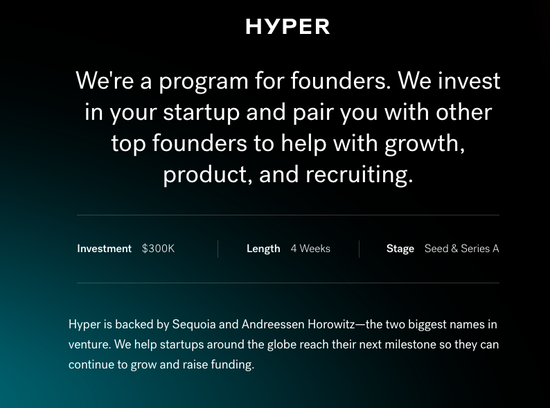 Hyper fund
Prologue has received $23 million in investment from a16z and Sequoia Capital, and Product Hunt has also participated in the YC accelerator program. In Prologue's official release article, Hyper CEO Shahed Khan wrote that he hopes that Prologue's technology and media brands will have a flywheel effect to help founders in this well-capitalized, attention-starved but increasingly decentralized Silicon Valley world. Weird clearance, bringing together culture, community and collaboration. Product Hunt's data shows that the total value of startups published on its platform exceeds $100 billion, including today's tech giants such as Stripe, Airtable, Zoom, and Robinhood. The careful irrigation has produced a strong competitive advantage.
Venture capital wants to hatch 🐣
Sequoia, known over the years for its early scrutiny at companies like Apple, Klarna and WhatsApp, can now sit back and reap the benefits of their transformation into tech giants, and it's not satisfied, it wants to go back to work again.
This year, Sequoia announced the launch of Arc. It is positioned not as an accelerator or an incubator, but as a self-proclaimed "catalyst". It is committed to providing about eight weeks of training for 15 start-ups, including company structure, corporate culture, products and marketing, etc. There's even a "secret to winning" course taught in a live-action mode, and the businesses also receive $1 million in start-up funding.
This project will be spearheaded by Sequoia Silicon Valley partner and chief product officer Jess Lee. One of the selling points is that it specifically recruits "outsider" companies, and founders of any background can get a fair chance to be considered. The data designed by Jess Lee led the team. Analytical tools will play an important role in helping Sequoia find good founders who may not have had access to its traditional model; another lead is Luciana Lixandru, a London-based partner who will focus on finding the European region of outstanding startups, accelerating the expansion of Sequoia's footprint in Europe.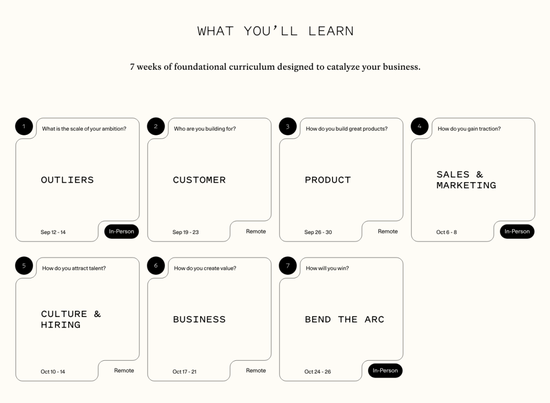 Sequoia Arc program
a16z also launched the accelerator program START in April, which provides early founders with $1 million in exchange for some shares. The proportion of shares is unknown. It is supported by a fund specially designed for seed round investment that completed a $400 million financing last year. Applicants can have only one idea and nothing else, or even an ordinary worker in their current status, or they can already have an MVP ready to be launched to the market. Applicants can also come from all over the world, and the project is carried out remotely. At present, it has not disclosed a lot of information about this project, and even the application form is in a minimalist style👇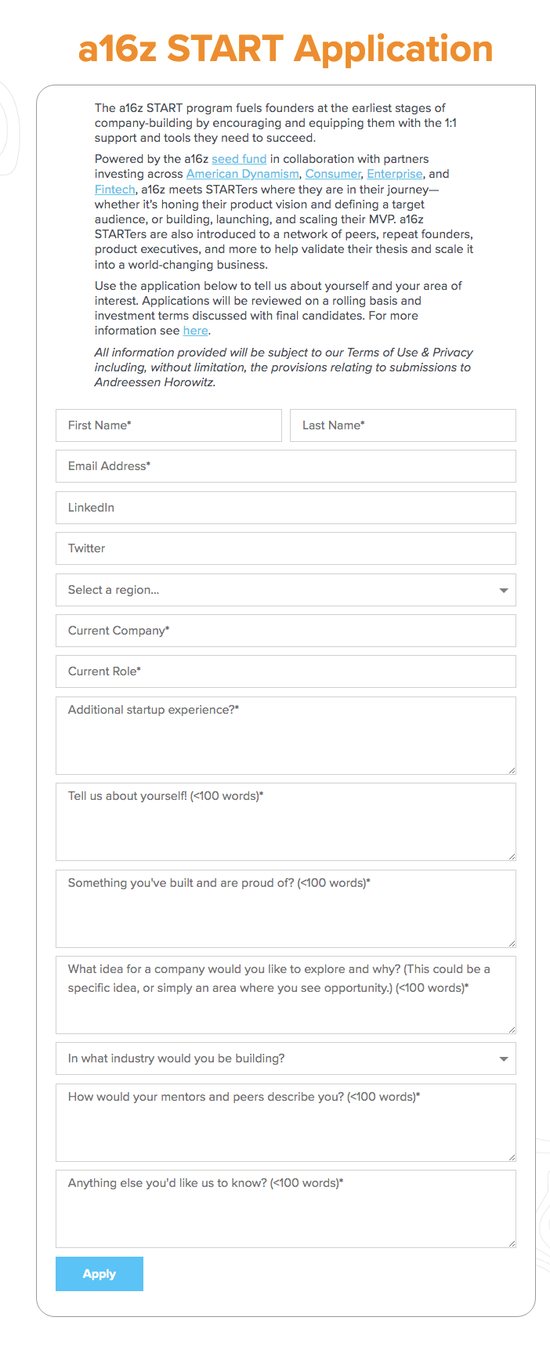 a16z START Application
Softbank launched the accelerator program Emerge in cooperation with European venture capital Speedinvest last year, which is open to the European market. Emerge focuses on diversity. At least one founder is non-white, female, LGBTQ+, disabled or refugee. The applicant company needs to be in the seed round. At the stage, it has already had a prototype of the product, and the business model has been recognized by consumers and demonstrated its growth strength. Participants will receive support from various aspects such as funding, training, community, and connections.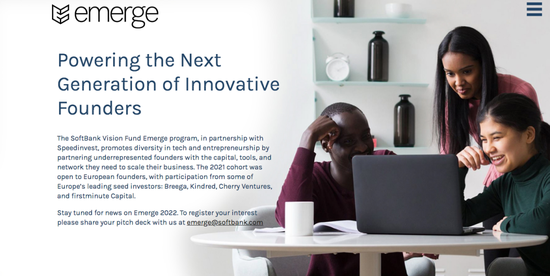 SoftBank Emerge
As mentioned above, both a16z and Sequoia have invested in Prologue, the parent company of Product Hunt, while Product Hunt has participated in the YC accelerator program. Sequoia invested in YC many years ago, and a16z also led a number of start-ups incubated from YC. Companies like Tandem, a virtual office, Queenly, a clothing exchange, and Contra, a cybersecurity platform… It's fair to say that the relationship between them is a constant mess.
For start-ups, capital is everywhere, and who can provide additional value or can play a decisive role, so these companies are all outside the capital, training and social networking in key areas such as product, growth, employment, etc. effort.
This is a melee, and it is also an exciting battle. Several of the most prestigious "leaders" in the venture capital circle are pointing at each other and using each other's business models. What new business models will emerge from it? It's a boon for founders because they have more options and more support. So instead of asking why they did it, expect to see who will win in the end of the Hunger Games.

This article is reproduced from: http://finance.sina.com.cn/tech/csj/2022-08-04/doc-imizmscv4781419.shtml
This site is for inclusion only, and the copyright belongs to the original author.