36氪 was informed that Lejiao.com Information Technology (Suzhou) Co., Ltd. (hereinafter referred to as "Lejiao.com") announced the completion of the Pre-A round of financing of tens of millions of yuan. This round of financing was led by Fendo Capital, and industrial investors followed. Zhang Lifang, founder of Lejiao.com, said that this round of financing will be used for IoT equipment deployment, intelligent distribution algorithm upgrade and other business aspects.
Founded in May 2016 and headquartered in Suzhou, Jiangsu, Lejiao.com is committed to serving the interconnection of the entire industrial chain of the packaging consumables industry. At present, it has four subsidiaries and twelve joint processing bases. Lejiao.com mainly provides services such as raw material procurement, material production, finished product distribution, finished product production and sales in the packaging consumables industry through big data, artificial intelligence and other technologies, solving the industry's high upstream production pressure, downstream production capacity allocation, and high raw material procurement costs. , low profits, etc.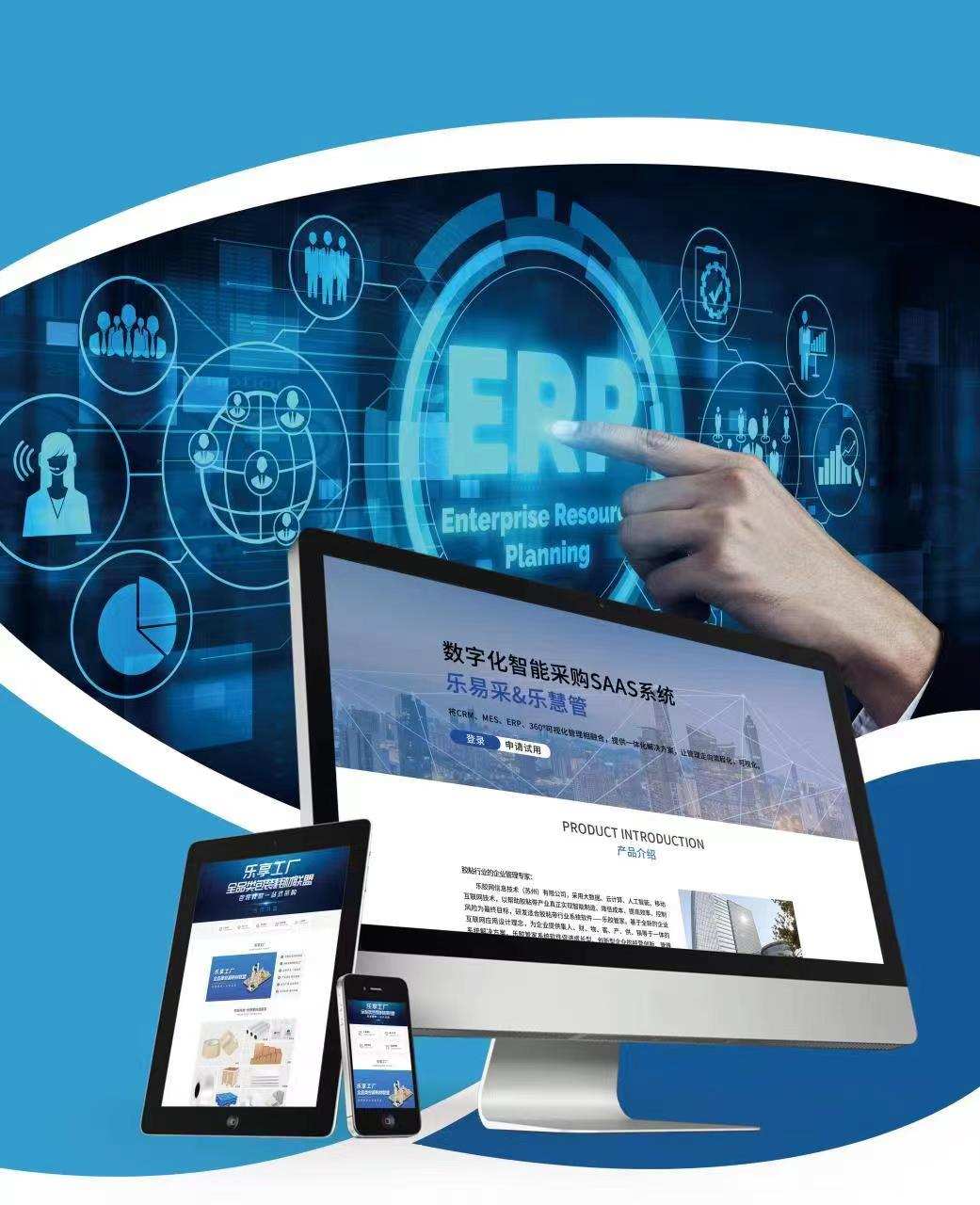 Lejiao Network Product Platform
my country is a big country in the production and sales of packaging consumables. Relevant research predicts that by 2025, the sales revenue of my country's packaging industry will exceed 2 trillion yuan, reaching 2,297.871 billion yuan, and the total profit will reach 143.562 billion yuan.
But at the same time, the entry threshold of my country's packaging consumables industry is low, and the competitiveness of individual products is not strong, so it is easy to form an industry pattern with small factories and scattered distribution. Zhang Lifang, founder of Lejiao.com, said: "Many original packaging consumables production factories have regionalization problems, and they can basically only serve areas with a radius of 50 kilometers."
Faced with the current situation of this industry, large customers in the express industry such as "four links and one delivery" often need to set up a general warehouse when purchasing packaging consumables, and purchase various types of packaging consumables in a unified manner to reduce procurement costs. But at the same time, the process of distributing packaging consumables from the main warehouse to the logistics centers across the country will increase the cost, and the advantages of unified procurement will be wiped out.
Zhang Lifang told 36氪: "Many major customers have not thought about letting the logistics centers in various places purchase packaging consumables by themselves, but this will greatly reduce the number of single purchases, and at the same time, new purchasers will be added, and the delivery risk will also be An increase is not worth it in any case."
The main customer groups of Lejiao.com are also large customers in various industries such as logistics companies, fast-moving consumer goods companies, and pharmaceutical companies. Customers can directly browse and place orders on Lejiao online to purchase a complete range of packaging consumables products, which is similar to using an e-commerce platform but saves the steps of selecting merchants, and the operation is more concise. At the same time, Lejiao also supports customers to upload supply and demand information and spot transactions.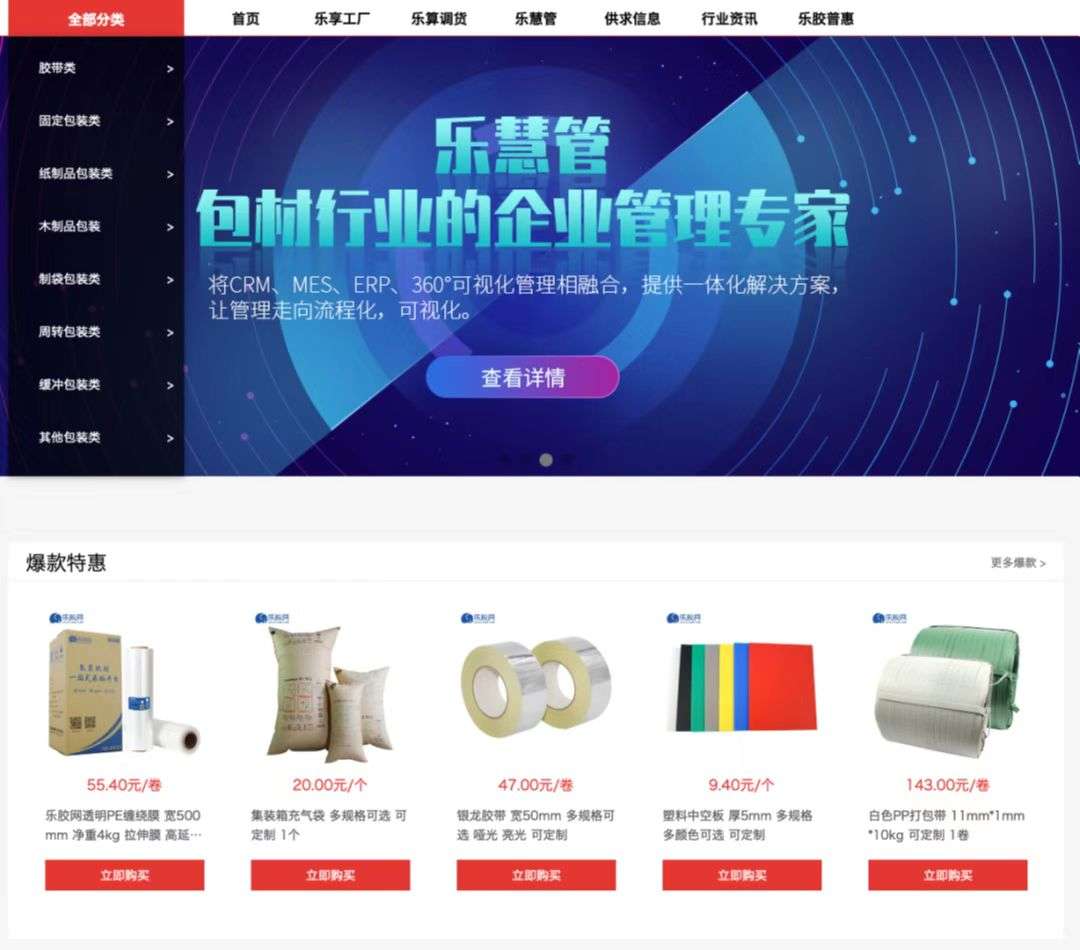 Lejiao Network Product Platform
The core capability of Lejiao.com is to face small and medium-sized packaging processing factories, and create an industrial cluster in the packaging consumables industry. Using intelligent SaaS platform, industrial Internet intelligent equipment, big data, and artificial intelligence algorithms, the platform can place orders in customers. Then, according to key data such as order type, product quantity, and delivery cycle, the order is automatically allocated to the optimal factory for production, supply and distribution. Solve practical pain points such as difficulty in operating small and medium-sized factories and low profits. At present, Lejiao.com has more than 1,000 packaging consumables factories, which are distributed in 25 provinces across the country. The minimum service density can radiate to the county level.
Different from the general matching mode, Lejiao.com does not throw out the demand, but directly dispatches orders to the merchants, which can greatly improve the enthusiasm of merchants to participate and the stability of the supply of goods, and also can affect the quality of products. Take control.
The intelligent SaaS platform of Lejiao.com will also be installed on the factory side of the merchant to improve the intelligence of the merchant's factory. After installing the SaaS platform, key information such as production information, production capacity, and rhythm of merchants will be synchronized to Lejiao.com through the cloud, which is also the basis for the above-mentioned Lejiao network to automatically match the best merchants. At the same time, information such as production progress, product batches, and logistics progress will also be synchronized to the customer who places the order, so that customers can clearly grasp the product information and enhance their sense of trust.
Zhang Lifang said: "Traditional bulk purchase of packaging consumables is done by telephone and WeChat communication, which is inefficient and has no guarantee of delivery. Through information synchronization, customers can clearly know when their consumables will arrive, and then arrange follow-up tasks."
In order to ensure product quality, in terms of product categories such as tapes and films, Lejiao.com has uniformly purchased upstream raw materials to supply settled merchants. It is understood that in addition to tapes, films, etc., in packaging consumables such as cartons, trays, frames, etc., Lejiao.com is also actively developing algorithms to meet customer ordering needs, and is also supplying upstream raw materials for this category.
At present, Lejiao.com is further promoting the refined application of the SaaS platform on the merchant side. In terms of collecting the production information of the merchants' factories, Lejiao.com is building intelligent IoT hardware equipment. By installing and transforming the factory production line, Lejiao.com can more accurately grasp the operation status of each equipment settled in the merchants, which is helpful for improving intelligence. The accuracy of the allocation algorithm plays a big role.
Zhang Lifang said that since the settled merchants are generally small and micro enterprises, the number of equipment is small and the degree of intelligence is low, so there is a strong willingness to carry out production line transformation and equipped with intelligent Internet of Things equipment, and there is no situation of resisting installation due to production data protection.
The profit model of Lejiao.com is also more diversified. In the deployment of SaaS and smart IoT devices, Lejiao.com will charge corresponding fees; in terms of the most important order delivery, Lejiao.com will use the price difference to make profits in the process of receiving payment and dispatching orders; in addition, Lejiao.com There are also a certain number of self-operated factories, and they are actively providing supply chain financial services for small and micro businesses that settle in.
In terms of customers, the current customers of Lejiao.com include Yunda Express, Maverick Casey, Baicaowei, Hengtong Group, Zhongtian Group, Zhongda Electronics, etc. During the epidemic period, it helped customers deploy national orders and ensured that all customers made appointments during the epidemic. Delivery, won the praise of customers. Zhang Lifang said that he is in contact with major customers in other industries. Founder Zhang Lifang said, "The original intention of Lejiao.com is to make the upstream and downstream customers of the industry feel the charm of Lejiao's services. Our slogan is a happy boss and full of orders."
media coverage
36Kr Venture Capital Investment Community
Related events
This article is reprinted from: https://readhub.cn/topic/8gJ0rwBfZbE
This site is for inclusion only, and the copyright belongs to the original author.