New cool products will be tested for free for the first time, and many high-quality talents will share their unique life experiences. Come to Sina Public Test and experience the most cutting-edge, most interesting and fun products in various fields~! Download the client and get exclusive benefits!
This article comes from cnBeta
In order to let Windows 8.1 users know more clearly that the system will stop supporting on January 10, 2023, starting today, Microsoft will start a screen warning to remind users who are still using this outdated system to upgrade as soon as possible, and make it clear that in this Issues that users will face after the date.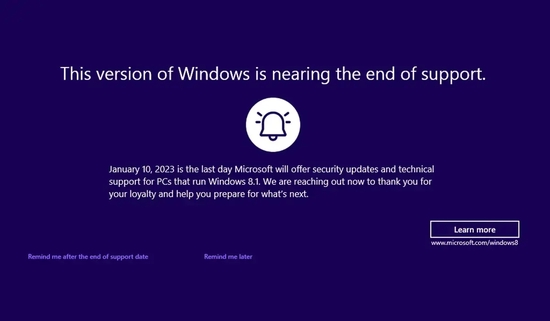 The blue warning screen reads: "January 10, 2023 is the last day for Microsoft to provide security updates and technical support for devices running Windows 8.1. We are contacting you now to thank you for your loyal use and to Aspects are also to help you prepare for upgrades."
This warning started to appear on Windows 8.1 devices with the Windows 8.1 KB5015874 cumulative update released last week. When the user logs into the system, they will see this reminder, and the page provides 2 options, either choose "Remind me later" (Remind me later, usually means 35 days later), or "Remind me after the end" of support date" (remind me after the end date, i.e. only 1 time before the end of Windows 8.1).
Microsoft said the warning does not appear in Windows 8.1 Professional, Enterprise, Windows Embedded 8.1 Industry Enterprise and Windows Embedded 8.1 Industry Pro editions.
Mainstream support for Windows 8.1 ended on January 9, 2018, while extended support will continue until January 10, 2023. Microsoft says all support will cease after that date. Microsoft encourages devices still using the old system to upgrade as soon as possible.
media coverage
CNBeta Sina Technology Fast Technology
event tracking
This article is reprinted from: https://readhub.cn/topic/8hPBdU8V9ZM
This site is for inclusion only, and the copyright belongs to the original author.