36氪 was informed that the AI ​​protein design platform company "MoleculeMind" recently completed an angel round of financing of tens of millions of dollars, led by Sequoia China, Baidu Ventures, Life Park Venture Fund, Xinhang Capital, Future Start Chuang and other investment. This round of financing will be used to further expand the team, the continuous evolution of the AI ​​protein platform, and the commercialization of scientific research results.
Molecular Heart was founded by Professor Xu Jinbo, and has formed a team of computational biology experts in China, all of whom have training backgrounds in famous overseas universities. Xu Jinbo is currently a professor at the Toyota Institute of Computing Technology in Chicago and a visiting professor at BIOPIC of Peking University. He has been researching "AI protein folding technology" for many years. The RaptorX-Contact method developed by him in 2016 proved for the first time that deep learning can greatly improve the accuracy of protein structure prediction; in 2020, DeepMind applied this method to the development of AlphaFold and made outstanding contributions to solving the problem of protein prediction.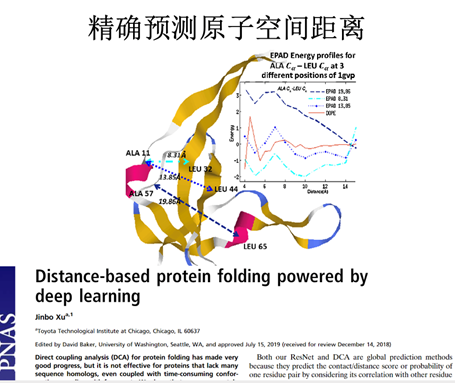 Photo courtesy of the enterprise
Based on Xu Jinbo's scientific research achievements, Molecular Heart continued to develop "AI protein prediction and design", and independently developed the AI ​​macromolecule optimization and design platform "MoleculeOS", which uses data-driven deep learning methods to help biotechnology experts identify and generate proteins , in order to project laboratory research results to industrial-scale applications at scale. This platform can be used for the research and design of peptides, antibodies, enzymes and small proteins, making the development of innovative macromolecular drugs predictable and programmable, and improving the efficiency of the whole process of drug development; it can also be used in chemistry, materials, Protein optimization and design in industry, agriculture and other fields.
"Using a high-throughput, dry-wet integrated biocomputing engine, the platform already has the ability to predict protein structure and properties, and optimize peptides and proteins. It will also play a role in drug development and prediction of protein-protein interactions in the future. " Xu Jinbo said that the platform will soon be able to design proteins and new antibodies that do not exist in nature.
On the basis of the AI ​​platform, Molecular Heart is conducting research on monoclonal antibody drugs with special epitopes, small protein drugs, bi-epitope antibody drugs, etc., and has established cooperation with national life science and medical laboratories to promote AI Translation of protein research and design results.
In addition to the research and development of biological drugs, AI macromolecular optimization and design platforms have also been applied to synthetic biology, for example, to manufacture renewable biofuels to solve energy and environmental problems; or to use AI to create new industrial enzymes with stable functions.
Xu Jinbo believes that although AI is still in an auxiliary position in protein research and development, it is expected that through the joint efforts of academia and industry, AI will become a key driving force for innovation.
After several years of research, the academic and industrial circles have reached a consensus: deep learning has a significant effect on the improvement of protein structure prediction, and can accurately predict the approximate shape of most proteins in the three-dimensional space. The introduction of AlphaFold2's Transformer model and end-to-end training in 2021 has brought the accuracy of this task to another level.
Xu Jinbo said that protein is nature's most spectacular machine. Protein drugs or related products have a space beyond imagination in terms of treating diseases and promoting social production progress. Molecular Hearts will use AI capabilities to deeply cultivate in this field, hoping to establish a world-class computational biology discipline in China and promote the industrial-level transformation of scientific and technological achievements. We welcome outstanding talents in artificial intelligence, biology, pharmacy and other fields to join Molecular Hearts. If you are interested, you can send your resume to "[email protected]".
media coverage
36Kr 's new budding startup in the investment world
Related events
This article is reprinted from: https://readhub.cn/topic/8fj4DkNC1tX
This site is for inclusion only, and the copyright belongs to the original author.