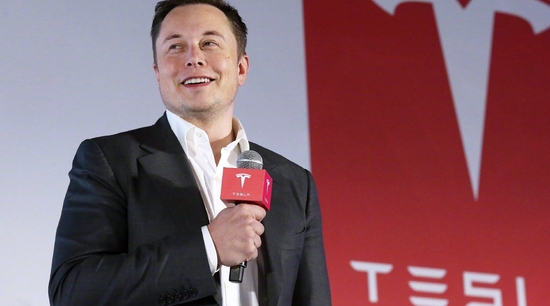 Welcome to the WeChat subscription number of "Sina Technology": techsina
Edit: Egg Sauce, Xiaozhou
Source: Heart of the Machine
How far is autonomous driving? For the first time, the U.S. federal government has disclosed statistics on crashes and fatalities involving autonomous vehicles (AVs) and cars equipped with advanced driver assistance systems (ADAS).
Automakers and tech companies have long insisted that self-driving-related technology saves lives, but the truth is that more people died in self-driving crashes last year than in the past three decades. For now, we need more data to determine whether these new systems make roads safer and whether they actually make driving easier.
On June 16, the U.S. federal government released two new reports, revealing for the first time statistics on crashes and fatalities involving autonomous vehicles (AVs) and cars equipped with advanced driver assistance systems (ADAS). Among them, Tesla has the most accidents involving driver assistance technology, accounting for 70% of the statistical results, while Waymo disclosed the most accidents involving its self-driving cars.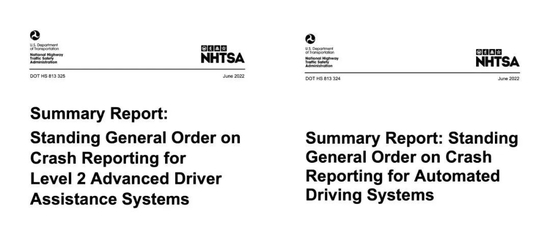 Report download address: https://ift.tt/liJMFQD
The data report stems from a regular NHTSA order issued last year that requires auto companies to report on AVs and L2 driver-assistance systems found in hundreds of thousands of vehicles currently on the road. incidents to assess whether the technology presents a safety risk.
The Tesla vehicle was found to have its driver-assistance system Autopilot turned off about a second before the impact, according to regulators. Companies are required by NHTSA to document the use of ADAS and automation technology within 30 seconds of a crash, also considering that manufacturers often claim that the software was not used at the time of the crash to cover up the potential for a crash.
In general, at the L2 level, the vehicle can control steering and acceleration and deceleration, but it is not fully autonomous because a human is sitting in the driver's seat and can control the car at any time. L3-L5 refers to self-driving cars that control all driving actions under specific conditions, where L5 is controllable under any conditions (it is worth noting that there are no L5 cars yet). More than 100 companies are subject to the new reporting requirements, including Tesla, Ford and General Motors, as well as AV operators such as Waymo and Cruise.
To be sure, the data is limited and lacks key details such as the number of vehicles made, the number of vehicles in operation, and the distances traveled by those vehicles. Companies may rely on different standards when reporting incidents. For example, some automakers receive crash reports via vehicle telematics, while others have to rely on unsubstantiated customer claims.
Of course, the "70%" figure has attracted great attention from the media, and Musk's attitude towards this is that this statistic just shows that Tesla's driver assistance system is the safest.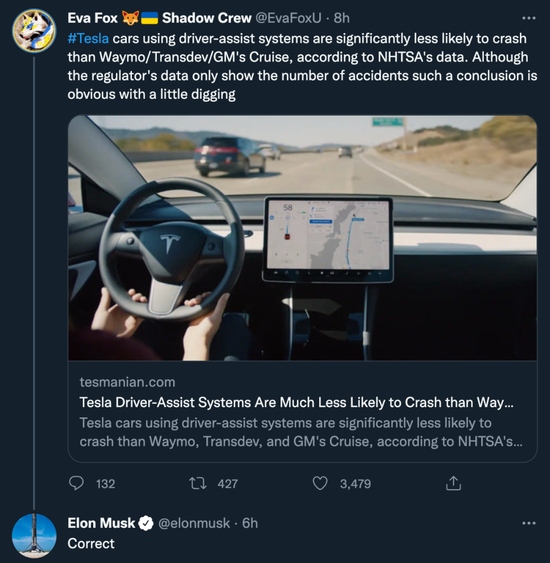 "These technologies hold great promise for improving safety, but we need to understand how these vehicles will perform in the real world," NHTSA's Steven Cliff said in a briefing to reporters. Safety is built into every stage of vehicle development, and driver assistance technology and automation are no exception."
Driver assistance system accidents: Tesla accounts for 40%
Data shows that Tesla has far more ADAS crashes than other companies. From July 20, 2021, to May 21, 2022, there were 273 crashes involving Tesla vehicles using Autopilot, the report said. This single company accounted for 70% of the 392 accidents during the reporting period.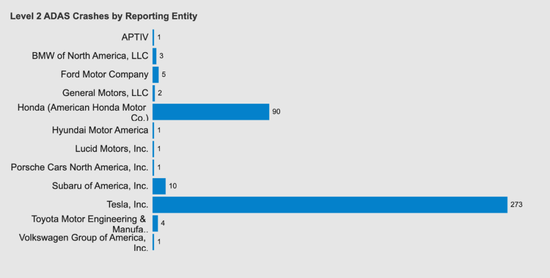 This is likely because it sells more L2-equipped vehicles than its competitors. Earlier estimates based on Tesla's quarterly vehicle delivery data put the number of Tesla vehicles equipped with Autopilot or "full self-driving" at around 825,970. And, Tesla collects real-time telematics data from customers, speeding up the reporting process, while other automakers often have to wait to collect data from the field, sometimes not receiving it for months.
Other automakers reported far fewer crashes than Tesla, such as Honda, which sells ADAS capabilities under the "Honda Sensing" brand, which disclosed 90 crashes; Subaru, which packaged ADAS in "EyeSight," reported 10 crashes; Ford disclosed 5 crashes, Toyota disclosed 4 crashes, BMW disclosed 3 crashes, and Super Cruise maker General Motors disclosed only 2 crashes; Aptiv, Hyundai, Lucid, Porsche and Volkswagen each reported one crash .
Compared to Tesla, other manufacturers have a small vehicle base: Waymo's official fleet as of 2021 is just 600 vehicles, Transdev's global fleet consists of 24,600 buses in 13 countries, and GM's Cruise fleet is about 34,000 vehicles .
Of the 392 crash reports, only 98 contained information on severity. During the nine-month reporting period, six incidents resulted in serious injury and five resulted in death. Nine of the reported fatalities were identified as involving Tesla vehicles and two involving Ford vehicles, according to the raw data files released by NHTSA.
Representatives for NHTSA declined to answer specific questions about Tesla and cautioned against drawing conclusions about any one company. But there is no doubt that Tesla is a special presence when it comes to driver assistance technology.
Since Tesla introduced Autopilot in 2015, at least 11 people have died in nine crashes involving driver assistance systems in the United States, and at least nine others have died in seven other crashes internationally. NHTSA is currently investigating nearly three accidents involving Tesla Autopilot in the United States. Last week, the agency also upgraded its investigation into 16 crashes involving stationary emergency vehicles.
Tesla claims autonomous driving is safer than human driving. The company publishes a "safety report" every three months that shows drivers crash miles with Autopilot and crash miles without Autopilot. But Tesla ignored key information included in its report, such as the driving environment. Others don't publish safety statistics involving L2 systems at all.
NHTSA also reports the types of crashes involving L2 vehicles. Of the 392 incidents, 119 involved another vehicle and four involved "vulnerable road users" – three pedestrians and one cyclist.
And, unsurprisingly, the majority of ADAS accidents (125) occurred in California, which happens to be the state with the most registered Tesla vehicles.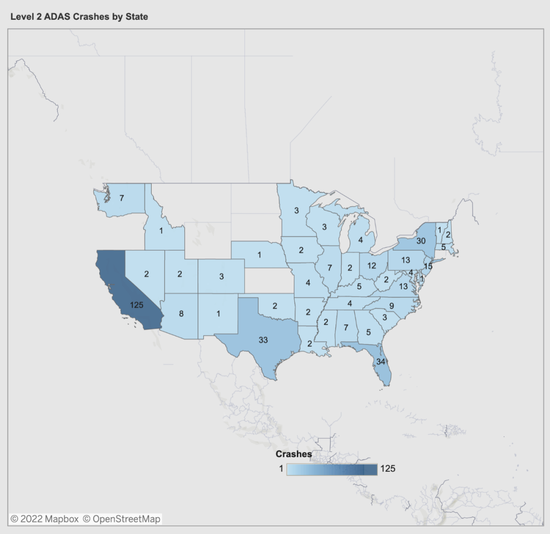 Autonomous vehicle accidents: Waymo has the highest share
From July 2021 to May 2022, NHTSA received 130 reports of incidents involving vehicles equipped with automated driving systems (ADS). But these accidents were caused by test vehicles or the operator's own AV vehicles, which were not sold.
Of those, Alphabet subsidiary Waymo reported 62 incidents, Transdev Alternative Services reported 34 incidents, and Cruise reported 23 incidents.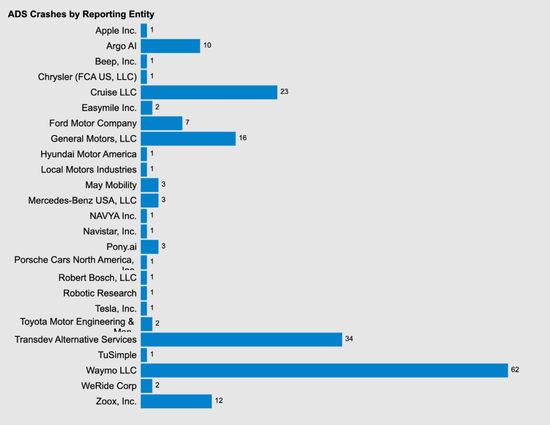 Source: NHTSA
This again reflects the reality of autonomous driving testing. Two companies, Waymo and Cruise, account for most of the miles driven in California, which is also home to the majority of self-driving testing in the United States. Waymo said it drove 2.3 million miles in 2021, while Cruise reported 87,604 miles.
Of course, these facts are not addressed in the NHTSA report, which lacks a great deal of context.
Earlier this year, self-driving operator Pony.ai agreed to recall some versions of its software after a crash in California and had its testing license revoked by California authorities.
Waymo claims to have a better safety record than most AV companies, but the company is still involved in multiple accidents. Waymo released data on 6.1 million miles driven in Arizona in 2019 and 2020, including 18 crashes and 29 near misses. In the event that its safety operator took control of the vehicle to avoid a collision, Waymo's engineers simulated what would happen if the driver didn't disengage from the vehicle's self-driving system and provided some data to academic researchers.
The NHTSA said 25 companies operating ADS-equipped vehicles reported 130 accidents in a nine-month period. Of those crashes, only one reported serious injury, and the others had no injuries.
What's next?
The NHTSA said new figures would be revealed each month, but automakers and AV operators believed the numbers would be misinterpreted by the public. These companies have repeatedly made their own claims about self-driving technology and improving driving safety, reducing crashes and fatalities, but with little practical evidence to back them up.
America's road crisis is getting worse. More people died in car crashes last year than in any year since 2005. NHTSA estimates that 42,915 people will die in motor vehicle crashes in 2021, a 10.5% increase from 2020, including pedestrians, cyclists and other non-motorized drivers.
Earlier this year, NHTSA announced a major upgrade to its New Car Assessment Program (NCAP). For the first time, NHTSA is considering adding ADAS features such as automatic emergency braking, blind spot detection and lane assist. These ADAS features are fast becoming standard in most vehicles today and may become the norm for safety ratings in the future.
NHTSA now faces a tricky situation, promoting these new technologies while also publicly disclosing crashes in vehicles equipped with these systems. Steven Cliff said: "Autonomous driving is a great development, but the agency needs to maintain data transparency. We aim to collect near real-time safety data for autonomous driving technology and unearth the essence of the data. This is an unprecedented effort. , and that's what NHTSA needs to do."
Reference link:
https://ift.tt/AbVCDun
https://ift.tt/Dl7RIN9


(Disclaimer: This article only represents the author's point of view and does not represent the position of Sina.com.)

media coverage
Sina Technology IT Home CNBeta CNBeta Fast Technology TechWeb
event tracking
This article is reprinted from: https://readhub.cn/topic/8gSn8AK472t
This site is for inclusion only, and the copyright belongs to the original author.