Author | Wan Chen
Editor | Zheng Xuan
Investors are increasingly concerned that the surge in semiconductor demand during the coronavirus pandemic, one of the hallmarks of boom and bust in the industry, will fade. But NVIDIA's growth in the first quarter of fiscal 2023 suggests that demand remains strong.
Huang said on the conference call that "Nvidia's technological clout and market opportunities remain unchanged" despite the ongoing impact of geopolitical and supply chain crises. The effectiveness of deep learning in enabling intelligent automation is driving the adoption of NVIDIA products for AI computing across industries.
According to the financial report as of May 1, 2022, Nvidia's total revenue in the first quarter of the new fiscal year reached a record $8.29 billion, an increase of 46% year-on-year and an increase of 8% month-on-month.
Among them, the performance of the four main product lines: gaming, data center, professional vision, automotive and robotics has its own strengths and weaknesses. Needless to say, Nvidia has transformed from a niche graphics card maker to a chip-making giant with market-leading positions in GPUs, DPUs, CPUs, software, and systems.

At the same time, Nvidia's gross margin metrics are improving. Gross margins for the quarter were basically the same as the previous quarter at about 66%. CFO Colette Kress said, "We have been able to offset rising costs and supply chain pressures. Gross margins in the second quarter are expected to remain at current levels." With the increase in the proportion, in the future, we have the opportunity to increase the gross profit margin in the long term."
In terms of financial report data alone, Nvidia stands out among a group of sluggish technology companies. On the other hand, its business performance also reflects new changes in the market: AI is being widely used in new scenarios of autonomous driving and digital twins.
When Nvidia was mentioned in the past, people first thought of the "Huang Renxun's Law" that doubled Moore's Law, graphics cards for game and mining players, and the 14-second virtual version of Huang Renxun under the concept of the Metaverse.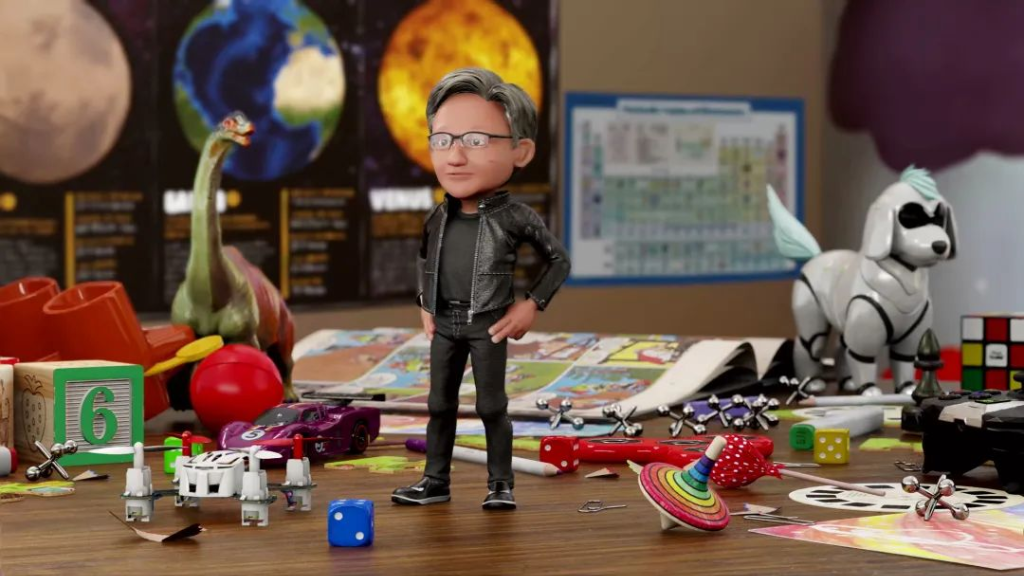 The virtual version of Huang Renxun
However, financial and business data show that Nvidia's toughness is more comprehensive than imagined, and this comprehensiveness makes it more resilient to external market uncertainties. If it is said that around 2016, the parallel computing architecture of GPU "just" meets the computing needs of deep learning in the era of artificial intelligence, making NVIDIA the darling of the times. So, today, NVIDIA's layout of AI is a comprehensive "step by step". In the world of accelerated computing and artificial intelligence, NVIDIA has completed the full deployment of hardware, software, platform, and application layers.
01. Data centers outperform gaming again
Let's first look at two relatively mature business lines: gaming and data center, which still performed well this quarter.
According to the financial report, the revenue of the gaming product line climbed 31% to $3.62 billion; at the same time, the revenue of data center chips increased by 83% year-on-year to $3.75 billion, contributing the most revenue this quarter.
The game product line is divided into hardware and software. On the hardware side, growth in the gaming business continued to be driven by Nvidia's "best-ever gaming graphics card '30' series." Launched in the fall of 2020, GeForce RTX 30-series graphics cards have won a huge market, and the high-end real-time rendering of graphics has enabled continued strong revenue growth for gaming notebooks and consoles. With the refresh of NVIDIA's RTX 30-series lineup this spring, there are now more than 180 laptop models featuring RTX 30-series GPUs and the power-efficient thin-and-light Max-Q technology, up from 140 at the same time last year.
Of course, it's not just gamers that are driving Nvidia's gaming business, it's also rapidly growing content creators. CFO Kress estimates that the entire creator economy is a tens of millions of markets, with about 80 million individual creators and companies.
It is worth noting that mining in the cryptocurrency industry is increasingly driving game graphics cards. Although it is difficult to grasp the exact market share, as CFO Kress said, one side proof is: the slowdown in the growth rate of the Ethereum network hash rate (a kind of computing power, the number of hash operations that can be performed per second) Possibly reflecting a decrease in GPU "mining" activity.
Recently, the sharp plunge in graphics card prices and the plunge in cryptocurrencies also reflect the increasingly sluggish demand for graphics cards from miner owners. In addition, in March 2021, NVIDIA specially developed a chip CMP (Cryptocurrency Mining Processor) for mining, and the demand for mining with game graphics cards has been divided.
Notably, just last month, Nvidia was fined $5.5 million by the SEC for not reporting a significant boost to its revenue from cryptocurrency mining in two quarters of fiscal 2018.
Looking at the data center product line, in the first quarter, it once again surpassed the revenue of the gaming product line. In addition to nearly doubling year-over-year growth, data center revenue rose 15% sequentially. Among them, revenue from hyperscale and cloud computing customers more than doubled year-over-year.
This is still due to the demand for GPU (A100) and DGX systems under the NVIDIA Ampere architecture for AI training and inference. Almost any image processing or other algorithmic processing can be fully accelerated on the A100. At the same time, cloud computing, hyperscale customers for workloads such as natural language processing and deep recommendation, and applications in vertical industries are leading data center growth.
One trend behind the growth is that customers are increasingly combining NVIDIA's computing and networking products to build "modern artificial intelligence factories" that use data as raw material input and intelligence as output.
In fact, Huang has repeatedly mentioned this vision over the years, and, on the earnings call, he said that the visibility of data centers in this area is much better than ever before. Artificial intelligence and data-driven machine learning techniques for writing software and extracting insights from the vast amounts of data companies have is undoubtedly strategic for companies, and Nvidia's technology enables most companies to apply their own data to extract insights and automate many of the predictions they have to do, quickly. This trend is sweeping almost every industry.
Lao Huang is also confident in the quarter-on-quarter growth of the data center business in the next quarter, because the scenarios for using data centers are very broad. He said that data centers have expanded from cloud and hyperscale to all industries, from AI training to inference, and into industrial deployment of AI, which is needed in almost every industry.
In addition, the data shows that since NVIDIA deployed the three-core strategy (cooperation of GPU, CPU, and DPU) last year, the business growth of data centers has begun to accelerate.
02. Relatively stable "professional vision" & ready-to-go "automobiles and robots"
Following strong demand in the previous quarter, the professional vision product line continued to gain momentum, with first-quarter revenue of $622 million, up 67% year-over-year, despite a 3% sequential decline.
NVIDIA's professional vision product line is mainly for enterprises, and its revenue growth is due to the continuous promotion of remote office or hybrid office by many enterprises, which need to configure 3D design and artificial intelligence for employees; accordingly, employees use their home PCs as "the first" Second Workstation" to use. However, quarterly growth in "mobile workstation" GPUs was offset by a decline in desktop revenue, resulting in no sequential growth.
In the long term, the growth of the professional vision product line still benefits from the NVIDIA RTX Ampere architecture product cycle, which is mainly used in digital content production (eg: Sony Movie Animation) and medical imaging (eg: Medtronic). It is worth noting that in the first quarter, Nvidia also released a new Ampere architecture RTX GPU for workstations, allowing more people to use AI and ray tracing technology. However, this series of updates will not be reflected in revenue until mass production.
In the professional visual product line, as the most out-of-the-circle product of Lao Huang's "endorsement", Nvidia's Omniverse is not as exaggerated as a number of metaverse concept products, but has actually stepped out of the path of industrial-level production: digital twin. By "copying and pasting" the real world in the virtual world, such digitization can help companies reduce costs and increase efficiency.
This enterprise-oriented Omniverse Enterprise, its revenue is also credited to the professional vision product line. Currently, Omniverse enterprise software is being adopted by major companies in many industries. For example, Amazon is using Omniverse Enterprise to build AI-powered digital twins of its warehouses to optimize warehouse design and train smarter robotic solutions.
And the development of software like this can play a role in expanding the market for Nvidia. As Lao Huang famously said, "Chips are enablers but chips don't create markets. Softwares create markets." As the Omniverse ecosystem is used by more people, third-party developers in the fields of robotics, industrial automation, 3D design and rendering People have developed a connection to the Omniverse, which drives GPU sales and drives higher-end and diverse GPU configurations.
In order to further reduce the threshold for using Omniverse and expand the use ecosystem, NVIDIA also announced the launch of the Omniverse Cloud service this quarter, allowing millions of Mac and Chromebook users to instantly access NVIDIA Omniverse for collaborative editing of large-scale 3D scenes anywhere. However, the service will go live next year.
Finally, among the financial performance of the four major product lines, the most potential is the automotive and robotics product line. The revenue of this product line in the first quarter was US$138 million, a year-on-year decrease of 10%. This is due to supply chain issues at the automaker and a decline in revenue from traditional cockpits. However, the smart cockpit business is growing.
At present, although the automotive and robotics business accounts for the smallest proportion of revenue, Lao Huang is full of confidence and sees this product line as Nvidia's next growth point. "We're probably going to have the lowest quarter ever for auto revenue," he said. "It's pretty safe to say that Drive Orin and its solutions, robotics will be our next multi-billion dollar business. ." And Orin is also seen as one of the four pillars of Nvidia's strategy for robotics and the next wave of artificial intelligence.
Orin is a robot processor that can be used in the manufacture of cars, robotaxis, trucks, delivery robots, logistics robots, agricultural robots, and medical devices.
Its self-driving car system-on-chip Drive Orin SoC is considered the "brain" of a software-defined car, delivering 254 TOPS (trillion operations per second). With this scalable Drive Orin, OEMs can build on it with custom research and development, from L2+ systems all the way up to L5 fully autonomous vehicle systems.
Such a technical route and high computing power make NVIDIA stand out, and many large customers of Mobileye, the earlier autonomous driving chip leader, have turned to NVIDIA. Although Nvidia has only started mass-producing Orin this quarter, more than 35 automakers have opted to use the computing platform, giving Nvidia an order backlog of more than $11 billion.
NVIDIA's major customers showcased at GTC in March
Among them, BYD, China's largest electric car maker, and Lucid, a new American automaker, are the latest companies to announce the next-generation models on Drive Orin. CFO Colette Kress said on the earnings call that Orin started a major product cycle and that automotive customers will continue to ramp up in the second quarter.
03. Bet on the future
Some media commented that Nvidia's performance in the new fiscal year was "tepid".
Nvidia also lowered its revenue forecast for the second quarter of fiscal 2023 due to the "unpredictable" external environment. And said that this expectation takes into account the loss of about 500 million US dollars caused by the Russian-Ukrainian conflict and China's epidemic blockade. Among them, China and Russia affected about 400 million US dollars in the game business, and the data center business that stopped selling to the Russian market accounted for about 100 million US dollars.
In this regard, UBS analyst Tim Arcuri asked: Is the $500 million impact caused by demand or supply, and if "the gaming market is slowing" as CFO Kress stated, it sounds more like Nvidia's business has been hit by demand, which appears to be in line with Nvidia's strategy of slowing new hires. In other words, if the loss is supply-driven, the market downturn is only temporary; but if it's demand-driven, the market "may never come back, it's going to be the beginning of an autumn."
Although CFO Kress ultimately blamed the supply-side impact for the problem is unconvincing, with the launch of the RTX 40 series graphics cards in September, the gaming market will usher in a new wave of demand. Lao Huang said that the previously announced high-performance Hopper architecture is expected to be available in the third quarter, and products under the new architecture will also start climbing in the second half of the year. New GPUs, CPUs, and DPUs will be launched in the second half of the year, and these new chips and systems may It will trigger a new round of upgrading needs in industries such as artificial intelligence, graphics, Omniverse, self-driving cars and robotics. In the final analysis, whether there is a demand or not depends on the technical strength.
For the future, Nvidia, which has risen at the speed of light in the application of the first wave of artificial intelligence, believes that artificial intelligence systems based on edge computing will become the next major computing field, and the next wave of AI will be digital twins powered by artificial intelligence, as well as robots and automation. driving world. In this regard, as Lao Huang said, Nvidia is definitely on the way.
At present, whether it is the "Huang Renxun's Law" that accelerates Moore's Law, the "three-core" hardware strategy of integration, or the software strategy of an open ecosystem, and the accumulation of AI technology over the years, NVIDIA is in the black swan and gray. In the external environment where rhinos are intertwined, it is more stable.
This article is reprinted from: https://news.futunn.com/post/16327006?src=3&report_type=market&report_id=207872&futusource=news_headline_list
This site is for inclusion only, and the copyright belongs to the original author.