Original link: https://shoucang.zyzhang.com/%E8%AF%BB%E3%80%8A%E5%88%9B%E6%96%B0%E5%85%AC%E5%8F%B8% EF%BC%9A%E7%9A%AE%E5%85%8B%E6%96%AF%E7%9A%84%E5%90%AF%E7%A4%BA%E3%80%8B/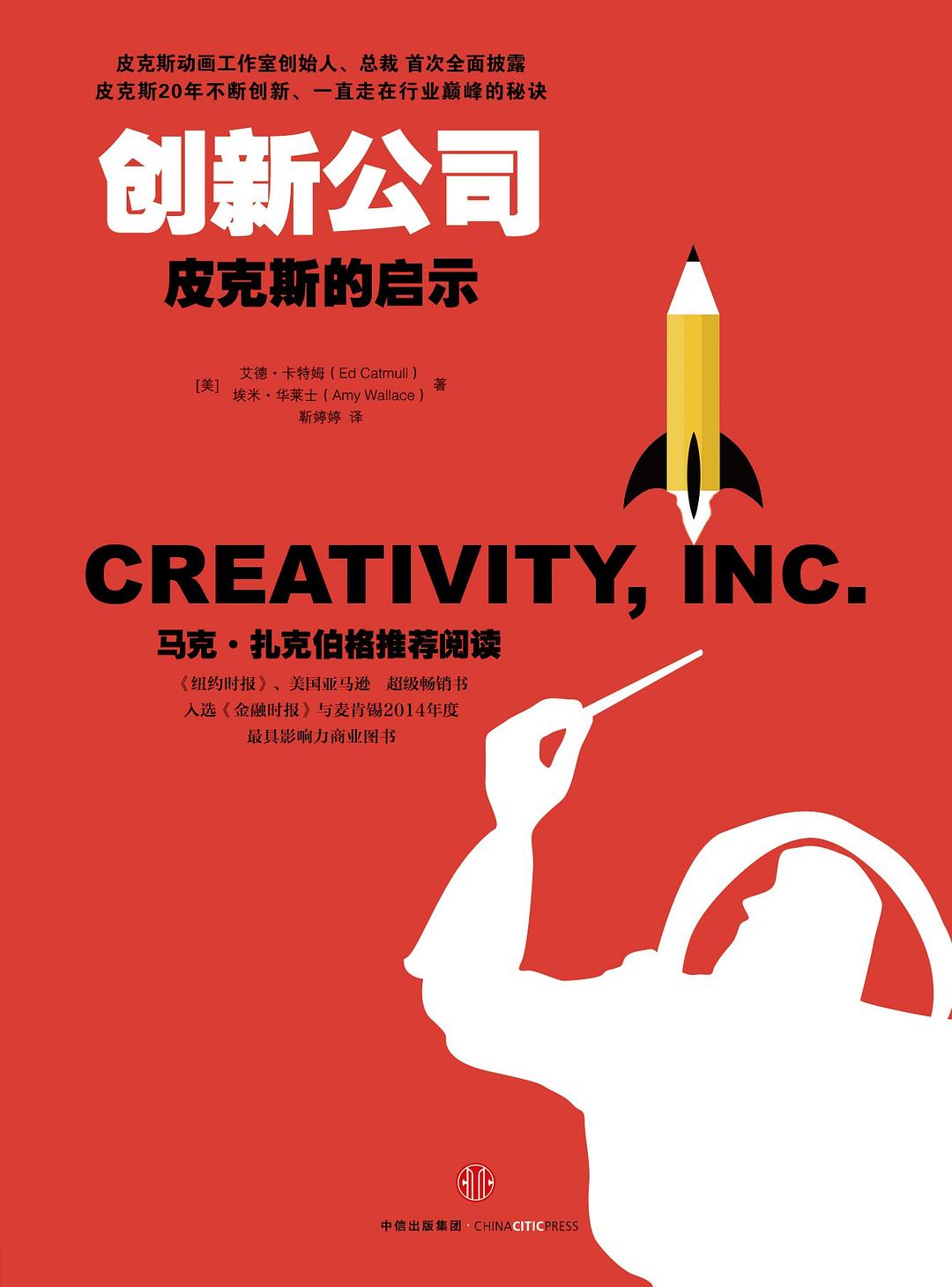 The biggest feeling after reading this book is: there is no innovation there, but it is just constant iteration.
In the past few years, I have read books that are basically similar to this, such as "Replay Netflix" and "Eclectic" about Netflix; "Shooting All in One Net" about Amazon; "Be Patient for a Long Time" about Meituan, and found these books They are all very similar and have a few things in common:
1. Patience. Most people only see the success of Pixar. You must know that Pixar has lost 10 consecutive years after Jobs took over, and has accumulated a total of 50 million US dollars.
2. Be honest. Out of curiosity about Pixar, after reading this book, I searched the street view map and interior map of Pixar's original office location on Google Map. I also saw the legendary conference table in the hall. It's definitely better to speak candidly when we disagree than to whine in the hallway/stairwell.
3. Smart people. Netflix and Amazon both talk a lot about this in their books. I don't know if it's true or not, so let's just believe it. But from my little experience in recruitment interviews, it is difficult to quickly find out that a person is smarter than himself and has expertise in some aspects.
4. Great works/film and television works have undergone countless iterations before being released, regardless of the plot or character modeling. The same is true for the Minions who have been very popular in the past year or two-because of the limited cost, the Minions were designed with simple lines and big eyes.
5. Challenge extremely difficult. In "Detailed Talk: Zuo Hui", the founder of Lianjia mentioned a point of view: choose the difficult and right thing. Later, other entrepreneurs also endorsed the platform for this sentence. The difficult thing, once it is done, will form a very high threshold, and the disadvantages are also obvious – the night before dawn will be very long.
6. Let go. In most companies, the boss has the final say on many matters. In this book, the change in the plot of "Toy Story" before its release almost shut down Pixar, but the persistence of the main creators and screenwriters brought Pixar to the next glory. In Meituan's "Long-Term Patience", Meituan Wang Xing will participate in the discussion of many matters, but the final decision is still the team.
It may be that these characteristics have made these large companies, or it may be that large companies have the ability to do these things. It doesn't matter who comes first, as long as it doesn't violate common sense.

Now, you can subscribe to a Newsleteer I am writing via email/ WeChat, 112 users are currently subscribed.
You can also subscribe to my blog through these tools: WeChat Official Account | Feedly | Inoreader | Feedbin
This article is reprinted from: https://huiris.com/creativity-inc-overcoming-the-unseen-forces-that-stand-in-the-way-of-true-inspiration/
For personal collection only, the copyright belongs to the original author
Reading "Innovative Companies: Inspirations from Pixar" appeared first on Haowen Collection .
This article is reproduced from: https://shoucang.zyzhang.com/%E8%AF%BB%E3%80%8A%E5%88%9B%E6%96%B0%E5%85%AC%E5%8F%B8% EF%BC%9A%E7%9A%AE%E5%85%8B%E6%96%AF%E7%9A%84%E5%90%AF%E7%A4%BA%E3%80%8B/
This site is for inclusion only, and the copyright belongs to the original author.