Serving more than 650 primary and secondary schools across the country, Yunsi Zhixue released a variety of new products such as smart classrooms
Author: Xie Xiaowan Release time: 2022-08-04 16:36
Serving more than 650 primary and secondary schools across the country, Yunsi Zhixue released a variety of new products such as smart classrooms
Author: Xie Xiaowan Release time: 2022-08-04 16:36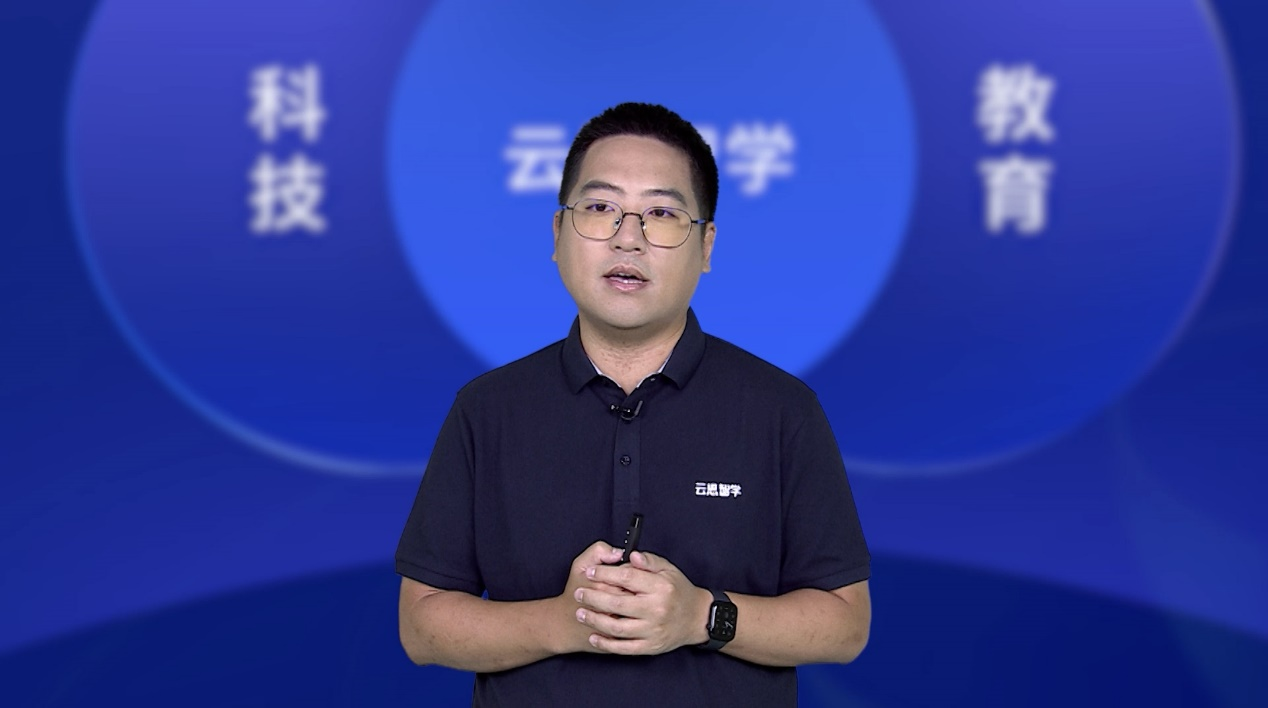 Chen Gongming, Chairman of Yunsi Zhixue
Mustard Duiwen On August 4th, smart education service provider Yunsizhixue held a product launch conference. At the meeting, Yunsi Zhixue officially released products such as high- quality homework solutions , smart classrooms and after-school services.
It is understood that Yunsi Zhixue products cover the whole process of pre-class, in-class and after-class, including teaching and research, lesson preparation, teaching, homework, examination, after-class service, management and other full scenarios, forming a coverage area, school, classroom and after-class. One-stop smart education solution development and service system.
At present, Yunsizhixue's high-quality homework has been applied in more than 350 primary and secondary schools in more than 20 provinces, municipalities and autonomous regions across the country. Various smart education products serve more than 650 primary and secondary schools across the country, serving more than 500,000 teachers and students.
Starting from homework, building a new teaching and learning model
Chen Gongming, chairman of Yunsi Zhixue, pointed out in his speech that in recent years, the country has continued to promote the reform of basic education and attached great importance to the function of homework education. As an educational technology enterprise, Yunsizhixue chooses to cut in from the high-frequency teaching scene of homework to help build a new teaching and learning model, and solve the challenges of large-scale teaching in schools and personalized learning of students.
Chen Gongming, chairman of Yunsi Zhixue, said that the company's core team has been in the "Internet + education" industry for many years, and has always adhered to the product concept of "applicable, easy to use, and commonly used". "Two directions, and built a "four-in-one" capability base of intelligent technology, content resources, teaching and research teachers, service operations, etc., to provide systematic support for the whole-scenario smart education business ecosystem.
Complete AI recognition and correction within 1 second, and promote the digitization of the whole process of operation
In the subsequent product release link, Yunsi Zhixue launched a number of new smart education products. Liang Shuang, the company's product manager, introduced that Yunsizhixue's operation solutions include high-precision operation library, high-quality operation design, multi-terminal data collection, multi-dimensional learning situation analysis, high-quality supervision and management and other modules to promote the digitization of the entire operation process.
The high-precision homework library has 30+ multi-dimensional and refined labeling systems, and closely follows the new curriculum standards of the 2022 edition. There are more than 580 million smart question banks, of which the refined title library exceeds 13 million. Combined with the digitization of district-based and school-based homework, it can greatly reduce teachers' homework design. selection time.
Among them, the exclusively developed "Yunsi Zhixue Homework Quality AI Evaluation System" can automatically evaluate homework design from multiple dimensions such as goal, structure, difficulty, duration, etc., and supports AI to push questions and change questions to ensure that homework assignments are scientific and reasonable. Improve teachers' homework design and proposition ability.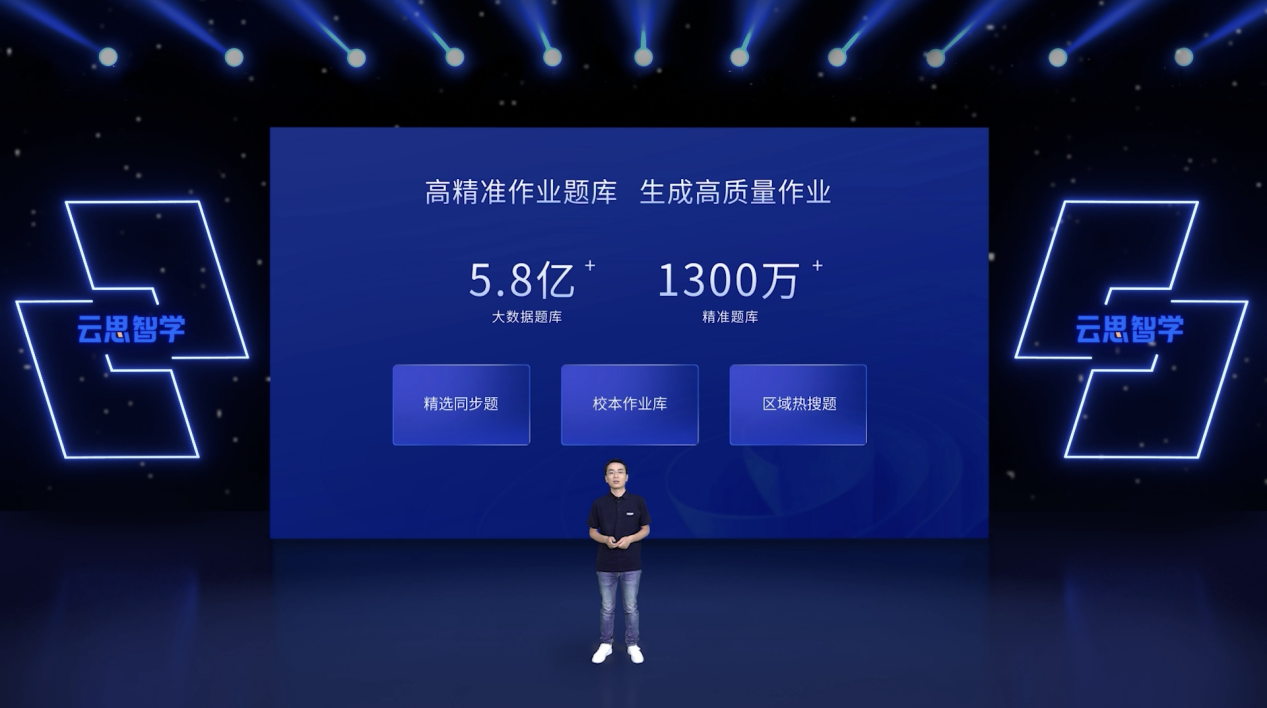 Liang Shuang, product leader of Yunsi Zhixue, released high-quality work
Yunsizhixue has launched 5 types of homework data collection modes, which do not change the writing habits of teachers and students, and support AI-assisted correction of the whole school period, all subjects, and all question types, and can realize the mark printing of the correction results. It is reported that Yunsizhixue's homework solution can complete AI recognition and correction within 1 second, with a topic coverage of over 85% and a correction accuracy rate of over 99.9%. Teachers can also use this homework solution to perform step-by-step corrections, error corrections, personalized corrections, and more.
In response to the needs of schools to teach at different levels and teach students in accordance with their aptitude, Yunsizhixue's high-quality homework can generate multi-dimensional analysis reports on areas, school levels, grades, classes, and individuals. Teachers' mastery of students' learning situation is no longer based on experience and feeling, but speaks with data. The system can continuously generate each person's unique knowledge map portrait, so as to push personalized wrong questions, supplementary homework, inferences from one example, video explanation of wrong questions, etc. to students.
Through Yunsizhixue's high-quality homework data board, regional and school managers can grasp the regional homework situation and the corresponding school conditions, teachers' teaching conditions, and students' learning conditions in real time, and multi-dimensional data can be displayed intuitively.
Build a complete smart teaching environment, take data as data and learn to teach
For classroom teaching scenarios, the smart classroom products launched by Yunsi Zhixue build a complete and coherent smart teaching environment before, during and after class.
Yunsi Zhixue Smart Classroom integrates large-screen teaching assistants, PC-side teacher workbenches and students' smart learning terminals (ink screen, smart paper and pen, etc.) need. Different schools can flexibly choose different combination modes according to their needs.
Before the class, Yunsi Zhixue Resources Center has 120,000+ high-quality courseware, 580 million large question banks, 13 million+ high-quality question banks, 1 million+ micro-lecture videos, 130,000+ interesting interactive exercises, 1600+ subject drawing board tools, etc. Teachers prepare lessons efficiently and individually.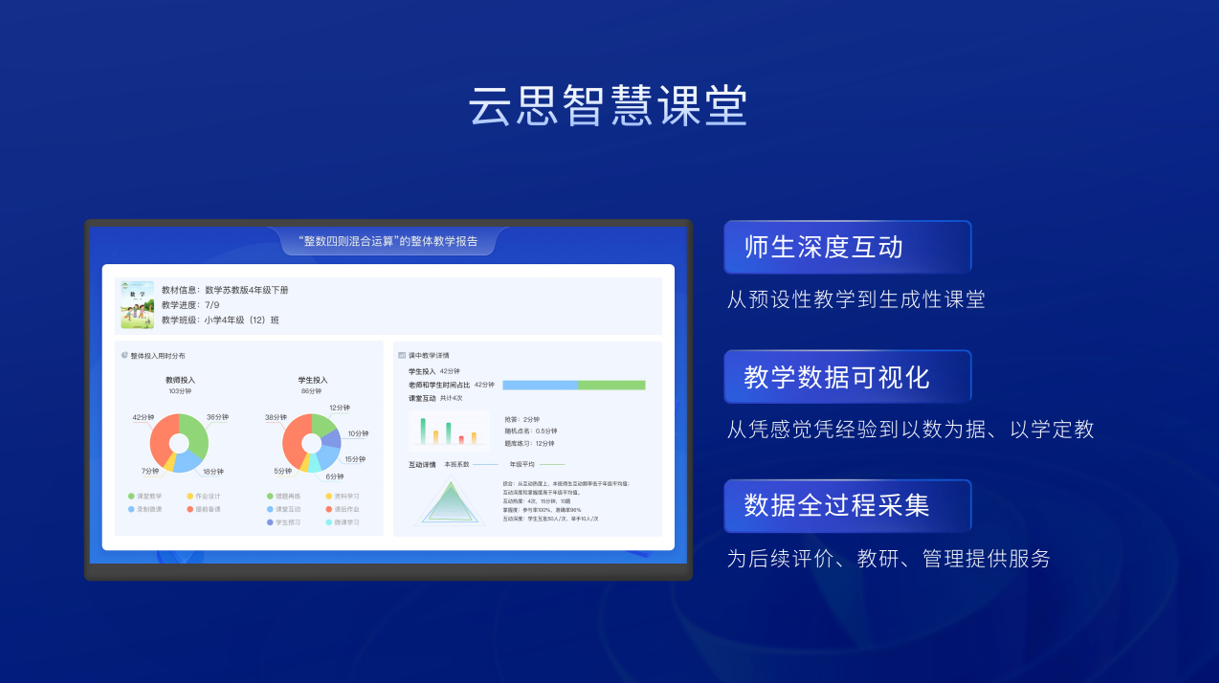 In class, with the help of smart terminals such as large screens, ink screens, and smart pen and paper, teachers can conduct all-round and diversified classroom interactions with students, such as classroom exercises, quick answers, random roll calls, raised hands to ask questions, students' screencasting explanations, and screen broadcasts. In order to improve the fairness, enthusiasm and initiative of students to participate in the classroom, to realize the dual-teaching mode with teachers as the leading and students as the main body, from one-way preset teaching to two-way generative classroom.
After class, Yunsizhixue smart classroom can be seamlessly connected with high-quality homework, after-school services and other products.
The system can collect and analyze the whole process of learning behavior data such as pre-class preview, classroom practice interaction, after-class homework, wrong question consolidation, micro-class learning and self-learning in real time and analyze it, providing teachers and managers with an objective and comprehensive learning situation. Based on the data, teaching is based on learning.
Yunsizhixue "1+4" after-school service solution, launched more than 200 courses
At this conference, Yunsi Zhixue officially launched the "1+4" after-school service solution, providing more than 200 courses in "five fields and seven themes". After-school service needs, as well as the individual development needs of different students.
"1" is a digital platform for after-school services, focusing on the demand side and supply side of after-school services, including seven business application ports (education bureau side, school side, course tour side, teacher side, teaching side, parent side, institution side ), which can realize multi-level interconnection of districts, schools, homes, institutions, etc.
"4" refers to the four major implementation support modules of after-school services, including "five education" interest literacy courses, professional teachers' training, one-stop educational affairs services, and tailor-made special school plans. To truly realize "one school, one plan", each school has a special curriculum; "one class schedule for life", each child has a personalized choice; "one teacher, one specialty", each teacher has teaching expertise.
Yunsizhixue after-school service course system covers more than 200 courses including scientific experiments, programming, writing, art, eloquence, Rubik's cube, rugby, etc. Sports, artistic literacy, logical thinking, language and literature, traditional culture, social practice" and other topics of interest courses.
All courses provide school teachers with complete lesson preparation resources such as teaching design, dual-teacher courseware, activity tool materials, teaching and research videos, and simple and operable training.
It is understood that at present, Yunsi Zhixue series products have achieved large-scale and normalized applications in schools around the world.
1. This article is
Original article, reprint can be clicked
Mustard Pile Content Collaboration
Learn more, refuse to reprint in any form without authorization, and offenders will be held accountable;
2. Mustarddui does not accept the publication of false articles by any means such as public relations fees, carriage fees, etc., and only presents valuable content to readers;
3. If you are also engaged in education and want to be reported by the mustard pile, please
tell us.
Source: Mustard Pile
Mustard heap business cooperation: 010-5726 9867
media coverage
TechWebSohu Mustard Pile Sohu
Related events
This article is reprinted from: https://readhub.cn/topic/8icPSy0pw0M
This site is for inclusion only, and the copyright belongs to the original author.