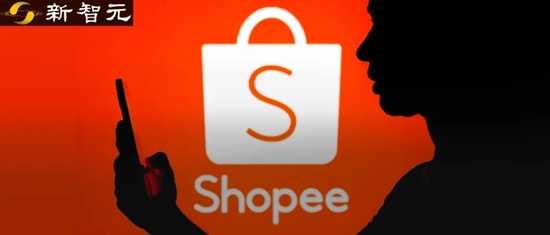 Welcome to the WeChat subscription number of "Sina Technology": techsina
Edit: Aeneas so sleepy David
Source: Xinzhiyuan
[New Wisdom Introduction] Yesterday, Shopee began to lay off staff in China. This Internet company with extensive management and crazy expansion of recruitment still throws out various "magic operations" in layoffs.
Today, Shopee, the e-commerce giant in Southeast Asia, is once again "happy to mention" the hot search.

According to the revelations on Maimai, Shopee had just held a general meeting on the morning of September 19, and in the afternoon, someone took N+2 compensation and left.
Some employees said that the meeting started at 10:15 and ended at 10:20, and the colleague who was interviewed was instantly unavailable in the office chat software.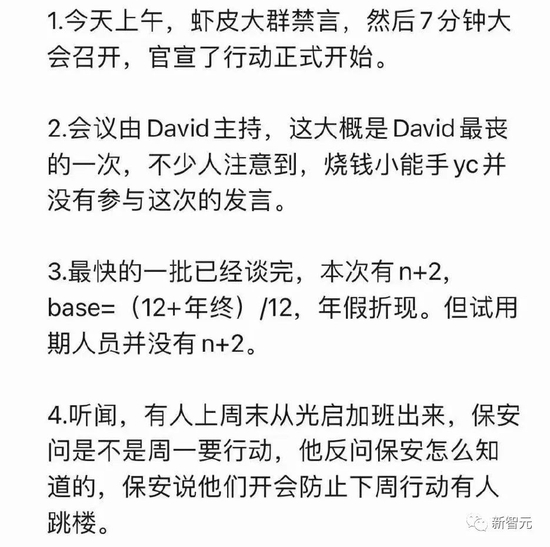 During this period of time, Shopee relied on various gods to operate, and became famous and famous.
Just last month, after receiving an offer from Shopee, an alumnus turned in and flew to Singapore with his family. As soon as he got off the plane, he found himself unemployed.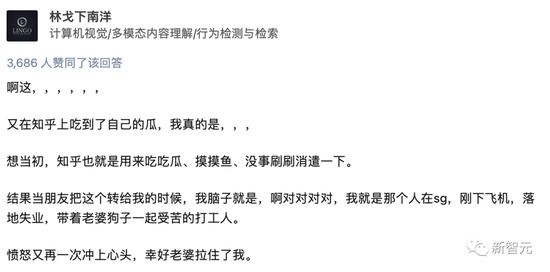 Unexpectedly, in the latest discussion on Zhihu, the handed in alumni was cued again.
really miserable…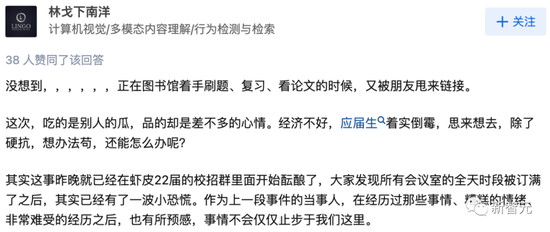 Meeting in the morning, leaving in the afternoon
In a statement released on Monday, Shopee said the layoffs were an effort to "optimize operational efficiency to achieve self-sufficiency across the business."
Regarding this matter, the attitude of netizens is also very consistent: in terms of disappointment, shrimp skin has never been disappointing.
Shopee employees on Maimai said that the boss announced the layoffs immediately after the meeting.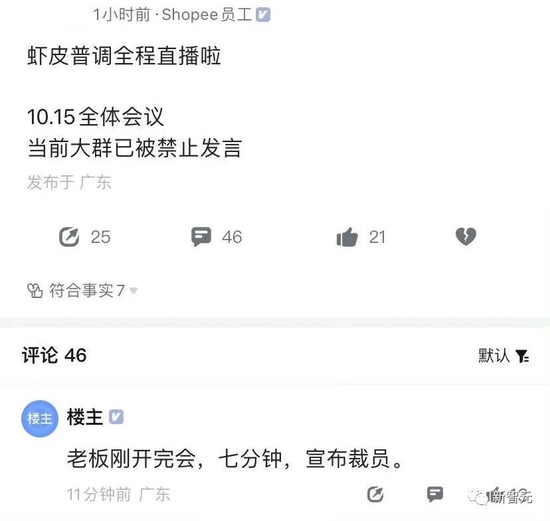 There are also prophets in the veins, who have predicted the day when Shopee will lay off a large number of employees.
In addition, there are also gossip that those departments that do not make money but burn money, fresh graduates, poor performance or criminal records, are the focus of attention.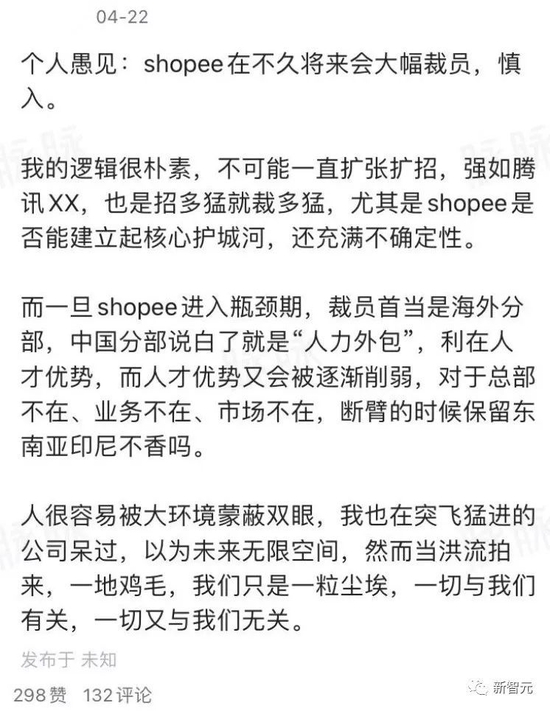 Fewer than 10 percent of employees on each team were affected, according to a person familiar with the matter who asked not to be named.

The employee who posted on Maimai that "announced layoffs within seven minutes at a team meeting" said in the comments that his business unit had laid off more than two-thirds of its employees.
According to Jiemian News, according to the estimates of Shopee employees, the domestic Shopee team has about 6,000 or 7,000 people. The layoffs are operated separately in each region, and the domestic department has not received a unified global notice.
"We are providing support to our affected colleagues during this transition," Shopee said. But the company did not specify the size of the latest round of layoffs.
At present, the large group of Shopee has turned on the mute state.
Shopee China layoffs
Last month, when an alumni named "Ringo Goes to Nanyang" was canceled the offer as soon as he landed in Singapore, Shopee has sparked a large-scale discussion in China.
Shopee's explanation at the time was: "Due to the adjustment of the recruitment plan of some technical teams, some of our positions are no longer reserved."
Shrimp's parent company is Sea. Survival shooter Free Fire has long been Sea's most profitable game, with more than $4 billion in revenue from 2017 to 2021, according to research firm Sensor Tower.
These lucrative games have been supporting unprofitable but fast-growing businesses, such as Shopee's e-commerce business. Today, Free Fire is banned in India, and game revenue is down.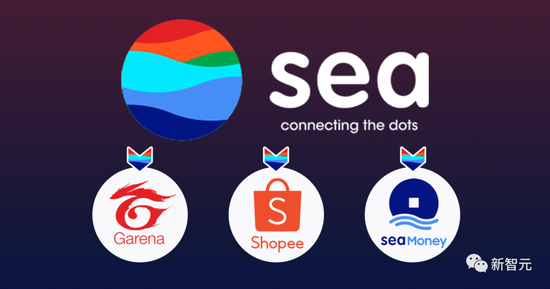 After the ebb tide, the skinny-swimming shopee went from the crazy expansion in the early stage to the crazy layoffs now.
In the second quarter of this year, many domestic Internet companies are laying off staff. The reason why Shopee's layoffs aroused public anger was because of the inhumane way of layoffs and the brainless expansion in the early stage.
According to Liang Tang, a three-year-old employee of Shopee, a close friend of Shopee, Shopee's management model has always been a mindless mode of panic and haste.
"If there is a shortage of people, they will recruit quickly, and if others refuse to come, they will pay more. It doesn't matter if the old employees are upside down. If someone leaves, they will add more money to retain them. If the cash flow is tight, they will destroy the offer and lay off employees."
Liang Tang said, "As early as the moment when the stock price stepped on the messy infrastructure," he expected the day when the shop would collapse.
Another Shopee employee also said that Shopee's hurried and flustered style is really pervasive from top to bottom——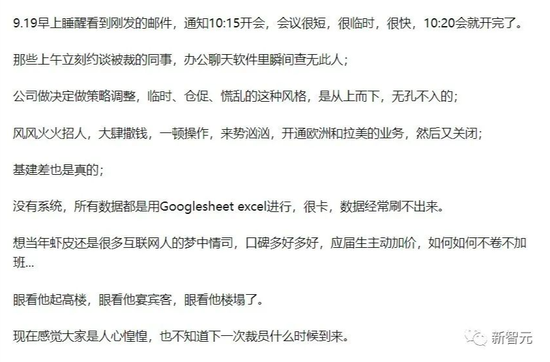 When it comes to Shopee, many friends who are looking for jobs on the Internet remember that when many big factories were reducing their recruitment last year, Shopee was still expanding their recruits with great fanfare.
When the business development trend was not bad, Shopee was thinking about diversified development, e-commerce, payment, games, logistics… As long as it was a forehead, it should be done. After all, Shopee at that time wanted to become a Southeast Asian country. Ali + Tencent. Today, Sea has only $7.8 billion in cash and short-term investments on its books.
The former Shopee was once known as a yard farmer pension company that can lie flat, and the dream company of Internet people. It is said that as long as you work for a few hours a day, you can fish for the rest of the time.
And now, everyone is feeling: Winter is coming.
Last year's Internet people chose shrimp with shrimp, goose with goose, and Yanbi without goose. And this year, it is the shrimp withered and the goose thin.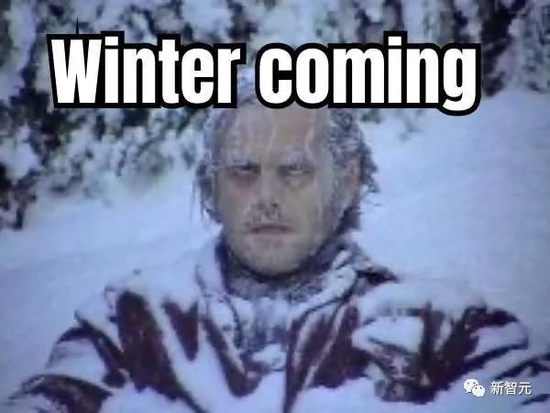 Under the Weibo topic of Shopee layoffs, an employee who was still on the subway was hesitating whether to continue to work.
Another directly replied that he "just arrived at the company yesterday, and the people are gone".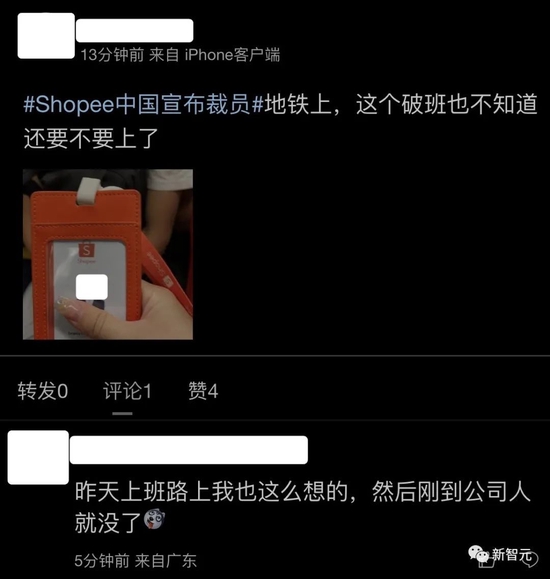 While other companies have already started scooping up Shopee and have been laid off, some platforms have posted the words "Take Heartbroken Shopee XX Gang Children's Shoes".
Not many people, no bubbles, come quickly!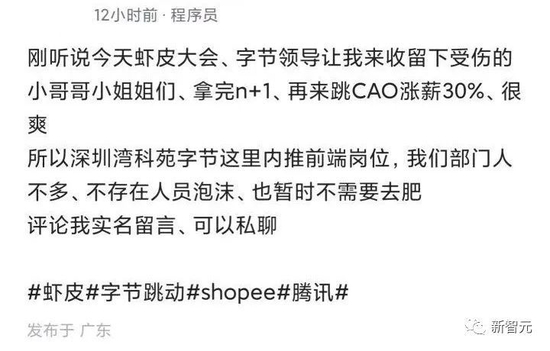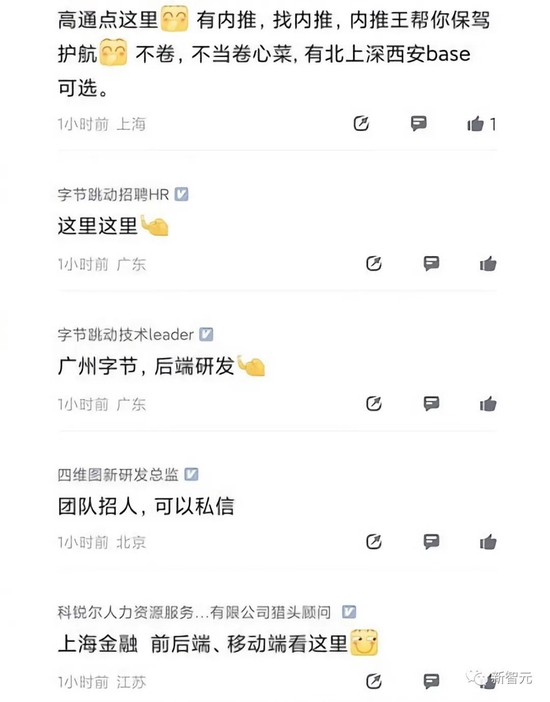 Southeast Asia and South America are also "rain and dew"
Obviously, as a base company in Singapore, it is not only the Chinese department that will be hit hard.
Just in early September, Shopee closed its local operations in Chile, Colombia and Mexico, and pulled out of the Argentine market entirely. But Brazil, which also belongs to South America, was not affected.
And with the "layoff meeting" held, 3% of employees in Indonesia will also like to bring a spree.
According to the 2021 annual report, Southeast Asia's revenue accounted for 63.5% of the company's total revenue in 2021, while Latin America's contribution to annual revenue increased from 13% in 2019 to 18.6% in 2021.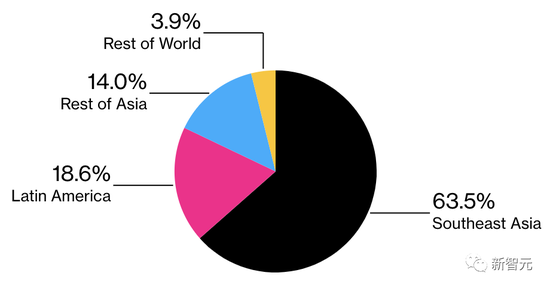 Shrimp why so far?
Although the name sounds like buying seafood and aquatic products, in fact, shrimp skin is a serious foreign manufacturer. It is a large-scale e-commerce platform headquartered in Singapore, and its main business is in Singapore, Malaysia, Indonesia, the Philippines and other Southeast Asian countries.
Can it be called "Small Taobao in Southeast Asia"?
No, no, in the past few years, the performance of Shopee in Southeast Asia has been properly crushing the Lazada invested by Ali.
Throughout 2020, Shopee achieved an absolute advantage over Lazada in terms of monthly visitor numbers from 4 Southeast Asian countries.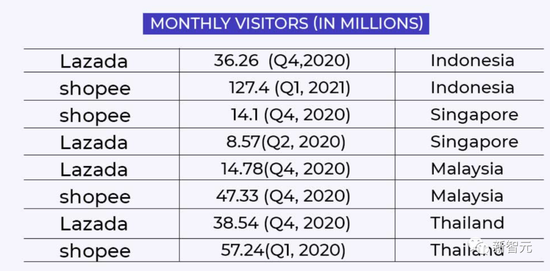 Behind Shopee is the parent company Sea, and the main investor behind Sea is Alibaba's old rival Tencent. According to data at the end of 2020, Tencent holds 39.7% of the shares and is Sea's largest shareholder.
However, in the context of the turbulent global epidemic and the downgrade of consumption, coupled with the domestic tightening of overseas investment supervision of large technology companies, even if it is as strong as Tencent, it is impossible to "go against the current" all the time.
Tencent's stake has dropped to 18.7% after it last announced in January that it had reduced its stake in Sea by 14.5 million shares.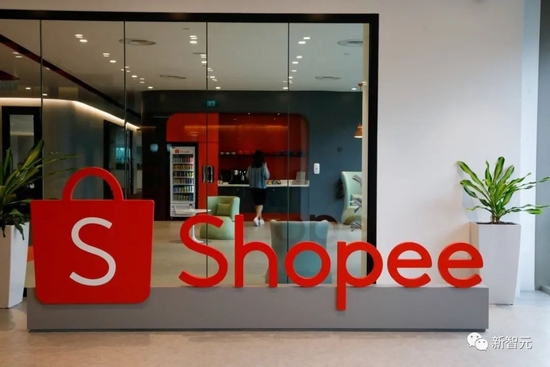 Major shareholders reduced their holdings and performance declined, which naturally resulted in a sharp drop in stock prices. In the past year, the stock price of Sea, the parent company of Shopee, fell by more than 80%.
What once soared to a market cap of more than $200 billion on the back of a surge in gaming and e-commerce popularity is now just $27 billion.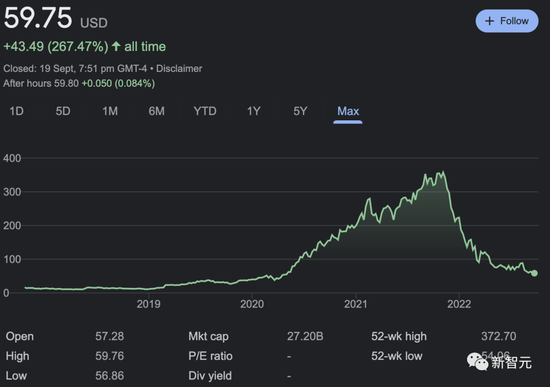 According to Sea's financial statements, Shopee posted a loss of $931.2 million in the second quarter of 2022, a sharp increase from the net loss of $433.7 million in the second quarter of 2021.
In the face of huge losses, in addition to scaling back operations and layoffs, Sea's co-founder, billionaire Forrest Li, announced in a 1,000-word internal employee memo that top executives would forgo salaries and austerity expenses until the company reaches self-sufficiency.
In another internal email, Shopee CEO Chris Feng also said the company needs to "focus resources on its core business" given the current rising macro uncertainty.

In this context, layoffs have become a matter of course.
Shopee's business model
Shopee, like any e-commerce platform, acts as an intermediary between sellers and buyers of goods. Revenue sources include transaction fees, advertising services and value-added services.
Transaction-based fees are charged to sellers as a percentage of the sale price. There are two main types of transaction fees: transaction fees and service fees. The transaction fee is a flat 2%, while the service fee varies from 0% to 5%, depending on the participation program the seller signs up for and the type of product being sold.
The advertising fee is charged based on the number of clicks from buyers. Sellers first bid on keywords in the search results, and the seller with the highest bid will appear in the buyer's search results and be charged a cost-per-click.
Value Added Services (VAS) is a marketing, product and customer management tool based on Shopee data analysis. Due to the large amount of web traffic passing through the platform, Shopee is able to monetize data by providing business intelligence to sellers. Given that these services are highly automated, value-added services have higher margins and are one of the key areas for revenue growth.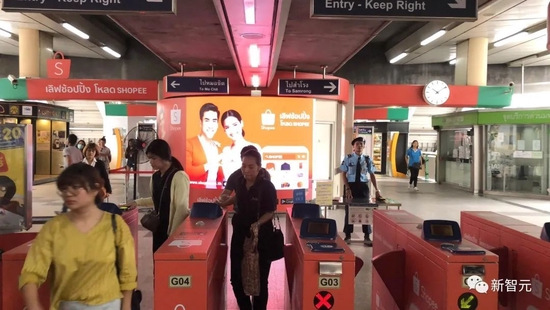 Costs include bank transaction fees; service fees paid to third-party logistics service providers and storage, server and hosting fees for goods; and employee compensation.
By subtracting the cost from the revenue, you can get the final gross profit margin of the shrimp skin.
However, after a wave of calculations, we found that this value is all negative as of early 2021…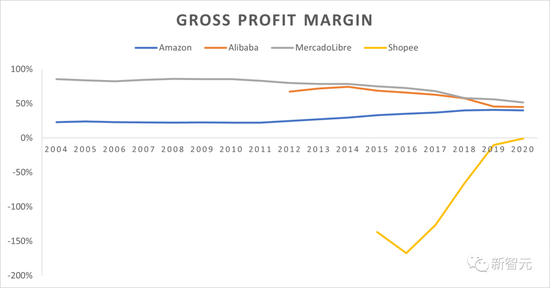 From the table below, it can be deduced that a large part of the cost of revenue of Shopee is variable. That is, as revenues grow, so do costs, and vice versa.
One of the main factors causing this phenomenon is the aforementioned bank transaction fees.
Such fees will be charged at a certain percentage of the sales price, which obviously is not conducive to the profitability of large-scale operations. It's no wonder that Sea would bid for (and win) a digital banking license in Singapore, so that they could pay less transaction fees to banks.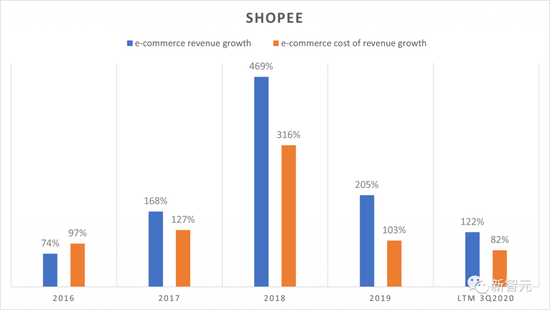 On the positive side, though, since 2017, the absolute increase in the cost of revenue for Small Shop has been smaller than the absolute increase in revenue.
But this seems to be improving, and it has been negative for too long, and it has also laid a small foreshadowing for the shrimp skin today.


(Disclaimer: This article only represents the author's point of view and does not represent the position of Sina.com.)

This article is reproduced from: http://finance.sina.com.cn/tech/csj/2022-09-20/doc-imqqsmrn9786471.shtml
This site is for inclusion only, and the copyright belongs to the original author.