I have been looking at photovoltaic equipment in the past few days, and now I will talk about my feelings and thoughts after reading it. I will not carry the technology of twisting the mouth, everyone can find the research report by themselves.
1. Now is definitely a transition period for technological upgrading, and the era of perc will end sooner than expected. Now is the time to really focus on the penetration of new technologies. The current route is nothing but HJT, Topcon, IBC and perovskite.
2. Equipment stocks have been hyped very strongly, and everyone needs to be carefully screened. Because it can't be falsified, from HJT to Topcon, and then to perovskite, every time after the quarrel, it's a chicken feather, but no one fried IBC. I will briefly talk about these four directions, only the conclusion, not necessarily correct, for reference.
First of all, from the perspective of difficulty, Topcon < HJT < IBC, perovskite belongs to the next generation technology (amorphous silicon). First of all, we must understand that the most important thing in mass production is the combination of cost and conversion efficiency. At present, Topcon has the largest expansion scale and has won the favor of capital. Why? Because of the high cost performance, it can be changed on the perc, the mass production cost is low, the process is relatively mature, and the efficiency is also improved. The disadvantage of HJT is that the current cost is too high, and it is a low-temperature process, which is completely incompatible with the existing production line. It is suitable for new players to directly buy the entire line of equipment to slowly know-how. The investment is more, but the life cycle is slightly longer. From the point of view of the equipment factory's selling point, this can be regarded as a so-called advantage. IBC is the most difficult process, but it can be combined with Topcon and HJT, and the mass production efficiency is higher. Post a picture here for your reference.

3. A few days ago, President Zhenguo of LONGi said publicly, which probably means that this generation of battery technology innovation will basically be the leader of the crystalline silicon route. The mass production efficiency is 26%-27%. Then there is the double junction battery, that is, the crystalline silicon stacked perovskite. It will take about 10 years for mass production + product maturity. So looking back and thinking about this round of photovoltaic cell technology upgrades, the core is not what equipment to buy now, what technology to choose, to improve a little efficiency to replace perc to make quick money, but the technology you choose now, have you considered the crystalline silicon route? ultimate form. If this wave is the last battle of the crystalline silicon route, then mastering IBC technology is king. Because of the pure TP and pure HJT processes, they must finally embark on the road of combining with IBC, and may even be directly overtaken by double junction batteries.
4. Why does the market not hype IBC? The answer is very simple, because there are not many people in this craft meeting. In other words, the IBC core process is temporarily not in the hands of a single equipment factory. I believe this reason is not difficult to understand. This has led to the lack of popularity and stories in the IBC sector. We can only wait for LONGi to finally show his trump card and Aixu's step-by-step verification. At present, LONGi's HPBC is progressing well, and the planned production capacity is relatively large-scale (30GW+). It is likely that the mass production will be officially announced soon, which will form a catalyst for IBC battery equipment.
5. LONGi's ground technology, what to choose? (The following is purely a personal guess) If the logic of point 3 above is correct, then LONGi will choose HJT for another technical route, and finally the route of HBC. Because this is the ultimate route. Considering that LONGi has previously announced that it has abandoned Topcon and that indium-free HJT has made progress, this probability is relatively high. But it should be noted that if LONGi chooses HJT, it must be because of IBC, not because of HJT. As for the shortcomings of HJT, as well as the difficulties of some processes such as electroplating copper, if the short-term breakthrough cannot be achieved, then we can only take a step back and find another way, that is, to find a combination with the IBC process to improve the overall efficiency and reduce the overall cost of electricity. (If the above guess is wrong, when I didn't say it.)
6. Combining the above considerations, the advantage of Topcon is that it has been selected by capital, especially Jinko, and with the favor of some new players such as Yiyi and Junda, the scale of mass production will gradually increase. This is an indisputable fact, and this is the reason why this sector has been the hottest recently. In fact, from the perspective of battery development path, perc is to transform the previous generation of BSF batteries, and Topcon can also be transformed on perc. Therefore, from the perspective of industry development, Topcon is the most direct, cost-effective and relatively easy path in a short period of time. . The disadvantage is that this route is not extreme enough. We see that JA, TRW, and Tongwei have not made any major follow-up actions. On the one hand, it may be due to route considerations, and on the other hand, the technology may not be as advanced as Jinko (purely guesswork). However, looking at Tongwei's latest plan is to expand the TP of 8.5gw, in fact, the scale is not large, which shows Tongwei's restraint. Tongwei has so much cash on hand, and such a large perc production capacity, it is not scientific to plan for hundreds of GW of new technology.
Topcon is good: Jiejia Flextronics, Laplace (Liancheng), Dier Laser, Haimuxing (has received a large order from Jinke), etc.
7. Whether it is IBC or Topcon, it is good for laser equipment. All need to use laser technology to improve efficiency, and the value and penetration rate of laser equipment will increase significantly with this technological innovation. The competition pattern and elasticity of the CVD industry are not as good as those of laser equipment, because CVD with new technology production capacity has to replace part of the value of perc, which should also be well understood.
Good for IBC: Dier Laser and Liancheng. (Maybe there is also Haimuxing) Why not mention Jiejia but Liancheng? Friends who have been following Longji for a long time should understand, so I won't say more.

8. Is HJT valuable? Have. Sell ​​to new players, or customize to IBC players. Although it has a large investment per GW, high cost and difficult technology, it has a long life cycle. For new players with no asset baggage, throwing HJT is an option. But for new players, the key problem is that it is difficult to master HJT and IBC at the same time. After HJT is bought and put into production, it is necessary to adhere to the two goals of making money and mastering the IBC process in order to finally reach the end of crystalline silicon cells. This path can only wait for equipment factories to reduce costs, break through the core difficulties of HJT, and then wait for the spread of the IBC process. It can only be said that it is very difficult. But as long as you want to buy it, the equipment factory will definitely be happy to sell it. There is still logic to this.
HJT is good: Maiwei shares, Jinchen shares, Jingshan Light Machinery, etc. Supplement: Xinyi micro-installation (electroplating copper equipment) (here I only say good equipment, I am not optimistic about HJT players, unless you exclusively break through the major difficulties of HJT and master the black technology. In fact, many equipment manufacturers are both HJT and TP. There are layouts, such as Mai Wei, Jin Chen, etc., each of them has a different eye.)
9. How to play perovskite? Perovskites can only be stacked, which is determined by perovskite itself and is born. At present, the most favorable one is TCO glass. But to be honest, it is still early for mass production, and long-term holdings will definitely be very uncomfortable. Or you can really choose the right one and choose the king in the next few years to 10 years. It is also a kind of skill to take it to the end. Perovskite also posted a picture.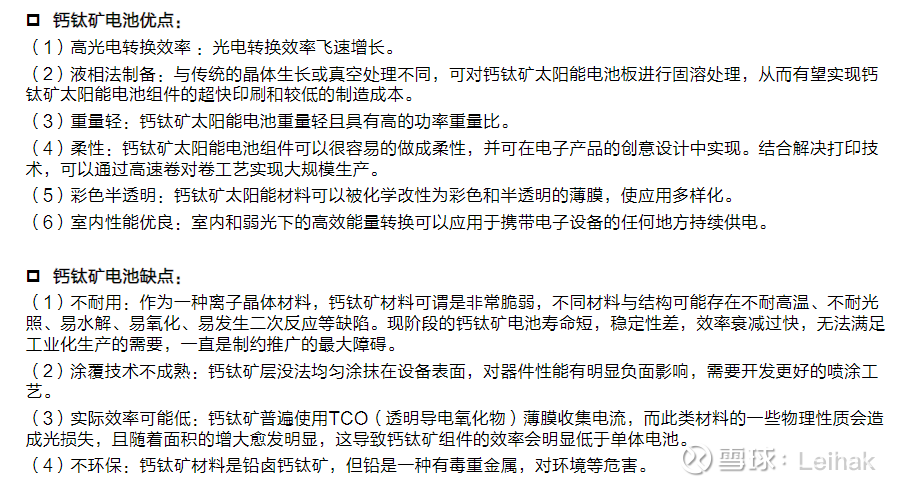 Perovskite is good: Jinjing Technology, Luoyang Glass, etc. (Not much research, welcome to provide more and better companies to discuss) Supplement: JPT (perovskite film cutting equipment)
10. Finally, learn about securities companies, and we also recommend them. It's up to you to decide what to buy. After all, everyone's thinking and aesthetics are different. (only covers battery devices)
Key recommendation: $Liancheng CNC (BJ835368)$ , $Himuxing (SH688559)$ , $Dier Laser (SZ300776)$
Recommended: Jiejia Flextronics, Maiwei Shares, Jingshan Light Machinery, Jinchen Shares, Jinjing Technology
@Today's topic @snowball creator center
There are 58 discussions on this topic in Snowball, click to view.
Snowball is an investor's social network, and smart investors are here.
Click to download Snowball mobile client http://xueqiu.com/xz ]]>
This article is reproduced from: http://xueqiu.com/9744600357/228330811
This site is for inclusion only, and the copyright belongs to the original author.