IT House reported on September 2 that the QQ rating is believed to be a lot of youthful memories of the post-90s generation. The QQ rating is determined by the number of active days a user has logged into QQ. There are stars, moon, sun, crown and other ratings. In the past, many netizens wanted to Upgrade QQ level The first thing to start the computer is to open QQ, and even go to the Internet cafe to hang up QQ.
In addition to hanging QQ software, there are also various ways to upgrade the QQ level. Tencent Computer Manager software under Tencent has launched the QQ acceleration function. Open the computer manager and log in to the account. The accumulated time is 30 minutes, and you can get 0.2 days of QQ on the same day. Level acceleration. IT Home has learned that many users will download and use Tencent Computer Manager software for QQ level, and I believe this is also the main purpose of this function.
Recently, some netizens discovered that Tencent Computer Manager will take off the QQ acceleration function. Tencent Computer Manager announced that its personal center QQ acceleration function will be offline on October 1. The announcement stated that due to product upgrades and adjustments, the personal center acceleration section will be offline from 0:00 on October 1, 2022, and activities including QQ level acceleration, logging in for 30 minutes to receive housekeeper gold coins and other activities will be offline. The official also prepared Q coins and housekeeper gold coins as downline compensation benefits.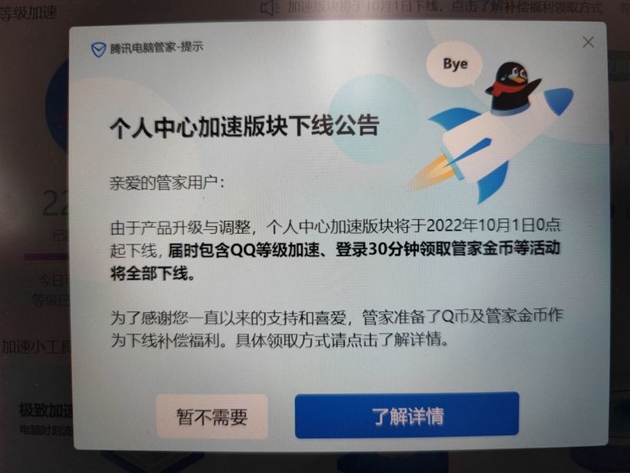 media coverage
IT Home Sina Technology
Related events
This article is reprinted from: https://readhub.cn/topic/8iZ16eaWEx2
This site is for inclusion only, and the copyright belongs to the original author.