Editor | Yu Bin
Produced | Chaoqi.com 'Yu see column'
The pre-sale promotion of Hengchi 5 is as high-profile as Evergrande. At the Hengchi Festival in mid-July this year, Liu Yongzhuo, president of Hengchi Group, announced that the cumulative order volume of Hengchi 5 exceeded 37,000 units. However, the pre-sale sales data, which was enough to make Hengchi carnival, has also attracted doubts from all directions since then.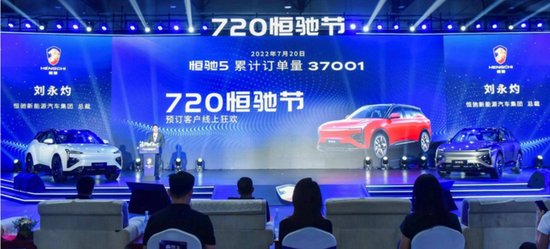 Even until the official announcement of Evergrande recently showed that the first model of Hengchi Auto, the Hengchi 5, was officially mass-produced at the Tianjin plant and started offline delivery in October, the doubts it faced were still endless. Obviously, this is related to the sudden collapse of Evergrande's trillion-dollar debt and the sudden collapse of its real estate "giant", but when we look into the reasons behind it, there is a certain inevitability hidden.
The collapse of the trust building, Hengchi 5 is difficult to wash away the market stereotype
As we all know, the public's trust in Evergrande has not only been greatly reduced when it suddenly fell into a debt crisis, but also after being "deceived" by its repeated high-profile promotion of Hengchi cars, but "big thunder and little rain" , and disappeared. The Internet will not be without memory. I believe that the circle of car friends is "unforgettable" that Evergrande unveiled nine Hengchi cars at the Shanghai Auto Show last April.
Because at that time, Evergrande even created a major classic in the auto industry, replacing model models with empty shell cars, and gracefully boarded the "Elegant Hall" of the Shanghai International Auto Show. Netizens even ridiculed that this is Evergrande's original "paper paste car", and the staff can carry it away alone. However, even so, Hengchi's official website is still full of feelings: to achieve annual production and sales of more than 1 million vehicles by 2025, and to achieve annual production and sales of more than 5 million vehicles by 2035, striving to become the world's largest and most powerful new energy source Auto Group.
In fact, in addition to its terrifying performance at large auto shows, Hengchi has also been "slapped in the face" many times in the mass production delivery cycle of Hengchi 5.
For example, at the end of 2021, Evergrande Automobile hung a mobilization banner inside, saying "work hard for 180 days" to ensure that Hengchi's first car came off the assembly line, and hyped it up on the Internet. However, by the end of June, netizens still haven't seen the shadow of Evergrande's mass-produced cars. At that time, what everyone was waiting for was Evergrande Automobile's announcement that the mass production of the Hengchi 5, which was originally scheduled to be mass-produced on June 22, was postponed to September 20.
Then, Evergrande made another surprise move. It is claimed that since July 6, the pre-sale of Hengchi 5 will be officially opened, and the new car will be positioned as a compact SUV with a pre-sale price of 179,000 yuan. Therefore, there is a marketing gimmick that the pre-sale of Hengchi 5 has started for half a month, and the order has approached 40,000.
However, the self-proclaimed optimistic pre-sale sales of Hengchi 5 did not add points to its reversal of word-of-mouth image, but increased public doubts. Even many analysts in the market believe that even if the Hengchi 5 is as official said, the big sale is a foregone conclusion, and it may not be enough to repay Evergrande's debt. More people from the media said ironically that even if Evergrande's 3.2 million owners bought the Hengchi 5, it would be difficult to fill the sinkhole of Evergrande's debt.
No matter what the truth is, what is certain is that the fate of Hengchi 5 seems to be tied to Evergrande's huge debt. However, can Hengchi, who has not yet "grown up", really become a white knight who is "riding the savior alone"? It can only be reduced to a "tool" for Evergrande to repay its debts. The drama before and after is intriguing.
Pre-sale may become a laughing stock, Hengchi 5 cannot escape the fate of debt repayment
Regarding the various exaggerated publicity of Hengchi 5 pre-sale, there is a lot of controversy in the industry. It is said that Evergrande's tens of thousands of orders may be internal to complete the self-digestion of KPIs, and the other is that Evergrande's creditors may order Evergrande cars in batches to repay their debts and realize them.
No matter what kind of speculation, Evergrande, a former real estate giant, looks ridiculous. And Hengchi 5, a new product that has been loaded with too many expectations, is destined to have a "tragic" fate.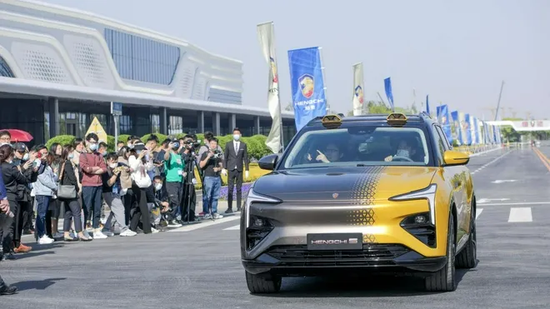 For example, on August 6, the official public account of Hengchi Automobile showed that "Hengchi 5 has achieved nearly 40,000 pre-sale results". It is understood that the sales of the Hengchi 5 have soared, which is related to the one-month promotion of the "First 10,000 Extra Large Profits" that began on August 1. The official car purchase policy is: the first 10,000 consumers who buy a car in August can enjoy a car purchase discount of 10,000 yuan for a deposit of 20,000 yuan. New energy vehicles implement the purchase tax exemption policy, and the final market price of Hengchi 5 is 169,000 yuan.
However, the Hengchi 5, which seems to be in full swing, cannot stand up to scrutiny. This stems from the recent interview by media reporters to the Hengchi 5 exhibition hall. A media reporter Chen, when he arrived at the interview site, saw that the door of its exhibition hall was full. Although it was now until September, its publicity column still displayed the poster of the "First 10,000 Extra Large Profits" marketing campaign in August. Moreover, the staff said that if you buy a car at this time, you can still enjoy the right of the first 10,000 car owners to buy a car.
What makes people feel strange is that a few days later, the promotion information about Hengchi 5 deposit of 10,000 yuan to 20,000 yuan still appeared on Hengchi's official website, but Hengchi did not give a deadline, but displayed "Hengchi 5 is hot. During the subscription, the above rights are exclusive to the first 10,000 car buyers."
Such a confusing advertising slogan made the reporters have some monks with two husbands and lost their heads. Since the sales volume of the Hengchi 5 has exceeded 40,000 before, why is it still under the banner of discounts for the first 10,000 car buyers? Is it that its total sales have never exceeded 10,000, or is the preferential policy still continuing?
In either case, the official information released by Hengchi 5 is inconsistent and suspected of confusing consumers. Regarding this promotion strategy of Hengchi, the outside world also has quite a few criticisms. According to industry insiders, in the past new car releases, in order to create a scene of hot sales, the behavior of brushing orders in the automotive industry is also widespread, and even an open secret. Moreover, even the prepayment of a certain percentage of the deposit may be fraudulent.
You know, Hengchi's official website shows that the pre-sale deposit of Hengchi 5 is 1,000 yuan. This also means that consumers can place an order as long as they pay 1,000 yuan, and the money can be returned at any time before the Jiaoda University. It is self-evident that the pre-sale order with refundable deposit has a lot of moisture.
We don't know the gold content of Hengchi 5's pre-sale data, but it is certain that Hengchi 5 is not as popular as the official statement, and it may not be able to add points to the big sales after Hengchi 5 is actually mass-produced and launched. . And Hengchi's seemingly "smart" marketing method is also a repeat of the old trick, which is not new. As we all know, savvy consumers only pay for real value.
Four years after the car was built, it was finally mass-produced, but Hengchi was difficult to submit
When it comes to Evergrande's car manufacturing, more people will compare it with LeEco, which also makes cross-border cars. However, LeEco collapsed because it was too aggressive and optimistic, and it has also become a forerunner for Evergrande to bet on Hengchi.
It is understood that Evergrande has been involved in the car manufacturing industry for more than 4 years since it invested in Jia Yueting's Faraday Future FF in 2018. Whether it is investing in new energy vehicle companies or building its own factories to produce and sell new energy vehicles, Evergrande's "car manufacturing" is a big deal in terms of investment.
Statistics show that Evergrande is still burdened by Hengchi so far. According to the 2020 annual report of Evergrande Auto, the total cumulative investment of Evergrande Group in the new energy vehicle industry is 47.4 billion yuan. According to the historical financial report, from 2018 to 2020, Evergrande Auto's net profit loss attributable to its parent continued to increase, with a cumulative loss of 13.248 billion yuan in three years.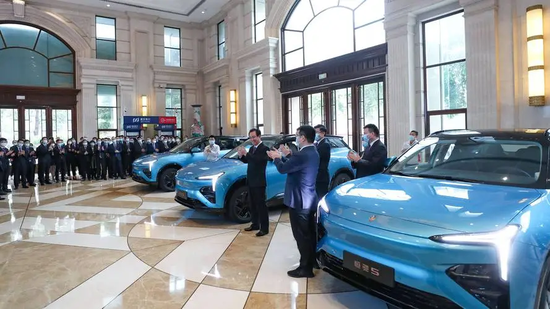 It is worth mentioning that when Hengchi 5 ushered in the good news of the upcoming mass production, rumors that Evergrande Motor may be acquired by a car company continued to ferment.
Despite the media verification, both the company and Evergrande Group denied it. But people can't confirm the authenticity of the news until the boots are still on the ground. And because of the rumors, even the management's change information is very detailed, the news about the shutdown of the Tianjin factory is also well-spoken, not like it is groundless.
Therefore, even if the Evergrande Auto Hengchi 5 can be mass-produced and delivered as scheduled in October, it may not be able to sit back and relax. People in the industry are generally worried that because Evergrande's past credit is no longer, whether Hengchi's supply chain resources can meet its mass production and delivery needs is still an unknown, or even the biggest obstacle.
It is understood that the suppliers who are currently in contact with Evergrande, because they are worried that Evergrande will be affected by debts and default in payment for goods, require Evergrande to pay the full amount before they can cooperate, which will hinder mass production and delivery. metaphor.
"Intelligence" has become a blank check, and it is difficult for consumers to pay
Hengchi 5 has always been officially labeled as intelligent, claiming to be "the world's most intelligent pure electric luxury SUV". However, whether it has enough value to make consumers willing to pay is also very doubtful.
It is understood that the Hengchi 5 will officially start the first batch of deliveries in October this year after the announcement of mass production. According to the current industry consensus, the vehicle configuration delivered by car companies to consumers should be consistent with their publicity commitments. Even if there are some differences, they must be irrelevant parts.
However, Hengchi 5 has once again subverted the industry rules, and stated on its official website and Hengchi 5 product introduction color page: "The configuration information of the configuration model may be different from the final mass-produced model." According to the reporter's investigation and interview, it was learned that, The "possible differences" configuration mentioned here is not optional. It is the H-Pilot intelligent assisted driving package that Hengchi has always used as the core promotional selling point.
In contrast, the Hengchi APP rights interface clearly shows that the cars purchased by consumers are equipped with intelligent assisted driving hardware as standard, and corresponding software functions will be opened for free in the future. As a result, 16 assisted driving functions, including traffic jam assist, full-speed adaptive cruise control, and lane keeping system, cannot be used normally by consumers before they are officially launched. before the 28th.
This also means that even if Hengchi 5 can start the first batch of deliveries on time in October, consumers will have to wait nearly half a year to experience its core intelligent functions, plus its vagueness in its slogans. , but also added to a lot of consumer concerns.
In addition, Hengchi 5 has always been positioned as an L2.5+ level intelligent assisted driving system, of which rich automatic driving functions were originally its main advantage. But can the currently imperfect intelligent system really allow it to play the role of an intelligent car?
Obviously, after the core part is "castrated", consumers will inevitably have a lot of concerns. Under such a situation, it may be extremely difficult for Hengchi 5 to sell well. It is not difficult to understand how embarrassing the situation of Hengchi 5 is.
On the one hand, the debt gap of Evergrande Tianda is waiting to be filled after the hot sale of Hengchi 5. On the other hand, Hengchi 5 does not seem to be ready for mass production and delivery, but instead has a sense of helplessness of "rushing a duck to the shelves". As a result, it will undoubtedly open up the market for the future Hengchi 5 and put more negative labels on it. How much performance contribution it can make to Evergrande, perhaps it can only be self-sufficient.
Epilogue
Ever since its birth, Hengchi has been quite dramatic from beginning to end. In the most difficult time of Evergrande, Hengchi could not be born with a golden key like other businesses. Although Evergrande tightened its belt and smashed tens of billions, it once became a "drag" for Evergrande.
Although Hengchi 5 now sees the dawn of mass production and delivery, it seems like a bright light, but because of the heavy pressure of Evergrande's "bad debts from selling cars", it has to save money on various investments, and even cut corners on various functions. ", repeatedly delaying the delivery cycle, so there have been many jokes.
In contrast, instead of believing that this is Hengda's unlimited marketing to create a topic, it is better to see that this is clearly a "distorted" Hengchi, a dilapidated destiny, and it is a kind of no choice. have no choice. It can be seen that, for Hengchi 5, its significance to Evergrande may be the biggest use of debt repayment, regardless of ideals and feelings.


(Disclaimer: This article only represents the author's point of view and does not represent the position of Sina.com.)

This article is reproduced from: http://finance.sina.com.cn/tech/csj/2022-09-19/doc-imqqsmrn9593728.shtml
This site is for inclusion only, and the copyright belongs to the original author.