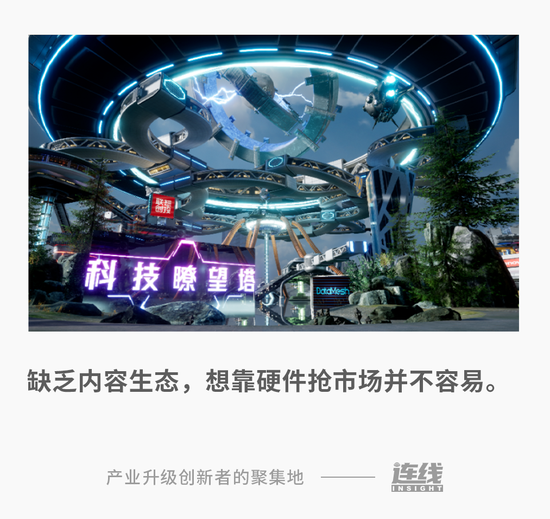 Welcome to the WeChat subscription number of "Sina Technology": techsina
Text / Zhou Xiaoqi
Source/Connection Insight (ID: lxinsight)
"In the face of the new cycle, Lenovo Group must accurately judge its position in the cycle, build a cloud ladder through technological innovation and business model upgrade, and stably pass through the cycle." At the 2022/23 Lenovo fiscal year pledge meeting, Yang Yuanqing, chairman and CEO of Lenovo Group, said so.
At the stage of Lenovo's technological innovation and business model upgrade, it took the AR/VR technology based on Metaverse applications as a key part of its new business.
Although Lenovo has been developing AR/VR technology since 2013, and has launched a number of AR devices for C-end consumers in the following years, so far, Lenovo's voice in the metaverse field is not large.
Due to the lack of self-built related content ecology, Lenovo's VR equipment for C-end users is difficult to maintain. At present, the relevant AR equipment has not been seen in Lenovo's official mall.
However, Lenovo has not given up its layout in the metaverse field, but it has shifted its direction from consumers to corporate customers.
According to incomplete statistics from Wired Insight, Lenovo has launched Think Reality A3 AR and Morningstar AR glasses for enterprise customers, and equipped them with related solutions.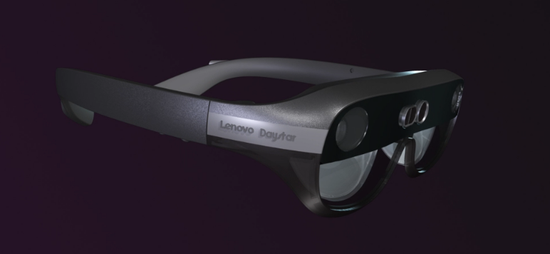 Lenovo Morningstar New G2 Pro AR glasses, image source Lenovo Shanghai Research Institute official website
Unlike other players who develop various metaverse products for C-end consumers, Lenovo seems to only want to focus on the industrial-grade field. It said that five major categories of industrial applications, including intelligent inspection, intelligent monitoring, AR training, remote collaboration, and intelligent construction sites, will become the main directions.
Although it has not set foot in the C-end for the time being, Lenovo Venture Capital, a subsidiary of Lenovo, has invested in many Metaverse-related companies. This is also Lenovo's consistent strategy, that is, to achieve a certain field layout through investment or acquisition. But the infrastructure behind the Metaverse, such as AR/VR, chips, etc., is still a field that requires heavy investment and research and development, and investment alone may not be able to build enough barriers.
To this end, Lenovo also stated at the oath meeting that it will invest a total of 100 billion yuan in research and development in the next five years to build core technology advantages and build a moat.
The idea is very good, but this time Lenovo can seize the opportunity under the new cycle?
Ten years into the layout of the Metaverse, Lenovo has quietly turned
"In the next five years, the total investment in research and development will exceed 100 billion yuan. Focusing on the technical framework of 'device-edge-cloud-network-intelligence', we will strengthen basic research and breakthrough technologies, focus on the short-term, medium-term and long-term, and divide it into three competitions. Dao invests resources." Yang Yuanqing said at the 2022/23 Lenovo fiscal year pledge meeting.
In Lenovo's medium-term plan for the next 2-3 years, the AR/VR technology based on Metaverse applications, edge computing, and cloud service business will be the focus, and it is stated that these three fields will enter the incubation stage from gestation.
It is worth noting that in the month of Lenovo's fiscal year swearing-in meeting, Lenovo Group also announced the "Lenovo Metaverse Deep Eye Digital Asset Management Platform". As a platform focusing on B2B, Lenovo hopes to build a complete metaverse ecology through this platform.
Over the years, Lenovo has been focusing on technological innovation, and the metaverse field, which represents future technology, has naturally become an important direction for Lenovo, and it has also achieved some results.
In January of this year, Time magazine listed the Lenovo Think Reality A3 AR smart glasses among its "100 Best Inventions of 2021", along with Nvidia's Omniverse, a simulation and collaboration platform that provides the foundation for the Metaverse. Wait.
Think Reality A3 AR smart glasses, source Lenovo official website
According to official information, Think Reality A3 is currently positioned as an enterprise-level smart glasses, with PC version and industrial version available. The former can be bound with PC devices, and the latter can be paired with Motorola's flagship smartphones. The glasses can manage emails, conduct conference calls, and process documents in a virtual view, and can be used for remote assistance, directing work, assisting industrial production, and more.
Lenovo also provides the Think Reality platform solution, which supports users to use 3D digital information to achieve positioning, interaction and collaboration in the real world, improving users' situational awareness and work efficiency. Compatible with other devices and cloud platforms, the platform is designed to make it easy for enterprise customers to use and manage augmented reality and virtual reality software applications across multiple operating systems, cloud services and devices.
This is not the first time Lenovo has launched AR-related devices. As early as 2013, Lenovo was exploring the application of AR technology, and in 2017, it launched the world's first immersive AR gaming device, the Lenovo Mirage AR smart helmet suit.
In terms of content, Lenovo chose to cooperate with Disney to develop Star Wars IP games. As a result, the Lenovo Mirage AR device has built-in three Star Wars games: holographic chess, tactical confrontation, and lightsaber combat. In addition to the sale of Suning and other channels, it is also sold at the official Disney flagship store at the same time.
With the blessing of Star Wars IP, Lenovo Mirage AR devices sold 500,000 sets within three months. That year, Lenovo also announced the Mirage Star Wars AR set at TechWorld, which has become the world's highest-selling AR device in 2017, accounting for 80% of the AR market share. This is definitely a highlight moment for Lenovo AR devices.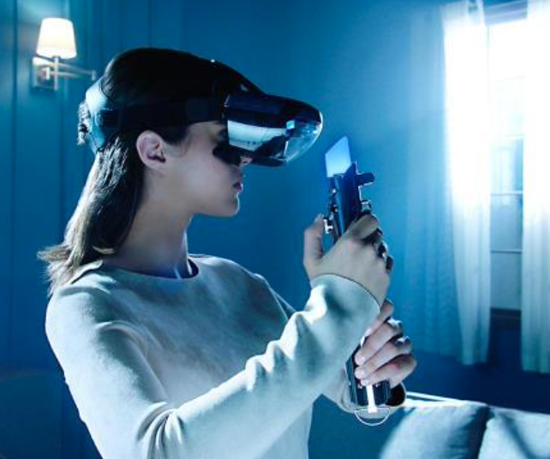 Lenovo Mirage AR headset, image source Lenovo 2017/18 financial report
After seeing the success of the Mirage AR device, Lenovo struck while the iron was hot and released the Lenovo Mirage Solo, the world's first VR all-in-one machine equipped with Google's Daydream virtual reality platform at the 2018 CES Consumer Electronics Show in the United States. Connected to the power supply, it can work as one, and is compatible with a variety of games.
It's worth noting that Facebook's Oculus Go VR headset was also launched at the same time, priced at $199, while the Lenovo Mirage Solo was priced at $399.99.
But Mirage Solo has not been as popular as Lenovo expected, which may be related to the fact that it did not create its own content ecology.
Lenovo is also aware of this. At the 2018 Lenovo Innovation and Technology Conference, Yao Li, the then global vice president of Lenovo and general manager of the Tablet PC and Smart Device Business Unit, said: "We need content, so Lenovo Mirage AR has cooperated with many venture capital companies from the inside out. And keep expanding our content across different types of content."
At this conference, Yao Li also revealed that in 2019, Lenovo Mirage AR will invest in another super IP content. Since then, Lenovo Mirage AR will invest at least 100 million yuan in content development every year.
However, Lenovo's AR content ecology has not been completed, and AR equipment has been silent. Now Lenovo Mall has already removed Mirage-related products.
Perhaps it has experienced the dilemma of consumer-grade AR devices. Now Lenovo's AR devices have turned to enterprise-grade, and even with other metaverse layouts, they are inclined to sell to corporate customers rather than end consumers.
Previously, Lenovo also built an end-to-end brand including hardware and solutions, Morningstar, with computer vision technology as the core. At first, Morningstar released an MR glasses in 2017, which can be used for AR games and large-screen movie watching on the C-side, and can be used for intelligent inspection, remote writing and other scenarios on the B-side.
But now, in the introduction of the official website of Lenovo Research Institute, Morningstar AR equipment and cloud service platform have become application solutions based on AR inspection and training for industries, engineering, education and medical care.
After years of layout in the metaverse, Lenovo's direction has completely changed. How many companies can it impress?
It's not easy to be a B-end enterprise
Putting on AR glasses, the holes of the originally dense aircraft components are suddenly enlarged a lot. The more important thing is that with the coordinate positioning, workers no longer need to find and identify the holes by themselves. They only need to follow the coordinates provided by the AR glasses. The wiring harness can be inserted into the hole.
At the end of 2018, Lenovo Research Institute and COMAC reached an agreement to use Morningstar AR to assist in the intelligent assembly of domestic large aircraft. This is also an important project for Lenovo Metaverse to land.
A large number of cables are involved in the manufacturing and assembly of large aircraft. For example, the C919 large aircraft has about 15,000 cables, which are bundled into about 500 wire bundles, and the connection between cables and connectors is relatively complex, such as 100 Connectors with multiple holes, the distance between holes is very small.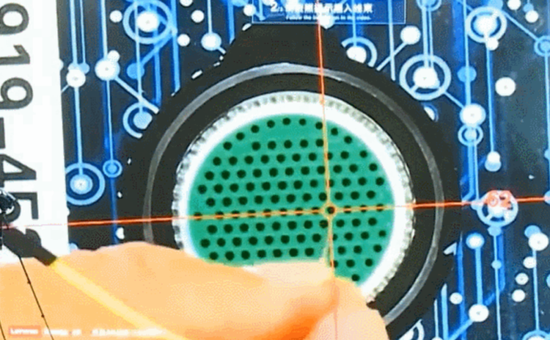 Morningstar AR glasses auxiliary wiring, Figure source Lenovo Group official WeChat public account
According to the conventional wiring operation, three workers are required to work together at the same time, respectively taking the roles of operation, guidance and detection. Not only was it huge and error-prone, it was also time-consuming.
However, with the assistance of AR equipment, it took three people two hours to complete the 80-hole connector termination work. Now one operator can complete the task of plugging many wires into the connector in twenty minutes. Even unskilled operators can get started quickly.
"The entire industry is currently facing the need for industrial upgrading. In this context, the combination of AR technology and AI technology should be used to improve the intelligence of the industry and achieve the purpose of reducing costs and increasing efficiency." Vice President of Lenovo Group, Shanghai Research Mao Shijie, president of the hospital, said in an interview with CCTV.
At present, Lenovo is also working hard to bring Metaverse to more industrial fields, and five major industrial applications of intelligent inspection, intelligent monitoring, AR training, remote collaboration, and intelligent construction sites have become the main directions.
For example, Lenovo Morningstar AR is also applied in the field of intelligent inspection. In traditional inspections, paper work orders are archived, and inspection record data is inconvenient and easy to lose. Moreover, the content of inspection items is complex, and manual inspections are prone to errors and omissions. Therefore, using AR equipment inspections can solve many problems. question.
AR glasses can prompt the inspection steps and content in real time, and speed up the inspection process through meter recognition, etc., and reduce deviations caused by manual reading errors and clerical errors. In addition, when inspectors encounter problems that cannot be solved, they can also share the "first point of view" with remote experts through the remote assistance function, and then solve the problem in real time.
Judging from the public information, Lenovo's AR inspection business has won orders from a domestic substation and a domestic new energy vehicle company.
However, the competition in this field is also relatively fierce. Not only Internet giants such as Alibaba, Huawei, and Baidu have entered the game, but also many players such as SenseTime, iFLYTEK, and Liangfengtai have entered the market. In order to gain more customers, Lenovo also needs to show more extraordinary strength.
In the field of education, Lenovo has also launched an AR super classroom, which wants to visualize knowledge, increase teaching interest through virtual reality, and allow students to deepen their understanding through interaction. In addition, Lenovo Research Institute has also built a future blackboard "HoloBoard". This device can combine mirror world technology and holographic telepresence to realize the mapping of teachers in remote virtual spaces, and then combine immersive projection technology to project teachers' pictures onto HoloBoard. On the future blackboard, complete the interaction and teaching of various combination of virtual and real in the teaching scene.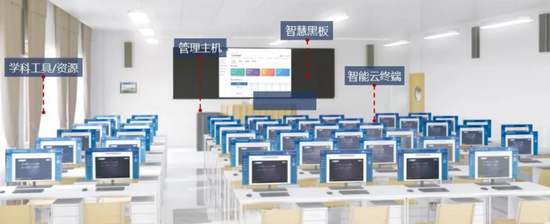 Lenovo Smarter Classroom, image source Lenovo official website
However, in the field of education, the teaching level and quality of teachers are the key. AR is only an auxiliary device, and schools that can afford such devices may not need to rely on such devices to improve the quality of students' learning.
Lenovo has also applied Morningstar AR glasses in the medical field, trying to realize real-time remote live broadcast of surgical procedures and visualization of medical data.
The medical AR/VR industry has indeed been growing in recent years. According to Global Market Insights data, in 2020, the global medical AR/VR industry market size will be more than 1.9 billion US dollars, and it will grow at a compound annual growth rate of over 35.8% in the next few years. Among them, the surgical sector will be the biggest growth driver.
Lenovo's application of the metaverse in the industrial field is also similar to this year's overall strategy, that is, expanding into other fields while ensuring the basic market, which can help it grab a certain market share.
But Lenovo's ambitions in the metaverse field don't stop there. It also wants to drive other businesses through the metaverse, but this may not be an easy task.
Relying on the Metaverse, can Lenovo drive other businesses?
"In the new fiscal year, we will seize new opportunities including AR/VR, artificial intelligence, smart home and smart collaboration, and further activate and enhance the Lenovo and Motorola brands." Luca Rossi, Senior Vice President of Lenovo Group and President of IDG At the Lenovo Group's 2022/23 fiscal year swearing-in meeting.
If the PC is the entrance to the Internet era, and the smartphone is the entrance to the mobile Internet era, then AR/VR + artificial intelligence is the key to unlocking the metaverse. And Lenovo obviously wants to combine the three keys and try to drive all businesses through coordinated development.
Lenovo held his breath. In 2014, after Lenovo spent $2.9 billion to acquire Motorola Mobility from Google, it expected Motorola to compete with Apple and Samsung in the high-end production line.
But the fact is that this acquisition not only dragged down Lenovo Group, resulting in Lenovo's 2015/2016 annual results due to the restructuring of Motorola's net loss of 128 million US dollars, but also Motorola's sales plummeted. According to IDC, Motorola's shipments in China in 2015 were 200,000 units, while Xiaomi's shipments in the same period were 65 million units. In the annual share list of major statistical agencies, Motorola has been in the "other" position for a long time.
Now, Lenovo hopes to use the Metaverse business to drive the declining mobile phone business and form business complementarity.
For example, Alibaba and Baidu have applied AR technology to their own map products. While achieving accurate navigation through AR, they can also add merchant promotion information to bring more gameplay.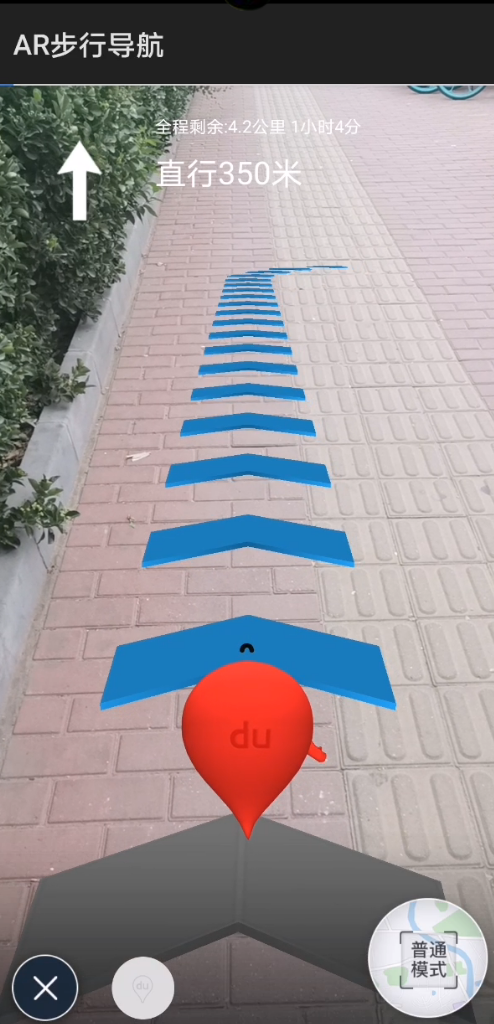 AR walking navigation of Baidu Maps, source Baidu map open platform official website
Huawei has not only released XR-specific chips, game controllers and VR headset-related patents, but has also assembled a series of cutting-edge technologies such as 5G, cloud services, AI/VR/AR around the "1+8+N" strategy, and is trying to build Own closed-loop ecology.
When major manufacturers are building their own Metaverse ecosystem, Lenovo naturally doesn't want to miss this opportunity. On the other hand, Lenovo's current Metaverse layout and future plans focus on the B-end business, and products originally oriented to the C-end are no longer on sale, which may be difficult to drive the development of the C-end business where smartphones are located.
Although it has not yet regarded the C-end business as the focus of Metaverse's development, Lenovo has invested in many upstream and downstream companies in the Metaverse industry chain. According to incomplete statistics, Lenovo Venture Capital, a subsidiary of Lenovo Group, has invested in a number of VR/AR companies such as Nedega, XIMMERSE, Xuxiang, and Danghong Qitian.
To achieve industrial layout through investment or acquisition, this is Lenovo's common strategy in the development of PC and mobile phone business, but this strategy may not always work, and Motorola is a lesson from the past.
At the same time, the current metaverse field has crowded into too many players, not only Ali, Tencent, Baidu, Huawei and other powerful companies have stopped, but also AI companies such as SenseTime, Megvii, and Yuncong are trying to develop the second curve , and countless vertical players.
If Lenovo wants to develop the Metaverse, it will inevitably compete with various manufacturers, and the underlying infrastructure that supports the development of the Metaverse, such as AR/VR, chips, software, and operating systems, requires a lot of R&D to form certain barriers to competition. , Lenovo is not dominant in this regard.
In comparison, Lenovo's R&D investment in fiscal year 20/21 was 12.038 billion yuan, accounting for 2.92% of the annual revenue, while Huawei's R&D investment in 2021 was 142.7 billion yuan, accounting for 22.4% of the annual revenue; Alibaba's 2021 annual revenue Technology-related costs exceed 120 billion yuan, accounting for 14.07% of fiscal 2022 revenue.
Regardless of the amount of R&D funds or the ratio of R&D investment to annual revenue, Lenovo's R&D investment is too low. This is why Lenovo stated that it will invest 100 billion in research and development in the next five years.
It may not be too late to make up for the shortcomings of research and development now, but whether it can seize the opportunity of the next generation wave, there is no answer yet.

This article is reproduced from: http://finance.sina.com.cn/tech/csj/2022-08-04/doc-imizirav6706624.shtml
This site is for inclusion only, and the copyright belongs to the original author.