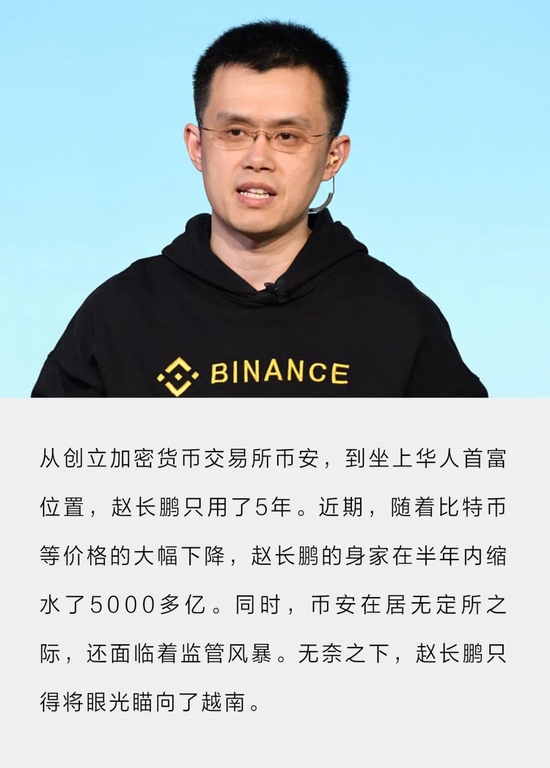 Welcome to the WeChat subscription number of "Sina Technology": techsina
Text / Wang Xingxing
Source/city boundary (ID: ishijie2018)
"Returned to poverty overnight."
Last month, Changpeng Zhao, who became the "richest man in China" with cryptocurrencies, tweeted. It was pointed out that the Luna coin, which once held a market value of $1.3 billion, had only $2,000 left in a few days, which was almost zero.
Unexpectedly, this is just the beginning.
After the Luna coin thunderstorm, the cryptocurrency continued to plummet, making the Binance founder's net worth shrunk significantly.
On November 9, 2021, Bitcoin hit a historic high of $69,000, and Changpeng Zhao, who holds a variety of cryptocurrencies and controls Binance, has a net worth of $95.8 billion (about 640 billion yuan), becoming the "richest man in China". At that time, Changpeng Zhao's wealth had already left Li Ka-shing, Zhong Suisui and other bigwigs far behind.
In just half a year, according to China Fund News, as of June 13, 2022, Changpeng Zhao's net worth was only US$10.2 billion, which has evaporated by US$85.6 billion (about 570 billion yuan) from the peak, a plunge of 89.3%. And Zhong Suisui climbed to the top again.
The chair of Changpeng Zhao's "richest man in China" is about to be vacated before the chair is warm.
bubble burst
From unknown to the top of the "richest man in China", and then to the plummeting net worth, behind Changpeng Zhao's magical story is the shattering of the myth of cryptocurrency making wealth.
Changpeng Zhao was born in Jiangsu in 1977 and immigrated to Vancouver, Canada with his family when he was a teenager.
In 2017, Changpeng Zhao established Binance Exchange in China, and by 2021, Binance has become the largest cryptocurrency exchange in the world. The exchange has 90 million users, has listed more than 600 digital currencies, and provides 24-hour uninterrupted trading.
The daily transaction volume of Binance can reach 76 billion US dollars. By charging handling fees, listing fees, service fees, etc., Binance makes a lot of money. According to this scale, the valuation reaches 300 billion US dollars.
According to Forbes' calculations, Changpeng Zhao, who holds 30% of Binance's shares, has a net worth of $95.8 billion and has become the "richest man in China".
(Changpeng Zhao)
But the cryptocurrency market presents these wealth with great uncertainty.
From the recent thunderstorm Luna coin, we can see how Changpeng Zhao's wealth increased rapidly and "returned to poverty overnight".
In 2018, Binance spent $3 million to buy 15 million Luna coins. At its peak, it was worth as much as $1.3 billion, and Binance made 450 times profit on paper.
But at the beginning of May 2022, Luna coin collapsed. In just a few days, the price dropped from nearly 90 dollars a piece to less than 0.00015 dollars a piece, and hundreds of millions of wealth disappeared in the blink of an eye.
From $3 million to $1.3 billion to $0.2 million. The ups and downs of Luna coin have become a microcosm of Zhao Changpeng's wealth jumping up and down.
IMF President Georgieva has said that stablecoins without asset backing are a "pyramid scam", alluding to the recent collapse of Luna coins and other cryptocurrencies that have impacted the cryptocurrency market.
Unexpectedly, the impact was soon fulfilled.
Beginning in 2022, the United States has begun to tighten currency liquidity, and countries have become more and more stringent supervision. The cryptocurrency market led by Bitcoin has suffered a series of heavy blows. Bitcoin also slipped from a high of $69,000 on November 2021 to $22,000 on June 16, 2022, a drop of nearly 70%.
Zhao Changpeng's net worth has also shrunk by nearly 90% in the past six months.
Not only Changpeng Zhao was injured, but Tesla Musk was also "stuck". According to previous media analysis, Tesla will buy $1.5 billion in bitcoin in early 2021, at a price of about $35,000 per piece. At the current price of $22,000 per piece, Musk's bitcoins have fallen by about 37%.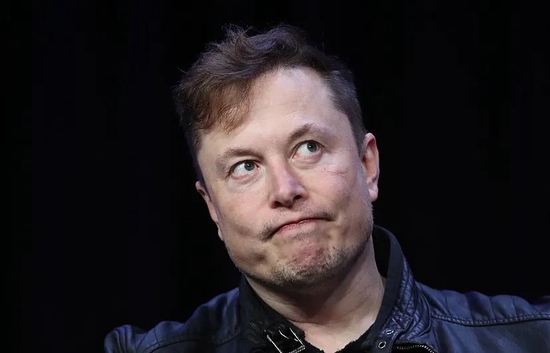 (Musk)
Some analysts pointed out, "The essence of cryptocurrency is just a risk asset, and the main driving force is currency liquidity. At this time, central banks around the world are turning to tightening, and the ebb of cryptocurrency is already trending and inevitable."
wandering around
The shrinking net worth is only one of Zhao Changpeng's worries, and the fate of Binance has also made him devastated.
In 2017, after Changpeng Zhao founded Binance, just in September of that year, seven Chinese ministries and commissions stopped the financing of token issuance. Changpeng Zhao and Binance, which had just been established for three months, had to go overseas together.
A story of "Wandering Earth" begins.
There are comments that in Changpeng Zhao's eyes, there are two types of countries, those who welcome Binance and those who do not. When Changpeng Zhao left overseas, his original intention was to settle down in a place with loose supervision.
Changpeng Zhao's first stop was Japan. In 2018, the Japan Financial Services Agency issued a warning to Binance on the grounds that Binance was not registered in Japan or caused losses to investors. Binance cannot provide trading services to the public without obtaining a formal license.
(Tokyo, Japan, Changpeng Zhao was interviewed by a TV station)
Broken down in Japan, Changpeng Zhao went to England. The U.K.'s Financial Conduct Authority made it clear that Binance's "wide geographic distribution" made it impossible to regulate. This behavior of not setting up a headquarters in order to operate in a loosely regulated area is not tolerated by many regulators.
In the following two years, Changpeng Zhao went to the United States and Singapore again, but both were ordered to be expelled.
In this process, the practice of not setting up a headquarters was regarded as a risk by the regulatory authorities of many countries, but it was interpreted by Binance as "decentralized office". The core feature of "decentralization" of cryptocurrencies was directly taken by Binance and used as a shield for forced displacement.
Recently, news emerged that the SEC is investigating whether Binance is involved in money laundering and tax evasion or providing channels for it, as well as the possibility of "market manipulation and insider trading." It was also reported that Binance may have enabled up to $2.3 billion in money laundering through its platform.
Although Binance has denied these allegations, in any case, being expelled by many countries, Binance has always been rootless, and Changpeng Zhao is eager to find a "home" for Binance.
Now, Changpeng Zhao has pinned his hopes on Dubai, Vietnam and other countries.
The first is Dubai. Previously, Changpeng Zhao has publicly stated that 99% of his wealth is in encrypted digital currency, and he believes that the liquidity of the house is so poor that there is no house or car. But in order to show his attitude to Dubai, Changpeng Zhao bought an apartment in Dubai.
Changpeng Zhao's efforts have made some positive progress. According to previous reports, Binance has been approved to conduct some operations in Dubai and has established a blockchain technology center in Dubai's World Trade Center.
Now it's Vietnam's turn.
On June 3, 2022, Changpeng Zhao came to Vietnam to participate in the 2022 Vietnam NFT Summit. At the event, he said that we work every day to work with regulators around the world to develop legal and regulatory frameworks for digital assets. If there is a clear legal system in this field, Vietnam can be one of the pioneers in acquiring new technologies. I am grateful that Vietnam is one of the first countries to have a legitimate blockchain association.
On the same day, he also tweeted: "I love Pho" to express his excitement for arriving in Vietnam.
Once, many people went to Vietnam to pan for gold, but then this country has become synonymous with "fraud" and "cutting leeks" in these people's minds. However, this cannot resist the enthusiasm of capital influx.
In early April 2022, Li Ka-shing's real estate flagship Cheung Kong Holdings entered Vietnam and promised to invest in the development of high-end projects including residential, office, and commercial centers.
Now, Changpeng Zhao has also gone.

This article is reproduced from: http://finance.sina.com.cn/tech/csj/2022-06-16/doc-imizirau8880052.shtml
This site is for inclusion only, and the copyright belongs to the original author.