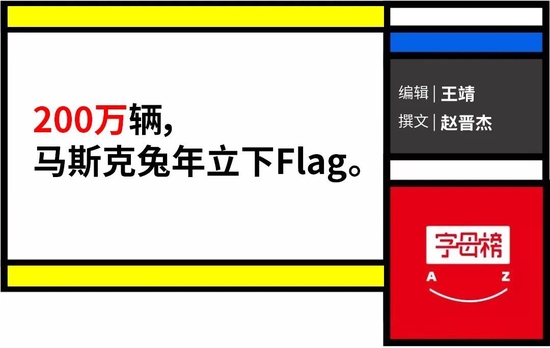 Welcome to the WeChat subscription account of "Sina Technology": techsina
Text/Zhao Jinjie
Source/Alphabet List (ID: wujicaijing)
"Price really matters".
In the early morning of January 26th, Beijing time, Tesla CEO Musk expressed his emotions at the earnings call for the fourth quarter of 2022. Because the price cuts are not only helping Tesla win back orders, but also actually pushing up Tesla's stock price. Tesla's share price has risen by more than 40% since January 6, when it announced a significant price cut in Tesla's Chinese market.
"These price changes do have an impact on the average consumer. Sometimes, for those who have money, they kind of forget the importance of affordability. Our goal at Tesla has always been to make it affordable for as many people as possible." Afford a car".
As Cui Dongshu, secretary-general of the Passenger Federation, said, Tesla has broken through consumers' psychological defenses through price cuts, so that consumers no longer hesitate.
With the reduction of Tesla's vehicle ASP (average selling price), its financial performance has already been reflected in the fourth quarter of last year. In the quarterly financial report, Tesla achieved the highest quarterly revenue, operating income and net income in history. Its operating income in the fourth quarter was US$24.3 billion, a year-on-year increase of 37%; adjusted net profit was US$4.1 billion, a year-on-year increase of 43% .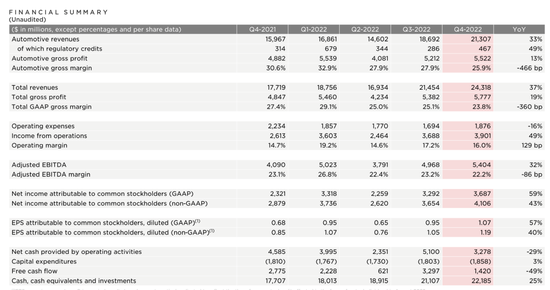 But the price cuts also cost Tesla, in the form of lower profit margins. In the fourth quarter, Tesla's automotive gross profit margin further dropped to 25.9% from 27.9% in the third quarter, falling below 30% for three consecutive quarters.
Regarding the doubts about Tesla's weak demand caused by price cuts, Musk denied it in the fourth quarter earnings conference call, and gave a set of data, saying that Tesla ushered in the strongest order period in history in January, "orders Quantities are almost double the rate of production."
Even Musk credits his Twitter account with doing something to drive Tesla's order growth. As of now, Musk has 127 million Twitter fans and is still growing rapidly. "I'm the most engaged account…Twitter is actually a very powerful tool in terms of driving demand for Tesla."
Will Tesla further cut prices in the future? Musk did not give a clear response, but he also reserved some room for imagination, thinking that when a severe economic recession does come, everything may happen.
However, there may not be much room left for Tesla to cut prices. In early January, Tao Lin, vice president of Tesla, said in response to the price cuts in the Chinese market that the localization rate of Tesla's Chinese supply chain has reached 95%. "Theoretically speaking, there is not much room for improvement, so I think After this price adjustment, it should be said (prices) are relatively stable."
When ASP is gradually in a downward trend, how can Tesla save the accompanying low gross profit margin? Tesla CFO Zachary Kirkhorn gave a new measure-operating profit margin. In Kirkhorn's view, as other businesses such as energy grow and expand, Tesla's overall operating profit margin will show an upward trend.
Musk drew a pie that is easier to stimulate the capital market, that is, hardware-related profits will accelerate with the growth of software-related profits, such as Tesla's FSD (full self-driving).
In addition to promoting the landing of FSD in more regions, Tesla's tasks in 2023 also include expanding the production of 4680 batteries, bringing Cybertruck to the market, striving to deliver it next year, and developing a next-generation vehicle platform with lower cost.
After failing to meet its annual growth target of 50% in car sales for two consecutive years, Tesla began to actively lower its expectations and expects to deliver about 1.8 million cars in 2023. On that count, the figure is only about 37% higher than in 2022, well below Wall Street expectations.
When answering questions from analysts, Musk explained this, saying that 1.8 million is the value that Tesla promised to achieve. If there are no major supply chain disruptions or other accidents, Tesla will have the potential to sell in 2023. Produce and sell 2 million cars.
As early as the annual general meeting of shareholders in August last year, Musk had announced that Tesla's global production capacity target for 2022 was 2 million vehicles, and would announce a new super factory construction plan before the end of 2022.
Today, 2 million has become Musk's new flag for another year, but he has not responded to plans to build a fifth super factory outside Shanghai, Berlin, California and Texas.
However, these setbacks did not stop Musk's super confidence in Tesla. When asked who Tesla's serious competitor will be in the next five years, Musk said bluntly, "(As of now) we still don't even know who will be the distant second…you can see it with a telescope. Can't see the second one, at least we can't."
Perhaps because he felt that Musk was talking too much, Kirkhorn changed his tone and said, "The Chinese are terrible." Musk took up the conversation and believed that Chinese auto companies are the most competitive in the world. "They work the hardest and work the smartest… We guess that there may be some companies in China that are most likely to be second only to Tesla."
The reality is indeed the case. In addition to continuing to compete for China, the world's largest auto market, Chinese new energy automakers are accelerating their overseas expansion and competing more frequently with Tesla.
A
Through the price war, Tesla has brought the global new energy vehicles into a new stage of competition in terms of scale, and what is behind it is the production and manufacturing capabilities of each company.
Musk mentioned many times at the financial report that manufacturing has become the most difficult barrier for other new energy vehicle companies to replicate, and Tesla still has the most advanced manufacturing technology in the current industry.
Continuing to build and sell as many cars as possible, and even continuing to drive strong order volume growth through price cuts, is one of Tesla's most effective weapons of the moment to maintain the industry's best operating margins.
Manufacturing technology is regarded by Musk as Tesla's most important long-term advantage, and will become the cornerstone of continuing to implement Tesla's controllable cost reduction plan, one of which includes expanding the new super factory and gradually achieving regional balance. chemical vehicle manufacturing.
China is undoubtedly a typical case in this respect. Wedbush Securities analyst Daniel Ives believes that China represents the "heart and lungs" of Tesla's story, and continued success in this key region is the key to the "Tesla bull market" in 2023 and beyond .
Even Musk has to admit that Tesla's 2022 production and delivery challenges are largely centered in China. As of the end of the fourth quarter, Tesla's Shanghai plant was operating close to full capacity, with a total production capacity of more than 750,000 vehicles, ahead of California's 650,000 vehicles and Texas and Berlin's 250,000 vehicles.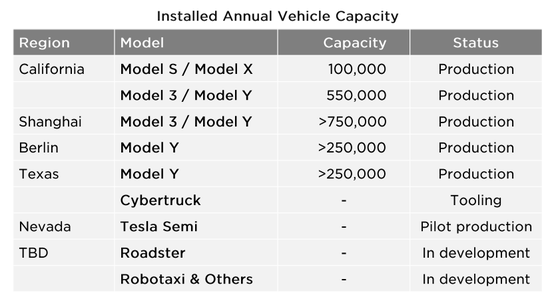 However, the production capacity of the Shanghai factory is approaching the bottleneck. Tesla pointed out in the financial report that the Shanghai factory will not have significant continuous production growth in the short term. Prior to this, the rumored plan to expand the production capacity of Tesla's Chinese factory by 2 million a year was explosively suspended.
In order to further pursue scale growth and create as much room for cost reduction as possible, Musk is still trying to find ways to lay more super factories to promote the localized production of cars, thereby reducing the cost of car production and manufacturing in the supply chain. In early January, Reuters reported that Tesla would build its third overseas super factory in Indonesia to accelerate its layout in Southeast Asia.
In addition to expanding the new super factory, Musk is also increasing investment in the original factory and improving efficiency.
In order to increase the production capacity of the Texas plant, Zhu Xiaotong, head of Tesla China, went to the United States in the second half of last year and brought a group of skilled Shanghai workers. By the end of the fourth quarter, the weekly production capacity of the Model Y production line at the Austin plant had reached more than 3,000 vehicles. .
At the same time, Musk has also invested at least US$3.5 billion in the Nevada factory in California, and plans to build a new 4680 battery factory and a Semi semi-trailer electric truck factory at the Nevada super factory.
B
On the other hand, the pursuit of scale hides Musk's firm belief that Tesla can become the most valuable company in the world.
As Musk said on the earnings call, the FSD software subscription service will be "something that could improve Tesla's market value by an order of magnitude."
Since the promotion of the beta version in October last year, Tesla has accumulated nearly 400,000 FSD subscription customers in the United States and Canada, which is regarded by Musk as an important milestone in the development of Tesla. In Musk's view, the FSD Beta is the only way for any consumer to actually test the autonomy of the latest artificial intelligence, and Tesla has currently collected about 100 million miles of FSD driving off the highway.
Once FSD is fully rolled out, "that means there are millions of fully autonomous vehicles that can be sold at essentially 100% gross margins. As the autonomous capability grows, so does its value. Then, when it's fully When autonomous, that's the value increase of the fleet. It's probably the largest increase in asset value in history."
However, on the road to realizing Musk's above-mentioned beautiful vision, challenges continue.
In terms of revenue, in the fourth quarter of last year, Tesla's revenue from FSD was only US$324 million, which is still far behind the US$20 billion in car sales.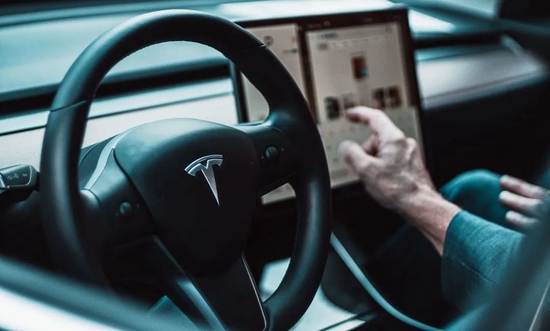 In terms of application, since the launch of the FSD beta version, the number of Tesla complaints has surged by more than 30 times in a short period of time, and the problem of "ghost brakes" has occurred from time to time.
In May 2021, Tesla officially decided to remove the millimeter-wave radar that was previously standard on mass-produced cars, and only retain eight cameras in the car to collect external environmental data for Tesla FSD. Since then, in the field of autonomous driving, the market has been divided into two schools – the pure vision school and the radar school. The former is led by Tesla, and the latter is led by Chinese new energy vehicle manufacturers such as Xiaopeng and NIO.
Two months later, Tesla began to push a new version of FSD, FSD Beta V9.1, which is the first assisted driving kit using the "Tesla Pure Vision" solution. At that time, Musk tweeted: "Achieving universal autonomous driving is a difficult problem because it needs to solve many AI challenges involving real world. I didn't expect it to be so difficult, but in retrospect, the difficulty is obvious."
Reactivating the radar may be some kind of compromise after Musk recognizes the difficulties. Because the emergence of "ghost brakes" is mainly due to forward recognition errors, adding a higher-resolution radar is undoubtedly a more convenient FSD promotion solution when AI capabilities are not enough to deal with realistic challenges.
The latest exposed Tesla documents show that Tesla will adopt a new generation of hardware sensor solutions to match the new generation of Tesla's autonomous driving computing power base HW4.0. One of the biggest changes is the eight-camera solution, which has been reorganized into seven cameras. +1 millimeter-wave radar solution, and it is expected to be the first to be produced in a Chinese factory.
C
Although it is not as efficient as Tesla in terms of manufacturing efficiency, Chinese new energy vehicle manufacturers have begun to press on in terms of realizing regional localized production.
The Wall Street Journal recently reported that Ford Motor is negotiating with BYD on the sale of the Saarlouis factory in Germany's traditional industrial area. The management of Ford Europe will go to China next week to negotiate with BYD on the price and transaction details.
In Southeast Asia, where Musk is expected to build a factory, in September last year, BYD also signed a contract with the WHA Industrial Park in Thailand to start a wholly-owned construction of the first overseas passenger car factory base.
Even in South America, where the news of Tesla's factory construction was reported before, in November last year, BYD was also reported to be interested in acquiring Ford's factory in Bahia, Brazil, and plans to invest more than 4 billion yuan for preliminary preparations. The relevant projects are planned to be completed in 2023. Construction will start in June 2024 and it will be put into operation in the second half of 2024.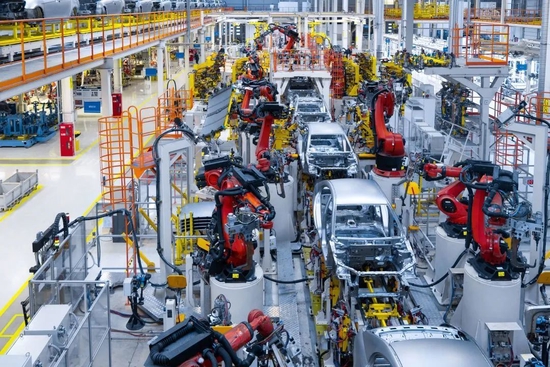 In the past 2022, BYD has become the global new energy vehicle champion with its annual sales of 1.869 million vehicles, and since the second half of last year, it has overwhelmed Tesla in the monthly sales rankings in the Chinese market to win the championship. The competition between the two sides has gradually spread from China to the world.
And Tesla's global competitors are far more than BYD. Weilai and Xiaopeng are also stepping up their deployment.
As early as 2019, Weilai had considered developing new cars directly in the United States and selling them to the market. In 2021, Weilai restarted its overseas expansion. The first stop was Norway, which had the highest penetration rate of electric vehicles in Europe at that time, and it will successively enter the markets of Germany, Finland, Sweden and Denmark in 2022.
Xpeng, who also chose Norway as the first stop to go overseas, after suspending its overseas operations in 2022, Xpeng CEO He Xiaopeng mentioned in an internal letter summarizing at the end of 2022 that Xpeng Motors will increase its efforts to go overseas in 2023, focusing on developing Europe and Southeast Asia. Wait for the market.
Although the overseas sales of Chinese new energy vehicle manufacturers are not enough to pose a threat to Tesla, as Ives said, investors have placed more high hopes on Tesla, and the "disappointing delivery data" in the fourth quarter , It is bound to attract the dissatisfaction of investors who are optimistic about Tesla.
Musk, who wants to run wild on the road of pursuing scale, is time to announce the location of the new super factory.


(Disclaimer: This article only represents the author's point of view, not the position of Sina.com.)

This article is reproduced from: https://finance.sina.com.cn/tech/csj/2023-01-26/doc-imycnwes0920530.shtml
This site is only for collection, and the copyright belongs to the original author.