Welcome to the WeChat subscription number of "Sina Technology": techsina
Text / Zhou Yifei Editor / Zhou Xiaoqi
Source: Wired Insight
Keep's road to listing has been extended again.
After a lapse of 6 months, after Keep submitted its prospectus and failed to pass the hearing, the current status of its IPO application has become "invalid".

Image Source Disclosure Easy
This result is not good news for Keep, which has been losing for three consecutive years.
Moreover, the valuation of Peloton, the benchmark object on the other side of the ocean, has been greatly discounted, and the competition in the domestic smart fitness track has intensified. It is not the best for Keep to choose this year's listing node.
Now that the prospectus has expired, Keep needs to resubmit the prospectus within three months before it can restart the listing process.
Years of losses and the lack of an effective profit model may be the constraints that hinder Keep's successful IPO. Regardless of whether the latter will choose to sprint the listing twice, they are all problems that Keep must solve. But these cruxes are actually Keep's long-standing "stubborn diseases".
In response to questions from the capital market and the outside world about its business model, Kepp's "attack from all sides" has also caused the commercialization strategy to fluctuate.
After several turns, Keep finally told an ecological story: it cut into the upstream of the fitness industry chain and became a company that wants sports consumer goods, content and services.
But wanting everything has also de-focused the company. Keep has grown from a small and beautiful fitness app to a company full of uncertainty. Even Keep himself reluctantly admitted in the prospectus that "there is no guarantee that we will be able to generate profits or positive cash flow from operating activities in the future."
Since its establishment for 8 years, Keep has also repeatedly heard rumors of sprinting for an IPO. After twists and turns, from the initial go to the United States to the final listing in Hong Kong, and now the prospectus to Hong Kong has expired, Keep's road to listing is getting longer and longer. And the market environment is getting more and more tragic, do investors still have patience?
Since its establishment, Keep has received 8 rounds of financing, and there are many star shareholders behind it, such as Tencent, Wuyuan Capital, Hillhouse Capital, etc. The $356 million Series F round in early 2021 was led by Japan's SoftBank's Vision Fund.
Investors are global mainstream investment institutions, but it does not mean that they have no demand for returns.
Keep once achieved periodic profitability, and also won more than 40 million monthly active users, far away from similar sports and fitness products. But overall, from 2019 to 2021, Keep has been losing money for three consecutive years. However, under the pressure of cash flow and investors, the company can only meet the difficulties.
Nowadays, more and more people are starting to go to the offline gym again. Whether Keep, which is listed at this time, can be successfully listed within a limited time and become the "first online fitness stock" is still a question mark.
The road to listing is long, can investors still afford it?
Keep hitting the pause button on the way to the market.
According to the Hong Kong Stock Exchange, the IPO prospectus submitted by Keep has been in a "defunct" state. Currently, the relevant application materials are no longer available for viewing or downloading.
On February 25 this year, Keep submitted a prospectus to the Hong Kong Stock Exchange, intending to be listed on the main board of Hong Kong. Generally, if the IPO materials are submitted more than 6 months later, if they fail to pass the trial or are rejected, the materials will be displayed as invalid.

Image Source Disclosure Easy
In other words, the invalidation of the IPO information does not mean the failure of the listing on the Hong Kong Stock Exchange. Keep can still "activate" the listing process by updating the information. Generally speaking, enterprises will re-submit the form after solving the corresponding problems, and many enterprises have encountered the cycle of "application-invalidation-re-application".
As for whether to submit new materials within the next three months, Keep has not yet given an official response. It does not rule out Keep going public or entering the next less certain cycle.
When the "first share of online fitness" adds new suspense, this is not good news for the investors behind Keep.
As a unicorn in the fitness circle, Keep has repeatedly reported IPO.
Since its inception, Keep has conducted 8 rounds of financing, of which the $355 million in the F round is the largest financing. The investors involved include SoftBank Vision Fund, Hillhouse Capital, Tencent Investment and other star investments mechanism.
Obviously, Keep has gone through multiple rounds of financing. From the perspective of the number of times and the total amount of financing, Keep has performed well in the financing market, and many venture capitalists also choose to accompany them all year round. But investors also need an exit mechanism, especially for investors who have been running with Keep for many years, this mood may be particularly urgent.
Moreover, in the face of the reality of perennial losses, Keep urgently needs to go public to satisfy its thirst for capital and commercial expansion.
Keep has also had its best time to go public. Unlike other industries that have been severely damaged by the impact of the new crown epidemic, in 2020, Keep benefited from the increased awareness of fitness in the home scene caused by the outbreak of the epidemic, and enjoyed the dividends of data explosion growth, and the online fitness market was pushed to a climax again. Its benchmark model Peloton's stock price has increased nearly 10 times in 9 months, capital has been rushing to raise funds, and the layout of all parties has accelerated.
After the completion of the last round of financing, Keep's marketing efforts have soared, apparently aiming to expand its scale and IPO as soon as possible.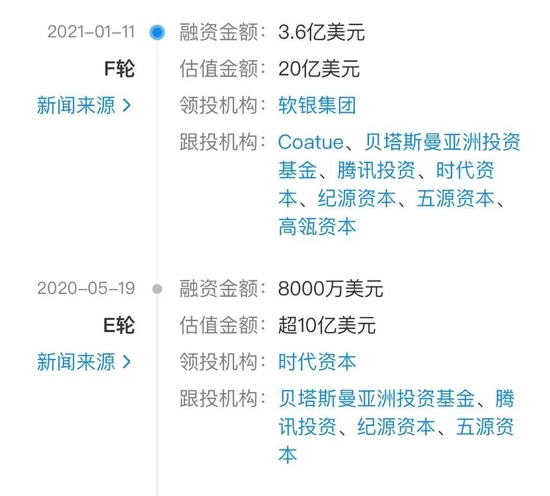 Picture source enterprise check
First, at the end of 2020, Keep began to appear frequently in the live broadcast rooms of the then-head anchors Wei Ya and Li Jiaqi. In February last year, it cooperated with "Tucao Conference", and in two months, it cooperated with Hunan Satellite TV's "Longing for Life", 8 The month signed the actor Yi Yang Qianxi as the spokesperson of his own brand.
On the other side of the crazy marketing action, since 2020, Keep has also repeatedly reported news of sprinting for an IPO.
In the first half of last year, many media said that Keep would apply for listing in the United States as soon as the second quarter of that year. Four months later, it was suddenly heard that Keep canceled its listing plan. By the end of 2021, it was rumored that Keep's IPO location was changed to Hong Kong. It was not until the end of February this year, when the epidemic dividends faded, that Keep officially submitted an IPO application to the Hong Kong Stock Exchange.
To a certain extent, this also reveals that the luxury capital group behind Keep has little patience for it. Even in a marathon, there will be an end point, and those who accompany the runner will not run forever.
Mike Wilson, Morgan Stanley's chief U.S. equity strategist, said when WeWork's IPO failed — the days of investors giving generously to businesses that didn't make a profit are over.
Regarding the complicated situation of the current capital market, an investor once sighed to Wired Insight: "The current situation is that where you can go to the market (market), you can go there."
Investors in the primary market are eager to exit, and there is also a question mark on whether to pay in the secondary market.
Going public means the start of another layer of pressure. Talking about Keep's imagination space in the secondary market, a secondary market investor asked, "Keep has been losing money for three consecutive years, how long will the money-burning model last? The user growth rate has already been weak. Will there be a significant drop in users?"
Regarding the performance of Keep in the future, he analyzed: "Nowadays, the fitness content has exploded, and Keep is facing a lot of traffic competition. It is really hard to say how well it will perform in the secondary market."
The era of the market relying on burning money to tell stories is over, and the "free" space left by investors for Keep is running out.
Multiple attempts, hard to stop losses,
Can Keep still prove itself?
When will Keep become profitable? Not only investors are concerned about this issue, but Wang Ning, the founder of Keep, is also worried.
"If Keep cannot transform into a profitable Internet company in 2016, then Keep will have no chance." Wang Ning publicly expressed his anxiety about profitability in an interview in 2015. Even though the concept of "Internet +" was hot in those days, Keep was born during the booming period of online fitness in China, and it is already a star company.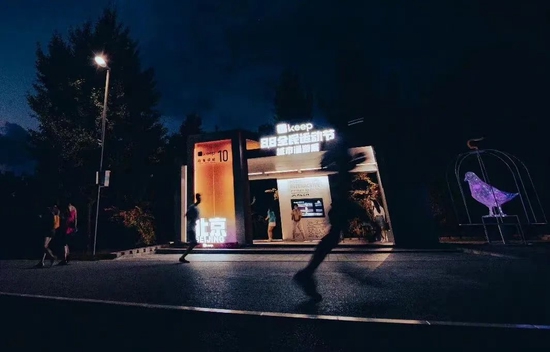 Image source Keep official Weibo
Internet fitness APPs are developing rapidly, especially Keep's performance is the most obvious. Every time the user growth data is released, the industry can be amazed. However, with the passage of time, although Keep is still the first-choice fitness "tool" in the minds of users, the bottleneck behind it has become difficult to hide.
"Internet + fitness" has changed the traditional fitness industry, but it has also become a shackle.
Compared with traditional fitness, the profit model of Internet fitness has not changed in essence. If the traditional gym is based on "membership card + private teaching courses" as the main revenue method, then the early Internet fitness APP is collecting membership fees while selling fee-based courses.
The biggest difference is that the Internet fitness APP is a one-time payment and monthly card, etc., which lowers the fitness threshold for users, but the platform also has to bear the pressure of repurchase. Moreover, many users find that fitness is more important to offline services, and the Internet will not easily change this thinking, which makes online fitness platforms a little embarrassing.
Therefore, in 2016, Keep began to try a new commercialization model – launching an e-commerce platform, mainly focusing on the user's life consumption scenarios of "eating, wearing, using, and consuming", and began to sell smart sports hardware, fitness equipment, sports equipment, Fitness and light food and other sports peripheral products.
But at the beginning of the e-commerce business, Keep chose to expand its products in a OEM way. New Consumer Daily has reported that many categories such as healthy food, sports equipment, household intelligence, and clothing are involved in Keep's APP mall, most of which are OEM products.
The price of its own products is above average, but most of them are OEM in the upstream supply chain, which means that the product quality is poor and expensive, and fitness people are naturally reluctant to pay, and the repurchase rate of sports products has not improved. It's not surprising, but it also hurt Keep's brand reputation.
At the beginning of 2018, Keep, with a large amount of traffic and users in its hands, has not been able to find a suitable monetization method. If the monetization attempt of keep was relatively restrained, then after the completion of the D round of financing that year, Keep began to expand aggressively, and then accelerated its commercialization. , the commercialization model began to become heavier.
The most representative is that Keep, which focuses on online fitness, has also begun to "land". Keep hopes that more "fitness-focused" users can convert to "fitness behavior". In 2018, the first store of the self-operated gym brand Keepland opened in Beijing Huamao Center.
From online to offline, from knowledge payment to brand creation, from the sales of fitness equipment and sports equipment in the early stage, to the provision of mid-term fitness courses and personal fitness programs, and then to the sales of food such as meal replacements and light meals in the later stage, Keep seems to hope It can build a complete closed-loop fitness service industry chain by itself.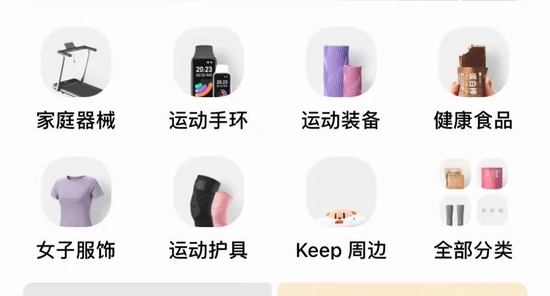 Image sourceKeep App
But the result was not satisfactory.
Keep's offline self-operated business has been deployed for 4 years, and it is almost standing still. First, at the end of 2019, Keepland closed its store in Damei, Qingnian Road, Chaoyang District, Beijing. Following the outbreak, all Keepland stores in Shanghai were closed. After several rounds of trial and error, the Keepland direct-operated store with the highest investment cost has temporarily settled on 9 stores in Beijing.
On the other hand, Keep's other self-owned brand products have also been criticized.
For example, the sports bracelet launched by Keep has been "stepped on thunder" by many users on social platforms. "The bracelet cannot communicate with the app" "The data in the course cannot be recorded, even if the recorded data is seriously inaccurate". As a professional fitness brand, there are many other fitness-related product quality issues such as those mentioned above.
Keep wants to do too many things, but the energy invested in each model is not proportional to the ambition, and the limited resources cannot focus on one point, so that some business lines are even more useless.
The huge sales and marketing expenses caused by the wavering commercialization strategy for many years have become a big burden on Keep's path to profitability. The prospectus shows that Keep has lost nearly 5 billion from 2019 to 2021.
After the prospectus expires, if Keep applies again, submitting or supplementing more beautiful financial data is the key to obtaining the ideal market value during the listing process. And this "key", for Keep, the probability of completion is not high. And it is currently facing a bigger challenge – competing for users.
User growth is the biggest problem
"Self-discipline gives me freedom" – Keep encourages users with self-discipline, but it has become the biggest obstacle to Keep expanding the scale of users.
When opening the Keep prospectus, a very important piece of data is sales and marketing expenses, which are Keep's largest expenses. The prospectus only shows data for the past three years, and in those three years, Keep has invested heavily in marketing.
The prospectus shows that Keep's revenue in 2019, 2020 and the first nine months of 2021 were 663 million yuan, 1.107 billion yuan and 1.159 billion yuan, respectively, while sales and marketing expenses during the same period were 295 million yuan, 301 million yuan and 818 million yuan. In particular, in the first nine months of 2021, corresponding to the revenue of 1.159 billion, it is a marketing expense of nearly 800 million.
However, the surge in marketing spending has not brought matching user growth, and Keep's user growth in 2021 has slowed significantly compared to 2020.
An "Internet + fitness" company that has been in business for 7 years still needs to rely on more than 800 million yuan in marketing expenses to grow users. The greater challenge lies in the retention of users. Such a story may be difficult for investors to like.
Behind the high marketing expenses, it is actually the helplessness of Keep unable to retain users.
"Exercise is just a weak demand for most of Keep's users." In a widely circulated article "Keep's Dilemma and Endgame" written by former Keep employees, the author pointed out this problem.
Because these users can always find alternatives in different fields that meet their needs. In other words, there are industry giants in front of almost every business category that Keep involves, and the "embarrassed" environment is more of a headache for Keep than the story of "burning money for growth".
For example, in terms of smart hardware and fitness products, Keep's opponents include Apple, Xiaomi, lululemon, etc. In the field of online fitness content, the erosion of Douyin, Kuaishou and Station B is more impactful.
Around 2020, Keep signed a large number of head fitness KOLs such as Pamela, Saturday Ye and Ouyang Chunxiao to do exclusive paid courses, but the embarrassing point is that these bloggers are not exclusive contracts, and they also have a considerable number on other platforms. Fans and a huge library of free content.

Comparison of the number of fans at Station B and Keep on Saturday
This just happens to provide convenience to users. "Why do you need to spend money if you can prostitute for free?" Liu Qiyu, a post-90s generation, followed Saturday Ye at station B in 2018, but she never opened Keep to watch the blogger's teaching class.
Liu Qiyu is a digital marketing specialist of a 4A advertising company. She has been working overtime and staying up late for a long time and her work pressure has caused her to develop stress obesity. In order to control the weight, Liu Qiyu will follow Saturday Yee exercise at station B for a free class of about 10 minutes on a whim after get off work. "With such a poor body, the heart can't stand it for 10 minutes of exercise. Besides, Keep is a systematic course, and there is no time to follow up the entire course."
This year's popular Douyin fitness expert Liu Genghong has grabbed the hearts of many users, making the fitness blogger industry usher in more intense competition.
Keep can only attract as much as possible with high-quality content, which is the only option that requires more investment but can break through.
The epidemic dividend that previously made Keep's valuation soared has gradually subsided, and the road to online fitness is even more difficult to walk. Peloton provides a reference: its market value has fallen from $50 billion to less than $10 billion this year, and it plans to cut 2,800 jobs. Due to the unsatisfactory operation of the company, the founder was directly forced to step down by dissatisfied investors.
This year, the domestic fitness field is still booming, but Keep has not grabbed much traffic. There is not much time left for Keep to prove himself.
(The header image of this article comes from Keep's official Weibo.)


(Disclaimer: This article only represents the author's point of view and does not represent the position of Sina.com.)

This article is reproduced from: http://finance.sina.com.cn/tech/csj/2022-08-31/doc-imiziraw0489594.shtml
This site is for inclusion only, and the copyright belongs to the original author.