Unity rejects AppLovin's takeover bid after $17.5 billion
Beijing time on the evening of August 15th, according to reports, game software platform Unity Software rejected game software company AppLovin's $17.54 billion acquisition offer. At the same time, Unity Software also said that it will continue to execute the previously announced "acquisition of mobile application monetization software company ironSource" transaction.
Today, Unity Software provides a world-leading gaming software platform for creating and operating interactive, real-time 3D content. AppLovin, on the other hand, provides game developers with the necessary services and tools, allowing developers to acquire new users, monetize games, and optimize app store rankings with analytics tools.
On Wednesday, AppLovin made a takeover offer to Unity Software, proposing to acquire Unity Software in an all-stock deal worth $17.54 billion. After the transaction, Unity Software will hold 55% of the outstanding shares of the new company, representing 49% of the voting rights.
Unity Software said AppLovin's proposal was not in the best interests of the company's shareholders. Moreover, the proposal would also prevent Unity Software from receiving a "superior offer" in the future. (Source: Sina Technology)

Musk: Tesla has produced 3 million electric vehicles in total, and the Shanghai plant has exceeded 1 million
Beijing time on the morning of August 15th, according to reports, Tesla CEO Elon Musk (Elon Musk) posted on Twitter that Tesla has produced a total of 3 million electric vehicles since its inception, and in all Among the production, Tesla's factory in Shanghai, China, produced more than one million vehicles.
"Congratulations to the Shanghai Gigafactory for producing its 1 millionth electric car, Tesla's cumulative production now exceeds 3 million," Musk tweeted.
The media pointed out that the mark of more than one million vehicles also shows that Tesla China Shanghai factory was officially completed and put into production in 2018, and after subsequent investment, the factory already has a fairly high production capacity of electric vehicles. (Source: Sina Technology)
Apple's iPhone annual renewal plan eligibility changed to "3-13 months", the original device can be discounted by 50%
On August 15th, Apple's iPhone annual renewal program eligibility has been updated from "months 10-13" to "months 3-13". According to Apple, participating in the program can use new iPhones every year.
With the iPhone Annual Renewal Plan, you can upgrade to a new iPhone every year and enjoy the protection of the AppleCare+ service plan. Simply trade in your iPhone during the trade-in eligibility period and get 50% of the original retail price of this device as a trade-in for a new iPhone. At the end of the 13th month from the 3rd month of the plan's effective date. (Source: Pingwest)
Exposure to Douyin e-commerce adjustment: content and goods are diverted, and the head of operations resigns
On August 15th, Douyin e-commerce will usher in adjustments. Li Tian, ​​the head of Douyin e-commerce author's product operations, has resigned in June. Douyin e-commerce is accelerating the change in the mode of transitional binding of content traffic. Part of the business will be handed over to the Douyin e-commerce service provider team. Follow-up Douyin e-commerce The business will separate into two business lines, namely content business and shelf business, and will mainly focus on shopping malls and brands in the future.
Insiders said that a series of adjustments and changes in Douyin e-commerce may have accelerated the departure of Li Tian, ​​the head of Douyin e-commerce author's commodity operations.
According to reports, the previous focus of Douyin e-commerce was mainly in the field of content, that is, selling goods in short videos and live broadcast scenarios, cultivating users' shopping habits, that is, the "interesting e-commerce" model, but Douyin internally believes that this is First, the business has matured, and more business operations need to be developed in the future. For example, after users join the store membership in the live broadcast room, they can go to the store's page to view even when the broadcast is not on, forming order transactions and repurchase rates. (Source: Tech Planet)

Bitcoin price hits $25,000 for the first time since mid-to-early June
Bitcoin, the world's largest cryptocurrency, managed to rise above $25,000 on Aug. 15 for the first time since June 13. Although the price has now retreated, it shows that the asset is not ready to hold the latest high. The current price decline was largely in line with broader gains and losses in financial markets, with the S&P 500 down 0.31% and Britain's FTSE flat.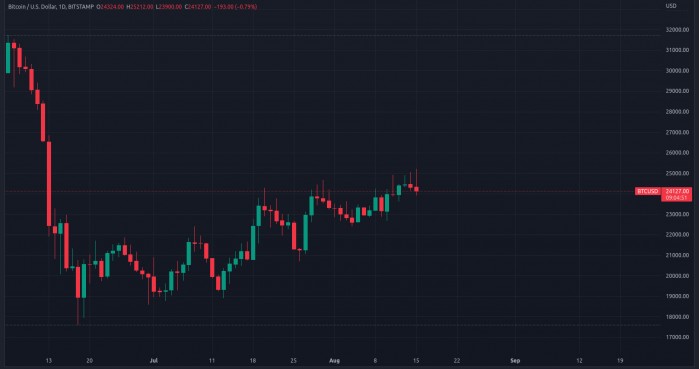 Bitcoin has languished in recent months, and its lowest price was on June 18, when the price fell to around $17,500. Since then, the price has slowly recovered to its current level. Even though it hit a new short-term high today, there is still disagreement in the crypto community whether this is a real recovery from the bottom or just a bull trap.
While Bitcoin is much more volatile than the stock market, it generally moves in the same direction. Uncertainty in international markets and investment sentiment has become increasingly prominent as people face high energy prices and the arrival of winter in the northern hemisphere. (Source: cnBeta)
The prices of NFTs on Jay Chou and Edison Chen's platforms fell sharply, with a maximum drop of 99.49%
On August 15th, under the bear market of cryptocurrencies, the NFT sector continued to decline. As of August 15, the total market value of the NFT market has fallen from a high of $36.6 billion in February this year to $23.9 billion, a drop of more than 38%. The single-day transaction volume of NFTs fell from a high of $3.394 billion to less than $15 million, a drop of 99.56%.
Under the overall downturn of the market, NFTs involving entertainment stars are not immune. Taking the Phanta Bear (Phantom Bear) NFT associated with Jay Chou as an example, the floor price has dropped by 96.13% from the high point, and the liquidity is relatively lacking, with a single-day transaction volume of only more than 6,000 US dollars.
In addition, the price of The Heart Project, which Edison Chen cooperated with, dropped by 99.49%; the price of ZombieClub Token, which was cooperated by Shawn Yue, dropped by 94.58%.
Industry insiders analyzed to the Blockchain Daily reporter that since the development of NFTs is still in the early stage, the value of most NFTs does not have a recognized measurement standard, so it is very prone to speculation or speculation. (Source: Blockchain Daily)

The iPhone 14 series will be unveiled early next month: the full screen is coming, and the price will rise
According to previous reports, Apple is expected to hold a new product launch in September this year. At that time, the new iPhone 14 series will officially meet with you, including four models: iPhone 14, iPhone 14 Max, iPhone 14 Pro, and iPhone 14 Pro Max. . Recently, Apple Hu further brought the time information of the conference.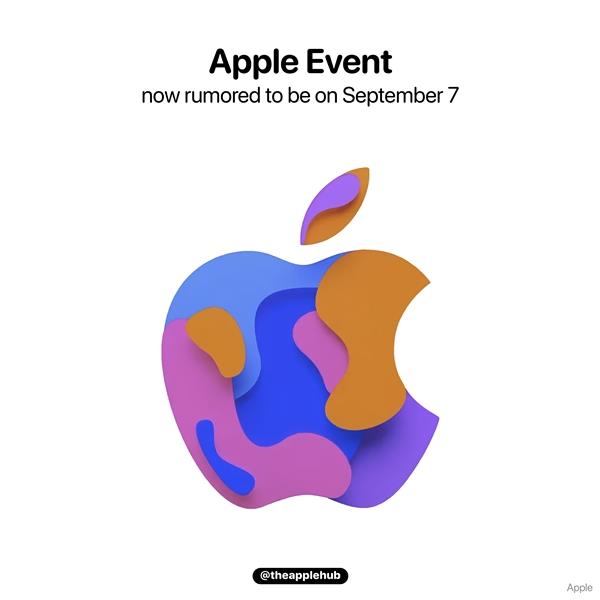 According to the latest information released by Apple Hub, Apple's autumn new product launch this year may be advanced to September 6 (Tuesday) local time, pre-orders will start on September 16, and the first batch of shipments and official sales will be on the 23rd. Previously, it was also reported that the time of the conference was September 13 (Tuesday). In addition, it was previously revealed that Apple has raised its shipment expectations for the iPhone 14 series.
In other respects, according to previously exposed news, the new iPhone 14 series may still continue the design of the iPhone 13 and continue to use the right-angle frame scheme. Two of the Pro versions are the targets of this key upgrade. The front is expected to use an "exclamation mark" punch screen for the first time. It is expected to be equipped with a 120Hz high refresh screen and 6GB of memory to support a new generation of LTPO technology, while the iPhone 14 and iPhone 14 MAX are still the same. For Liu Haiping. Only the Pro version will use the A16, and the standard version of the iPhone 14 will still use the A15 chip. At the same time, the main camera of the iPhone 14 Pro is expected to be upgraded to 48 million pixels, which is said to pave the way for 8K video.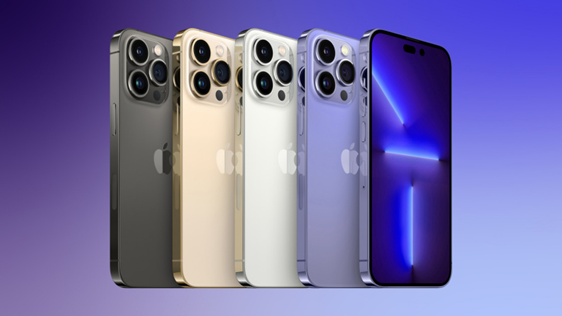 It is reported that the new iPhone 14 series may start mass production and stocking as early as early August, and is expected to be officially released in advance on September 6. It is reported that Apple is already recording the conference, and the starting price of the iPhone 14 standard version is still 799 USD, the National Bank is expected to be 5999~6199 yuan, while the iPhone 14 Pro is expected to start at 8999, and the iPhone 14 Pro Max is expected to start at 9999. (Source: TechWeb)
Xiaopeng Motors releases S4 ultra-fast charging pile
Xiaopeng Motors released the S4 ultra-fast charging pile, with a maximum output power of 480kW and a maximum output current of 670A per single pile. With the support of the S4 ultra-fast charging pile, the Xiaopeng G9 can be charged for 5 minutes and has a battery life of 200 kilometers.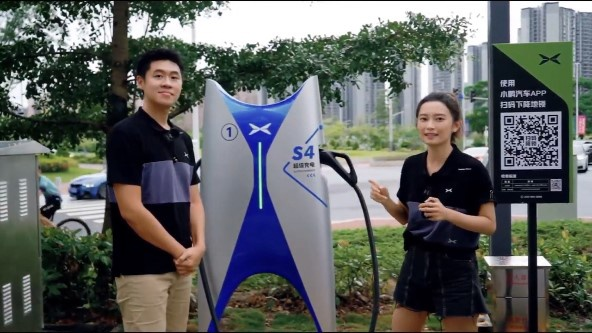 It is understood that in the third quarter of this year, Xiaopeng Motors will start laying out S4 ultra-fast charging equipment from the top ten cities in G9 orders such as Beijing, Shanghai, Guangzhou and Shenzhen. Next year, it plans to complete the coverage of the S4 ultra-fast charging network in key cities and core highways across the country; by 2025, it is expected to build another 2,000 Xiaopeng ultra-fast charging stations. (Source: 36Kr)

Hackers dissatisfied with BMW car hardware subscription subscription: claiming to crack free for car owners
On August 15, BMW announced some time ago that it will launch a remote paid upgrade service for future new cars, including functions such as heating, ACC (adaptive cruise) and some in-car entertainment. Customers can choose to temporarily or permanently subscribe to a certain function for a fee. .
This has caused dissatisfaction among a considerable number of users. Some hackers specializing in unlocking blocked functions in BMW cars said that they have been providing unlocking services for car owners in places such as the BMW Forum, and currently mainly focus on installing additional software for the in-vehicle system. They also said that they will continue to conquer BMW's paid subscription system in the future so that users can use the function for free.
An employee at BimmerTech, a company specializing in BMW tuning, also said, "We are always looking for ways to satisfy our customers' wishes. As long as a customer pays to use a BMW-activated feature, we can break it; if BMW Without activating this function, we can also use third-party applications or hardware to transform it to achieve this function." (Source: IT House)
This article is reproduced from: https://www.geekpark.net/news/306554
This site is for inclusion only, and the copyright belongs to the original author.