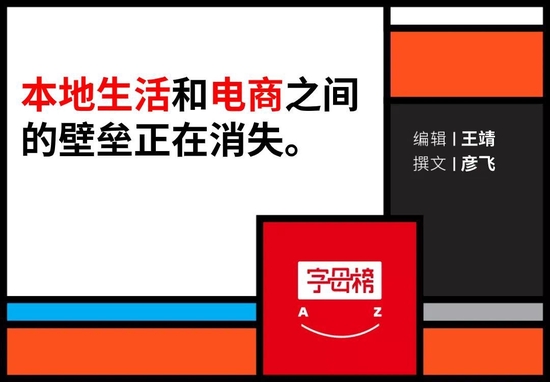 Welcome to the WeChat subscription number of "Sina Technology": techsina
Text / Yan Fei
Source/Alphabet List (ID: wujicaijing)
Instant retail, which is ordered on the same day and delivered on the same day, has become the only e-commerce growth engine that is still operating at a high speed.
At the end of May and early June, Alibaba, JD.com and Meituan successively released their financial results for the first quarter of this year. Affected by the macro environment and the new crown epidemic, the traditional core indicators of the three platforms all performed poorly, and the growth rate slowed down significantly.
Taking Ali as an example, its business pillar is the Chinese business sector, including Taobao, Tmall, Taote, Taocaicai and other Taobao e-commerce, accounting for more than 70% of its revenue. In the last quarter, the year-on-year growth rate of this business was only 8%, resulting in a company-wide revenue growth of only 9%.
During the same reporting period, JD.com performed slightly better. JD.com's retail business, which contributed more than 90% of its revenue, increased by 17.1% year-on-year, and the company's revenue increased by 18%. But compared with previous performance, the growth rate of less than 20% is very flat.
Meituan's revenue mainly comes from food delivery, which has always accounted for more than 50% of its revenue; profits are mainly contributed by the hotel and hotel business. In the last quarter, the revenue of food delivery business increased by 17.4% year-on-year, a further decline from 21.3% in the fourth quarter of 2021, and a significant gap from 45.3% in the whole year of 2021; the growth rate of the hotel and hotel business is also less than 20%. .
The collective slowdown of the three major e-commerce platforms is not surprising.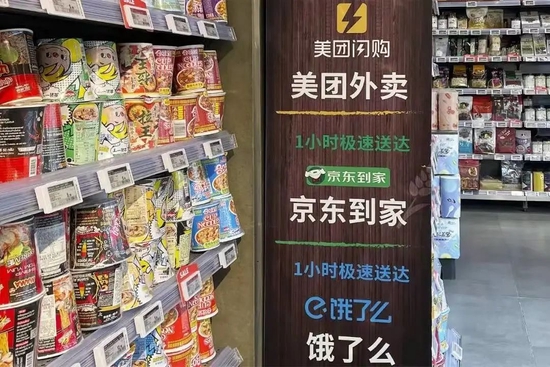 Starting from 2020, with the disappearance of the Internet demographic dividend and the slowdown in economic growth, people have tightened their wallets and consumed rationally. The 20-year high-speed growth of the e-commerce industry has come to an end. The occurrence of the new crown epidemic, especially the repeated epidemics this year, has also caused more difficulties for the development of e-commerce.
It is foreseeable that in the next few years, the domestic e-commerce industry will maintain a steady growth of more than ten points or even a few points per quarter. But at the same time, some subdivided tracks still have no shortage of opportunities to take off. Among them, instant retail is one of the most important opportunities.
Taking Ali as an example, its layout in the field of instant retail is scattered in different business segments, mainly including Ele.me, Taoxianda, Tmall Supermarket, Hema, etc. The specific business forms are different, but they all focus on fast delivery as the core. ability.
In the first quarter of this year, the revenue of Ali's local life service segment, where Ele.me is located, increased by 29% year-on-year, ranking first among Ali's various business lines, significantly higher than the company's overall revenue growth rate of 9%.
JD.com's most important piece in the instant retail track is JD Daojia. According to the financial report of Dada, a JD-affiliated company, the revenue of JD Daojia increased by 80% year-on-year in the last quarter, which was significantly higher than the growth rate of JD.com Retail, which was less than 20%.
Meituan is betting on flash sales. In the last quarter's financial report, it did not separately disclose the revenue growth of flash sales, but claimed that its order volume and GTV (gross merchandise transaction) increased by 70% and 80% year-on-year, respectively, and the average daily order volume exceeded 3.9 million.
In addition to revenue growth far exceeding the average level of the e-commerce industry, instant retail has also brought valuable new users to e-commerce platforms.
According to Ali's financial report, as of the end of March this year, the annual active consumers of Ali's Chinese market exceeded 1 billion, an increase of about 21 million compared with three months ago; during the same period, the annual active consumers of the local life service segment increased by 4 million, and new users The contribution rate is close to 20%.
JD.com benefits more from instant retailing. In the first quarter, annual active buyers on JD.com's entire platform increased by about 10 million, while JD.com's net increase was 5.6 million. That said, more than half of JD.com's new buyers last quarter came from Daojia.
In addition to the home business, the tentacles of JD's instant retail are also extending to takeaways. According to a report by LatePost, JD.com is about to test the water delivery of food and beverages. It will be rolled out through the JD.com Daojia APP, and Dada will be responsible for delivery. The first pilot will be in cities such as Zhengzhou. This business will be handled by the catering business department of JD.com.
Meituan did not disclose user growth for flash sales, but its annual transaction users grew by just 2.4 million last quarter. Considering that many users of flash sales are converted from services such as food delivery, Meituan will be less efficient in gaining new users from the wave of instant retail. This further proves the significant role of instant retail in attracting new people.
Even Pinduoduo, which is not good at this business, quietly launched the "intra-city distribution" in late April this year, trying to recruit merchants with the ability to deliver within 24 hours to complete the card slot by offering flowers to Buddha.
Douyin is also trying to get a piece of the pie. In January this year, Douyin tested the express delivery service "Yin Zunda" to help merchants on the platform deliver to their homes and improve the experience. According to a recent report by LatePost, Douyin is trying out a self-operated business similar to JD.com's "Douchao home delivery", starting from the two categories of wine and fresh food, and piloting it in cities such as Guangzhou, Shenzhen and Hangzhou.
The core business has entered a platform period, and the normalization of epidemic prevention and control has made all e-commerce platforms realize that they must find new growth engines as soon as possible. Instant retail, which can not only adapt to the current logistics and distribution conditions, but also meet the needs of residents for rapid delivery, is rapidly becoming the next main battlefield for Wang Xing, Zhang Yong, Xu Lei and others, and the barriers between local life and e-commerce are increasingly blurred. , local e-commerce may become a giant that integrates the two big markets.
Especially after tasting the sweetness in the last quarter, e-commerce platforms have recruited troops, increased investment, and scrambled to step into the same river. A new competition has just begun, and a new ecology is taking shape.
A
Instant retail is nothing new. Early participants included big players such as Meituan, JD.com, and Ele.me, as well as small and medium-sized platforms such as Flash Delivery, UU errands, and SF Express. Daily Youxian, Dingdong Shopping, etc., which focus on fresh food categories, have also begun to set foot in this broader track with the expansion of categories.
On the whole, before the outbreak of the epidemic in early 2020, instant retail has not yet cultivated the minds of mass users for daily shopping, and the service scenarios focus on special categories such as vegetables, fruits and office documents. At this time, instant retail mainly refers to narrow scenarios such as takeaway, fresh food e-commerce, and point-to-point distribution in cities.
However, the epidemic has changed people's way of life and work, and has also reshaped the supply and demand sides of e-commerce. The flexible advantage of instant retailing that does not rely on cross-city supply chains and logistics trunk lines has begun to emerge. Especially since the beginning of this year, the demand for online shopping of daily necessities by residents in Shanghai, Beijing and other places has soared, and instant retailing has become one of the most important solutions.
E-commerce platforms have noticed this change. At the first quarter earnings conference call at the end of May this year, Zhang Yong, chairman of Alibaba's board of directors, said that Ele.me's catering category has been significantly affected by the epidemic, but non-catering categories have grown rapidly, with a year-on-year increase of more than 100% in Shanghai.
Meituan CEO Wang Xing revealed in an earnings conference call in early June that consumers are eager to stock up on daily necessities and daily necessities during special periods. In Shanghai, the daily order volume and GTV of Meituan's flash sale in the week of March 21 surged by about 80% and 290%, respectively, compared with the last week of February.
The strong and continuously growing demand has made e-commerce platforms smell new trends. After seeing the contrarian growth of the instant retail business in the first quarter, major players have accelerated their deployment.
In March of this year, Ele.me piloted an "all-around supermarket" in Shanghai. It initially adopted a directional community group purchase model, which was collected by the community, supplied by the platform, and distributed by volunteers, in order to meet the needs of residents in the community during the epidemic. Soon after, "Almighty Supermarket" expanded to Beijing, Guangzhou, Hangzhou and other cities, but its appearance changed significantly.
The Alphabet List (ID: wujicaijing) noticed that the Ele.me APP has opened the entrance of "All-round Supermarket" in the bottom menu bar, claiming that "every thousand items in supermarkets can be purchased in one stop", covering vegetables, fruits, meat, eggs and aquatic products, and household goods. For major categories such as department stores, beauty and personal care, the delivery time is half a day.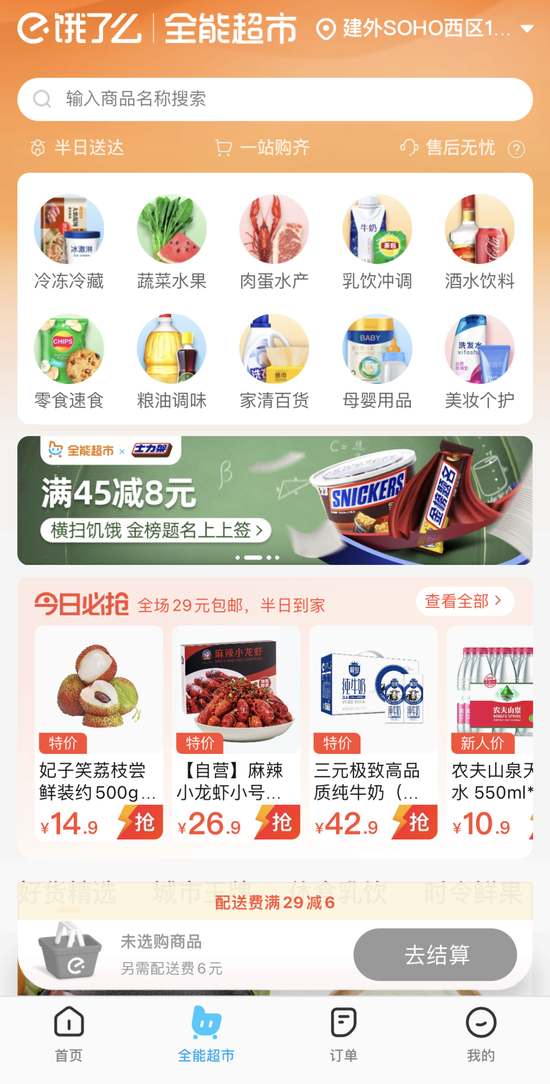 It is worth noting that in addition to faster delivery and more complete products, the selling points of the "Almighty Supermarket" also include the quality control and price advantages brought by the self-operated model. This overlaps with JD Daojia's longboard, prompting the latter to also step up its pace.
At the end of March, JD.com started a new round of organizational restructuring and established the same-city business department, focusing on home furnishing, housekeeping, local life and other sectors.
Previously, JD.com had already released the signal of lending instant retail to drive growth.
In the 2021 annual report conference call in early March, Xu Lei, CEO of JD.com, said that the external industry has changed a lot, which has made many brand owners feel pressure and increased operational uncertainty; in addition, many traditional sales channels have been greatly affected in the past few years. . 10 days after these remarks were made, JD.com's same-city business department was born.
JD.com has raised the strategic level of its intra-city business. In addition to contending with the menacing Ele.me "all-around supermarket", it is bound to touch the basics of Meituan's local life; the latter quickly responded.
On the same day that JD.com established the same-city business department, the cooperation between Meituan and Xiaomi was announced in a high-profile manner. Lu Weibing, a partner of Xiaomi Group, declared on Weibo that "Meituan searches for Xiaomi's home, and new products will arrive as soon as half an hour!"
In fact, the cooperation between the two companies started in October last year, covering more than 3,000 Xiaomi homes in 276 cities in China. On the same day that the opponent dispatched troops and planned an offensive, the old story was brought up again, and the entry point was selected in the 3C digital sector that JD.com cares about the most.
The seed players are already in place, and the troops and horses are ready. A new battle for instant retailing is already on the horizon.
B
Similar to traditional e-commerce, supply and fulfillment capabilities are also key to instant retail competition.
On the supply side, Meituan, JD.com, and Ele.me are slightly different in the initial stage, but after several years of expansion, major platforms have reached cooperation with major domestic supermarket chains such as Walmart, Carrefour, and Yonghui. Especially after e-commerce "choose one" is strictly prohibited, it has become the norm for mainstream supermarkets to enter multiple instant retail platforms at the same time.
On the other hand, some independent brands are also looking to tap into instant retail. Taking beauty as an example, Afu Essential Oil, Guerlain Beauty, Yunifang, Huaxizi, etc. have their own offline stores. By accessing instant retail apps, they can largely solve the problem of insufficient online traffic.
From the perspective of merchant volume and coverage cities, the three platforms are relatively mature, and there are no obvious advantages and disadvantages. But in terms of product richness and traffic reuse, JD.com and Ele.me, which is backed by Ali, are better.
JD Daojia and Ele.me are both components of a larger e-commerce ecosystem. On the one hand, cross-regional and cross-time supply allocation can be used to make up for the shortage of supply in the same city; The needs of the company should be guided to other sectors in the ecosystem—such as JD.com and Tao-based e-commerce—to solve them, so as to eat more with one fish and tap into greater user value.
In contrast, although Meituan has specially opened an "e-commerce" entrance on the homepage of the APP, with the slogan of "buy today, it will arrive tomorrow", it is a bit immature compared to JD.com and Ali, and it is a bit immature compared to JD.com and Meituan. The complementary effect is not yet obvious.
On the performance side, Meituan has more than 5 million delivery staff, JD.com and Dada have about one million riders, and Ele.me has about 3 million. Meituan's moat advantage is very obvious.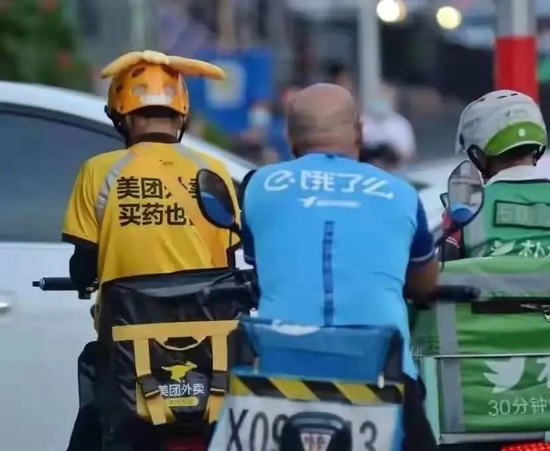 However, from the perspective of user experience, since the instant retail businesses of the three major platforms are striving to achieve "half-day delivery" or even "hourly delivery", the difference in consumer experience after placing an order is not large. Cities even more so.
This also means that whether it is supply or distribution, there is no absolute gap between platforms, and it is not enough to constitute a competitive barrier. The current competition focus of the three major instant retails is still the user's mind.
For example, Ele.me not only provides an entrance for the "Almighty Supermarket" on the homepage of the APP, but also shows the two major benefits of "half-day delivery" and "one-stop shopping" on the homepage of the "Almighty Supermarket" to emphasize Advantages of delivery speed and product assortment.
JD Daojia is trying to continue JD's traditional art of "making fast with fast". In October last year, it cooperated with Dada to launch "Hourly Shopping", where goods are shipped directly from stores within 5 kilometers of the surrounding area and delivered within 1 hour.
In the core 3C category, JD Daojia has performed a series of defensive actions, and the core is still "fast". For example, in March of this year, Apple released new products for spring, and JD Daojia claimed "the fastest delivery in minutes" after its first launch. In the year-round promotion nodes such as Double 11 and 618, "delivery in X minutes" is a common propaganda phrase used by JD Daojia.
Compared with Ele.me and JD Daojia, it is more difficult for Meituan to rewrite users' minds. The strength of the food delivery business has made many people acquiesce in "Meituan = ordering food delivery". This concept helps Meituan to stabilize the market share of food delivery, but it also prevents more consumption scenarios from landing on the Meituan platform to a certain extent.
In fact, how to break the impression of "takeaway app" has always been a difficult problem that Meituan has tried to overcome.
At present, the Meituan APP has placed the "e-commerce" entrance on the menu bar at the bottom of the homepage, and the upper half of the function matrix has a "supermarket/convenience store" entrance instead of "flash sales". The benefits of this are obvious at a glance, but it also makes Meituan's "fastest 30-minute delivery" feature not prominent enough, and some discounts have been made as a function of instant retail blasting.
C
E-commerce companies get together to do instant retail, which is behind young consumers' expectations for "same day delivery".
Market research firm Accenture's "Focus on China's Post-95 Consumer Group" report previously released shows that more than 50% of post-95 consumers hope to receive the goods on the same day of shopping. Pay extra. This expanding demand is an important driver of the instant retail market.
iResearch predicts that by 2024, the size of China's instant retail market will reach about 900 billion yuan; a white paper released by the Dada Group Research Institute and the Rogo Research Institute last month showed that China's instant delivery orders exceeded 300 million last year. The number of users exceeds 600 million; this year, it is expected to exceed 40 billion orders and 750 million users.
At present, Alibaba, JD.com and Meituan have all set strategic goals related to instant retailing.
In terms of Ali, in December last year, Yu Yongfu issued an internal letter 100 days after he became the CEO of Ali Local Life, highlighting the word "immediate". He summed up the essence of local life as the two-wheel drive of "instant business flow" and "instant logistics", and listed the instant business flow/logistics supercomputing platform, instant logistics super network and Ele.me as the four major business assets.
JD.com proposed in October last year that "hourly purchases" should penetrate 50% of JD.com's users; at the same time, a "nearby" entrance was opened at the top of JD.com's APP, with the main feature of "super-low prices for nearby good things and the fastest delivery in 1 hour" to become the same as "Homepage". " is the only top label tied.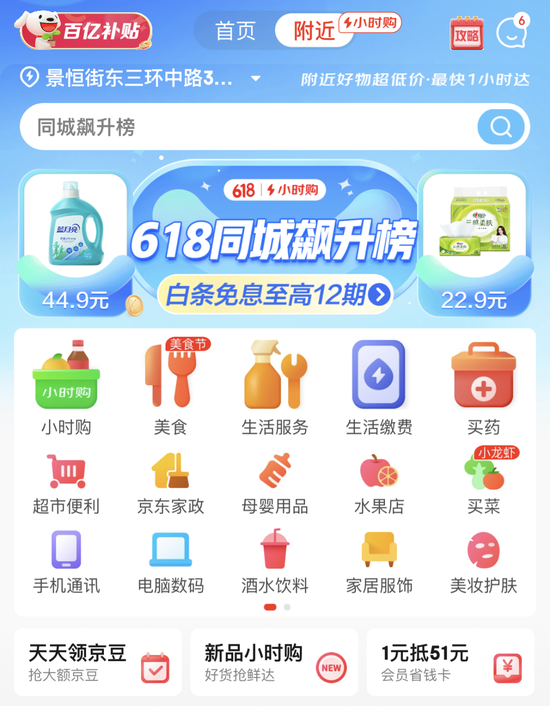 Meituan's goals are more specific. On the earnings conference call in the second quarter of last year, Wang Xing announced that "the order size of Meituan's flash sales will exceed 10 million", and it is expected to achieve profitability by then.
Three months later, Wang Puzhong, senior vice president of Meituan and president of Daojia business group, publicly predicted that the market size of instant home delivery will reach 1 trillion in the next five years, and the number of transaction users will exceed 500 million, of which Meituan will occupy 400 billion. .
But as we all know, instant retailing is a seemingly lucrative, thorny business. In addition to the more difficult supply-side integration and management, the biggest challenge lies in efficient and low-cost distribution fulfillment.
Compared with traditional e-commerce, the simplest and crudest solution for instant retail to maintain fast delivery is to increase a large number of full-time delivery staff. However, this is obviously not feasible in the face of the trend of tightening expenditures and strictly controlling costs in the entire e-commerce industry.
Judging from the latest financial report, the instant retail business of the three major platforms has not brought profits. In the first quarter, the operating loss of Ali's local life service segment was 6.5 billion yuan; Dada Group, which owns JD Daojia, had a net loss of 600 million yuan; Meituanbao acquired new business segments such as flash purchases, grocery shopping, and selection. The loss was 9 billion yuan, and the operating loss rate was as high as 62%.
Under the circumstance that the total number of riders is limited and it is impossible to increase indefinitely, e-commerce platforms can only squeeze time from various segments such as warehousing, sorting, and distribution.
For example, Ali is trying to plan more reasonable commodity flow paths by increasing investment in infrastructure such as supercomputing platforms, improving distribution efficiency and diluting costs; JD.com is exploring "in-store warehouses", which means that service merchants have dedicated a dedicated area to Place online sales of goods to make it easier for riders to pick goods; Meituan's plan is more straightforward. It recruited a group of "exclusive pickers for supermarkets" in some cities, who were transferred from the previous ground pushers to share the burden. Rider pressure.
The effectiveness of these initiatives remains to be seen. But it cannot be ignored that as the business scale continues to expand, the rider cost of instant retail will continue to rise. Relying on technology and operational means to improve the efficiency of unit capacity can alleviate this contradiction, but it cannot fundamentally solve the problem.
In order for instant retail to run through the profit model, it is necessary to focus on riders with half the effort, and more importantly, to find new ways of fulfilling contracts. At present, e-commerce platforms have pinned their hopes on unmanned delivery.
According to data previously released by Alibaba, more than 500 unmanned delivery vehicles have been put into operation, and the cumulative orders have exceeded 10 million. Meituan's unmanned vehicles and drones have also been put into trial operation in some areas of Beijing, Shanghai and Shenzhen. Dada, a subsidiary of JD.com, released an open platform for unmanned delivery in July last year.
During the epidemic, regulations such as "express delivery cannot enter the community" further promoted the implementation of unmanned delivery. However, as of now, the scale and scenarios of this type of water testing are still small, and there are many defects, and it is still far from large-scale commercial use. However, since the demand for fulfillment capacity of instant delivery is an order of magnitude higher, unmanned delivery will still be the breakthrough focus of major e-commerce platforms.
From the latest quarterly financial report, companies such as Alibaba, JD.com, and Meituan have further seen the potential of instant retailing. This business happens to be at the junction of e-commerce and local life, and no company has established an absolute advantage yet; and in addition to providing transaction volume and user increment, it can also tell a new logical story to the capital market. new imagination.
Instant retail is evolving from the icing on the cake of the e-commerce giants to the help in the post-epidemic era. Zhang Yong, Wang Xing, Xu Lei and others have been planning and planning for a long time, and they are starting to charge towards the new crown.

This article is reproduced from: http://finance.sina.com.cn/tech/csj/2022-06-09/doc-imizmscu5875326.shtml
This site is for inclusion only, and the copyright belongs to the original author.