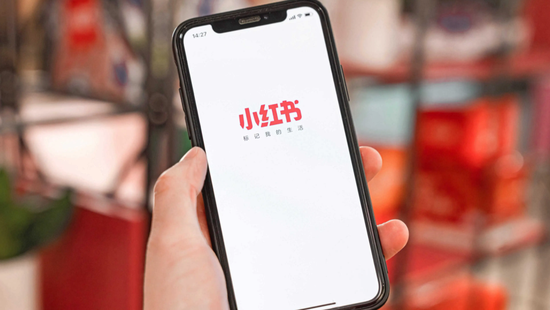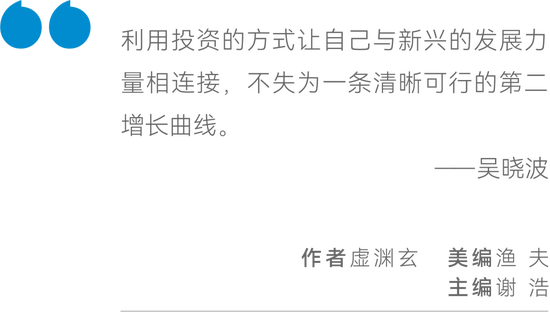 Welcome to the WeChat subscription number of "Sina Technology": techsina
Source: Finance and Economics
Xiaohongshu, a "grass planting" community, has begun to invest, and one investment is more than a dozen projects.
This "Jimei" base, which is valued at US$20 billion, is not a CVC on a whim, and has started its investment business since 2018.
It's just that the time has come to 2021, and the investment department has suddenly become important after rumors of Xiaohongshu's upcoming IPO in the United States.

Xiaohongshu's investment career didn't start this year.
Caijing Wuji found out after checking the relevant information in the company, that Xiaohongshu Technology Co., Ltd. indirectly held 22 companies, an increase of ten companies compared to the first quarter of this year.
Among them, excluding 3 holding companies, Xiaohongshu currently invests in 19 companies.
According to the previous observations of "Narrow Broadcasting", Xiaohongshu's investment not only covers the industries mainly promoted by Xiaohongshu, such as beauty, fashion, clothing, mother and baby, but also includes fast food, low-temperature meat, IP incubation, etc., which is more focused on the future new areas of development.
The main field of the plus code platform is very reasonable. The layout of the trendy game industry not only reflects Xiaohongshu's optimism about the future of the trendy game industry, but also has a precise positioning for the division of its own platform users.
According to the "2021 China Trend Toy Market Development Report" released by the National Situation Survey and Big Data Research Center of the Chinese Academy of Social Sciences, China's trendy toy industry has developed rapidly and has great market potential. Data shows that in 2015, the scale of my country's fashion play industry has reached 6.3 billion yuan, and the compound annual growth rate from 2015 to 2020 is as high as 36%. It is estimated that in 2022, China's entire trendy toy retail market will reach 47.8 billion yuan.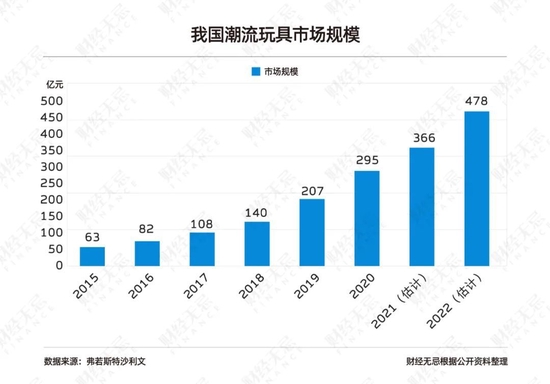 According to the "Report", 75% of the consumers of Chaowan are women aged 25-35. Female consumers value fashion toys not only for the design of the toy's appearance, but also as the first choice for friends, especially partners, by many buyers.
In March this year, Xiaohongshu completed the investment in the operating company of the trendy play brand ROBBi, with a shareholding ratio of 13.17%.
Founded in June 2021, ROBBi can be described as a new star in the fashion game industry. According to He Jiashan, the founder of the company, the ROBBi Chaowan image is like the combination of the jade rabbit in ancient Chinese legends and futuristic fantasy elements, which is both traditional and futuristic.
After the product was launched, many popular celebrities and internet celebrities interacted with ROBBi rabbits, such as Huang Zitao, Cheng Xiao, Lin Yun, Jiang Mengjie, Zhou Yangqing, etc., and posted photos with ROBBi rabbits on their Weibo or Xiaohongshu.
In addition, ROBBi has also successfully appeared in the programs that Generation Z loves to watch, such as "Trend Partner 2" and "This Is Hip-hop 3".
Investing in ROBBi is not the first time that Xiaohongshu has made a layout in the field of trendy games. At the end of last year, Xiaohongshu invested in Coincidence Building Blocks, which specializes in Chinese-style building blocks.
Coincidence Building Blocks takes the traditional Chinese mortise and tenon technique as the core of its building block toy design, and is committed to continuing and inheriting the civilization and wisdom of the previous years in China on new products.
The "Ancient Chinese Military Mercenary Series" jointly developed by Coincidence Building Blocks and the National Museum has been widely praised by players. Caijing Wuji observed on its Tmall official flagship store that the "Ancient Chinese Military Mercenary Series" currently includes the military mercenary shapes of 9 dynasties in my country.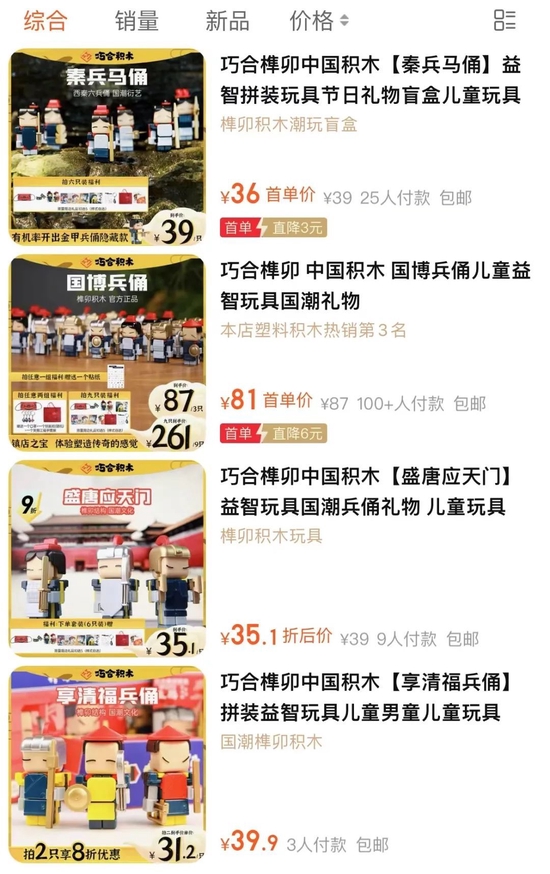 With the gradual warming of the national tide, the national tide brand has begun to occupy the minds of consumers. Caijing Wuji searched Xiaohongshu and found that there were more than 780,000 notes under the keyword "Lego", and only 1,600 notes under the keyword "Chinese building blocks".
Although foreign brands still play a dominant role in the current trendy game market, Xiaohongshu seems to be betting on the future.

According to 36Kr report, Xiaohongshu was valued at US$20 billion in its last round of financing last year. Such a valuation is equivalent to 5 Weibo (US$4.598 billion), 20 Zhihu (US$851 million), 2 Station B ($9.828 billion). The MAUs of these four companies are 200 million for Xiaohongshu, nearly 600 million for Weibo, 100 million for Zhihu, and 200 million for Station B.
In terms of platform characteristics, Xiaohongshu is not as influential as Weibo, not as knowledgeable as Zhihu, and not as entertaining as Station B. Therefore, the market value of Xiaohongshu is relatively inflated.
Enriching the platform ecology has also become an area that Xiaohongshu needs to work on urgently.
For example, ROBBi mentioned above, as the third largest shareholder of ROBBi's parent company Ranyoutu, Xiaohongshu will naturally share its platform resources with partners. Currently, there are more than 7,800 notes about ROBBi on Xiaohongshu.
Expanding the investment field is actually a test to increase the overall revenue of Xiaohongshu. This kind of temptation comes from Xiaohongshu's unsuccessful business "adventure history".
Xiaohongshu, which started from the first shopping guide pdf in 2013, has continuously optimized its business model and extended its business tentacles with the help of the rapid development of the domestic Internet.
In 2014, Xiaohongshu aimed at cross-border e-commerce and launched the e-commerce platform "Welfare Society". One year later, the number of users of Xiaohongshu exceeded 50 million. In the following two years, the cross-border e-commerce business of Xiaohongshu was booming, and it was named and praised by the Prime Minister.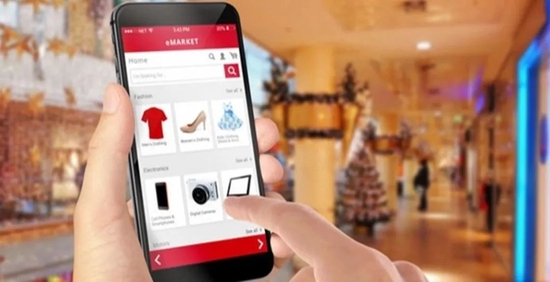 However, with the change in the trend of cross-border e-commerce policies, Xiaohongshu's cross-border e-commerce business has also continued to decline with the general trend.
The main source of income of Xiaohongshu, which failed to find the second growth curve in time, is advertising revenue. In 2020, Xiaohongshu's advertising business revenue will triple to US$600-800 million, accounting for about 80% of total revenue.
However, due to the overall weak economic situation, the growth rate of Internet advertising business slowed down across the board. According to data from the Prospective Research Institute, in the first quarter of 2022, Internet advertising only increased slightly by 1.4%.
The problem with Xiaohongshu is that the main component of its revenue is "advertising + e-commerce". With advertising revenue slowing and e-commerce failing, Xiaohongshu must change to survive.
Therefore, investing in industries and companies with great potential on the track and building a strong fence against risks is the logic that Xiaohongshu may make the above investments.
However, 90% of the companies currently invested by Xiaohongshu were established after 2020.
Is Xiaohongshu really so optimistic about the future of these companies?

From the perspective of Xiaohongshu's investment behavior, it is a standard CVC (Corporate Venture Capital, corporate venture capital).
Financial writer Wu Xiaobo once explained CVC: "CVC has a different operation logic from traditional VC. Generally speaking, the investment and exit cycle of CVC is much longer than that of traditional VC. Generally, the investment cycle of VC is 7 to 10 years, while the time of CVC investment projects is much longer. Often more than 10 years, without even considering quitting."
Take the domestic CVC king non-Tencent as an example. For more than ten years, Tencent has completed more than 1,000 foreign investments and mergers and acquisitions through its Tencent investment, so as to continuously expand the territory of "Penguin".
From the perspective of the industry distribution of companies invested by Tencent, as of the end of October 2021, of the 238 external investments Tencent completed, 63 were in the game industry, accounting for 26.5% of the month. It is precisely because of this that Tencent has built an unshakable game empire by continuously enriching its own game companies and studios.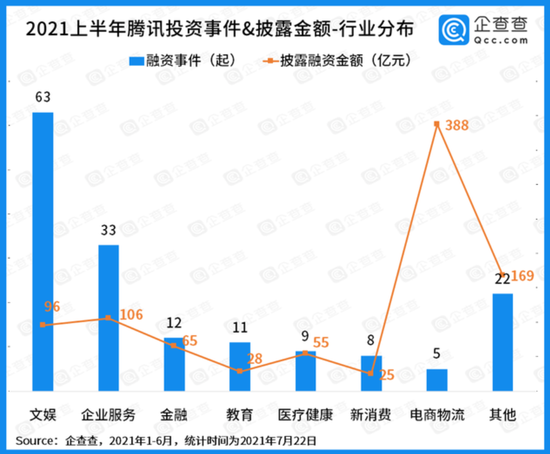 This means that powerful companies investing in high-quality CVC projects can not only expand their own industrial territory or build up their ability to resist risks, but also drive the growth of relevant high-quality start-ups.
But the problem is, whether it is compared with professional investment institutions or BAT in order to build its own value chain ecology, Xiaohongshu's journey to take this step of investment is difficult to describe.
On the one hand, from a strategic perspective, there is no clear idea and main line for these complicated investments, from beauty to fashion play, to mother and baby.
Taking the investment in the cultural tourism industry as an example, on July 11 this year, Xiaohongshu established Puzhen Township (Shanghai) Tourism Culture Co., Ltd., which released an important signal to the market and industry that Xiaohongshu personally went out to seek tourism realization.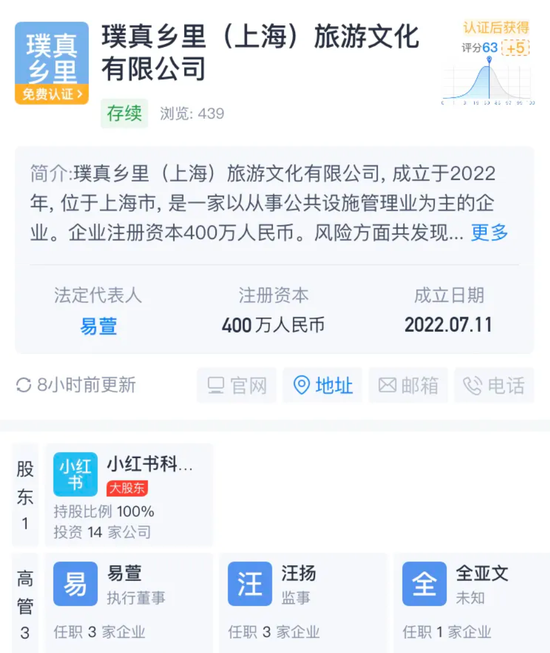 But for a long time, Xiaohongshu has mostly been involved in the cultural tourism industry as a content planting platform, linking with homestay platforms, city tourism bureaus or wine tourism brands. Now Xiaohongshu has set up a travel company. From the perspective of industry insiders, from planting grass platforms to developing upstream supply chain companies, if you want to obtain real money in the cultural tourism business world, the "bitterness" may be far greater than the sweetness. .
At the same time, in terms of investment ability, in terms of time span, the investment department of Xiaohongshu has just started, and the team has not yet stabilized. The projects that have been released are more like financial investments. The selected companies are relatively immature. How to find It's not easy to have your own boundaries and unique values.
On the other hand, from the perspective of the scale of funds under management, although the valuation of Xiaohongshu in the primary market has reached as high as 20 billion US dollars, this is only a valuation.
At present, Xiaohongshu's plate is very large. In addition to being limited by platform strategy and organizational capabilities, the scale of capital is also a very important factor to consider. For Xiaohongshu, who is still sprinting for IPO, how much Own funds available for "trial and error" are still a question mark.
In the investment world, VCs adhere to the principle of "don't put eggs in one basket" for diversified portfolio investment. To put it bluntly, "cast a wide net and catch more fish". The risk of this concept is that although there are many layouts, In the end, only a few were able to successfully create a "return against the wind". In other words, if you want to make money without waste, you need a vicious investment vision.
As far as Xiaohongshu is concerned, before he has really cultivated his inner strength, he is anxious to end the investment, obviously he is not ready. This kind of situation can't help but remind people that Xiaohongshu is "going to the doctor in a panic".


(Disclaimer: This article only represents the author's point of view and does not represent the position of Sina.com.)

This article is reproduced from: http://finance.sina.com.cn/tech/csj/2022-07-28/doc-imizmscv3867148.shtml
This site is for inclusion only, and the copyright belongs to the original author.