Text | Yao Lan
36氪 was informed that the artificial intelligence music technology company "Little Leaf Music Technology" announced the completion of the C2 round of tens of millions of RMB financing led by Zhencheng Investment. This is the largest financing in the domestic music field in 2022, and it is also the second financing of "Little Leaf Music Technology" within 7 months after the C+ round of financing of over 200 million yuan in November last year.
"Little Leaf Music Technology" was established in 2013. It was personally tested and invested by pianist Lang Lang. It is a technology company that applies artificial intelligence technology to the field of music. Since its establishment 9 years ago, Xiaoye Music Technology has insisted on lowering the threshold of music learning through technological innovation, and has now built an AI music technology ecosystem that integrates software and hardware. Its four business segments, "Little Leaf Smart Sparring", "The ONE Smart Piano", "The ONE Smart Piano Classroom" and "Little Leaf Sparring", serve all age groups and the entire learning cycle, covering online and offline music Learn from the crowd, forming a clear business synergy. Since October last year, "Little Leaf Music Technology" has achieved large-scale financial profits for 8 consecutive months.
Through continuous R&D and innovation, "Little Leaf Intelligent Sparring" has achieved AI millisecond-level, high-precision error correction. In a variety of complex environments, the recognition of "Little Leaf Smart Sparring" can ensure high accuracy. For example, it has achieved accurate recognition of music scores with difficulty levels above ten, and the recognition ability is higher than similar products under the foreign company JoyTunes. And just last year, Google and Qualcomm invested in JoyTunes, valuing the company at $1 billion.
At present, the users of "Little Leaf Smart Sparring" cover 131 countries. According to the "White Paper on Analysis of Online Quality Education Development in the Post-epidemic Era" released by the Chinese Academy of Sciences, "Little Leaf Smart Sparring" ranks first in the AI ​​music education industry. The ONE smart piano under "Little Leaf Music Technology" has been the No. 1 digital piano category on Tmall Double 11 for 8 consecutive years, and its products are exported to 95 countries .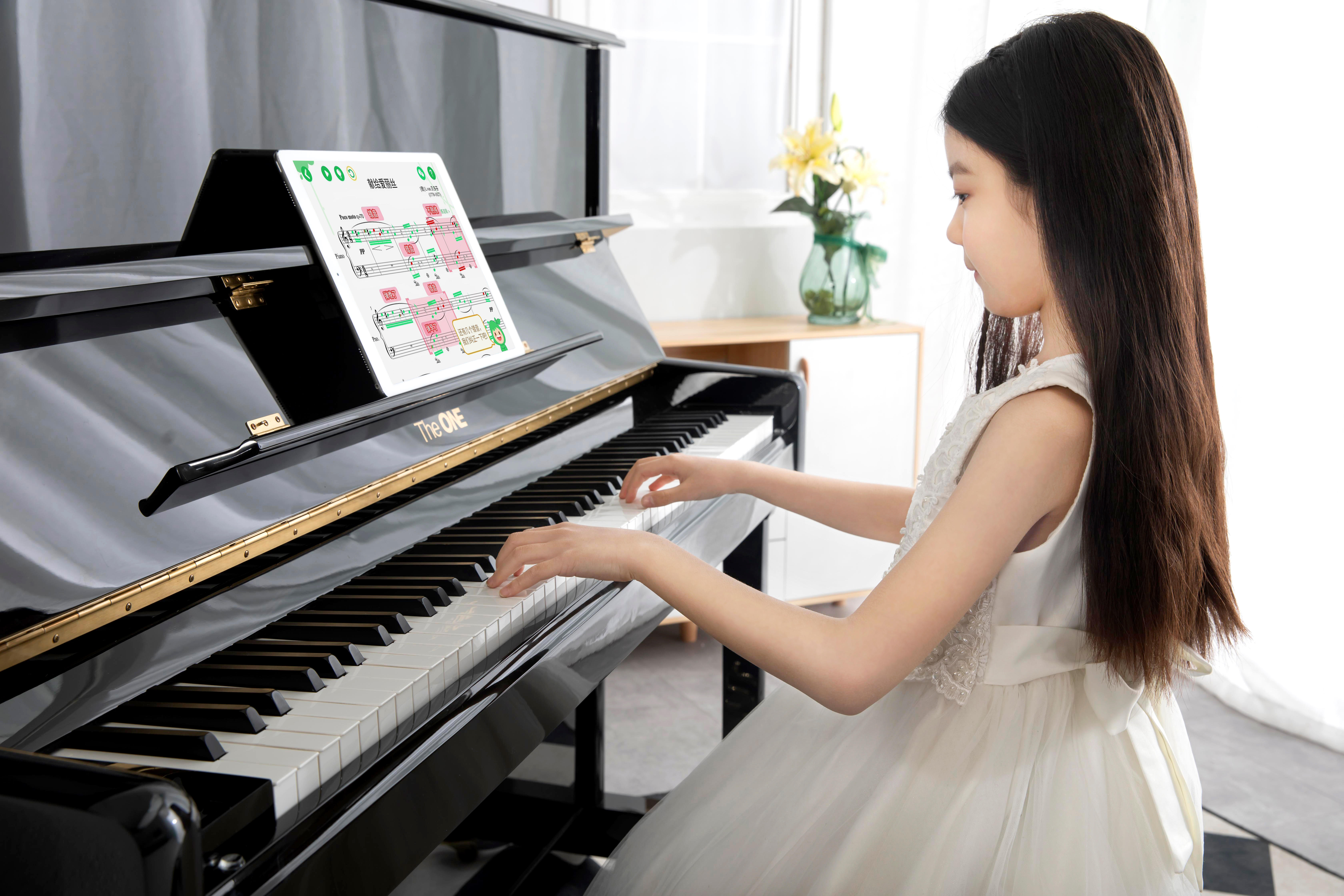 The ONE Smart Piano
Today, with the rise of the global digital economy, compared with the more mature domestic market, there are many macro dividends and fast-growing industry opportunities in both emerging and developed overseas markets.
In March this year, "Little Leaf Music Technology" officially launched the global exploration of smart music learning products. According to official information, as of now, the number of new overseas users of "Xiaoyuzi Smart Sparring" and "Little Leaf Sparring" has doubled in 2021; the world's first smart drum learning tool App has landed in 174 countries around the world, It has been officially recommended by the Apple App Store homepage for many times in many regions.
It is worth mentioning that "Little Leaf Music Technology" is also committed to using AI technology to improve the music literacy of the whole people. In 2015, "Little Leaf Music Technology" joined hands with international pianist Lang Lang to donate the first The ONE smart piano classroom and started a public welfare trip. As of January 2022, the public welfare footprint of "Little Leaf Music Technology" has spread all over the country, and it has built more than 100 public welfare AI piano rooms in schools, youth activity centers and other places with Lang Lang Art Foundation, Gansu Aesthetic Education Promotion Association and other institutions. , Nearly 100,000 rural children in various provinces and cities across the country have started the road of music learning.
Ye Bin, founder and CEO of "Little Leaf Music Technology", said: "This round of funds will be mainly used to accelerate the promotion of 'globalization' and 'intelligence' strategies, and use its leading experience in the field of artificial intelligence music to further explore audio and video The application of cutting-edge technologies in artificial intelligence music learning scenarios improves user experience; and will launch smart musical instruments, drum kits and piano smart learning tool apps for all age groups for global users; with a richer matrix of intelligent music learning software and hardware products , accelerate the global layout, and meet the needs of users of all ages, different countries and regions at home and abroad."
Li Jianwei, the founding partner of Zhencheng Investment, the leading investor, said: "Music has no national boundaries. Whether it is a smart musical instrument or a smart music learning product, it is extremely adaptable to users at home and abroad. Recognition technology is not only groundbreaking and advanced in the field of artificial intelligence, but its recognition accuracy also represents the world's highest level of musical instrument performance recognition, and the sparring effect far exceeds similar products at home and abroad. We are very optimistic that Xiaoye will continue to rely on technology Innovation ability, achieve great results in overseas markets, and become a smart music technology company with global influence."
media coverage
36Kr Startup State Mustard Pile
This article is reproduced from: https://readhub.cn/topic/8gUKd8zTkSI
This site is for inclusion only, and the copyright belongs to the original author.