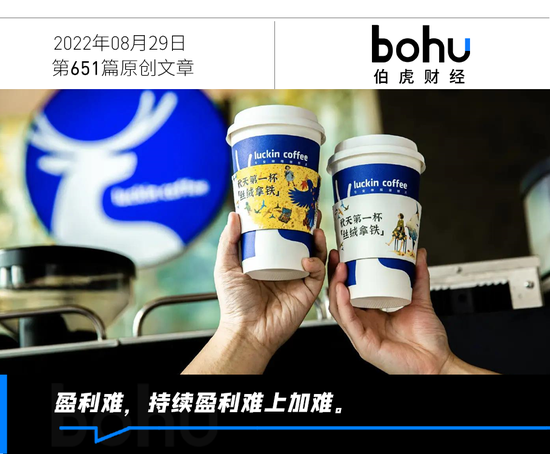 Welcome to the WeChat subscription number of "Sina Technology": techsina
Author | Dream
Source: Bohu Finance
On August 22, Ruixing Coffee issued a statement on various channels and began to "crack down on counterfeiting". It said that the recruitment of partners has been suspended at this stage, and no sub-brand has been developed. From a liar that everyone shouted to, to a target of imitation and copycats, the market seems to be unable to ignore Ruixing.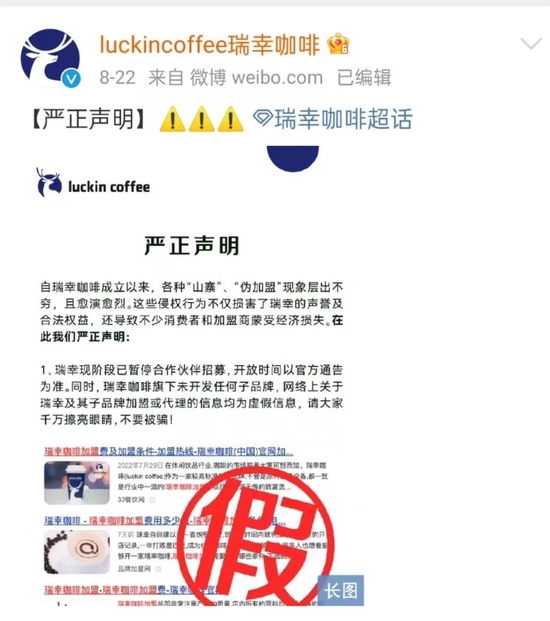 (Source: Network)
With Starbucks China's revenue down 40% year-on-year and same-store sales down 44%, Luckin achieved revenue of 3.2987 billion yuan in the second quarter, a year-on-year increase of 72.4%. Among them, the revenue of self-operated stores was 2.3311 billion yuan, a year-on-year increase of 52.4%; the revenue of affiliated stores was 777.5 million yuan, a year-on-year increase of 178.4%. Under the epidemic and unfriendly market environment, Ruixing seems to have come back.
From creating the fastest record of domestic companies from establishment to listing, to the shameful humiliation of becoming a Chinese concept stock due to financial fraud, and now it is reborn. This rise-fall-rise again has only happened in these short five years.
Ruixing comes back to life
In October 2017, Luckin Coffee opened its first store in Beijing Galaxy SOHO.
On May 17, 2019, Luckin Coffee was officially listed on NASDAQ in the United States.
On April 2, 2020, Ruixing admitted a false transaction of 2.2 billion yuan, and its stock price plummeted 80%.
On June 29, 2020, Luckin was delisted.
In 2022, Ruixing actually "killed" back, and even went from extreme losses to profits.
On the financial statements for the second quarter of 2022, Luckin's net income reached 3.2 billion yuan, an increase of 72.4% from 1.9137 billion yuan in the same period last year. Although there is still a loss of more than 100 million on the book, it is because of the previous financial fraud incident, and a fine of 270 million was paid in the last quarter. Otherwise, Ruixing is actually already profitable.
In terms of the number of stores, Luckin has surpassed Starbucks in the domestic market, reaching 7,195, more than 1,000 more than Starbucks. And under the impact of the epidemic and the market environment, Ruixing continued to grow. After the financial data storm, how did Ruixing retain consumers?
In fact, relying on the previous aggressive expansion, burning money to subsidize the market share, Ruixing already has a wide range of popularity. Since its establishment, Ruixing's user taste data, store location data, operation data, and supply chain management data have also become treasures. After the financial fraud incident, Luckin's cash-burning subsidies were unsustainable, and at that time, the market's loyalty to Luckin's products itself was not high.
After the strength of Ruixing's subsidy and discounts was closed in 2020, it began to target young consumers, conduct product development with data-driven thinking, and vigorously develop "milk coffee" products that are more acceptable to young people, such as thick milk latte, raw milk Coconut Latte etc. At the same time, Li Luxiu, who is "too bad and doesn't want to go to work", was invited to be the spokesperson for the raw coconut latte. During the Olympics, she signed a contract with the talented sports girl Gu Ailing, and jointly launched the coconut cloud latte with the coconut palm juice.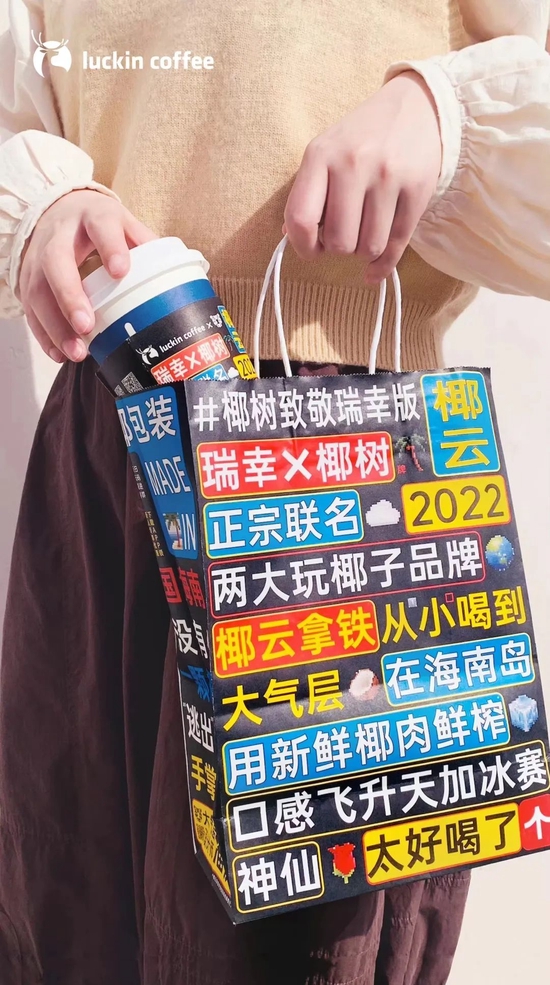 (Source: Network)
According to the launch in April to the end of the second quarter, more than 24 million cups have been sold, and the total store revenue is as high as 400 million yuan. As of April this year, the one-year anniversary of the launch of the raw coconut latte, the sales volume has exceeded 100 million cups; looking back on the past two years of Ruixing, when the whole market sang "bad", Ruixing has never been out of the consumer's vision. Through product innovation, the product strength of new products and the rejuvenation strategy have continued to cultivate the brand goodwill of young consumers.
It can be said that Ruixing was able to come back to life, not only by the attractiveness of the price. Continuously innovating, creating explosive products, and embracing young people are the key to Luckin's survival.
According to the survey data, in 2021, Ruixing launched 113 new products, 1/3 of which are "milk coffee". And milk coffee products have a higher price increase than ordinary American and latte. By the end of 2021, the average unit price of Ruixing products has increased from 9.97 in the fourth quarter of 2019 to 15.24 yuan. Manufacturing explosive products and increasing unit prices have become a major boost to Luckin's profitability.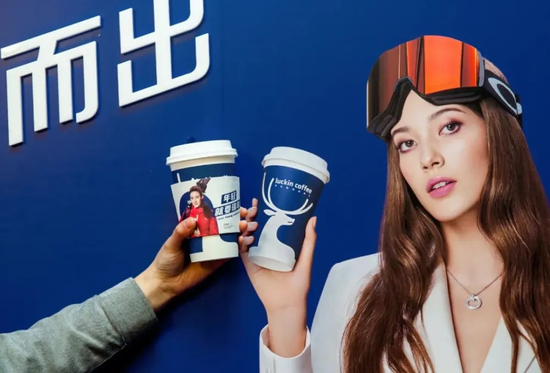 (Source: Network)
In addition, in terms of store opening efficiency, Ruixing began to optimize its layout, closed loss-making stores, cut unnecessary marketing expenses, and embarked on a more refined operation path. According to Jihai brand monitoring data, in 2019, the survival rate of Ruixing's newly opened stores for 12 months only accounted for 63%, while the indicator of newly opened stores in 2021 increased to 93%, and the store closing rate dropped significantly.
It can be seen from Ruixing's latest financial report that this quarter, Ruixing opened 556 stores. Obviously, compared to the scene-based coffee business models such as Starbucks and Costa, Luckin's store model based on "cache stores" is relatively less affected by the epidemic. Taking this opportunity, Luckin seized the market and further expanded its scale advantage. Today, it has nearly 7,200 offline stores, becoming the largest chain coffee brand in China.
On the one hand, Ruixing expands its layout in first-, second-, and third-tier cities through directly-operated stores; on the other hand, according to the "2022 China Fresh Coffee Category Development Report" released by Meituan Food, the takeaway data shows that the third-, fourth-, and fifth-tier cities have Coffee orders increased by more than 200% year-on-year. Ruixing began to enter the sinking market through franchise stores to accelerate the occupation of users' minds. However, with the increasingly fierce competition in the coffee market, Ruixing's next road is not easy.
Competition in the coffee industry heats up
In 2021, the market size of China's coffee industry will reach 381.7 billion yuan, a year-on-year increase of 27.2%; it is expected that the market size of China's coffee industry will exceed 1,000 billion yuan in 2025. According to statistics from the International Coffee Organization in London, China's coffee consumption has grown at a rate of 15% to 20% every year, far higher than the global average of 2%, and has become the world's largest coffee consumption market. The huge potential for the growth of China's coffee market has also attracted the attention of capital.
In the first half of 2022, Tims China announced a total of $194.5 million in additional financing commitments; Seesaw Coffee completed hundreds of millions of yuan in A++ rounds of financing; in addition, in the past 2021, new coffee chain brands such as M Stand, Algebra, Nova Coffee, both received financing last year.
With the support of capital, even in the face of a new round of raw material price hikes and the repeated epidemics resulting in unstable customer flow in stores, major domestic coffee brands are still accelerating the pace of chaining in the first half of this year. In the first half of the year, Luckin opened more than 900 new stores. The "new coffee" brands that are popular with capital, represented by Manner, Seesaw, and NOWWA, are also accelerating their expansion. Manner Coffee opened 200+ new stores; NOWWA Coffee also opened 100 new stores.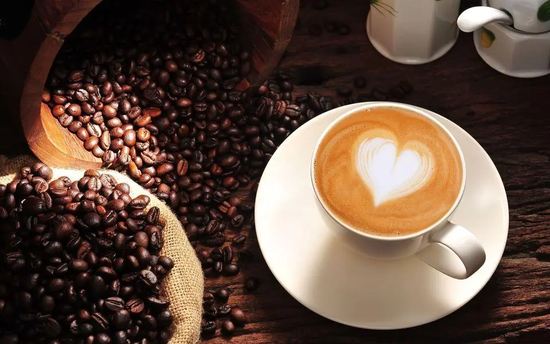 (Source: Network)
Not only that, but in the past two or three years, the new tea brands Nai Xue's tea and HEYTEA have quietly added coffee drinks to their product catalogs. Tea Yanyuese announced the establishment of the "Yangyang Coffee" brand in August, and there will be 5 stores when it opens. In 2017, Michelle Bingcheng established its own coffee brand Lucky Coffee. As of the first half of 2022, Lucky Coffee has opened more than 1,300 stores. home store.
E-commerce coffee brands that have emerged online have also begun to "enclosure" offline, such as Sandunban and Yongpu Coffee. Convenience store chain convenience bee has also entered the coffee scene with the advantage of the number of stores, and its coffee brand "Sleepless Sea" is developing rapidly. Even PetroChina, Sinopec, and China Post have already started selling coffee, and sports brand Li Ning has also come to join in the fun.
In addition, about 70% of chain coffee shops in China are located in first-tier and new first-tier cities. In 2022, the number of chain coffee shops in first-tier and new first-tier cities in my country will account for 34.8% and 33.8% of the national total, respectively. Driven by first- and second-tier cities, the wave of coffee consumption is gradually radiating to third- and fourth-tier cities. It is foreseeable that at present, coffee shops are mostly concentrated in first- and second-tier cities, and the market is gradually becoming saturated.
With the "race" of major coffee brands, there will be winners, and the next third- and fourth-tier cities may become important markets for coffee companies to compete. Up to now, coffee chain brands such as Luckin and Starbucks have begun to sink into third- and fourth-tier cities, launching affordable coffee to attract potential consumers.
Luckin never sits back and relaxes
With the influx of players, it is difficult to say whether Ruixing can maintain its current advantage.
Explosive models are Ruixing's traffic passwords. Even if the user's big data is mastered and there is a very picky product development process, it is not easy to "explode". The financial report shows that Ruixing has launched 34 new products in the first quarter of this year, but there are not many that can really arouse market discussions. The most out-of-the-circle coconut cloud latte, there is still a gap to replicate the myth of raw coconut latte.
There is a lot of uncertainty in the development of explosive products. In addition, the threshold for explosive products is not high, and there is a risk of being copied by peers. For example, Mi Xue Bingcheng chose to cooperate with Fino, a coconut milk supply chain company that became popular in "Re-engraving Ruixing", and launched the "Ye Ye Latte" with a price of 10 yuan per cup, and Nai Xue's tea launched "Raw Coconut Blossom Latte". Wait.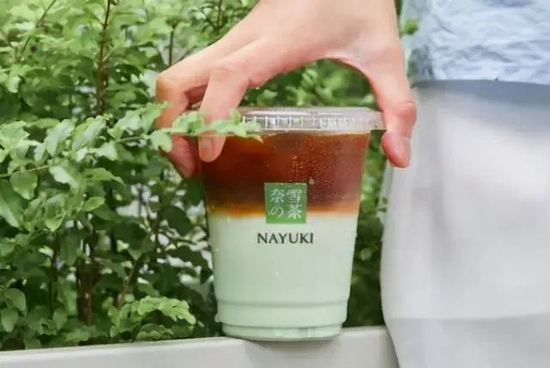 (Source: Network)
Secondly, a major feature of Ruixing is "coffee milk tea". Ruixing's new products emphasize the ability to match with milk or tea, which means that Ruixing's competitors have shifted from coffee to the entire new consumer beverage players, including Nai Xue , HEYTEA and other new tea drink competitors. The layout of the new tea beverage market can also help companies enter the coffee market more smoothly and easily and be accepted by consumers. At the same time, the new tea beverage brand also has the advantage of "coffee with milk". The duel between Ruixing and Xinchayin is still hard to say.
In addition, Ruixing's sinking road is not easy. In third- and fourth-tier cities, consumers' acceptance of coffee still needs to take time to cultivate, and the price war of burning money will continue. On the one hand, local specialty coffee shops are also emerging one after another. Data from Xiaohongshu shows that in 2021, there will be more than 10,000 notes about "county coffee". There are also regional coffees that have risen in recent years, such as Ningbo's Wai coffee, Dongguan's FELICITY ORIGIN coffee, and even got financing.
(Source: Network)
On the other hand, in the sinking market, we have to compete with Michelle Ice City. If the 10,000 stores of Michelle Ice City across the country start to sell coffee, its ability to reach consumers will be far greater than that of Ruixing Coffee. In addition, Michelle Ice City is cheaper.
Therefore, consumers quickly accept Ruixing, but capital is not necessarily. Although Ruixing is currently in the fan sheet market, it still discloses its financial data, and its ambition to re-list is obvious. At present, Ruixing has started to make a profit, but after the cash-burning subsidy seizes the market in third- and fourth-tier cities, can it continue to be profitable? Will Ruixing repeat the previous story? While accelerating the pace of expansion, coffee companies are still competing fiercely, and the thorns ahead are reborn. No one can be sure whether Ruixing can break out of the siege or break its wings.
Compared with the traditional coffee + space scene store business model of Starbucks and Mstand, Luckin Coffee belongs to the fast coffee model, and expansion is a very important part. As for how to rapidly expand the market, in addition to burning money subsidies, how Ruixing will exert its strength on the channel side is a problem that it has to think about.


(Disclaimer: This article only represents the author's point of view and does not represent the position of Sina.com.)

This article is reproduced from: http://finance.sina.com.cn/tech/csj/2022-08-29/doc-imiziraw0231418.shtml
This site is for inclusion only, and the copyright belongs to the original author.