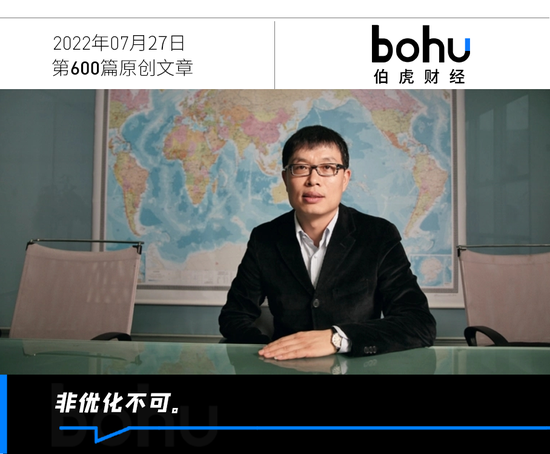 Welcome to the WeChat subscription number of "Sina Technology": techsina
Text / Li Xia
Source/Bohu Finance (ID:bohuFN)
In May of this year, an old employee of Midea suddenly received the news that it had been optimized. He felt emotional and wrote his "graduation speech" on the internal forum of Midea.

(The source of the message from the old employees of Midea: Internet)
When Fang Hongbo, the current head of Midea Group, saw it, he felt sad and wrote back a few hundred words. In the end, he borrowed Zhang Ailing's words and encouraged employees who were optimized or not optimized: Work hard as if there will be no tomorrow, like tomorrow The same dream will come.
All in all, Midea this time, the member has ruled.
Over ten years old craftsmanship
According to Jiemian News, Midea's layoffs began in March and have continued to intensify. According to insiders' estimates, the layoff ratio is 20%. By the end of 2021, Midea will have 165,800 employees, which means more than 30,000 people will be laid off.
The last time there was such a large-scale layoff was ten years ago. In 2011, listed Midea Electric laid off 32,000 employees, setting a record for layoffs by A-share listed companies at that time. (Before 2013, Midea's listing name was "Midea Electric Appliances", but after rectification and re-listing, the name was changed to "Midea Group")
At that time, the reason why Midea laid off such large-scale layoffs was because the state had previously subsidized home appliances to the countryside, and Midea engaged in "large-scale + low-cost" expansion to seize the market. At the end of 2008, the total number of Midea Electric Appliances was 40,800. At the end of 2010, this number became 98,700. With the disappearance of the home appliance subsidy policy, this model has become problematic.
In 2011, Midea's revenue growth slowed down significantly compared to the previous year. In 2012, there was even a 23% drop in revenue. This year, Fang Hongbo officially took the helm of Midea, and its founder He Xiangjian stepped down. Under the crisis, Fang Hongbo adjusted the organizational structure, implemented flat management, and streamlined the structure to improve organizational efficiency. In terms of specific operations, it was closing stores, layoffs, and salary cuts.
In the following years, Midea has regained its vitality, especially in terms of net profit, which increased by 35% year-on-year in 2013 and 40% year-on-year in 2014, with net profit reaching 11.6 billion.
Looking back on 2014, Fang Hongbo said that "one year's profit is equivalent to the past three years", which is "the best period in history". At that time, Fang Hongbo, who was complacent, set a goal, "By 2017, when sales reach 200 billion yuan, the total number of employees will be controlled within 100,000."

(Number of Midea employees in 2015)
In 2015, Midea Group had 93,000 employees. But after that, Midea did not follow Fang Hongbo's script completely.
In 2016, Midea's official website announced the completion of the acquisition of Toshiba Home Appliances, and in the same year it acquired Clivet, an Italian central air-conditioning company. In 2017, Midea announced that it would transform itself into a technology group. That year, it acquired the German KUKA robot in the field of automation manufacturing, and soon acquired the Israeli company Gochuang in the field of servo motors and motion control.
After continuous acquisitions, Midea's revenue in 2017 exceeded the plan to reach 241.9 billion, but on the other hand, the number of employees also soared to 1.368 billion. In the following two years, the number of employees of Midea Group entered a stable period, reaching 134,900 in 2019.
The epidemic in the past two years has changed this stable structure. After entering the epidemic in 2020, Midea's employees have not decreased but increased, reaching 165,800 by the end of 2021.
At the same time, after 2017, Midea's revenue stalled, growing to single digits for three consecutive years, and the growth rate reached 20% in 2021, but the group's net profit only increased by 5.49%, with single-digit growth for two consecutive years. The profit problem reflected behind this seems to be more severe.
This situation seems familiar ten years ago, and it is time for Fang Hongbo to perform slimming techniques.
Big and small
In the conference call on May 6, Fang Hongbo said: "In the next three years, the industry will face relatively big difficulties, and it will be an unprecedented cold winter." After 2 months of discussions with the management, "difficult choices were made in the struggle", "stop non-core businesses and tighten non-core categories", so there is the scene of the old employee's long resignation speech.
The step of layoffs is inevitable for Midea Group's strategic development.
Midea definitely doesn't want to be led by the "home appliance" label, and has had "different intentions" towards home appliances for a long time. In 2004, Midea entered the automobile industry by acquiring Yunnan Bus Factory, Yunnan Aerospace Shenzhou Automobile Co., Ltd. and Hunan Sanxiang Bus.
In 2010, Midea acquired Meizhi Optoelectronics, which is engaged in lighting and intelligent front-mounted products; in 2016, Midea established Meiyun Zhishu to provide SaaS services to enterprises; the following year, Midea's logistics service provider changed its name to Ander Zhilian to provide services to third-party companies.
In 2017, Midea announced that it would transform into a technology group. It acquired Kuka and Gaochuang that year, and the number of employees soared. However, when the economy was in recession due to the epidemic, Midea went on a buying spree and accelerated its diversification.
In March 2020, Midea acquired Hekang New Energy Technology Co., Ltd. through its subsidiary for 743 million yuan, and began its business layout in energy conservation and environmental protection, new energy vehicles, etc. In December of the same year, the HVAC and Building Division of Midea Group acquired Lingwang Elevator and entered the elevator business. Soon after, Midea acquired the Hitachi compressor factory in Thailand.
At the end of 2020, Midea's official account issued a document to update the original four business segments to five business segments. In addition to the 2C smart home business group, there are 2B mechanical and electrical business groups, HVAC and building business units, and robotics and automation business units. and digital innovation.
In 2021, Midea 2.3 billion will take over Dongzheng Medical under Yuyue Technology and enter the field of medical imaging. On April 26 this year, Midea Industrial Technology, a subsidiary of Midea Group, announced the acquisition of Wuhan "Tianteng Power" to enter the two-wheeled travel market. Recently, Midea plans to spend about 2.2 billion yuan to win the actual control of energy storage company Kelu Electronics.
Seeing this, some smart readers are confused: This is not right. On the one hand, it is said that the future is an unprecedented cold winter, and the layoffs are described as tragic and unavoidable. On the other hand, they want to acquire and speed up diversification. out?
Let's take a look at the guiding ideology of this layoff: keep the "big four and four small", and the others will be shut down and transferred.
The "Big Four" refer to Midea's robotics and automation, building technology, new energy auto parts, and energy storage business; the "Four Small" refer to Wandong Medical, Anderzhilian, Meiyun Zhishu, and Meizhi Optoelectronics.
In addition to the "big four and four small", what else is there for the beauty.
New and old cards
Layoffs are generally subject to the general environment, such as the education industry last year. But there are also some companies that make people feel that they are using the general environment as an excuse to lay off employees for a new round of expansion. Their tricky operation is to lay off employees on the left and recruit people on the right.
Midea's behavior this time is somewhat similar. Word of mouth is useless, let's look at the data.
According to a former US employee, raw material costs have a greater impact on manufacturing companies than labor costs.
In the past two years, raw materials have risen sharply. In the cost composition of Midea's home appliances, the proportion of raw material costs in revenue in 2021 has reached 84.5%, an increase of 30.6 billion year-on-year. In contrast, labor wages accounted for only 5.9%, and even compared with 2019 (134,900 employees), wages increased by 2.5 billion. In other words, the money saved by layoffs is a drop in the bucket.

However, why the employees of home appliances have to be laid off?
The 2021 financial report shows that Midea's revenue is 341.2 billion yuan, a year-on-year increase of 20%. Among them, the smart home business group, industrial technology business group, building technology business department, robotics and automation business department, and digital innovation business The five segments achieved revenue of 234.9 billion yuan, 20.1 billion yuan, 19.7 billion yuan, 25.3 billion yuan, and 8.3 billion yuan, with growth rates of 13%, 44%, 55%, 23%, and 51%, respectively.
Smart homes, that is, home appliances, are still thriving, contributing 68.8% of revenue and supporting most of the sky, but they have been lagging behind in terms of growth rate.
Midea revealed in its 2021 financial report that in the future, it will focus on the "equal development" of 2B and 2C businesses, achieve "stock upgrade" in 2C, and "incremental creation" in 2B.
From this seemingly unbiased choice of words, we can see that Midea's positioning for the next five business segments: the four business segments of 2B will be the growth engines, and the smart home of 2C will stabilize the basic revenue. Under the premise, attack the high-end – such as COLMO.
High-end, obviously not a problem of more people and more power. On the contrary, if the future manpower and material resources are placed in the remaining four sectors, miracles may occur.
The "2022 First Quarterly Report of China's Home Appliance Industry" shows that in the first quarter of this year, the domestic home appliance industry's sales were 154 billion yuan, a year-on-year decrease of 12.3%.
Home appliances are no longer a place to stay for a long time, and Midea has long since changed their minds, but after so many years, there is no improvement. However, marked by the heavy acquisition of KUKA in 2017, Midea is bound to establish the brand of "technology" this time, while the old brand of "home appliances" will slowly be put down.
Today, whether it is Midea, Gree or Haier, they have already occupied the top of the home appliance market, but like all major manufacturers, they need to find new targets and continue to create value for shareholders.
The giants standing on the top of the mountain have a high starting point, and it is very simple to cross the line, but how far they can go in the future can only be seen by good luck. After all, Gree mobile phones have persisted for 7 years, and Midea also built a car 18 years ago. On the new track, everyone's experience points are reset to zero. There is risk here, but also the proliferation of capital desires.

This article is reproduced from: http://finance.sina.com.cn/tech/csj/2022-07-27/doc-imizmscv3784498.shtml
This site is for inclusion only, and the copyright belongs to the original author.