First look at a picture, the domestic new energy vehicle sales list in July.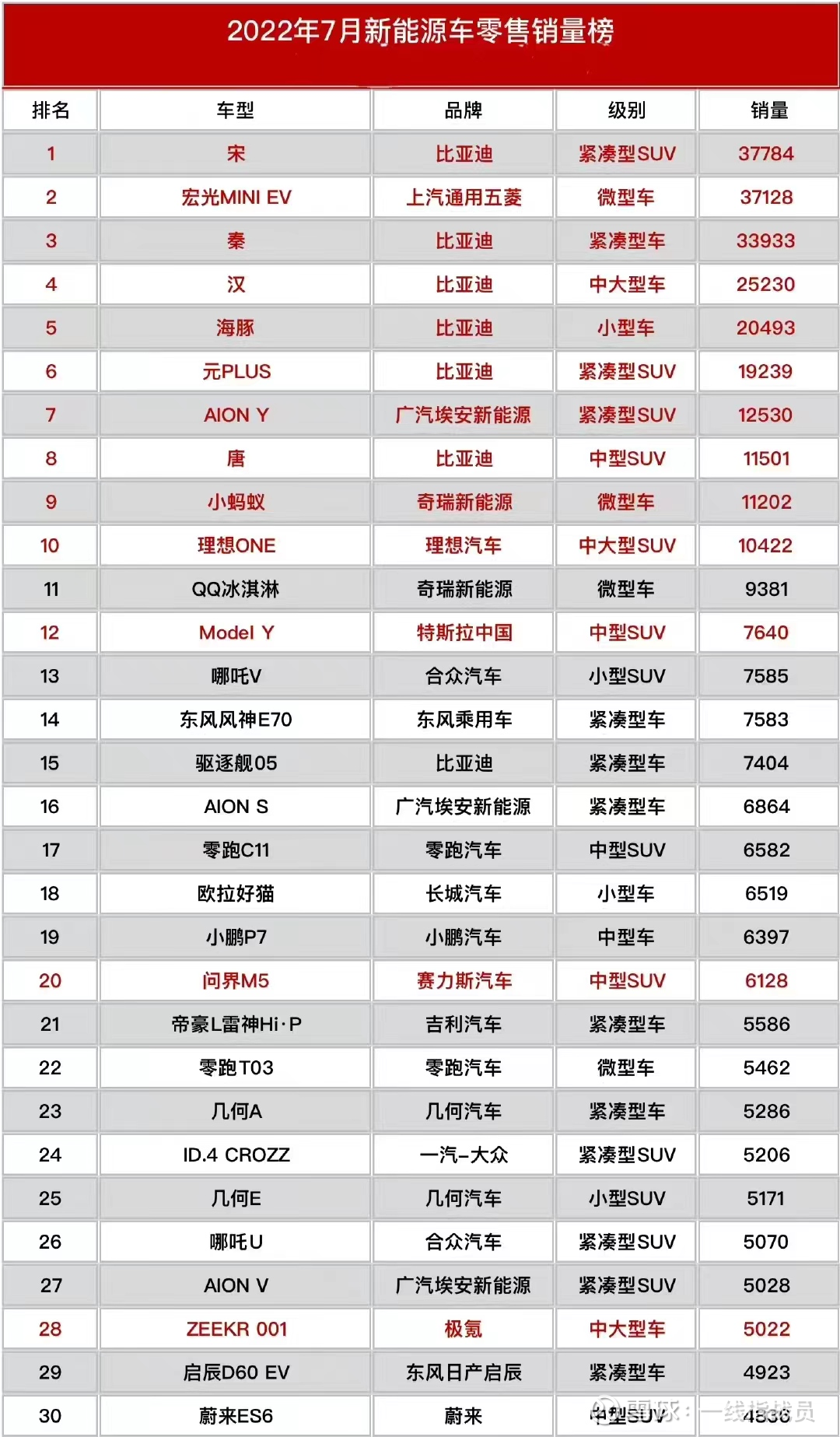 BYD is very strong in this list, with the top six accounting for five shares and the top eight accounting for six shares. Considering that AION Y is mainly in the commercial vehicle market, micro-cars are excluded. Then, in the private new energy vehicle market, the sales ranking of A0 and above, BYD's amazing top six accounted for six, and the top six were BYD products.
The second-largest model on the list is Geely Automobile, which has 4 models on the list, but all of them have sales of 5,000+, ranking after 20. Foreign brands are on the decline, and there are only two models in the list, Tesla MODEL Y and Volkswagen ID 4 CORZZ. Of Great Wall's new energy vehicles, only the Ora Cat is the only model that ranks 18th, which is obviously outdated.
The pattern of China's new energy vehicles has initially become clear, with foreign brands in an all-round ebb, while domestic brands are emerging, and BYD is the dominant player.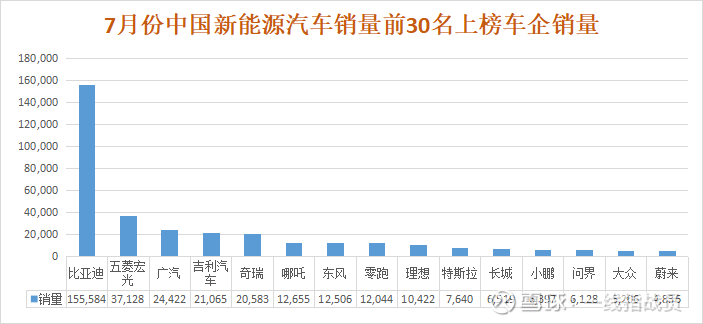 According to data from the China Automobile Association, the sales of new energy vehicles in July were 593,000, of which 457,000 were pure electric vehicles (BYD accounted for 18%) and 136,000 plug-in vehicles were sold (BYD accounted for 60%). BYD is absolutely strong in plug-in hybrid vehicles, and the competition in pure electric vehicles is fierce.

According to the starting price, pure electric cars are divided into 5 grades, of which 300,000-400,000, and more than 400,000 grades, BYD has no products. In these two levels of the market, we have to wait for the performance of Denza and BYD's high-end models.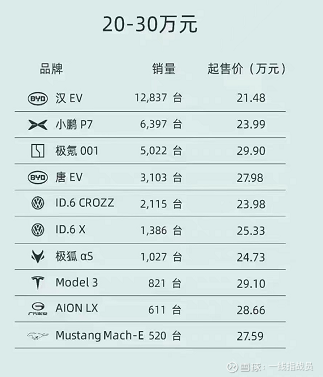 In the 200,000-300,000 range, BYD Han won the championship, more than twice the sales volume of the second-place Xiaopeng P7, and Tang EV ranked fourth. It is said that BYD's performance in this grade market is good. In fact, the BYD seals and sea lions that are really benchmarked against MODEL 3 have not yet been listed, and Hantang EV has not yet switched to e-platform 3.0. There may be a situation, seals, sea lions After the launch, the Hantang EV will be upgraded to the market of 300,000-400,000. The seal will be launched soon, and the sea lion is not far away. I look forward to the stronger performance of BYD products in this range.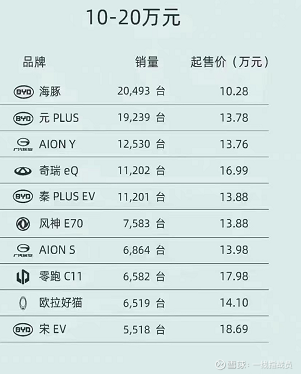 From 100,000 to 200,000 gears, BYD occupies the first and second place, with a total of 4 models on the list. It can be seen that the competitiveness of BYD's e-platform 3.0 models is far ahead. Similarly, BYD's Qinsong EV models have not been replaced with e-platform 3.0, which may be due to market rhythm considerations.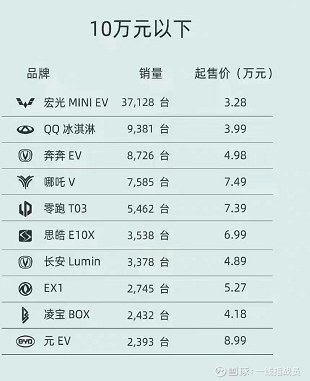 In the market below 100,000 yuan, BYD has no sense of existence at present. Yuan EV has actually been upgraded to Yuan plus. In the future, BYD will have seagulls listed in this market, and the market performance, let us wait and see.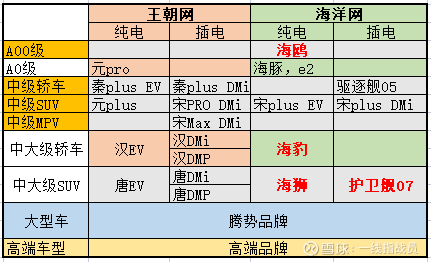 (Red is the model to be listed)
To sum up, although BYD already has the most complete new energy vehicle product matrix in the world, it has no product layout in the upper and lower markets. Dynasty.com's mid-level and mid-to-large products are still waiting to be upgraded. The current product strength of pure electric models of mid-size cars is not strong enough. This market needs a lot, and BYD should increase the product layout in this area. Maybe when BYD seals and sea lions are listed, they will be able to see more clearly.
There are 19 discussions on this topic in Snowball, click to view.
Snowball is an investor's social network, and smart investors are here.
Click to download Snowball mobile client http://xueqiu.com/xz ]]>
This article is reproduced from: http://xueqiu.com/2021998461/227943153
This site is for inclusion only, and the copyright belongs to the original author.