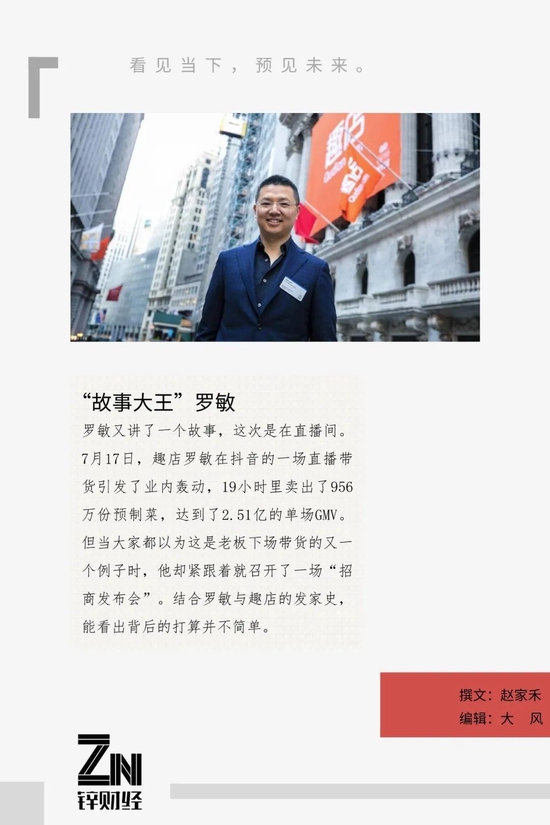 Welcome to the WeChat subscription number of "Sina Technology": techsina
Original title: Internet memory about Luo Min
Source: Zinc Finance
The "Mr. Luo" of Douyin's goods industry just left on the front foot, and another "Boss Luo" came to the back to muddy the water.
On July 17, a live broadcast of Qudian Luo Min on Douyin set off a topic in the industry. The 19-hour duration, GMV of 251 million, and an investment cost of nearly 200 million are said to have made a lot of gimmicks for this live broadcast room of "listed CEO is live broadcast".
It is Luo Min's consistent style to hold high and fight high. The second day after the end of the live broadcast, the brand strategy conference of "Qudian Pre-made Cuisine" under the Qudian Group was held. Luo Min said that in the next three years, "we will support 100,000 users to start businesses and open offline stores". Stimulated by the news, Qudian's U.S. stock market soared 40% overnight.
It is worth mentioning that this is somewhat similar to the previous approach of New Oriental. Recently, New Oriental has also achieved a strong recovery in the stock price with the popularity of the "knowledge live broadcast room". Therefore, many people compare Qudian, a listed company in the same predicament, with New Oriental; Luo Min, who claims to be an "entrepreneur who brings goods", is compared with Yu Minhong and Luo Yonghao.
But if there is a real set of Luo Min and his Qudian, whether it is the explosive logic of the live broadcast room, or the controversial development history of the Qudian, there are reasons to be suspicious. This is Luo Min again. The best way to change the story and harvest it.
At least compared to the second spring of many big bosses in the live broadcast room, "Boss Luo" is far from convincing.
Big money to build momentum, spend huge sums of money on carnival
Different from New Oriental's "Knowledge Live Room" and Luo Yonghao's "Make Friends Live Room", Luo Min's main focus is the strong "boss style".
In the middle of the live broadcast room, the eye-catching title of "The owner of the listed company is live broadcast" has clearly revealed the style to everyone, that is, "Hao Qi".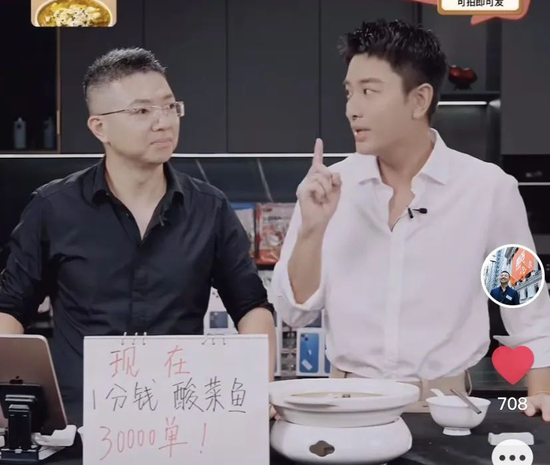 Screenshot of the live room
Grab the pickled fish for a penny, and then send 1,500 iPhone 13 units. When the pickled fish is robbed, he waved his hand "add another 5,000 orders"; not to mention, he also invited Fu Seoul, Jia Nailiang and other celebrities in turn to hold them, and all these were It's just the tip of the iceberg in "Boss Luo".
Outside the live broadcast room, the related promotion offensive is even more overwhelming. The opening advertisements of Douyin and Weibo, coupled with the high-level hot searches that did not drop on July 17, let the whole network know the big move of "Boss Qudian Luo" on Douyin.
Sina Finance reported that the industry estimates that Luo Min invested about 200 million yuan for the live broadcast.
The data obtained from the investment is equally astonishing. According to Luo Min himself, in the food carnival on July 17, Qudian's pre-made menus sold 9.56 million copies a day, added 3.97 million fans, and the number of viewers reached 95.87 million. The new shaking data also shows that the GMV of this shipment has reached 251 million.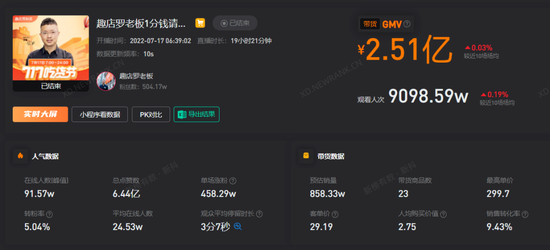 Image source/new jitter data
A single live broadcast GMV 251 million, this record is amazing.
This can be compared with another "Legend Luo" in the live broadcast industry. According to statistics from Xinwiaoer, on May 16, the "Luo Yonghao" live broadcast room ranked first on the daily list of anchors with goods, and the GMV was only 3423.8 10,000, and sales are only over 130,000. According to the data, "Mr. Luo" played 13 games that week, before reaching a GMV of 100 million, which did not exceed half of the "Boss Luo"'s single-game data.
The daily sales of 9.46 million copies are even more outrageous. CCTV Finance has previously reported that the three factories of a pre-made vegetable start-up company are in full production, with a daily shipment of about 5,000 boxes of goods. Zinc Finance made a rough calculation based on the size of a box of 30 boxes of pickled fish on a wholesale website. The prefabricated vegetables sold by Luo Min in a live broadcast required three factories to work overtime for 20 days.
It must be said that it is worthy of the data "smashed" by real money, and it is impossible to accept it.
It is also worth mentioning that the ByteDance commercialization team dispatched dozens of staff to Xiamen to support Luo Min's live broadcast.
At this point, many discerning people may have discovered that the whole live broadcast is actually not like bringing goods in the traditional sense, but more like a carnival show directed and performed by Luo Min.
Because from the point of view of live broadcast and delivery of goods, this "charity" model is difficult to sustain.
It is said that Jia Nailiang in the live broadcast room once mentioned that for every 200,000 items sold, Qudian will lose about 5 million yuan in the case of "removing logistics and costs". At the same time, according to a data circulating on the Internet quoted by Sina Finance, the return on investment of Luo Min's live broadcast room is only 0.05.
As a live broadcast, such a play is obviously unqualified and unreasonable. Therefore, what Luo Min is looking for is actually the volume and attention brought by this live broadcast to add ink to his story of "pre-made dishes", and the words are: attracting investment and raising leeks in captivity.
A new story of pre-cooked dishes, a wolf in sheep's clothing
At present, Luo Min is going to use the "story" to recover the money that he shed.
On July 18, before the sauerkraut fish sold in the live broadcast room had reached consumers, Luo Min struck while the iron was hot and held a pre-made dish brand strategy conference.
On the one hand, it is announcing that the company will focus on the prefabricated food track; another more important point is Qudian's strategic plan for entrepreneurial partners in the next three years: to support 100,000 users to start businesses and open offline stores in the next three years.
"What I want to do is to save an hour a day for 10 million people, and have more time to spend with their families. At the same time, I want to support my users and fans to start their own businesses. Let's work together to make people's lives better."
Boss Luo's speech on the stage was very sincere, just like all stories told to the capital market.
This story is also told to the 4.58 million new fans in the live broadcast room and aspiring entrepreneurs across the country. Luo Min has drawn a beautiful blueprint for everyone: follow Boss Luo to make pre-made dishes and help you achieve a better life.
What if I have difficulty? It doesn't matter, we don't charge a franchise fee and "offer a one-year interest-free loan".
Searching for keywords on his own, the businessman finally found out.
Most of the people who knew about the campus loan-related news and the history of Luo Mingqu store's family history would find it hard not to combine his actions with his "old business".
After all, the reason why Qudian is famous, and the reason why Boss Luo can hang the gimmick of "listed boss", can't escape the "unbearable" family history.
Qudian landed on the New York Stock Exchange in 2017 under the banner of an Internet finance company. Three years ago, it was also its predecessor, "Fun Fenqi", which allowed Luo Min to accumulate his first wealth by relying on "campus loans" for college students.
Just like making pre-made dishes for the purpose of "realizing a better life", Qufenqi also drove a BMW to the campus back then, gave away an iPhone 5s at a low price, and told a story of "helping students buy their favorite products".
In the name of student installment loan, in just one year, the number of employees of Qufenshi has expanded from 10 to 2,000, and the office has also moved from a small apartment to Zhongguancun. The peak period of business is in the recess of the school's evening self-study.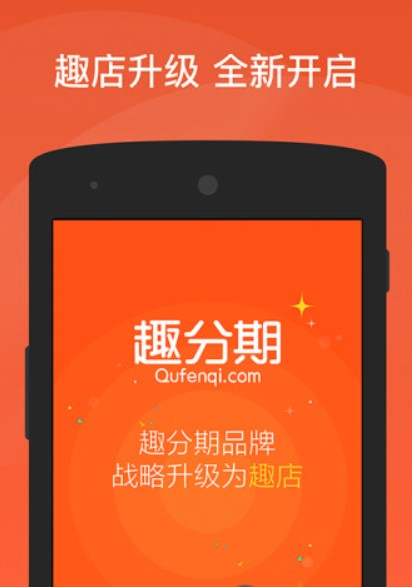 Fun installment
But no matter how Luo Min and Qudian later beautified the experience of that year, such as "it doesn't matter if you don't repay the interest in installments, it's just a welfare gift to you" and other fallacies, they can't wash away the title of "Father of Campus Loans" .
After the institutions were mixed and the tragedies of naked loan suicides occurred frequently. In 2016, the strict prohibition of relevant departments completely cut off Luo Min's business. But then, Qudian turned to make cash loans for urban white-collar workers.
Therefore, when it comes to "lending", Boss Luo is considered an expert. On July 19, he said in an interview with the media that there were already 3,000 fans who wanted to sign up for the entrepreneurial plan.
From students to white-collar workers, to entrepreneurs and fans, the targets of harvest have changed but the stories told have not changed.
For Luo Min, there is no other, only familiarity.
Changed careers 14 times, all in one move
Many people call Luo Min a classic "serial entrepreneur", and he himself prides himself on this.
In fact, this is true. This prefabricated dish is Luo Min's 14th venture. Just three months ago, his thirteenth venture had just failed.
On March 2, 2022, Luo Min posted a sensational farewell to the project "Wanlimu Children" in the circle of friends. "It's time to say goodbye. The original intention of letting children grow up happily and healthily is still there, but the epidemic does not allow it, too many are not allowed…"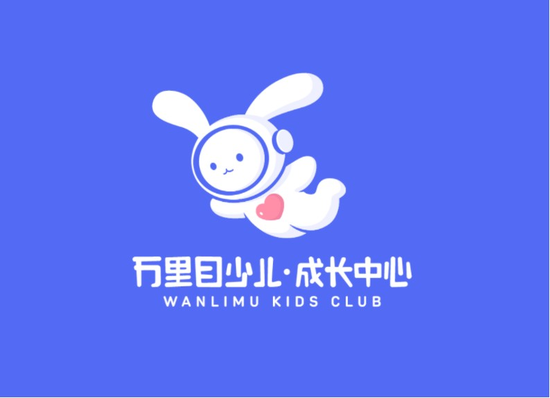 Wanlimu children
He had high hopes for this project focusing on all types of quality education for children. It is understood that in the third quarter of 2021 alone, 37 Wanlimu Children's Growth Center lease agreements have been signed.
But even so, the project only lasted a year and a half. Before "Wanlimu Children", it was a cross-border luxury e-commerce business, high-end housekeeping, K12 projects, campus social networking, and new auto retail…
It can be said that the Internet finance business has been greatly damaged by the influence of regulation. When it went public in 2017, the market value of Qudian was as high as 12 billion US dollars, but after the "Notice on Regulating and Rectifying the "Cash Loan" Business" was issued at the end of the year, Qudian fell below 1 billion US dollars within half a year.
Therefore, in the dilemma of the lack of new growth points, it may be more appropriate to call Luo Min a "continuous self-helper".
It's just that Boss Luo has saved himself too many times, and the story is to change the soup instead of the medicine.
Take Qudian's first new business "Dabai Auto" since Internet Finance as an example. The original intention of this auto retail business is also to help "young people" who want to buy a car to buy "the first car in their life" through financial leasing.
Look, another "helpful" story.
It was only later that Dabai Automobile's "high monthly payment" was criticized, and it was officially announced in May 2019, which lasted less than two years. Some of the following projects often failed to survive for two years, and they also failed to save the store from the fire.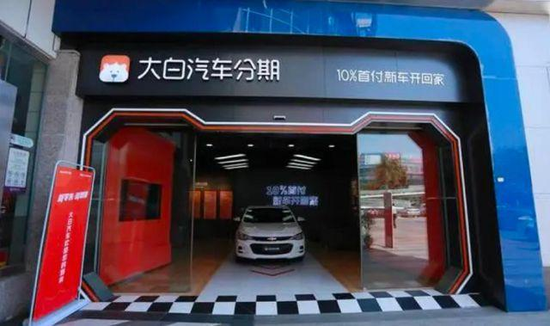 big white car
The financial report shows that in the first quarter of 2022, Qudian achieved a total revenue of 201.8 million yuan, a year-on-year decrease of 60.9%, and a net profit loss of 143 million yuan, a decrease of 129.85% from the profit of 478 million yuan in the same period in 2021. A few months ago, Qudian also received a delisting warning from the New York Stock Exchange for 30 consecutive trading days of its share price below $1.
This live broadcast carnival of pre-made dishes may be his desperate gamble, even if the mode is as controversial as before. To him, it doesn't matter what the prospects of the prefab track are, it's enough for telling a story; it doesn't matter whether the packaging of the model is clumsy or not, it's enough for someone to believe it.
According to "Financial World", a relevant person said, "The biggest problem with Luo Min is that he is too easily influenced by others, which is destined to make him unable to stick to one road."
Maybe Luo Min saw Luo Yonghao and Yu Minhong, so he chose to enter the venue in person. But he will never be the former. No matter how good he is at deceiving with stories, the commercial market still has memories.


(Disclaimer: This article only represents the author's point of view and does not represent the position of Sina.com.)

This article is reproduced from: http://finance.sina.com.cn/tech/csj/2022-07-21/doc-imizmscv2957299.shtml
This site is for inclusion only, and the copyright belongs to the original author.