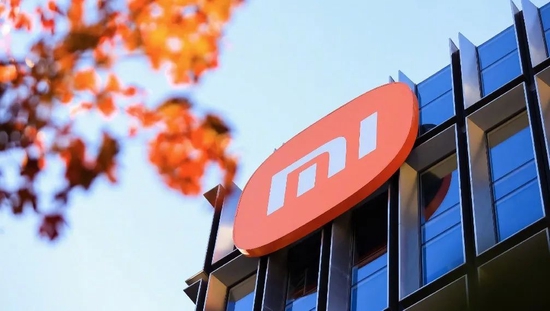 Welcome to the WeChat subscription number of "Sina Technology": techsina
Text/Five Elements
Source: Node Finance (ID: jiedian2018)
Before going public, Xiaomi invested in more than 90 companies around mobile phone accessories, smart hardware, and consumer goods. With the successful listing of Stone Technology, Huami, and No. 9, Xiaomi's investment strategy has ushered in rich financial returns. As of 2021, Xiaomi has invested in as many as 390 companies, with a book value of 60.3 billion yuan (RMB, the same below), and created a profit of 3.3 billion yuan in the same period.
However, Xiaomi's investment strategy also has problems. As early as 2014, the CEO of Lexing Balance Bike once issued an article saying that after contacting Xiaomi, he rejected Xiaomi's investment, and listed the disadvantages of Xiaomi's investment in the article.
At the same time, the invested companies "break up" with Xiaomi after listing, which also makes Xiaomi's investment story a flaw.
The invested companies are most affected by the investment strategy. After they received the investment, they quickly realized the original accumulation from 0 to 1, but they also carried the burden of "cost performance". In 2019-2021, Xiaomi's IoT business has the lowest gross profit growth rate among the three major businesses, which has pulled the overall hindrance to a certain extent.
For Xiaomi and the invested companies, "investment" is both an angel and a devil.
/ 01 /
Origin of investment
The "just need" to grab the air
In 2000, Lei Jun, who was still in Jinshan, and a few friends founded Joyo.com, a B2B e-commerce website. Joyo.com was once the largest e-commerce website in China at that time, but due to financing obstacles, it had to rely on the powerful Amazon. In August 2004, Amazon acquired Joyo.com for $75 million, and Amazon China was established on this basis.
Not to mention the ups and downs of the e-commerce industry, Joyo.com can be said to be a project incubated and invested by Lei Jun, and the origin of Xiaomi's investment is also related to this. The experience of founding Joyo.com not only made Lei Jun aware of the importance of financing for entrepreneurs, but also made him deeply aware of the magic of investment.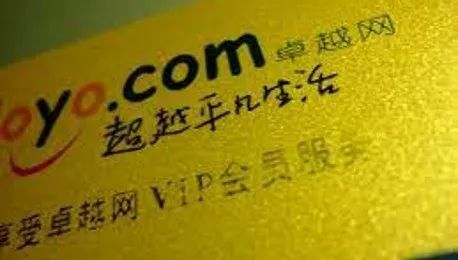 Image source: Internet
In 2010, Lei Jun founded Xiaomi. While doing the mobile phone business, he also inherited his previous investment experience.
In fact, although Lei Jun was an investment expert before he founded Xiaomi, he did not plan the future investment road for Xiaomi from the beginning.
When Xiaomi was listed, Lei Jun once shouted the slogan "Xiaomi equals Tencent multiplied by Apple". At that time and even now, it is generally believed that he said this in order to raise the valuation of Xiaomi. In fact, from a business perspective, Xiaomi once had the hope of becoming a Tencent, at least half a Tencent.
After the establishment of Xiaomi, Xiaomi carried out the research and development of mobile phones and MIUI, and also did some Internet business on the other. At that time, Lei Jun described the Internet as an opportunity, and every opportunity was worth hundreds of billions. If Xiaomi really does one or two of these businesses, the valuation logic and scale will be very different.
In October 2010, an instant messaging app called Kik Messager appeared in the United States. With the free SMS chat function, the number of users exceeded 1 million in half a month, and it became an instant hit. At that time, the only similar application in the Chinese market was Tencent's QQ, but QQ was a product of the PC era, and the experience was not good when it was copied to a mobile phone.
Under the premise of both the right time and the right place, Lei Jun promoted "ren and", and he pushed Xiaomi to make a product "Michao" similar to Kik Messager. Lei Jun also said publicly, "Mi Liao is the second opportunity that Xiaomi has discovered with a market of hundreds of billions of dollars after the mobile Internet outlet."
In December of that year, Mi Chat went online, two months earlier than WeChat. However, with the veteran Tencent and its own inexperience, the first-mover advantage in the past two months was quickly tied. In January last year, Michao officially stopped its service.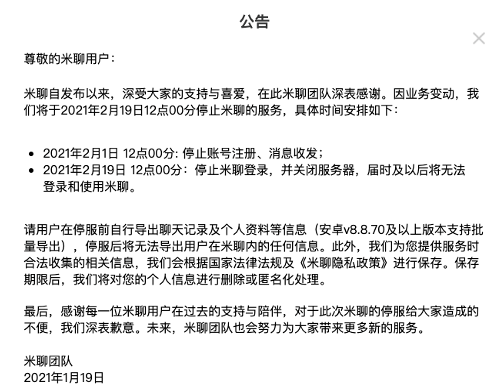 Image source: Internet
The products launched by Xiaomi are not only Mi Chat, but also products such as "Xiaomi Shootout". But with the exception of Xiaomi Mall, which is responsible for online channels, most of them ended in failure. This also allows Xiaomi to see the fact that although there are many opportunities, it is impossible to seize all of them.
Following this logic, the promising IoT has entered Lei Jun's line of sight, and the task of grabbing the air has been handed over to companies that accept Xiaomi's investment.
At the end of 2013, Xiaomi began to invest in the field of IoT. Among them, Xiaomi is responsible for providing assistance in channels, brands, quality control, supply chain and other aspects for the invested companies, while the companies focus on research and development products. The listed stone technology, Huami, No. 9, and the upcoming fun sleep technology are representatives of them.
As of March 31, 2021, the number of devices connected to the Xiaomi AIoT platform (excluding smartphones and laptops) reached 351 million. The number of users with five or more devices connected to the Xiaomi AIoT platform (excluding smartphones and laptops) was 6.8 million, a year-on-year increase of 48.9%. In March 2021, the number of monthly active users of Xiao Ai was 93 million; the number of monthly active users of Mijia App increased by 22.8% year-on-year to 49.2 million.
According to data from Aowei Cloud, Xiaomi's TV shipments in the Chinese mainland market have ranked first for three consecutive years, and it ranks in the top five globally.
From the results, Xiaomi's investment in the IoT industry has been quite successful. On the one hand, it has created several listed companies, and on the other hand, it has also helped itself to seize multiple scene entrances of IoT, and grabbed the "window".
/ 02 /
Investment Variations in 2017
Building cars and impacting high-end are the two major development directions of Xiaomi in the past two years. Taking this as a starting point, Xiaomi's investment direction has also changed.
Before that, Xiaomi had two investment directions, one was IoT, and the aforementioned Huami and Stone Technology were the representatives, and the other was Internet services. For example, Xiaomi invested in iQiyi and Youku in 2014. .
It is worth noting that the time point when Xiaomi's investment direction changed is not the well-known 2020 when mobile phones hit high-end and officially announced cars.
In 2017, Xiaomi, Hubei Changjiang Fund and Wuhan Optics Valley Fund jointly initiated the establishment of the Changjiang Industrial Fund. Its first investment project was "Lumilan New Materials", which is an OLED material developer, and OLED screens are Standard for mainstream flagship phones. This shows that Xiaomi changed the direction of investment at least in 2017, from IoT and Internet services to hard technology.
Xiaomi Changjiang Industrial Fund, Xiaomi Group and Shunwei Capital are the main investment entities of Xiaomi in this direction. Among them, Shunwei Capital has also appeared in the investment in the field of IoT and Internet services, with stronger financial attributes; Xiaomi Group has more war investments.
In terms of order, Xiaomi Changjiang Industrial Fund usually takes the lead, followed by Xiaomi Group. For example, in the case of Lumilan New Materials, after Xiaomi Changjiang Industrial Fund invested in 2017, Xiaomi Group invested again in 2022.
Also in 2017, Xiaomi Changjiang Industrial Fund also invested in Wei Zhao Semiconductor, and OPPO participated in Wei Zhao Semiconductor's C round of financing in 2021.
Since 2020, after hard technology has become the main direction of Xiaomi's investment, the investment in Internet services has become less and less. According to IT Orange data, Xiaomi and Lei Jun have invested in 833 companies so far, of which the most advanced manufacturing companies are close to 150.
Image source: IT Orange
In July of this year, Xiaomi continued to "spray money" in the direction of hard technology, which also shows that Xiaomi's investment direction has changed compared to before.
On July 24, Xiaomi invested in Huayuan Zhixin Semiconductor, a company engaged in the design of integrated circuits and semiconductor devices, which can provide corresponding power supply and backlight solutions for notebook computers, mobile phones and TV sets. Before getting the investment from Xiaomi, Anker Innovation and Transsion had already invested in Huayuan Zhixin.
Another company that received investment from Xiaomi is Jinghe Optoelectronics, whose main products are optical modules, drivers, and controllers (ECU), which can provide customers with a one-stop complete set of electronic software and hardware architecture solutions for automotive lights. Similarly, Jinghe Optoelectronics had already been recognized by other institutions before Xiaomi became a shareholder. For example, Baidu led the company's A+ round of financing in December last year.
At present, Jinghe Optoelectronics' products have achieved large-scale pre-installation and mass production, and have been installed on more than 20 models of more than a dozen car companies such as Xiaopeng Motors, BYD, FAW Hongqi, and GAC Aian.
It can be seen that there have been two changes in Xiaomi's investment direction since 2017. One is that companies are engaged in a number of hard technologies in the field, among which semiconductors are the mainstay; second, compared to investing in the IoT industry, they prefer to enter the market at an early stage. Most of the hard technology companies selected by Xiaomi have already achieved large-scale commercialization, and It has been recognized by downstream brands in the industry chain.
/ 03 /
The other side of turning stone into gold
Both Xiaomi and the invested companies are put on shackles
Getting investment from Xiaomi is the direct reason why many smart hardware companies take off. In turn, Xiaomi has used them to break into the relevant market and gain a foothold.
Financially, the investment has also ushered in rich returns for Xiaomi. After Xiaomi went public, it only disclosed the contribution of investment to profits in its 2020 and 2021 annual reports, of which 3.3 billion yuan in 2021, equivalent to 15% of net profit. Taking Stone Technology as an example, Xiaomi currently holds 4,592,167 shares, which is about 1.55 billion yuan according to the latest stock price.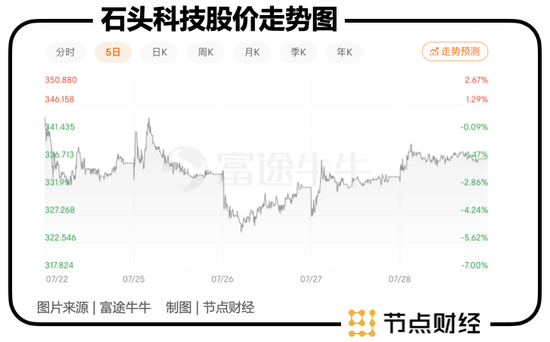 Whether it is business synergy or financial return, Xiaomi's investment achievements are remarkable, and it is not an exaggeration to say that it is a bit of magic.
However, as Xiaomi's development has entered a new stage, the other side of the investment strategy has begun to emerge.
For Xiaomi, the most important thing is that the way of investment will become an obstacle for its products to hit the high-end market and improve their positioning. Among them, the most affected IoT products are the most invested.
For a long time, the outside world believed that Xiaomi's most profitable business was Internet services, after all, it had the highest gross profit margin. But in fact, from the perspective of gross profit, the biggest contribution is precisely the mobile phone business with the lowest gross profit margin.
In 2021, the gross profit margin of the mobile phone business will be 11.9%, and the revenue will be 208.9 billion yuan, corresponding to a gross profit of 24.859 billion yuan, which is about 1.2 times that of the Internet service business and 2.23 times that of the IoT business. In other words, the IoT business is also a factor that drags down Xiaomi's gross profit performance.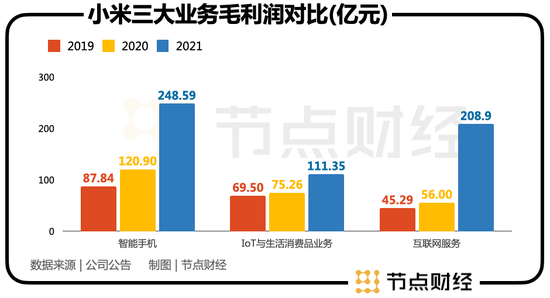 Like the mobile phone business, the "cost-effectiveness" feature of the IoT business is the reason for this problem.
The gross profit margin of Xiaomi's IoT business is not low. It has remained above 11% in the past three years, and it is still higher than the mobile phone business as of 2021. However, its increase was the smallest of the three businesses.
In 2019, the gross profit margin of the IoT business was 11.2%, and it was 13.1% in 2021, an increase of 1.9 percentage points in three years, while the gross profit margin of the mobile phone business increased by 4.7 percentage points in three years, and the Internet service business increased by 9.4 percentage points. At the same time, the growth rate of gross profit of IoT business in three years is also the lowest among the three major businesses, at only 60.1%, less than half of that of mobile phone business.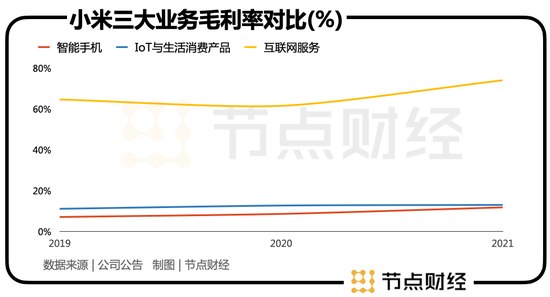 Taking sweeping robot products as an example, there is currently only one such product on Xiaomi's official website, "Mijia Sweeping Robot 1T", which sells for 1,299 yuan. Among Roborock's sweeping robot products, the price of the lowest-priced product also reached 2,399 yuan.
The trend of gross profit margin of Roborock Technology can also prove this from the side. At present, the gross profit margin of Roborock Technology is close to 50% (98% of its revenue comes from its own brands), while it was only 20%-30% before 2019. During the same period, the proportion of Xiaomi brand in its revenue has always been higher than 50% .
This shows that investment has the characteristics of high efficiency in the stage of business from 0 to 1. It can help the invested company to quickly complete the original accumulation and let Xiaomi take the lead, but its role is two-sided.
For IoT companies that accept Xiaomi's investment, sacrificing profits is a "signature" to get Xiaomi's investment, and the company has therefore carried the label of cost-effectiveness, and it will be difficult to hit the high-end market in the future.
For Xiaomi, the impact of investment on the IoT business is reflected in the "disruption" of products.
Taking the sweeping robot as an example, Roborock Technology started its own brand in 2016, and by 2019, the revenue of its own brand exceeded that of the Xiaomi brand. In 2021, the proportion of revenue from private brands will already be as high as 98%. In July this year, Xiaomi invested in Chasing Technology, which is also making sweeping robots.
However, the strength of the pursuit technology cannot be compared with the stone technology. The latter is already the second in the industry, with an annual income of nearly 6 billion yuan, and its R&D investment last year reached 440 million yuan. Despite the help of Xiaomi, there is still a certain gap between the products of the pursuit technology and the stone technology. After the year 618, there have been many complaints about Chasing Technology on major platforms. This will naturally also affect Xiaomi's IoT business.
In general, Xiaomi's investment strategy has created a myth, and the other side of the myth is also worth pondering.
Node Finance Statement: The content of the article is for reference only, the information or opinions expressed in the article do not constitute any investment advice, and Node Finance does not assume any responsibility for any actions taken due to the use of this article.


(Disclaimer: This article only represents the author's point of view and does not represent the position of Sina.com.)

This article is reproduced from: http://finance.sina.com.cn/tech/csj/2022-07-29/doc-imizmscv3963622.shtml
This site is for inclusion only, and the copyright belongs to the original author.