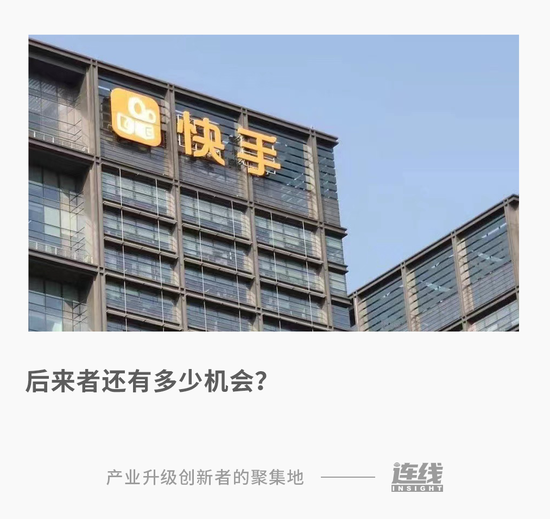 Welcome to the WeChat subscription number of "Sina Technology": techsina
Text / Zhou Yifei Editor / Zhou Xiaoqi
Source: Wired Insight
The cloud computing industry has gone through more than ten years, and the belated Kuaishou finally took its first step this year.
According to a recent report by Tech Planet, Kuaishou launched "StreamLake", which is the first step for the former to take a cloud computing business. This is a cloud computing at the PaaS (Content as Platform) level.
However, the "StreamLake" business is currently in the testing stage and has not been officially opened to the public.
Before Kuaishou entered the To B field, the traffic dividend of To C mobile Internet had begun to fade. Since 2020, Kuaishou has significantly increased its investment in marketing, but it still failed to reverse the current decline in revenue growth.
Kuaishou, who had previously only relied on To C business to be able to move forward, must find new growth points.
To B services represented by cloud computing may be a good business. As a highly valued and imaginative piece of business, cloud computing has become a cake that Internet giants have competed for in recent years. Alibaba, Tencent, and Baidu have developed a new growth curve through cloud computing.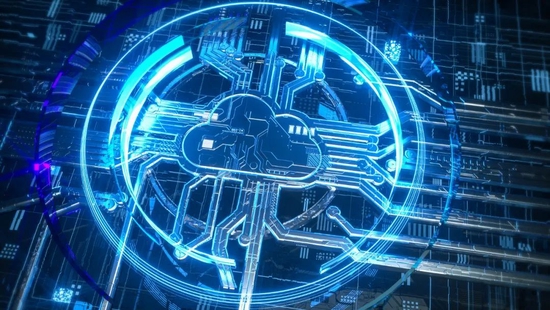 Compared with other players, Kuaishou, who is still a novice in the industry, enters the market late and has a shallow foundation. How many opportunities are left for it?
At present, Kuaishou has certain advantages in cloud computing services. According to the public product information about "StreamLake" on the market, it can be inferred that Kuaishou's entry point is the audio and video cloud computing business built with its own platform advantages, which may be the advantage of Kuaishou's entry into cloud computing.
In addition, "StreamLake" is a cloud computing at the PaaS level.
Cloud computing is divided into three parts: IaaS at the bottom layer, PaaS at the middle layer, and SaaS at the upper layer. Among them, the market growth rate of the PaaS model is the fastest.
Moreover, PaaS not only tests the resources of cloud vendors, but also has higher requirements for service capabilities that meet customer needs. Service is a kind of infinite competition, and there is no end point. Therefore, for new players such as Kuaishou, PaaS is expected to become a breakthrough for overtaking in corners.
However, the user stickiness of the To B industry is strong, and cloud computing is a slow business, requiring manufacturers to negotiate and bid, and gradually conquer customers.
At present, the "Three Clouds" (Alibaba Cloud, Huawei Cloud, and Tencent Cloud) occupy more than 70% of the domestic market share. If Kuaishou wants to occupy a place, more resources must be invested.
The field of cloud computing is undergoing a fierce chasing and catching up scene. The leaders continue to invest heavily, and the latecomers are also eyeing them, looking for opportunities to overtake. In this "marathon" race with no end in sight, Kuaishou has just taken the first step.
Challenges of Kuaishou "Going to the Cloud":
One step slow, how to fight technology and investment?
The story of domestic "contest for clouds" has been told for many years, but for Kuaishou, the first year has just begun.
"If we don't do cloud computing, the future will die." Twelve years ago, Jack Ma clearly expressed his attitude. The background of this call is that in the spring of 2010, at the IT Leaders Summit held at the Wuzhou Hotel in Shenzhen, the three founders of BAT (Baidu, Tencent, and Alibaba) had a heated debate on the topic of cloud computing.
At that time, Li Yanhong believed that cloud computing was "old wine in a new bottle", and Ma Huateng also believed that "cloud computing can be like water and electricity, and it may be after you have passed hundreds or thousands of years."
This classic dialogue between the three has also become a topic frequently discussed in the history of China's cloud computing industry.
More than a decade later, China has become the fastest growing market for cloud computing in the world. Not only the traditional Internet giants have been deployed in the cloud computing industry for many years, but even the new generation of Internet such as Kuaishou can't help but "break into" this field.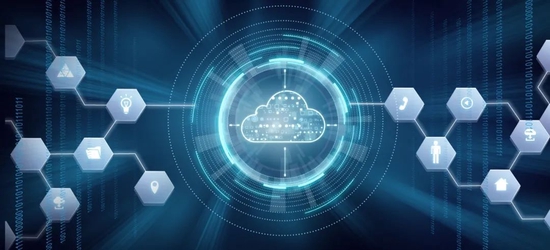 However, compared to other old players such as Huawei and Alibaba who have built a complete cloud computing architecture early, the time to enter the game is much later.
Recently, Tech Planet reported that Kuaishou is testing its first cloud computing business StreamLake.
From the public information, "StreamLake" includes "StreamLake-Video" and "StreamLake-AI". The former is responsible for "on-demand cloud", "live broadcast cloud", "real-time audio and video" services, etc.; the latter includes "intelligent auditing", "smart special effects", "portrait beautification", "virtual human" and other services.
However, as of now, the cloud computing business has not been officially launched, and it is still in the testing stage.
In fact, Kuaishou has been preparing for this cloud computing business for a long time. As early as a few months ago, we started building products and teams. In March this year, BOSS Zhipin and other major recruitment websites began to launch new positions that were not recruited last year, such as virtual human planners, audio and video SDK development engineers, and audio and video PaaS product experts.
In the job description of the audio and video PaaS product expert released by Kuaishou, the job content specifically pointed out: responsible for the planning of video cloud products, leading the realization and delivery of video cloud products, etc. Various recruitment needs are inevitably understood by the outside world, or to reserve talents for the new cloud computing platform.
The Chinese cloud computing market is in a state of dynamic competition. Canalys statistics show that Alibaba Cloud, which was once the dominant player in 2019, has a market share from over 70% at one point to only 37% in 2021, a reduction of more than half, which has given up a lot to small and medium players such as Kingsoft Cloud. market space. Kuaishou may have also found this opportunity and eyed the field of cloud computing.
However, if Kuaishou wants to develop cloud computing business, the challenges are not small.
On the one hand, the cloud computing industry has always been considered a "rich second-generation" business, with huge initial investment and not a short-term profit.
Although Tencent Cloud, Huawei Cloud and other giants have not yet released specific investment data, a data that can be compared is that Alibaba Cloud, as the only profitable cloud vendor in China, finally made its first investment in the fourth quarter of 2020 after burning money for 12 consecutive years. Achieve a single quarterly profit.
Therefore, the development of cloud computing must be supported by huge capital investment.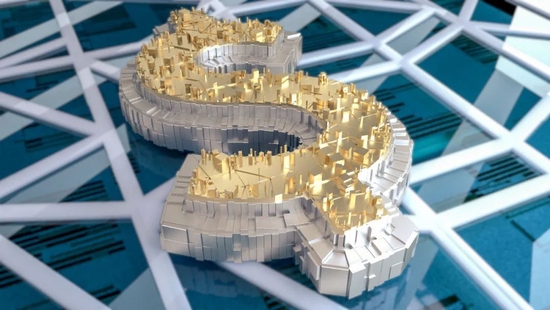 However, Kuaishou has been losing money for many years, or it may be difficult to have enough capital flow to develop such a costly cloud computing business.
On the other hand, compared with the big factories with strong resources and technology, Kuaishou's accumulation in To B is relatively weak.
How hard is it to grow a cloud business? Wang Jian, who was in charge of the construction of Alibaba Cloud, was once considered a liar by the outside world.
At the 2012 Alibaba Cloud annual meeting, Wang Jian took the stage. He held the microphone tightly, but he was hesitant to say anything, and finally broke down in tears. At a critical moment, Jack Ma stood up to support Wang Jian, "I invest 1 billion yuan in Alibaba Cloud every year, and I invest for ten years. I can't do it again." Only then did all the rumors subside.
So far, Alibaba Cloud has gone through three eras: Wang Jian, Hu Xiaoming and Zhang Jianfeng. At different times, Alibaba Cloud has different tasks and directions, aiming to gain a larger market and more customers.
Compared with Ali, how many leaders and R&D capabilities Kuaishou can take out now? The answer is, not yet.
The slowness of Kuaishou is not only slow, but also faces many challenges in terms of funding and R&D level.
Strong enemies are waiting, the cake is hard to grab
As a latecomer to the cloud market, the cloud computing market that Kuaishou wants to enter is surrounded by strong enemies.
Although the pattern of the domestic cloud computing market is uncertain and new players are constantly pouring in, the head effect has begun to show. In particular, Alibaba Cloud, Tencent Cloud, and Huawei Cloud "Three Clouds" are in front of many small and medium-sized cloud manufacturers.
"When the traffic peak came, all the machines in the computer room went down, and the gigabit network card 'popped' and smoked. Immediately replaced a batch of new network cards, 'pop', and smoked and died…" A Taobao The technical veteran of the mall recalled to Lei Feng.com the daily "performance" of Taobao in 2008.
A year later, a young female engineer typed the first line of code for "Feitian", which is the prototype of Alibaba Cloud. More than ten years later, the line of code that the female engineer typed has evolved into the core product of Alibaba Cloud.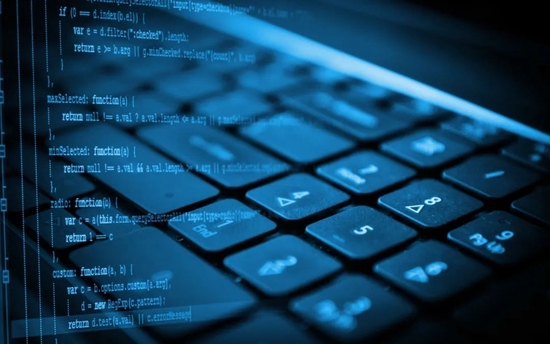 Another player, Huawei, saw the imagination of cloud computing in advance. However, in terms of business promotion, Huawei has been moving forward in a tangle.
At the beginning of its establishment in 2011, Huawei tried to win the "leadership" of cloud computing by acquiring shares and attracting talents. However, after the establishment of Huawei's public cloud team, it began to ask many questions such as "whether to enter the public cloud market" and so on. tangled up.
In the end, Huawei chose to slow down the pace of public cloud because of its own business orientation problem – the three major domestic operators were also deploying public cloud at that time.
Therefore, in the few years after its establishment, HUAWEI CLOUD "only released but did not exert force" in the public cloud business, focusing on the development of private cloud.
The seven years that Huawei has not developed its public cloud business has given Tencent, which joined the public cloud battlefield in 2013, a good opportunity to develop the market. The latter relies on investment tentacles to turn its ecosystem and shareholding companies into customers as much as possible.
Tencent Cloud borrowed Tencent's ecological scene resources in social, game, financial and other businesses to provide customers with a variety of service scenarios and business models, and obtained some stable customers.
The real turning point for HUAWEI CLOUD finally came in August 2017. At that time, under the instruction of Ren Zhengfei, HUAWEI CLOUD was promoted to Cloud BU and became a first-level department. At the beginning of 2020, it has risen to Huawei's fourth largest BG (business group level), which is tied with the original three business BGs (consumer, operator, and enterprise).
After the "rising" step by step, HUAWEI CLOUD started an accelerated development model and became the fastest growing "cloud" in 2020, with a revenue growth rate of 168% at that time.
Since the Canalys research report in Q1 2020 shows that Huawei Cloud has a share of about 14.1% in the domestic cloud computing market, surpassing Tencent Cloud by 13.9% for the first time and ranking second. In the statistics after Canalys, Huawei basically ranks second. , the share exceeds the third-place Tencent.
Although HUAWEI CLOUD does not have Alibaba Cloud's huge e-commerce system, nor does it have the "collaboration" of Tencent Cloud's large number of partners. However, Huawei's experience and resources in government and enterprise services have become its advantages in entering other cloud service fields.
Especially after the outbreak of the new crown epidemic in 2020, the demand for digitalization broke out in traditional industries such as local governments, finance, and medical care, and the government-enterprise cloud has become a "fat meat" for the public cloud market. Huawei Cloud, which has been serving government and enterprise customers for a long time, has unique advantages, which is one of the important reasons why it has steadily surpassed Tencent Cloud in the past few years.
An employee who works at a Tencent Cloud partner told Wired Insight that when she was talking about government customers for Tencent Cloud, it was difficult to dig HUAWEI CLOUD customers. "HUAWEI CLOUD has relatively low prices and can provide more services." Moreover, "migrating data requires customers to pay a lot of money, and ordinary customers will not easily switch cloud providers."
According to data from Canalys in 2021, Alibaba Cloud, Tencent Cloud, Huawei Cloud and other three local cloud service providers dominate the domestic market, accounting for more than 70% of the market share – Alibaba Cloud still occupies the largest share of the cloud computing market. About 37%, Huawei Cloud and Tencent Cloud have a market share of 18% and 16%, respectively.
What needs to be understood is that Alibaba Cloud can provide customers with corresponding services, whether it is a self-developed database or server, or chip, operating system, or the application of various AI technologies, which has become the first place in the market. main weapon.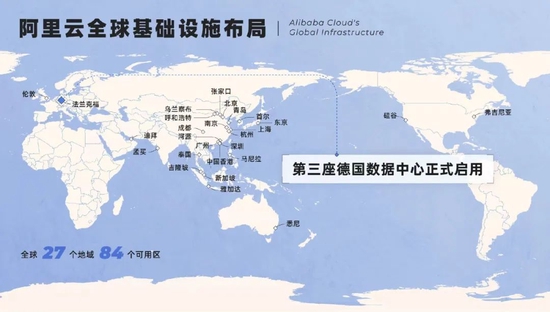 Alibaba Cloud's global infrastructure layout, image source Alibaba Cloud's official Weibo
The scale and status of the "Three Clouds" were unintentionally set by the three companies' attitudes towards cloud computing more than ten years ago.
Alibaba Cloud, Tencent Cloud, HUAWEI Cloud and other mainstream cloud vendors have put cloud computing in a strategic position, and all have a hybrid cloud model of public cloud + private cloud. Therefore, the status of these giants in the domestic cloud service field is short-term. No one can shake it.
In addition to being surrounded by giants, Kuaishou also faces competitive pressure from other rivals. For example, the national team led by the three major telecom operators is also focusing on the development of cloud infrastructure. Operators have innate localized services, so they can easily operate in the local government and enterprise markets.
As the demand side, the three major operators are important components of the consumer market, and they can provide more cloud services by themselves. For the Kuaishou who just entered the market, their living space has been greatly squeezed, and the difficulty of grabbing the "cloud service cake" can be imagined.
But in the long run, the cloud demand brought by digitalization is still certain, and the long-distance running on the digital economy track has just begun.
TO C business is under pressure, will TO B be the antidote?
How much cloud demand can Kuaishou's audio and video cloud service leverage?
Kuaishou has experienced ups and downs in 2021. This year, listing, stock price plummeting, Cheng Yixiao taking over as CEO of Suhua, large-scale layoffs in multiple departments, and user growth almost stagnated…
Moreover, Kuaishou has been losing money for many years in a row. The financial report shows that from 2018 to 2019, Kuaishou lost about 10 billion to 20 billion yuan per year; in 2020, Kuaishou lost about 116.6 billion yuan; in 2021, it lost 78.077 billion yuan.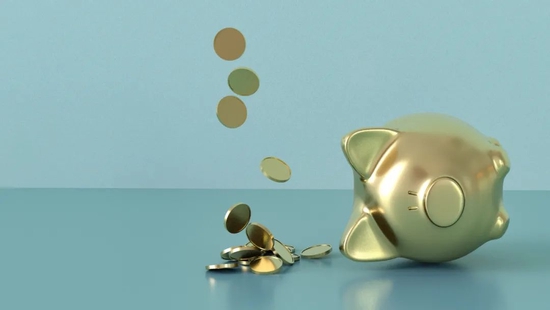 During the same period, the revenue growth rate of Kuaishou was 143.4%, 92.7%, 50.2% and 37.9% respectively. Clearly, the era of rapid growth is over.
By 2022, although the Kuaishou market expenses have maintained a relatively large scale in the first quarter, allowing it to have the blessing of the "Winter Olympics official broadcaster" and the Spring Festival red envelopes in the first quarter, it still cannot reverse the decline in Kuaishou's revenue growth rate. and continued losses.
The implication is that Kuaishou's massive marketing expenses on the C-side have not achieved the expected results. This result may be one of the reasons why Kuaishou decided to break through the B-end market.
However, it should be noted that Kuaishou has not accumulated rich experience in the TO B field before. This internal test of StreamLake is the first step for it to become a cloud service provider.
Or in order to cut into the track as soon as possible, Kuaishou borrowed its own advantages in technology and products, and used the audio and video field as a starting point for cutting into cloud services.
Breaking down the application market of StreamLake into industries, the key development directions are "e-commerce industry", "pan-entertainment", "education industry" and "radio and television media industry" and other fields. But in these fields, there are basically old giants squatting.
Alibaba, Tencent and Huawei, which were the first to enter the game, have not only entered more than ten industries, but also made a more detailed division of each industry. For example, in the pan-Internet industry, they have divided different tracks such as audio and video, e-commerce, and games.
Among them, Tencent Cloud's dominant positions are audio, video and games. In May last year, Tencent Cloud revealed that its audio and video solutions have covered 90% of domestic customers of this type. One of the key product lines of Douyin's volcano engine is also an audio and video track.
The real killer for cloud giants to compete for customers is various tools based on the combination of AI and the needs of various industries. The platform architecture designed by Kuaishou for the audio and video cloud may only be of great help in reducing costs and increasing efficiency.
You know, Kuaishou is a customer of Tencent Cloud Services. A Kuaishou announcement last year showed that from December 2020 to June 2021, the cloud service fees and technical fees paid by Kuaishou to Tencent Cloud were as high as 1.559 billion yuan and 1.111 billion yuan respectively. And Kuaishou believes that with the subsequent business development, its demand for cloud services will gradually increase.
In addition, most cloud service providers provide comprehensive cloud services in multiple fields, industries, and service forms (PaaS, SaaS, and IaaS). While providing stable technologies, they also provide customers with stable and high-quality services. However, Kuaishou currently only launches a single business at the PaaS layer.
Kuaishou's audio and video cloud service is still in a very early stage, and its traffic advantages and growth capabilities are still unknown. However, under the pressure of the To C business, it is also an attempt to attack the TO B field, but in the short term, it is difficult to become an antidote to the predicament of Kuaishou.
(The header image of this article comes from Kuaishou's official public account.)


(Disclaimer: This article only represents the author's point of view and does not represent the position of Sina.com.)

This article is reproduced from: http://finance.sina.com.cn/tech/csj/2022-06-21/doc-imizirau9794874.shtml
This site is for inclusion only, and the copyright belongs to the original author.