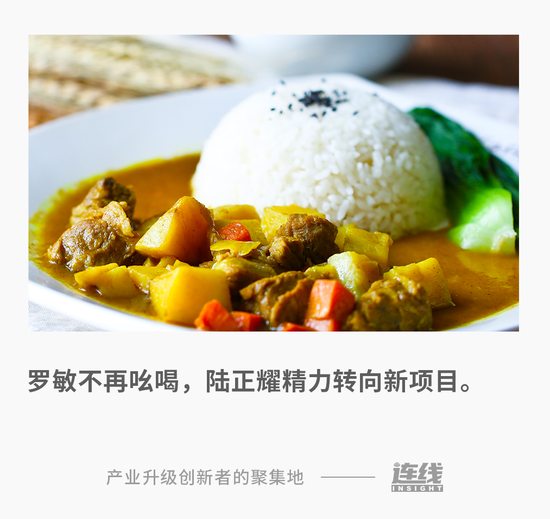 Welcome to the WeChat subscription number of "Sina Technology": techsina
Text / Wang Huiying
Source/Connection Insight (ID: lxinsight)
Entering in a high profile, but retreating in a low-key manner. Luo Min and Lu Zhengyao's pre-made food business did not go well.
On August 10, the first Bite of Heroes store in Beijing has quietly closed its door, and the store has not been found on the Bite of Heroes applet.
As the base camp, there are currently 31 stores in Beijing Bite of Heroes, 7 of which are closed. A Tianjin-based franchisee revealed to Wired Insight that his store closed two months ago.
In just seven months, the hero who once claimed to have landed in 3,000 stores in five months did not achieve his goal, but instead went to the road of closing.
Now, Lu Zhengyao's energy has shifted to new projects. According to Tech Planet, Lu Zhengyao is planning to launch a new coffee startup brand, Cotti Coffee. After Luckin Coffee, Lu Zhengyao returned to his old business, which also means that the heroes of catering projects that did not go well may eventually become abandoned children.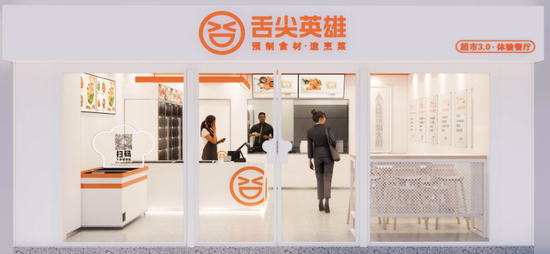 Tuyuan Tongue Technology official website
Like Lu Zhengyao, who entered the pre-made dishes as high as Lu Zhengyao was also the founder of Fun Store, Luo Min.
In June, Luo Min returned to the public eye with the account of "Qudian Luo Boss". Standing in front of the camera, Luo Min is familiar with all kinds of recipes, and the "CEO of a listed company" is creating momentum for Qudian's new project, pre-made dishes.
But not long after, due to the negative impression left by the previous entrepreneurial projects to the outside world, Luo Min was once again considered to be "cutting leeks" and became the target of public criticism for a while. Under the whirlpool of public opinion, Luo Min has quietly cleared Weibo and Douyin, and changed the Douyin account to "qudian pre-made dishes".
Recently, Qudian's pre-made dishes have been suspended for eight days, and fans have fallen a lot.
Behind the cold, Lu Zhengyao and Luo Min both chose the strategy of attracting traffic at a low price and joining to make money. For example, Tongue Hero has sweet and sour tenderloin for 9.9 yuan, and Qudian has pickled fish for 9.9 yuan. In Lu Zhengyao's vision, the hero on the tongue will expand stores as quickly as Ruixing Coffee; and in Luo Min's plan, the number of physical stores that can be joined for free will reach 10,000 within this year.
The reality is that the same idea of ​​the two has made their respective brands go downhill, which can not help but make the outside world feel embarrassed. More importantly, the loss of franchisees and the difficulty of making money make their business models questionable.
Behind this, the industry problems of pre-made dishes themselves are also exposed. On the one hand, the red sea-like prefabricated vegetable market attracts many players, and on the other hand, it is difficult for consumers to insist on paying for prefabricated dishes, and prefabricated dishes are caught in ice and fire.
Right now, an escape under the air is being staged.
Lu Zhengyao was caught in a wave of store closures, and Luo Min couldn't sell pre-made dishes
Luo Min hasn't appeared in the live broadcast room of Qudian's pre-made dishes for a long time.
On August 2, after madly brushing gifts was blocked by the live broadcast room of Dongfang Selection, Luo Min emptied his Weibo and Douyin accounts due to public doubts about Qudian's "Campus Loan", and posted a message in the fan group , said that he "may not live broadcast in front of the camera for some time", and his work after that will focus on supply chain, dish research and development, food quality, etc.
Wiring Insight to browse the Douyin account of Qudian's pre-made dishes and found that the current account's profile has deleted information related to Luo Min, and deleted videos related to Luo Min, and only kept three pieces of publicity related to pre-made dishes.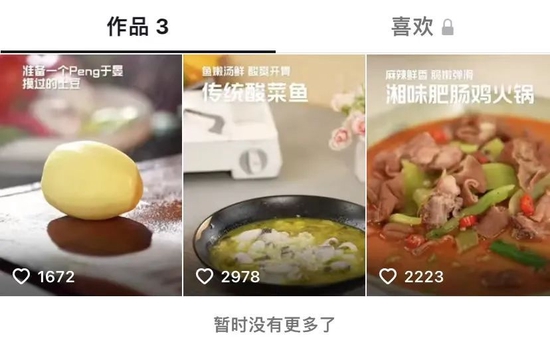 Tuyuanqu Store Pre-made Dish Douyin
In the account of Qudian Pre-made Cuisine, the founder Luo Min can hardly be seen.
This is in stark contrast to Luo Min, who was sitting in front of the camera two months ago and brought goods with a high profile. At that time, Luo Min told the ingredient list of beer duck and pickled fish, accompanied by a bilingual introduction, and typed the words "CEO of a listed company is broadcasting live".
After the turmoil, along with Luo Min's fading out and account name change, the account of Qudian's pre-made dishes has also been affected to varying degrees. According to the account information, from August 14th to August 22nd, the pre-made dishes in Qudian were suspended for eight days, and did not resume until August 23rd. Up to now, the number of fans of Qudian's pre-made dishes is only 4.373 million, and in two months, nearly 700,000 fans have been lost.
According to a report from the E-commerce Daily, insiders at Qudian said that the pre-made dishes project has not been suspended, but is optimizing the contents of the dishes and the market coverage, and re-launched new dishes last week.
It can be seen that the public opinion caused by the campus loan not only has a negative impact on Luo Min himself, but also brings trouble to the transformation of Qudian's pre-made dishes.
Coincidentally, Lu Zhengyao's pre-made dish brand Tongue Hero is not having a good time.
Recently, the franchise stores in Beijing, Zhengzhou, Changsha and other cities across the country have been revealed to be closed and operating abnormally.
The bad news first spread from the first store opened by Tongue Hero in the country. The store, which opened in January, has only survived for just seven months. At present, Wired Insight has seen from the Mini Program of Tongue Hero that there are 7 stores in Beijing showing "resting".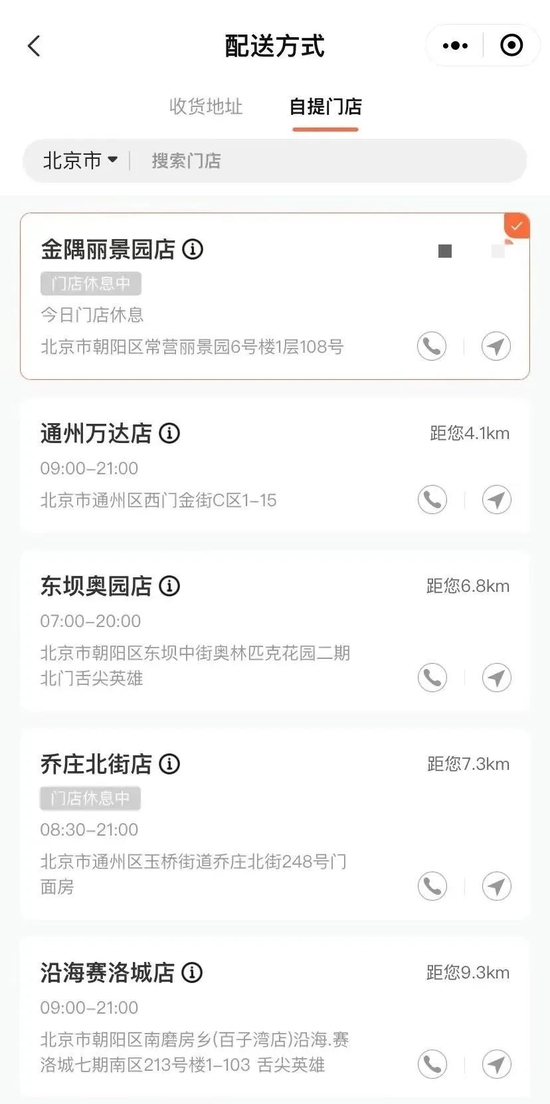 Bite of Tongue Hero Beijing store business situation, the source of the mini program of Bite of Tongue Hero
In other cities, business anomalies are also spreading. Zhengzhou, Shenzhen and other cities have Tongue Hero stores showing "resting". In Changsha, only one store is open for business.
In fact, the unsatisfactory situation of Tongue Hero's expansion store has already begun to show its signs very early. According to Leopard Change, a regional agent of Bite of Heroes said that since the end of June this year, Bite of Tongue Heroes stopped joining, and Bite of Tongue decided to make money from the existing 500 stores before considering opening the franchise.
This project, which Lu Zhengyao had hoped for "another Luckin", not only failed to achieve "Luckin Speed", but was also experiencing a wave of store closures.
Today, Lu Zhengyao's new project Cotti Coffee has just started, and he will undoubtedly put more resources and energy on the coffee track.
Whether it is Luo Min or Lu Zhengyao, the ending of their chase seems to show that even if the story of pre-made dishes is sexy enough, the money is still not easy to earn.
Following Lu Zhengyao and Luo Min, is it easy to enter the market and difficult to make money?
Two months ago, Tongue Hero, which Wu Le joined in Tianjin, was the first to close down. Although Wu Le did not disclose the specific reasons and loss amount to Wired Insight, he could not hide his helplessness.
In less than a year, many franchisees like Wu Le have left. In fact, joining a tip of the tongue hero store requires a lot of money in the early stage.
From the official website of Tonguebian Technology, we can see that if you want to become a franchisee, you first need 30,000 yuan/outlet sales support fee, 30,000 yuan/outlet deposit, 20,000 yuan/outlet/year warehousing, logistics and distribution fees, The design fee of 1,800 yuan / outlet is a full 80,000 yuan.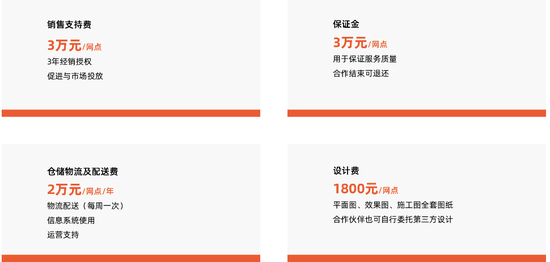 Bite of Tongue Hero franchise fee, Tuyuan Bite of Tongue Technology official website
It should be understood that the bulk of opening a store lies in the cost of rent, decoration, and personnel. A franchisee once revealed to the Beijing Business Daily that together with the tens of thousands of fees paid to regional agents, it takes at least 150,000 yuan to open a hero, and 200,000 yuan is also very common.
If the initial low-price marketing attracted a wave of customers to the hero of the tongue, but the consumers also left after the discount was reduced.
Earlier, according to Leopard Bian report, a Chongqing franchisee admitted that the repurchase rate of customers of Tongue Hero is not high, "less than 50%". Tech Planet also reported that franchisees in Fuzhou, Shenzhen, and Chengdu all suffered losses to varying degrees. Among them, the franchisee in Chengdu has been losing money for four consecutive months, and even the electricity bill has not been recovered.
"When the business is not good now, the daily turnover is only about 200 yuan, and there have even been cases where one order has not been sold all day on Saturday." According to the Beijing Business Daily, a tongue-in-cheek hero who has been in business for about 3 months joined Business bluntly. When they first opened, some franchisees had a daily turnover of as high as six or seven thousand yuan.
In addition, many franchisees of pre-made dishes are worried about store traffic. At first, the platform will provide some traffic support for franchisees, and the orders come from the Tongue Hero App, but now the company's investment has weakened, and franchisees need to find customers themselves.
A franchisee admitted to Wired Insight, "I have never done catering at all. After joining, I realized that I underestimated the difficulty of the catering industry. I have tried posting posters and building a community, but the effect is still not good."
You know, at the beginning of the game, in order to attract consumers and franchisees, the price war and marketing war of pre-made dishes were in full swing.
Tongue Hero has been born with a "golden spoon". It not only won 1.6 billion yuan in financing, but also invited celebrities to sit in the lineup. The promotional posters of Tongue Hero can be seen in buildings and elevators. The promotion of "50% off the first order for new people in the app, and enjoy 200 yuan of newcomer coupons" is even more attractive to consumers.
Luo Min's Qudian pre-made dishes are not to be outdone. On July 17, Luo Min and actors Jia Nailiang and Fu Seoul started a 19-hour live broadcast. Although they won 250 million yuan in GMV, one penny of pickled fish and 1,500 iPhone 13s were given for free. Some industry insiders predicted that The investment in the live broadcast has reached hundreds of millions of yuan, which means "losing money and making money".
Before that, the price of 9.9 yuan beer duck and 14.9 yuan small fried yellow beef, these "big dishes" that usually cost tens of yuan at every turn, have become more affordable in the live broadcast room of Qudian.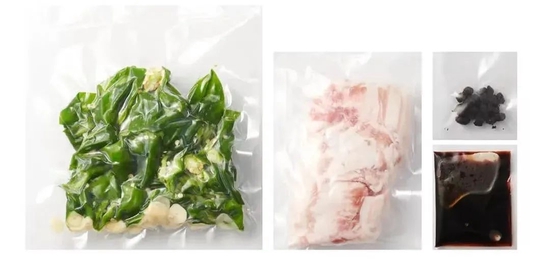 It is also such a low price and hot, attracting many franchisees to enter. For example, Bite of the Tongue emphasized that franchisees can obtain 50% of the gross profit with a small investment, and the headquarters will provide substantial subsidies.
But this is not the case. According to an entrepreneur report, a dealer of Tongue Hero said that the average daily turnover of the store is only about 800 yuan. According to the 50% gross profit rate stated by the official propaganda, the monthly gross profit is only 12,000 yuan, which is much lower than Store staff, rent, etc.
On the other hand, in July this year, Luo Min mentioned "joining" at the prefabricated food investment promotion conference, and said that he could help 100,000 users open offline prefabricated food stores through loan services. Now that Luo Min's halo has faded, the franchise mode of Qudian's pre-made dishes seems to have lost its voice.
Facts have proved that this kind of fiery did not last long. When the price war cooled down, the expensive franchise fee met with not considerable sales, and the franchisees who entered the market soon fell into the situation of "easy to open a store and difficult to make money".
The battle royale has begun
Last year, with the upgrade of consumption and the change of consumption concept under the epidemic, the trend of prefabricated vegetables is blowing.
In the capital market, leading capitals such as Sequoia and Hillhouse have successively injected capital, and the concept stocks of prepared dishes have skyrocketed one after another. The "2022 Insight Report on China's Prefabricated Vegetable Industry" shows that from 2013 to 2021, a total of 71 investment and financing events occurred in the prefabricated vegetable track, and the total disclosed financing amount exceeded 1 billion yuan, involving 42 projects.
The huge market has attracted a large influx of players, but consumers are not willing to buy it.
The most prominent point is that, as an emerging species, pre-made dishes have not become the same dining methods as dine-in and take-out. If it is not for price, consumers are more willing to choose hot and fresh ingredients. More importantly, food safety issues and taste also keep consumers calm.
"At that time, I ate pre-made dishes that were a month old. It was convenient, but it was really incomparable with restaurants and even takeaways." Wen Xue, who stocked up pre-made dishes during the Spring Festival this year, told Wired Insight.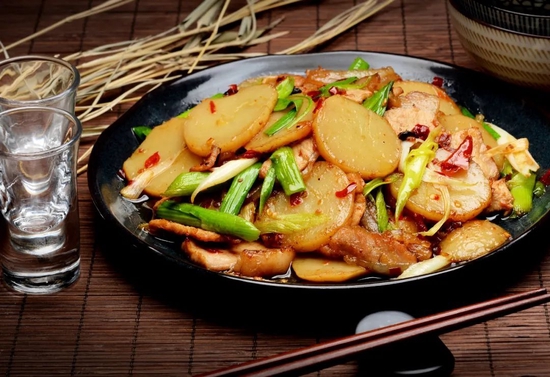 Consumers' willingness to pay is not high, and the battle royale for pre-made dishes has begun.
Recalling the scene of Lu Zhengyao's high-profile layout of pre-made dishes with a hero on the tip of his tongue in January this year, the market is still fresh in the memory. At that time, Li Yingbo, the rotating CEO of Tongue Technology, said in an interview with Securities Daily that since Tongue Hero began to fully recruit franchisees in January, 2,500 franchisees have been signed. Today, according to the data from Zhaimen Dining Eye, there are currently fewer than 300 offline stores of Tongue Hero.
The same goes for capital markets. In April of this year, affected by the "stocking tide" of the epidemic, pre-prepared vegetable companies such as Weizhixiang and Qianwei Yangchu had their daily limit, but with the recovery of the general environment, it was inevitable that the stock price would fall. As of press time, the share price of Weizhixiang, the first share of pre-made dishes, has dropped from the highest point of 137.88 yuan per share in June last year to 58.84 yuan per share, a difference of nearly three times.
According to Deloitte's Consumer Industry Insights "2022 Prepared Vegetable Industry Outlook", from 2020 to April 2022, due to the fact that B-end enterprises are still facing channel pressure, investment and financing events decreased slightly, with a total of 5 cases. At the same time, since the pre-prepared vegetable industry is still in the early stage of development, most of the C-side enterprises are still in the angel round and the A round of financing, and the scale effect has not yet been formed.
It is undeniable that the influx of capital and players, coupled with the lazy economy and the general environmental impact of the epidemic, make pre-made dishes a sexy story. But the tide has receded, but pre-made dishes have not caught the stomachs of young people.
As a restaurant business, taste is the key. Although the industrial properties of pre-made dishes are convenient and fast, the problem of homogenization is inevitable. For example, most of today's pre-made dishes are mainly dishes such as pickled fish and sweet and sour pork loin. It is not easy to find your own characteristics in the same dishes. In addition, the first point of eating is "health", and the saying of pre-made food package has a long history.
More importantly, there are many players, and the prefabricated vegetable market is already full of red seas. The competitiveness of entrepreneurial brands such as Bite Hero and Qudian Prefabricated Vegetables is limited.
For example, Qudian's prefabricated dishes do not have a production line, but use the OEM model, and the warehouse is also leased, which undoubtedly increases the risk of products from production to transportation. In other words, Qudian's pre-made dishes are a "OEM business" and it is difficult to be competitive.
Furthermore, brands have to compete in upstream and downstream supply chains, logistics, channels, etc. If new brands want to gain a firm foothold in these areas, they need financial support. Now that the franchise model cannot be pushed forward, the investment market is gradually calming down, and it is becoming more and more difficult to obtain funds.
Facing the risk of being eliminated from the market, Lu Zhengyao and Luo Min are still looking for a way out, but if the pre-made vegetable project fails to achieve the expected income, they can only be abandoned in the end.
(At the request of the interviewee, Wu Le and Wen Xue are both pseudonyms.)

This article is reproduced from: http://finance.sina.com.cn/tech/csj/2022-09-01/doc-imiziraw0625023.shtml
This site is for inclusion only, and the copyright belongs to the original author.