New Oriental's net revenue in the first three quarters of fiscal 2022 was US$2.581 billion, a year-on-year decrease of 15.8%
Author: Li Ting Release time: 2022-04-26 19:23
New Oriental's net revenue in the first three quarters of fiscal 2022 was US$2.581 billion, a year-on-year decrease of 15.8%
Author: Li Ting Release time: 2022-04-26 19:23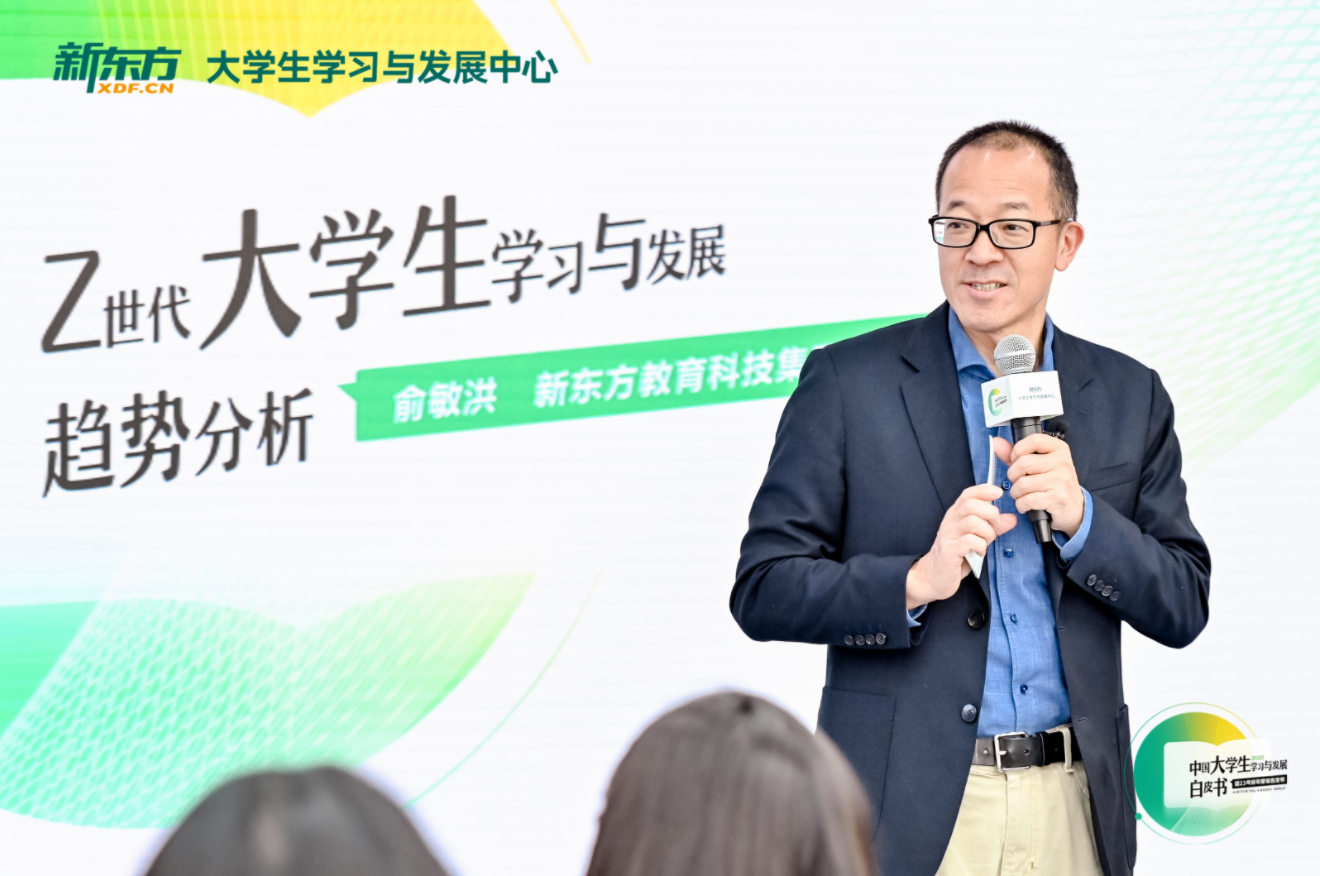 On April 26, New Oriental announced its unaudited results for the third quarter of fiscal 2022, which ended on February 28, 2022.
In 2022Q3, New Oriental's net revenue fell 48.4% year-on-year to US$614.1 million, with an operating loss of US$141.2 million, compared with an operating profit of US$101.5 million in the same period last year. Among them, the net revenue from education programs and services was US$506.4 million, a year-on-year decrease of 54.1%, mainly due to the impact of the termination of the after-school tutoring business for K-9 subjects.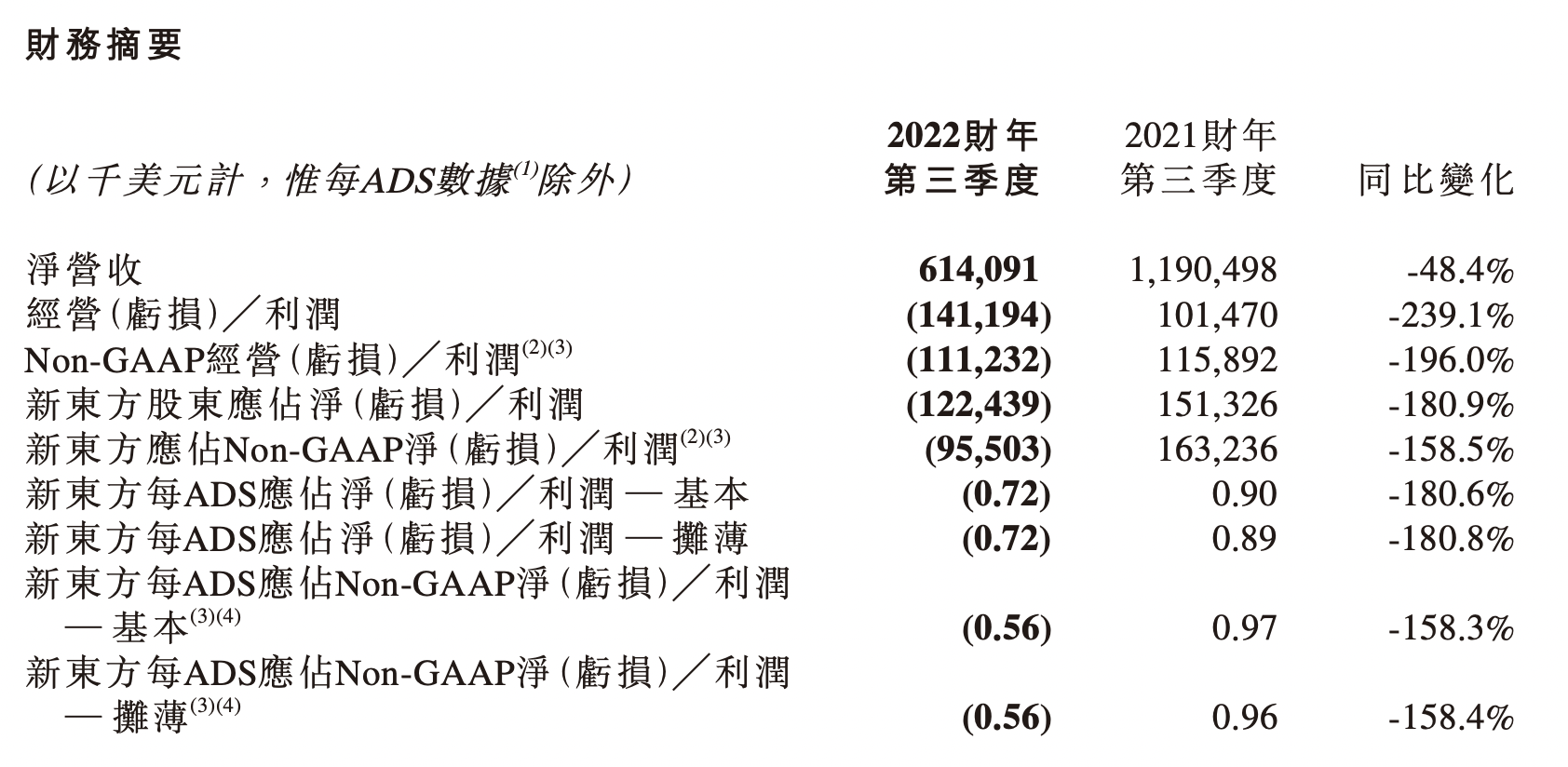 In the first nine months of fiscal 2022, New Oriental's net revenue was US$2.581 billion, a year-on-year decrease of 15.8%, with an operating loss of US$877 million and an operating profit of US$220 million in the same period last year.
As of the end of the third quarter, New Oriental's cash and cash equivalents, term deposits and short-term investments amounted to approximately US$4.4 billion.
As of February 28, 2022, the total number of New Oriental schools and learning centers was 847, a decrease of 778 compared to 1625 as of February 28, 2021; compared with 1669 as of May 31, 2021 Compared with that, the number of rooms decreased by 822. As at 28 February 2022, the total number of schools is 111.
Yu Minhong, Executive Chairman of the Board of Directors of New Oriental, said: "Although the company is in the stage of business restructuring, we are pleased to see that the remaining major businesses continue to do well and have bright prospects. New businesses and initiatives are also showing positive and good growth momentum."
According to him, in the first nine months of fiscal year 2022, among the remaining main businesses of New Oriental, the revenue of overseas test preparation and overseas consulting business increased by 15% year-on-year, and the domestic test preparation business for adults and college students increased by 59% year-on-year. At the same time, New Oriental is also actively exploring various new business opportunities, including non-academic tutoring, intelligent learning systems and equipment, study tours and research camps, teaching materials and digital intelligent learning solutions, as well as college entrance examination preparation.
"While these new businesses are still in their infancy, we are confident that they will have a bright future for the company. Leveraging our brand awareness and educational resources accumulated over many years of operating history, we expect the aforementioned new businesses to be available from the next financial year onwards. It will make a meaningful contribution to the total revenue of the group." Yu Minhong said.
Mustarddui noticed that recently, New Oriental has also released two new products: the blended learning platform "Ronghui Classroom" and business English products.
"In the face of the new era, new users and demands, New Oriental needs to take the initiative to change." Liu Shuoyang, Assistant Vice President of New Oriental Group and General Manager of International Education and Training Division, introduced that Ronghui Classroom is an online and offline learning product. Based on the in-depth understanding of the international education field for nearly 30 years, New Oriental has made preparations in terms of content, technology, data and organization, and the Ronghui Classroom came into being.
Yu Minhong also said that New Oriental started out by training college students to go abroad and learn English, and now it has returned to the main business line. Therefore, the release of this business English product is a regression in a sense. A new lease of life. At the press conference, New Oriental also announced that it will cooperate with ETS in the field of business English and jointly release TOEIC test products.
New Oriental has been experimenting with live streaming since December last year, and has continued to explore aspects such as childcare and vocational education. Yu Minhong himself is also highly active on social media, and continues to attract outside discussions and attention to New Oriental.
1. This article is
Original article, reprint can be clicked
Mustard Pile Content Collaboration
Learn more, refuse to reprint in any form without authorization, and offenders will be held accountable;
2. Mustarddui does not accept the publication of false articles by any means such as public relations fees, carriage fees, etc., and only presents valuable content to readers;
3. If you are also engaged in education and want to be reported by the mustard pile, please
tell us.
Source: Mustard Pile
Mustard heap business cooperation: 010-5726 9867
media coverage
Pinwan mustard pile NetEase news
event tracking
This article is reprinted from: https://readhub.cn/topic/8fx1U0gLLs2
This site is for inclusion only, and the copyright belongs to the original author.