Once upon a time, Chinese Internet companies circulated two important documents, one is Google OKR, and the other is "Netflix Culture Manual".
In 2009, when the "mother" PPT of "Netflix's Cultural Manual" was uploaded to the Internet and became a popular phenomenon after being downloaded 15 million times, Netflix already had more than 100,000 DVDs available for viewing, and the platform's subscribers reached 10 million, becoming a popular phenomenon. America's No. 1 Streaming Platform.
In 2018, when the Chinese version of Netflix's Cultural Manual was launched, Netflix had become a well-deserved global streaming media giant. Its stock price soared 60 times in 10 years, and its market value exceeded 100 billion US dollars.
At the time, all video platforms and streaming service providers only wanted to do one thing—to replicate the success of Netflix.
Of course, even Reed Hastings, the founder of Netflix, could not have imagined that four years later, after the company's market value exceeded the $300 billion mark, it would evaporate another $200 billion within six months and fall back to before liberation overnight.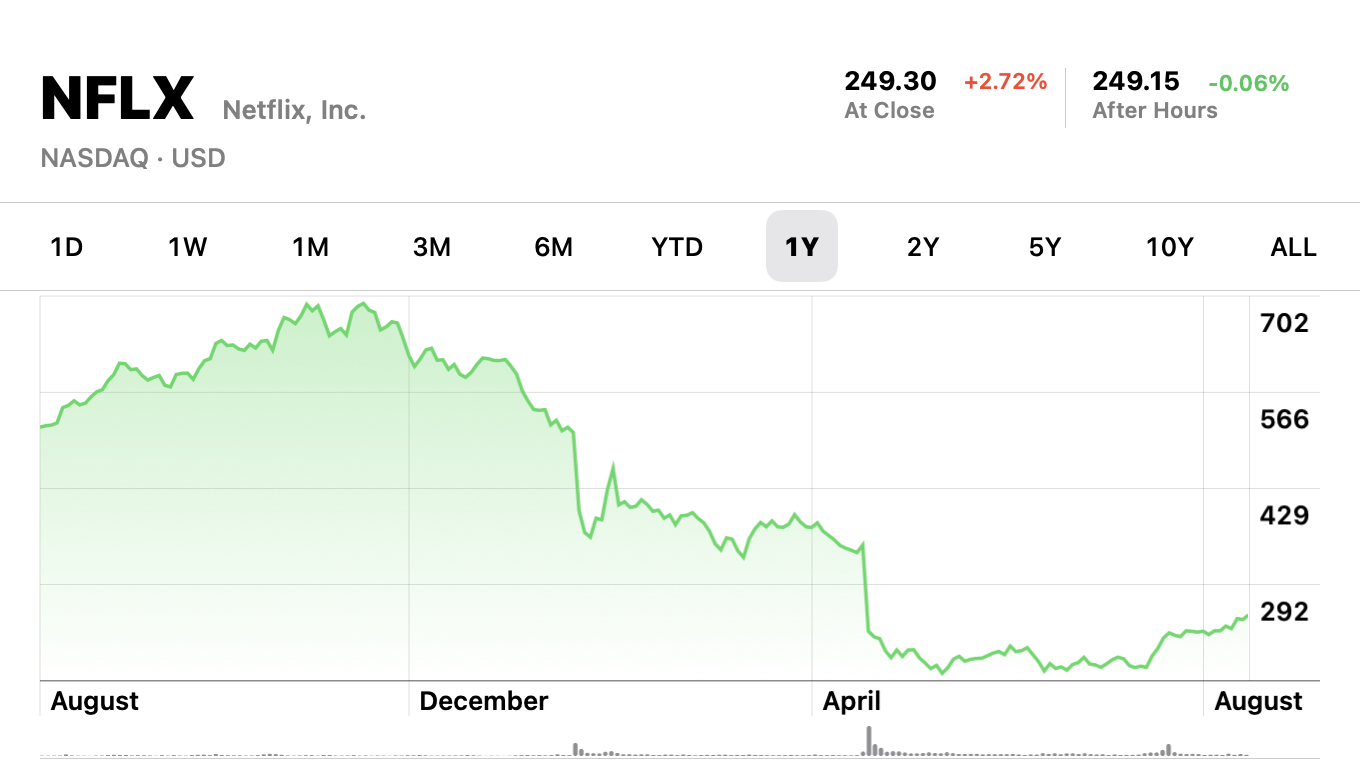 Netflix stock price trend over the past year|yahoo finance
In July, in the latest quarterly earnings report, Netflix announced the worst user loss since its inception, with a decrease of 970,000 paid subscribers. It is also the second consecutive quarter of negative subscriber growth for Netflix since its inception.
"Growth is everything", even for a streaming media giant like Netflix, which has been in business for more than 20 years. Once growth slows, investors vote with their feet immediately, as evidenced by the plummeting stock price.
On the other hand, Apple, Amazon and Google have entered the content track with the momentum of "people are stupid and have more money", and the "ecological play" that does not consider the input-output ratio has also brought great pressure to the former streaming media giants.
Even if the new seasons of Love, Death, Robot and Stranger Things remain phenomenal, Netflix's fall is still clearly visible.
The decline of Netflix marks that "streaming media" is no longer a good business, and its good times have faded.
Netflix's major surgery
Subscribers are the lifeblood of Netflix.
Netflix's business is a bit simple: users pay monthly to watch shows, and the number of subscribers multiplied by the unit price is Netflix's entire source of revenue.
Since its inception, Netflix's single-quarter subscriber number has maintained growth, and entering 2022, Netflix has suffered subscriber losses for two consecutive quarters. It lost 200,000 in the first quarter and 970,000 in the second quarter.
One of the main reasons for the loss of subscribers in the first quarter was the Russian-Ukrainian war, and Netflix closed its service in Russia, causing 700,000 subscribers to go to zero. As for the second quarter, the biggest bleeding point was in North America, with a decrease of 1.3 million subscribers, and a decrease of 760,000 subscribers in Europe, the Middle East, and Africa. The growth of 1 million in the Asia-Pacific region barely recovered a little loss.
Netflix has 220 million subscribers around the world, and the real problem isn't the two million plus or minus. The ceiling that blocks Netflix's growth is actually "user behavior".
Netflix currently offers three paid plans: Basic, Standard, and Premium, priced at $8.99, $13.99, and $17.99, respectively. The higher the level, the higher the video resolution, and the advanced plan allows users to watch on 4 devices at the same time, that is to say, 4 people build a "premium car" together, not only has a better viewing experience, but also the price shared lower.
This is the norm for users around the world to use Netflix, and it is also the "growth secret" that Netflix has disclosed over the past 10 years. The existence of the carpooling mechanism provides Netflix with natural communication potential: while users are looking for people to carpool, they are also helping to attract new ones.
But that poses a problem for Netflix's growth. An account can watch on 4 screens at the same time, and many times, there is more than one person sitting in front of a screen. By sharing passwords for carpooling, a Netflix account can even cover 4 families and a dozen people.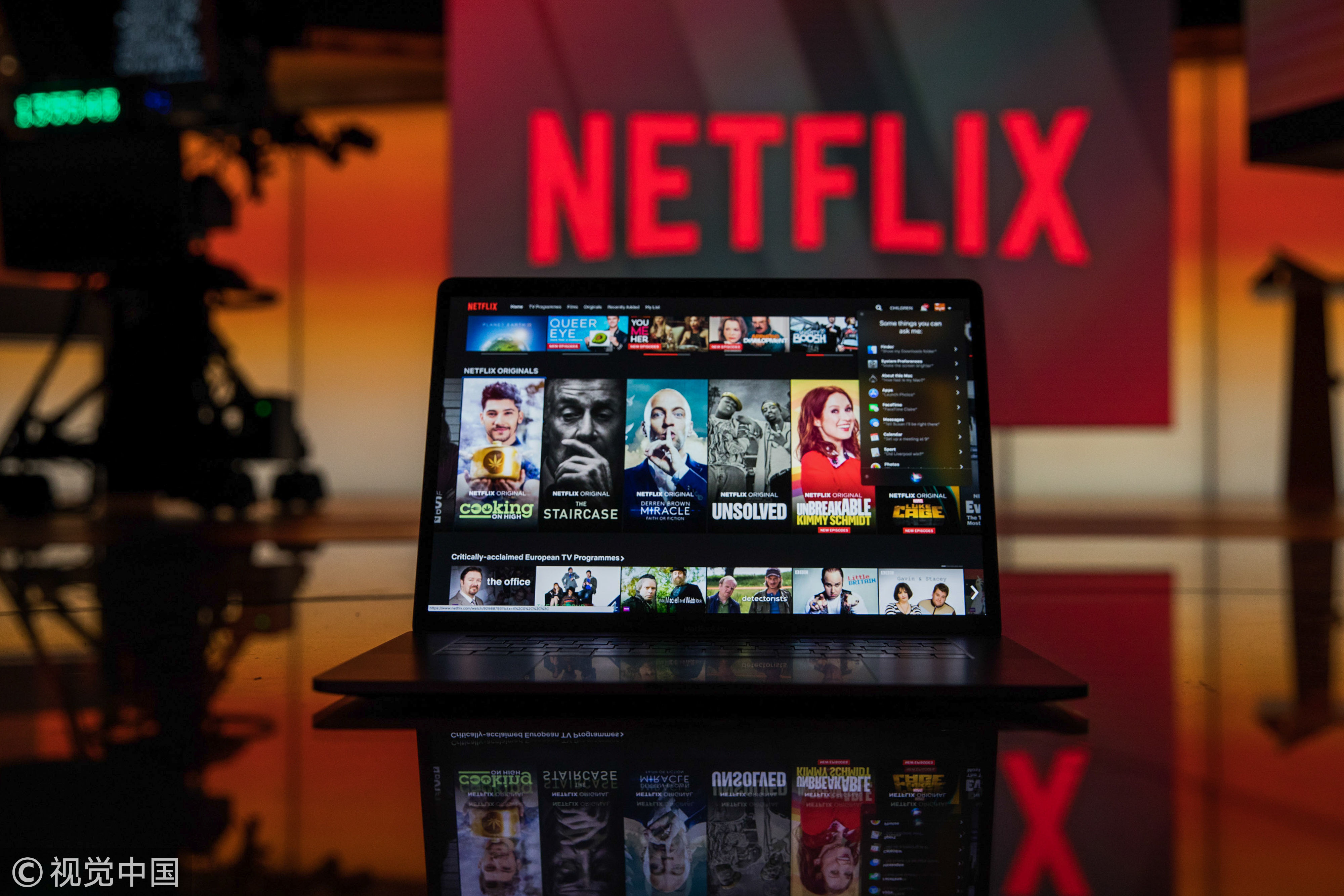 Netflix Premium Account supports simultaneous viewing on up to 4 devices, spawning a huge "carpooling" market|Visual China
Currently, Netflix has about 75 million subscribers in North America. This number actually reached 65 million as early as 2018. For the past four years, the growth has been weak and difficult to break through. The main reason behind this is that with an average of 4 viewers per account, 75 million subscribers is enough to cover 300 million people, while the combined population of the United States and Canada is less than 370 million. The penetration rate of Netflix in North America is already close to saturation.
This problem existed at least five years ago, but in the context of rapid internationalization, the saturation of North America was overshadowed by the growth of emerging markets. Now that growth in developed countries is stagnant, or even declining, and growth in emerging markets is beginning to decelerate, Netflix is ​​finally in a hurry.
Also at the July earnings conference, Netflix faced the problem of "password sharing", opened its trump card, and was ready to take a knife on users.
Netflix is ​​testing a method in Latin America to identify the login location of the account by detecting IP address, device ID and account activity, and analyze whether different users under the same household account really "live under the same roof", thereby limiting " Remote login", to suppress the carpooling behavior of sharing passwords among users.
This mechanism is very complicated, and it will take some time before it is fully implemented, but it is certain that its ultimate goal is to increase the payment rate: those users who occasionally find a friend to borrow a Netflix account to watch a certain drama must also pay. .
But it's not as simple as forcing people to pay: Netflix users have developed a habit of sharing passwords over the past 10 years, and breaking this habit is tantamount to performing an "organ transplant"-level major surgery on the product. It is still unknown whether the restricted "carpooling" users choose to pay the money obediently or just leave.
Moreover, every time Netflix has a popular drama, it relies on the viral spread of the audience's word of mouth. Many people follow a certain popular drama with the mentality of "fear of missing out on social conversations". It can be said that from the first day of its birth, Netflix hopes that users will "watch more". As for sharing passwords, it is also a key part of the process.
In 2017, Netflix's official Twitter tweeted, "Love is sharing a password."
Netflix once secretly supported account sharing|Twitter
Now that's a thing of the past, Netflix's self-reforming scalpel has been cut, and the blood loss of the past two seasons is just the beginning.
The giant is coming
On the streaming battlefield, in stark contrast to Netflix's woes are two other giants with deep pockets.
In late July, according to the New York Times, Apple and Amazon were negotiating with the top sports leagues in the United States, hoping to buy the broadcast rights of sports games, including the NFL (National Football League), MLB (Major League Baseball). ) and Formula 1 cars.
The entry of technology giants has directly raised the price level of broadcast rights. Apple and Amazon are both involved in a bid for the rights to broadcast the NFL's Sunday regular season, according to people familiar with the matter, which could fetch between $2.5 billion and $3 billion a year.
Before that, AT&T's network TV platform DirecTV won the contract for only $1.5 billion. It is equivalent to doubling the price directly after Apple and Amazon entered.
The reason why DirecTV gave up this contract is that it "can't make money". Even with a $1.5 billion contract, DirecTV would lose about $500 million a year on the project because it only has 2 million paying subscribers. So this time, DirecTV simply dropped the bid, and the bidders became Apple, Amazon, and Disney. And Google is also very interested in this matter, and is trying to participate in the bidding of other follow-up NFL broadcast rights through YouTube.
Previously, sports content, especially live sports content, was seen as a model of "not worth the investment" in the streaming media space. Netflix, in particular, has publicly stated long ago that it is not interested in sports and news content. Because users of this part of the content "see it only once", it cannot form a long-tail effect and become a long-term content asset on the platform. If you buy the broadcast rights for one year, if you can't make money back in that year, then the loss will be almost irreversible. That's why DirecTV dropped the contract.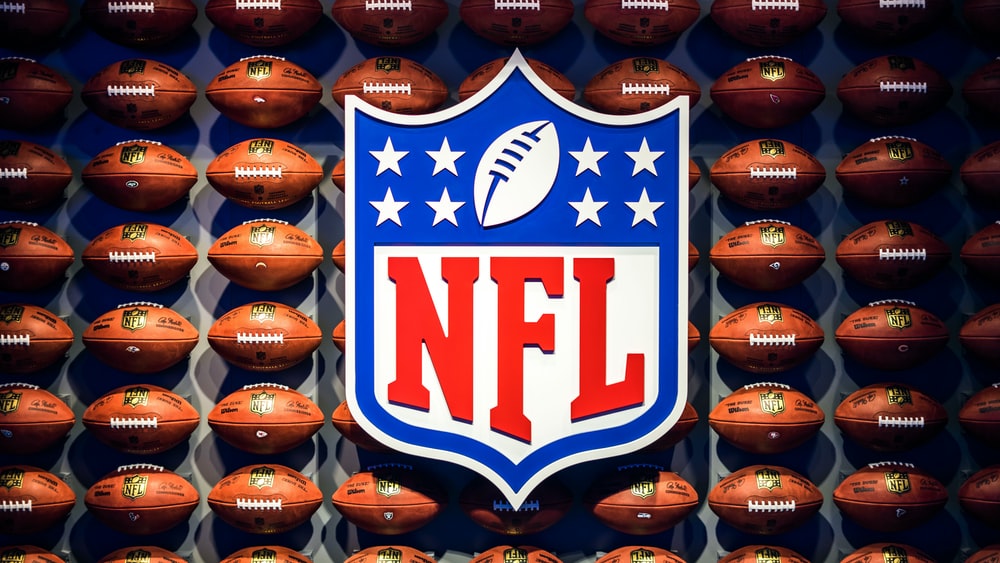 Sports competitions rely more on "live broadcast", which is not compatible with the on-demand mechanism of online streaming media|Unsplash
But Apple and Amazon have different logics.
Apple's annual revenue, profits, and the company's cash reserves are all in the 100 billion level. For it, even the NFL's multi-billion-dollar astronomical contract is just another brick for its "content castle". Prior to this, Apple has bought the MLB Friday Night Game, and the American Football League broadcast rights, the former price is 85 million US dollars a year, the latter is 10 years 2.5 billion.
Among them, MLB's baseball program was officially launched in June this year. Surprisingly, Apple didn't even bundle the show with a paid TV+ subscription, but instead offered it directly to users for free for a limited time.
For any traditional media company, this approach is unimaginable. DirecTV previously charged $294 a year for NFL games. But for Apple, whose business layout is broad enough, things are not that complicated, and a sentence of "cultivating user stickiness" is enough to summarize.
At the bottom of the Apple TV+ baseball feature page, users can explore baseball-related news, music, sports commentary podcasts, and books, indirectly driving four business lines including Apple Music. That's why Apple doesn't need to be too obsessed with the profit and loss of individual projects.
As for Amazon and Google, they may have different logic from Apple, but the premise of these giants buying content is the same: the funds to buy content, the blood supply from other businesses, and a completely different set of ROI (return on investment) evaluation methods .
Bob Iger, the former chairman of Disney, commented on the logic of tech giants buying content: "[Traditional media companies] have a hard time competing with competitors who have a completely different set of financial rules."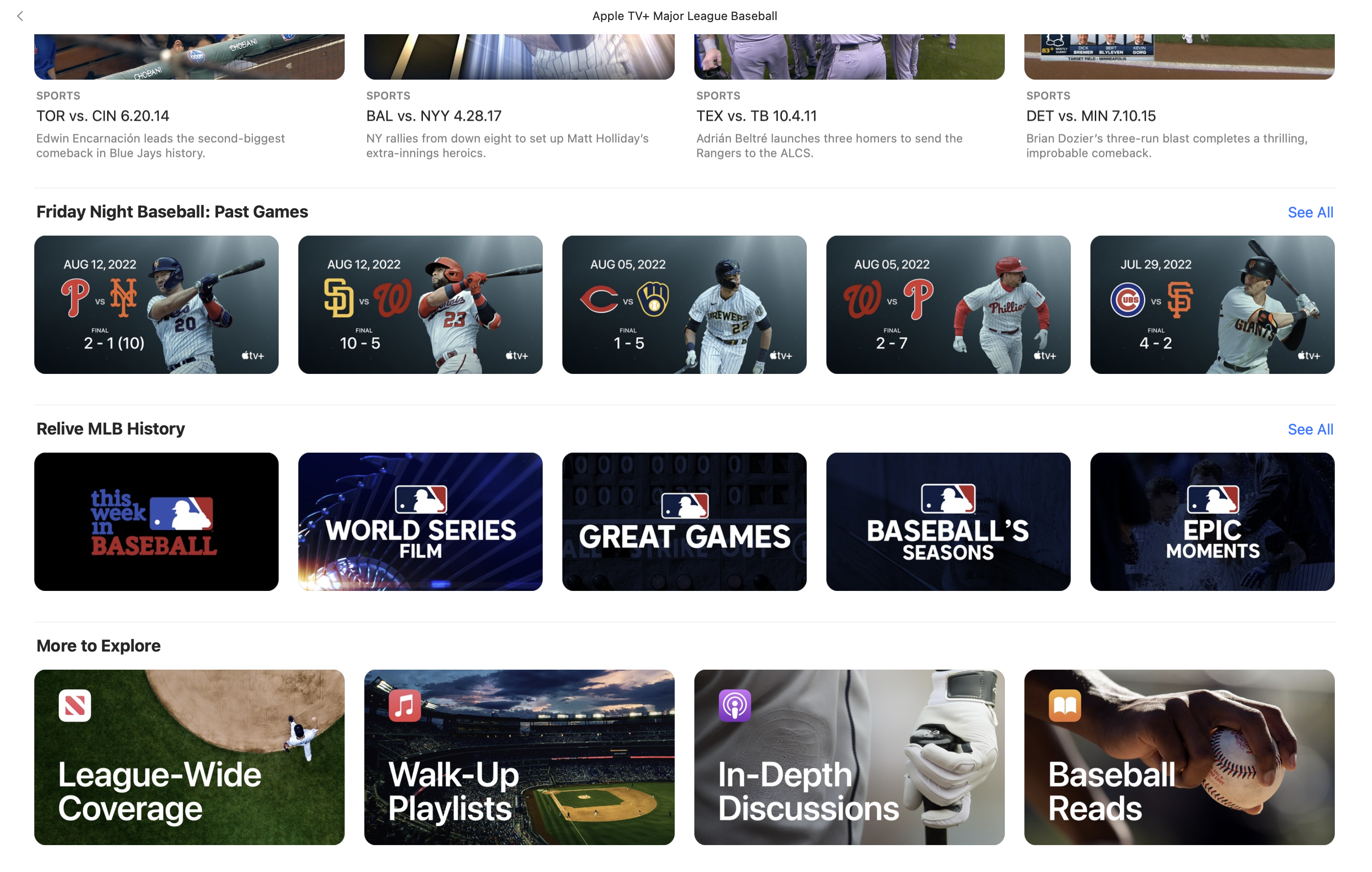 The bottom of the Apple TV+ baseball feature page will "drain traffic" to Apple's other products|Apple
In addition to baseball and football, tech giants are also engaging with a series of professional sports leagues at the same time, including racing, basketball, hockey, ice hockey… The price tag has also risen collectively. According to the New York Times, although Amazon lost to Disney's ESPN TV in the bidding for the broadcast rights of Formula 1 in the United States, the price of the contract has been raised 15 times compared with the previous one.
The battle may have just started, but the road ahead has already emerged: technology giants are fully capable of buying the entire film and television industry + sports industry with their money, but traditional media distribution channels can never break the moat of technology giants.
For a pure streaming platform like Netflix, the external environment is becoming suffocating. It does not have the rich business blood supply of Apple and Amazon, nor the profound industry accumulation of traditional media companies, such as Disney.
In the past, the market believed that Netflix was a combination of Hollywood and technology. There is a mainstream view that Netflix forms a methodology for investing in content by mining user data, which will be its technical moat. But in fact , Netflix is ​​much more vulnerable than imagined in the face of the giant's powerful guns and the "money ability" to buy content at a premium of 10 times.
In the face of fierce competition, Netflix can still produce explosive models. For example, the latest seasons of "Love, Death, Robot" and "Stranger Things" have received a lot of praise, which has also greatly driven the enthusiasm of users. But how to deal with increasing external pressure and break through the predicament, Netflix has never given an answer.
The end of the golden age
In the past 10 years, streaming media services, together with the service model of "subscription system", have been pushed to the altar step by step. Netflix is ​​the brightest jewel in the crown.
The original intention of the "subscription system" is wonderful. With a flat monthly fee, all content is open to you, reducing the cost of selection and returning attention to the content itself. To those who paid $10 for a CD and $30 for a DVD back in those days, $10 a month to listen to and watch everything sounded too perfect.
In these 10 years, growth has become the absolute theme. The user base of the Internet is growing, the number of users per streaming service is growing, and of course revenue is growing.
In this context, in order to grow, everything is worth it: for example, investing in traffic for a drama until it is out of the circle, doing all you can to buy the most Oscar wins, just for the last news headline; another example, in the payment method There are obvious "holes" in the design, encouraging users to subscribe to the most expensive premium plan and share passwords until this model becomes a ceiling that limits growth.
More and more people are revisiting Netflix's market potential and lowering expectations. A figure that Netflix has often touted before is 1 billion subscribers. But now, some investment analysts have revealed to the New York Times that the current investment institutions' assessment of Netflix's market potential has dropped to a level of around 400 million.
In recent years, Netflix has been cutting budgets: fewer big-budget shows like "House of Cards," "Hunter," and "Stranger Things," replaced by more, cheaper reality shows. Investing outside of Hollywood has also become a good medicine – content in South Korea and Japan is much cheaper, and it also has the potential to become a hit.
Without the success of The Squid Game, Netflix would only be in a tougher position at the moment.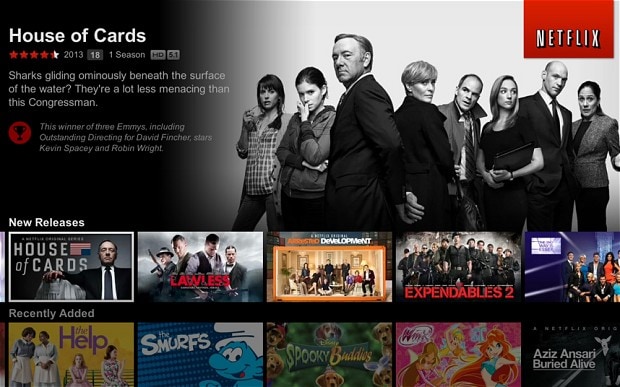 In addition to cutting budgets, Netflix is ​​also preparing to introduce advertising to the platform to expand revenue while also providing viewers with a relatively cheaper package. Before that, many streaming media platforms, including Hulu, had the option of "advertising + cheap packages", but Netflix has been unable to insist on advertisements, because "watching a whole season of TV series on the sofa in one breath" used to be Netflix One of the core experiences of , which is interrupted by ads. But times have changed, and Netflix is ​​shaking the foundations of its own service.
Netflix isn't the only company cutting budgets, the entire industry is "frugal". Bloomberg once quoted an entertainment industry broker as saying: "The days of spending money like you're drunk are over." Of course, the exception is tech giants, like Apple, which didn't make money from subscription fees in the first place. Against the background of the overall recession in the industry, Apple has invested less in the field of technology, but has more money to invest in content.
The golden age of streaming is over. It's not just Netflix that is in trouble, almost all pure streaming media platforms, and even the "subscription-based" payment model, are being questioned.
A term often used to explain the "subscription system" in the past is: the subscription system model can help developers, creators, and content platforms to obtain more stable income, make long-term investment and planning, and provide users with a better experience. But now, the subscription fee has gradually become the confidence of the content platform to lie on the credit book without making progress and spend money indiscriminately, and it has also become a burden on the shoulders of users.
Today's users generally subscribe to too many services, which cannot be consumed or digested. This is an era when content is no longer scarce, and users will not "have nothing to see". People have come to realize that there is no point in subscribing to too many services and are only willing to pay for really good content.
Streaming is still the future, but for Netflix, he's finally seeing just how much wrong has been veiled under the veneer of past growth booms.
How these mistakes are corrected will determine how far it can go.
This article is reprinted from: https://www.geekpark.net/news/306489
This site is for inclusion only, and the copyright belongs to the original author.